Chances are you know an influencer – a person who works with a brand to recommend or endorse a product in social media. Maybe you work at a company that uses influencers or perhaps that describes you, a friend, or a family member. Then you should read a new FTC brochure: Disclosures 101 for Social Media Influencers.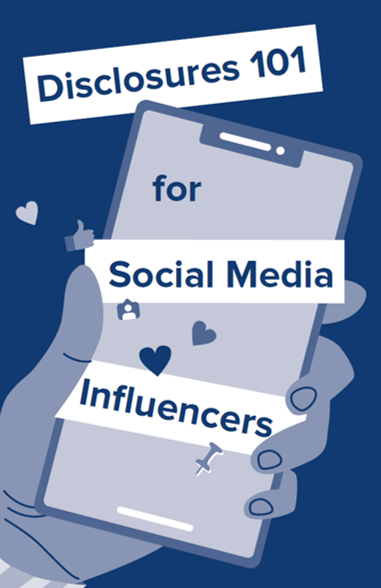 Influencers have an obligation to stay on the right side of the law. If you endorse a product or service through social media, your message should make it obvious when you have a relationship – a "material connection" – with the brand. That could be a personal, family, or employment relationship or a financial relationship – for example, if a brand pays you or gives you free or discounted products.
Disclosures 101 for Social Media Influencers answers the questions you may have about when to disclose, how to disclose, and what else you need to know. It also explains that if you don't have a relationship with a brand and are just telling people about a product you bought and happen to like, you don't need to say that you don't have a brand relationship. (The brochure is also available in Spanish.)
The FTC has more resources about influencers, endorsements, and product reviews. And watch this new video that explains some of the legal basics.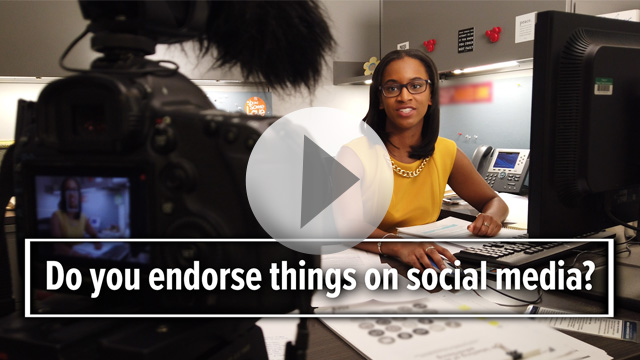 VERY HELPFUL EMAILS FROM THE FTC. KEEP UP THE GREAT WORK!!
How strictly are the Social Media Influencer rules being enforced?
I depend on how much you want us to be informed. Thank you.
The FTC is hard at work again to protect our rights as citizens and consumers. I had no idea of the help the FTC could provide until I became a victim of identity theft, and now I am a huge proponent of the FTC and the work that they do. Businesses and people who are out to deceive people had better beware. A big "THANK YOU" to the Federal Trade Commission.
Thanks for the great information
I appreciate all the information!
How about when you want to make a comment about a product/service YOU ARE SUGGESTING that the person/persons stay away from based upon your own personal negative history with them (the providers of said product/service)??
Thank you for providing the guide lines to stay on the right side of the law. In todays world it's nice to know that one government agency is helping the consumer.
So how does one file a complaint against an influencer in violation? I don't see a specific category for it in your complaint section.
Thank you FTC for sharing this information. I'm sure I am one of many, many individuals that appreciates all that you do for us.
Why is Twitter allowed to post thousands of ads that are not marked as promotion or advertising? Users have to click the little dots in the upper right corner to realize that the post is a fake that somebody paid for. It seems that Twitter consciously and openly violates all the rules that influencers and marketers have to live by.