To help limit the spread of the Coronavirus, many states are requiring people to wear face coverings in places open to the public. But there are cards circulating online and on social media that say the holder has a disability that prevents them from wearing a mask, and that it's illegal for any business to ask them to disclose their condition. Variations of the card include the seal of the U.S. Department of Justice (DOJ), one of the federal agencies responsible for enforcing the Americans with Disabilities Act (ADA).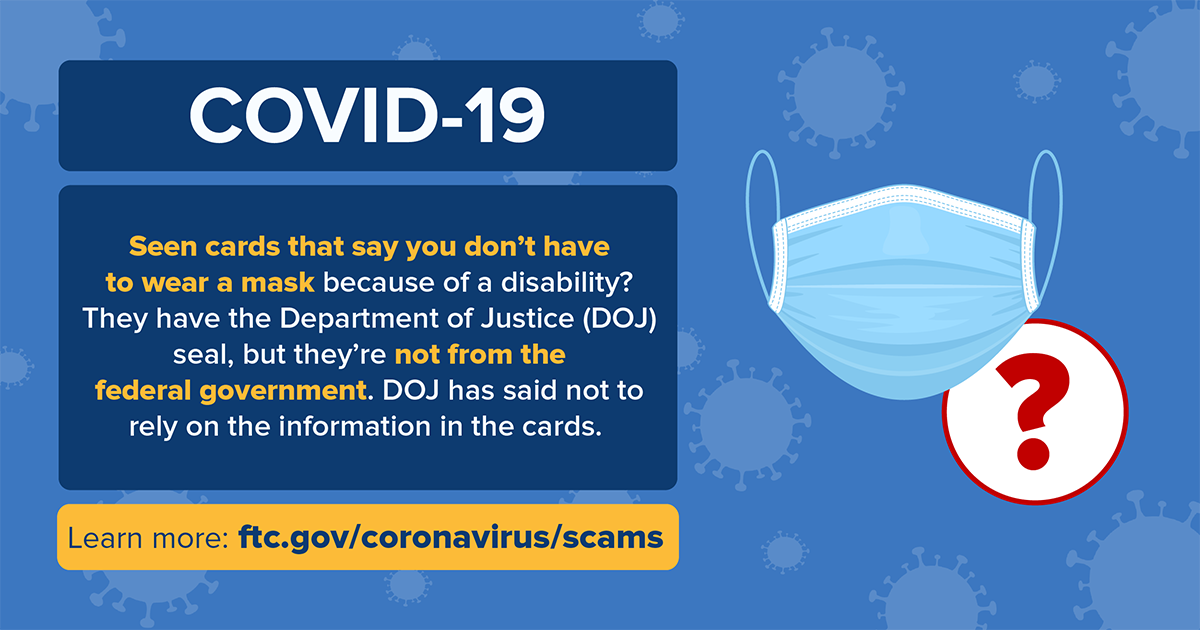 The fact is, these cards aren't issued or endorsed by DOJ, or any other federal agency. DOJ urges the public not to rely on the information contained in these postings, and to visit ADA.gov for ADA information issued by the agency.
For information about your rights under the ADA, visit ADA.gov, or call 800-514-0301 or 800-514-0383 (TTY).
Want more information about the latest scams we're seeing? Visit ftc.gov/coronavirus, and sign up for our consumer alerts. And, when you spot a scam, tell the FTC: ftc.gov/complaint. Because you can help us keep working to put a stop to these scams.
ADA.gov doesn't have a link to ADA information on face mask exemptions. Searching for *face masks* produces nothing except the ADA flyer. ADA.gov does not make easy getting relevant information.
So what is the policy of face mask exemptions? The DOJ/ ADA website has nothing, yes your ADA link is working but there is nothing on the website about it. Why hide what the law says on it?
I experience shortness of breath when wearing a mask. I smother and panic. What is the ruling if you are a disabled individual and wearing a mask is suffocating?
Are the bogus "Mask Exemption" cards a criminal offense if people claim they're government issued?
What should we do as a business owner of someone shows us one of these cards and tells us we will be fined if we don't let them in workout a mask?