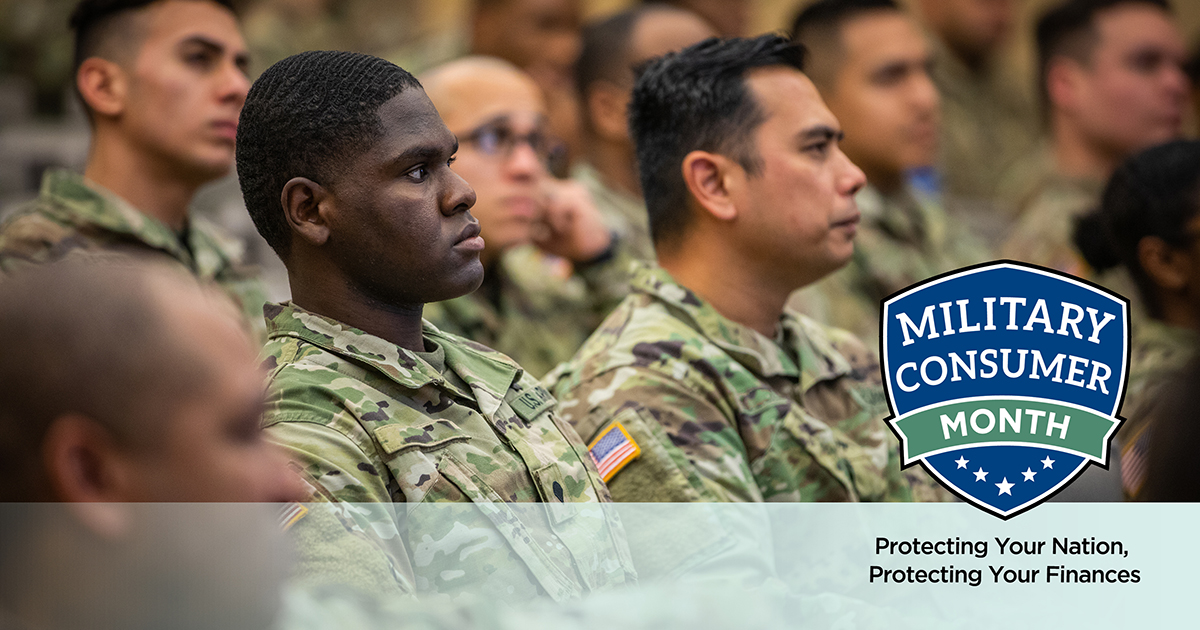 Military Consumer Month is here! In these unprecedented and challenging times, we're focusing on consumer issues related to COVID-19. As of June 30, consumers have submitted more than 115,000 reports of fraud related to COVID-19, resulting in reported losses of  more than $74 million. Scammers follow the headlines to take advantage of current events. They're doing the same now, exploiting people's concerns about the virus, as well as ripping off those who are affected by the pandemic's financial implications.
Military and civilian families often face the same consumer issues, but the pandemic underlines some of the challenges unique to military life. Stop movement orders have delayed tens of thousands of permanent change-of-station moves. For so many, that has meant unexpected out-of-pocket costs, maintaining two households, and sometimes less pay. Other factors nudge scammers to target the military. For instance, even if a spouse's job loss means reduced income, scammers know a servicemember gets a steady paycheck. And for some personnel, the service is their first job, first time away from home, first time making financial decisions.
The Department of Defense's Military OneSource program reports that several scams target the armed forces. Imposters use official-looking names and logos to pose as legitimate military sites to trick the troops into revealing confidential financial information. Scammers, preying on fears over having a security clearance compromised, pose as debt collectors to pressure servicemembers into paying phony debts. Other scammers offer to monitor the credit of those about to be deployed — but instead, steal the servicemember's information for identity theft. That last example is notable, because a recent study of reports to the FTC shows that active duty servicemembers are 76% more likely than other adults to report that an identity thief misused an existing account, such as a bank account or credit card.
This month, engage with your military and veteran communities and the FTC. We've planned a full month of tips for servicemembers, veterans, and their families about prevalent COVID-19 related scams, as well as resources for navigating the financial challenges of the pandemic. Sign up for email updates, connect with us on Facebook and Twitter, and share our posts, videos, and tips. There, you'll be able to join one of our social media chats to spread the word.
During July, and all year round, you can help us help the military and veteran communities. Visit MilitaryConsumer.gov to learn more.
It is your choice whether to submit a comment. If you do, you must create a user name, or we will not post your comment. The Federal Trade Commission Act authorizes this information collection for purposes of managing online comments. Comments and user names are part of the Federal Trade Commission's (FTC) public records system, and user names also are part of the FTC's computer user records system. We may routinely use these records as described in the FTC's Privacy Act system notices. For more information on how the FTC handles information that we collect, please read our privacy policy.
The purpose of this blog and its comments section is to inform readers about Federal Trade Commission activity, and share information to help them avoid, report, and recover from fraud, scams, and bad business practices. Your thoughts, ideas, and concerns are welcome, and we encourage comments. But keep in mind, this is a moderated blog. We review all comments before they are posted, and we won't post comments that don't comply with our commenting policy. We expect commenters to treat each other and the blog writers with respect.
We won't post off-topic comments, repeated identical comments, or comments that include sales pitches or promotions.
We won't post comments that include vulgar messages, personal attacks by name, or offensive terms that target specific people or groups.
We won't post threats, defamatory statements, or suggestions or encouragement of illegal activity.
We won't post comments that include personal information, like Social Security numbers, account numbers, home addresses, and email addresses. To file a detailed report about a scam, go to ReportFraud.ftc.gov.
We don't edit comments to remove objectionable content, so please ensure that your comment contains none of the above. The comments posted on this blog become part of the public domain. To protect your privacy and the privacy of other people, please do not include personal information. Opinions in comments that appear in this blog belong to the individuals who expressed them. They do not belong to or represent views of the Federal Trade Commission.
We should net get involved with the toxic political situation. Take care of the military families, and the vets. If we cannot find leadership at the top, provide it from the bottom. Bet better than our "betters." We have the ultimate power: the mandate, the vote, to change direction in our failed government.
Scammed by the name of Johan Schaeffler:scammed with large amount of money that needs to be cleared, he says he reeds to pay fine for food and sta ging from Syrië to Frankfurt