This holiday season (and year-round), gift cards are on scammers' wish lists. Scammers always have a reason for you to pay them immediately with a gift card. And they often tell you which card to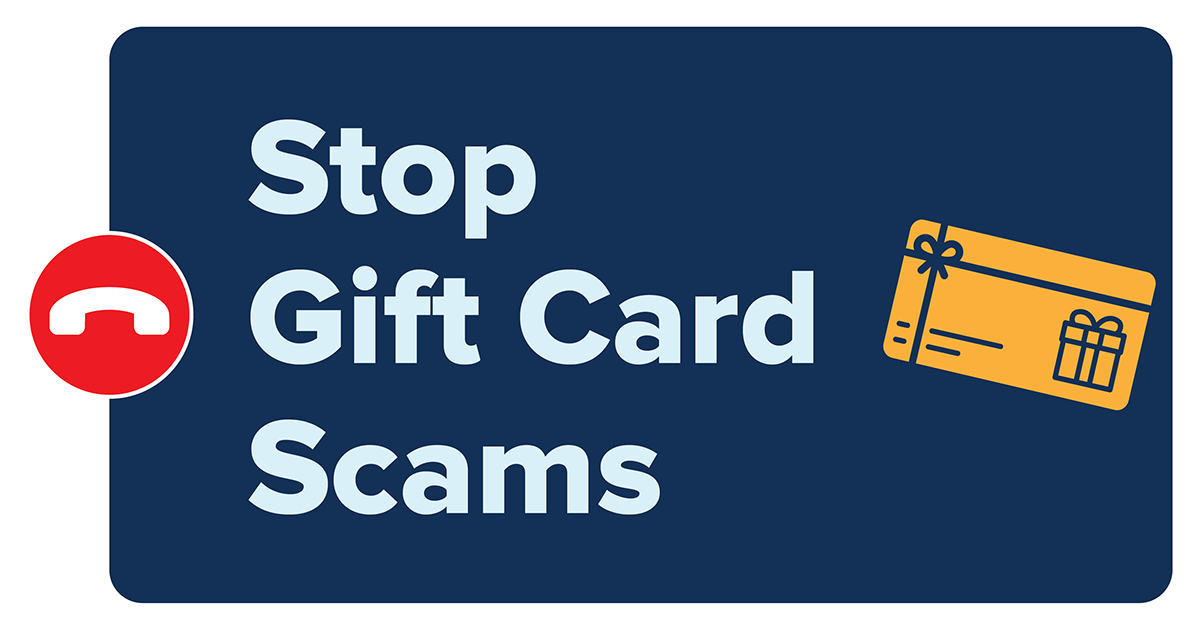 buy and which store to visit. That's why the FTC is launching a new Stop Gift Card Scams campaign to work with stores and law enforcement to fight these scams. And it's also why the FTC has taken another look at reporting data to see what's happening lately.
At ftc.gov/StopGiftCardScams, you can find materials to help people avoid gift card scams. If you're a retailer (or even if you visit one), you can download, print, and share these materials in your store and community. You'll find a display rack sign, cashier infographic card, bookmark, and a sticker. Stop Gift Card Scams is also available in Spanish. In fact, the FTC is working with our friends at the U.S. Department of Justice and in local law enforcement to help get the word out nationwide.
This is pressing because the FTC's data show that, nationwide, gift cards are a top way that people report paying most scammers. People tell the FTC that, since 2018, they've paid almost $245 million to scammers, with a median loss of $840. Just today, the FTC released an updated Data Spotlight with some interesting new developments:
Reports suggest eBay is scammers' current gift card brand of choice. It was Google Play and iTunes, but eBay has claimed the uncoveted top spot.

People most often report using gift cards to pay scammers pretending to be the government, a business, tech support, or a friend or family member in trouble.

People report that scammers tell them to buy gift cards at Walmart, Target, CVS, and Walgreens. And once they have you there, they'll keep you on the phone as you pay for the gift cards.
Which brings us full circle back to the Stop Gift Card Scams campaign. Read lots more in the Spotlight itself, and find out more about avoiding gift card scams at ftc.gov/giftcards. And if anyone, no matter who it is, tells you to pay with a gift card, that's a scam. Stop, don't pay, and then tell the FTC at ReportFraud.ftc.gov.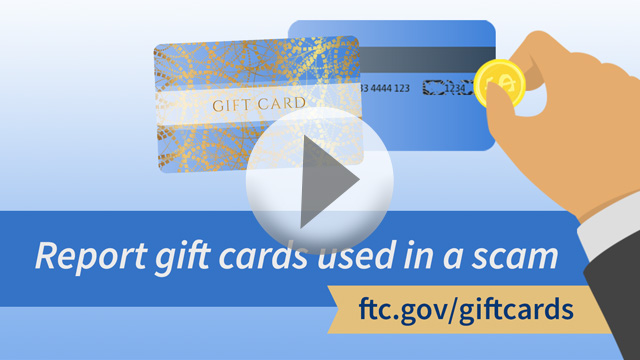 It is your choice whether to submit a comment. If you do, you must create a user name, or we will not post your comment. The Federal Trade Commission Act authorizes this information collection for purposes of managing online comments. Comments and user names are part of the Federal Trade Commission's (FTC) public records system, and user names also are part of the FTC's computer user records system. We may routinely use these records as described in the FTC's Privacy Act system notices. For more information on how the FTC handles information that we collect, please read our privacy policy.
The purpose of this blog and its comments section is to inform readers about Federal Trade Commission activity, and share information to help them avoid, report, and recover from fraud, scams, and bad business practices. Your thoughts, ideas, and concerns are welcome, and we encourage comments. But keep in mind, this is a moderated blog. We review all comments before they are posted, and we won't post comments that don't comply with our commenting policy. We expect commenters to treat each other and the blog writers with respect.
We won't post off-topic comments, repeated identical comments, or comments that include sales pitches or promotions.
We won't post comments that include vulgar messages, personal attacks by name, or offensive terms that target specific people or groups.
We won't post threats, defamatory statements, or suggestions or encouragement of illegal activity.
We won't post comments that include personal information, like Social Security numbers, account numbers, home addresses, and email addresses. To file a detailed report about a scam, go to ReportFraud.ftc.gov.
We don't edit comments to remove objectionable content, so please ensure that your comment contains none of the above. The comments posted on this blog become part of the public domain. To protect your privacy and the privacy of other people, please do not include personal information. Opinions in comments that appear in this blog belong to the individuals who expressed them. They do not belong to or represent views of the Federal Trade Commission.