The challenges that COVID-19 has brought include a higher risk of identity theft. In 2020, the FTC got about 1.4 million reports of identity theft, double the number from 2019. Repeatedly, identity thieves targeted government funds earmarked to help people hard hit financially by the pandemic. Join us for Identity Theft Awareness Week, February 1-5. Learn about protecting yourself from identity theft, and recovering if it happens to you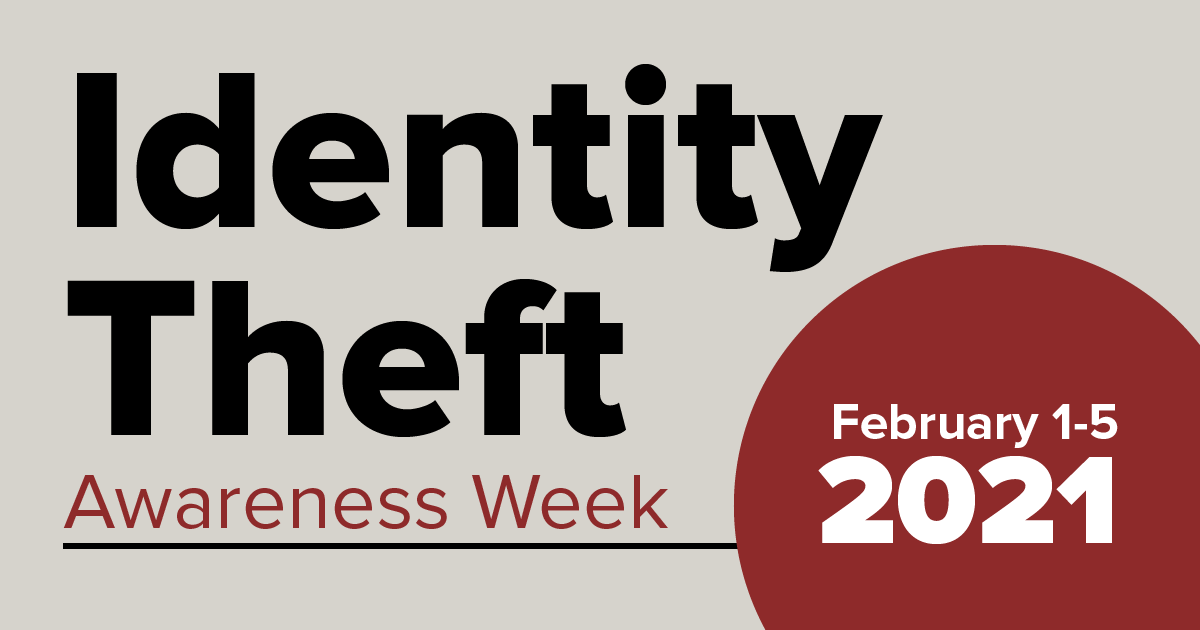 .
The FTC and its partners will co-host a series of free events. Among them, a webinar with the Identity Theft Resource Center (ITRC), and a Facebook Live event where experts from the AARP Fraud Watch Network and the FTC will take your questions. Visit ftc.gov/IDtheftweek to learn more.
2020's biggest surge in identity theft reports to the FTC related to the nationwide dip in employment. After the government expanded unemployment benefits to people left jobless by the pandemic, cybercriminals filed unemployment claims using other people's personal information. In 2020, we had 394,280 reports about government benefits fraud — overwhelmingly about identity theft involving unemployment benefits. Compare that with 12,900 reports in 2019.
People also reported identity theft in which criminals used their business or personal information to get money from government-sponsored small business loan programs. Last year, we had 99,650 reports of fraud involving business or personal loans, compared with 43,920 reports in 2019. Not all of the new reports related to the government relief effort, but they were a big share of the increase.
People told us about identity theft involving their federal stimulus payments from the IRS by reporting it as tax identity theft. In 2020, the FTC got 89,390 reports of tax identity theft, compared with 27,450 reports in 2019. While many of the reports concerned other types of tax identity theft, the report numbers began to swell when distribution of the stimulus payments began.
Join us for Identity Theft Awareness Week to learn more about identity theft during the pandemic.
It is your choice whether to submit a comment. If you do, you must create a user name, or we will not post your comment. The Federal Trade Commission Act authorizes this information collection for purposes of managing online comments. Comments and user names are part of the Federal Trade Commission's (FTC) public records system, and user names also are part of the FTC's computer user records system. We may routinely use these records as described in the FTC's Privacy Act system notices. For more information on how the FTC handles information that we collect, please read our privacy policy.
The purpose of this blog and its comments section is to inform readers about Federal Trade Commission activity, and share information to help them avoid, report, and recover from fraud, scams, and bad business practices. Your thoughts, ideas, and concerns are welcome, and we encourage comments. But keep in mind, this is a moderated blog. We review all comments before they are posted, and we won't post comments that don't comply with our commenting policy. We expect commenters to treat each other and the blog writers with respect.
We won't post off-topic comments, repeated identical comments, or comments that include sales pitches or promotions.
We won't post comments that include vulgar messages, personal attacks by name, or offensive terms that target specific people or groups.
We won't post threats, defamatory statements, or suggestions or encouragement of illegal activity.
We won't post comments that include personal information, like Social Security numbers, account numbers, home addresses, and email addresses. To file a detailed report about a scam, go to ReportFraud.ftc.gov.
We don't edit comments to remove objectionable content, so please ensure that your comment contains none of the above. The comments posted on this blog become part of the public domain. To protect your privacy and the privacy of other people, please do not include personal information. Opinions in comments that appear in this blog belong to the individuals who expressed them. They do not belong to or represent views of the Federal Trade Commission.
I have been receiving text messages that my Netflix account has been locked due to declined card. I notified Netflix & they confirmed that I have been in good standing and emphasized not to respond to these phishing messages using my phone number...received one again this morning on February 1st, 2021...BEWARE of the criminal minds out there..
Most helpful email I've received from FTC about these issues. I was never informed that there is reporting with the FTC for unemployment fraud. I have experienced this recently, with someone using my address and SSN to apply for FL unemployment. It was a very difficult process to find and report to FL State that someone was fraudulently using my info to apply for benefits. I have never received any follow up from the State of FL after I was pre-emptively disconnected on that call. I reported this event to my credit monitoring program. I have a good idea who was involved in false attempt for unemployment since I was the victim of a theft that included my ID info less then a year before with a police report and case on gile. Will fill out your reporting form. Thank you.
I dealt with ID theft 3 years ago late June through work. Now my husband dealing with it. What a mess! I froze the accounts with the credit score companies. He's reluctant to do that.
Thank you for your update
Its horrible but these folks at the FTC are working hard for us people out there that are struggling to make ends meet these days.
I am an ID theft victim. The FTC was very helpful. My unemployment benefits were stolen last may, experian found my info on the dark web being sold...a SBA loan was taken. I'm losing my mind. Tonight my dog had seizures for 30 min. I could only hold him and pray and cry. Protect your info. Monitor your credit. This is real!!!
I am one of those victims of tax fraud identity theft. Worst experience of my life still going through it and IRS has not resolved been since last April, I do know they've been "in and out of the office" due to covid. What a year for fraudsters look at the statistics they posted. I do not wish this on anyone. Safe guard your info I've been informed several times of breach, Experian, Equifax, T-Mobile x 2, Community College all years ago and they knew when to strike. Bad deal!
I wonder what the government itself is doing to improve their end in providing a secure process for the legitimate people to access funds. If the thief already has our information, it makes it harder to secure, but maybe putting in additional step / questioning, two factor authentication, etc. will deter them.
I recently found out that someone is using my ID number to register on Hollywood bet, now I am worried to what else is happening out there with my ID number. this can lead to me having a bad record without my knowledge.
Had an identy theft of over $1700. in 2017 what if anything can be done about it now ??? It was a third party type thing from company stolen checks, all the tracings I tried to do went back to a doctor in Florida....I've kept paperwork I had at the time
I have been contacted by an Alice Martines concerning government grant i was eligible for. Unfortunately I filled out the application and put all my personal information there and it turns out this is a scammer.
Veteran Solutions targeting people and stealing veterans information. Online and mail fraud alert.
Raymond Salsedo is on line in chat skimming, tell older people you have won just send 300$ and you will get your money.he got my ID Info, I had to call credit union no him.another name is Arlene Grassley.there r more older people who work with him I have not given him the money so he keeps bugging me I will never Gigi him any money he will have to still it from me.But I have called every credit Bureau.
I would really want to know what the government is doing to catch these criminals. With millions of cases of ID theft per year going on, how many cases are being prosecuted per year.? Who is even in charge of enforcing the law? If this is such an easy crime to get away with, it surely will increase more and more. Maybe if they quit worrying about people smoking pot, they could concentrate on catching some real lawbreakers.