Welcome to Identity Theft Awareness Week 2022. During the week, the FTC and its partners will host free webinars, podcasts, and other events focused on trending issues in identity theft. We'll talk about how to detect identity theft, protect against it, and recover if identity theft occurs. We'll also highlight the top identity theft scams — and how to avoid them. We hope you'll join us!
Calendar of Events
An early-bird event:
Tuesday, January 25, at 1-2 PM ET
Identity Theft Awareness Week events:
Monday, January 31, 2022, at 3 PM ET
Tuesday, February 1, 2022, at 11-11:30 AM ET
Wednesday, February 2, 2022, available at 6 AM ET
Thursday, February 3, 2022, at 4 PM ET
Friday, February 4, 2022, at 2 PM ET
Spread the word
Tell people who follow you about Identity Theft Awareness Week. Here's an image and messages you can use.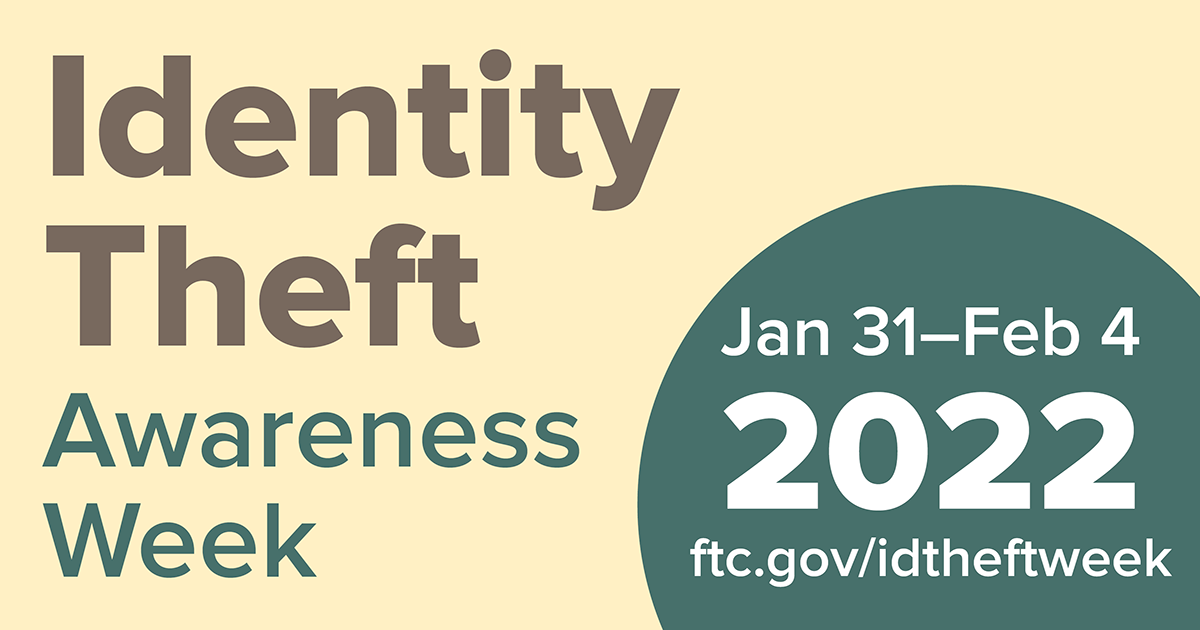 Identity Theft Awareness Week starts January 31! Visit ftc.gov/idtheftweek for details on events and free resources. #IDTheftWeek #idtheft
What should you do if your identity is stolen? Find out during #IDTheftWeek, starting Jan. 31. Learn about free events and resources at ftc.gov/idtheftweek. #idtheft
What if identity theft happens to you?
Visit IdentityTheft.gov to report identity theft to the FTC and get a personal recovery plan. IdentityTheft.gov walks you through recovery steps for more than 30 types of identity theft.
Resources
Learn more about identity theft at ftc.gov/idtheft.
Visit bulkorder.ftc.gov to find resources you can use and share in your community.