Identity Theft Awareness Week 2024, Jan. 29 - Feb. 2
Has someone used your personal information to open accounts, steal your tax refund, or file fake health insurance claims? That's identity theft. It can happen to anyone, but simple steps can help lessen the chance it will happen to you.
Join us for Identity Theft Awareness Week 2024. The FTC and its partners will host free podcasts, webinars, Facebook Live interviews, and other events focused on avoiding and recovering from identity theft and spotting scams. We'll have information for everyone and added advice for servicemembers, older adults, young adults, and business owners.  
Spread the Word
Please tell people who follow you on social media about Identity Theft Awareness Week. Share these messages and graphics. See the messages and graphics in Spanish at ftc.gov/semanarobodeidentidad.
Message #1:
Identity Theft Awareness Week starts January 29! Visit ftc.gov/IDTheftWeek for details on free events and resources. #IDTheftWeek #IDTheft
Message #2:
Find out what to do if your identity is stolen. #IDTheftWeek starts January 29. Visit ftc.gov/IDTheftWeek to learn about free events and resources. #IDTheft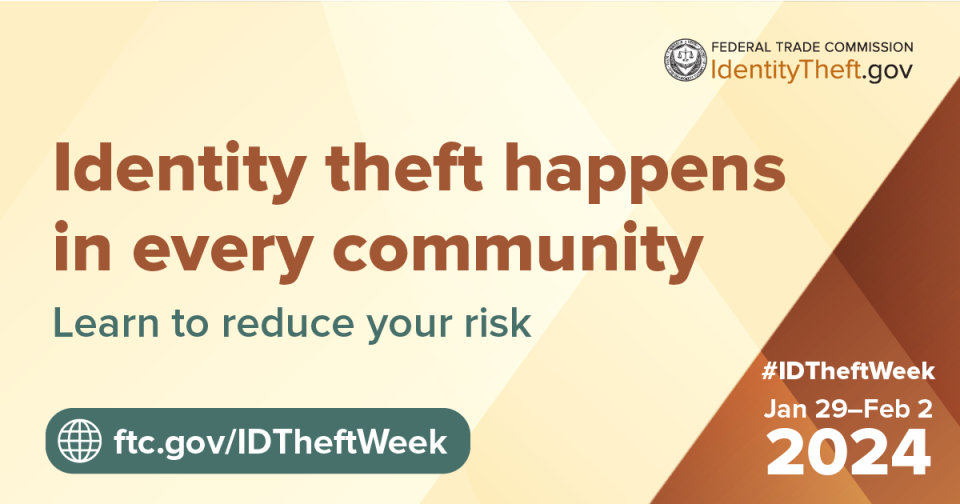 What if identity theft happens to you?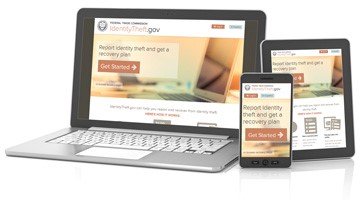 Visit IdentityTheft.gov to report identity theft to the FTC and get a personal recovery plan. IdentityTheft.gov walks you through recovery steps for more than 30 types of identity theft.

Resources
Learn more about identity theft at ftc.gov/IDTheft.
Visit bulkorder.ftc.gov to find resources you can use and share in your community.
Subscribe to our blog for consumer news and scam alerts.
Post our videos on your blog or site. Use the "share" button in the upper right corner of the videos below. Find more videos on our media center.