Did someone share an intimate image of you without your OK? Or was a nude picture taken without your consent, or maybe an image you shared with someone was shared further than you'd intended? If so, you're not alone. Many people are affected by so-called revenge porn or non-consensual pornography. If that's happened to you or someone you know, here's information to help you decide what to do.
Steps To Take If You're the Target of Revenge Porn
Follow the steps in the Cyber Civil Rights Initiative's Online Removal Guide. To get your image taken down, you'll need to report it to Facebook, Twitter, Instagram, Snapchat, Reddit, Tumblr, Google, Yahoo, Bing, or any other the platform it's on. Before you do, read the guide to find out what to expect and how to document the post, as well as how to report it.
Find out if there's a law about revenge porn where you live. There are laws against revenge porn in 46 states plus the District of Columbia. Check to see if there's one where you live, and then decide whether you want to talk with local law enforcement. If you do, be sure to tell law enforcement if your situation might involve domestic violence, cyberstalking, or child pornography.
Consider talking with an attorney. There are laws that might be able to help you get your images taken down.
Know what you're getting if you hire a takedown service. Find out what they promise to do to take your image down, and whether you can do that yourself for free. Find out how much they'll charge, and whether it's a one-time fee or a recurring charge — and for how long you'll need to pay.
Call this hotline. If you experienced non-consensual pornography, need help or advice, and you live in the U.S., call the Cyber Civil Rights Initiative's crisis hotline: 844-878-CCRI (2274).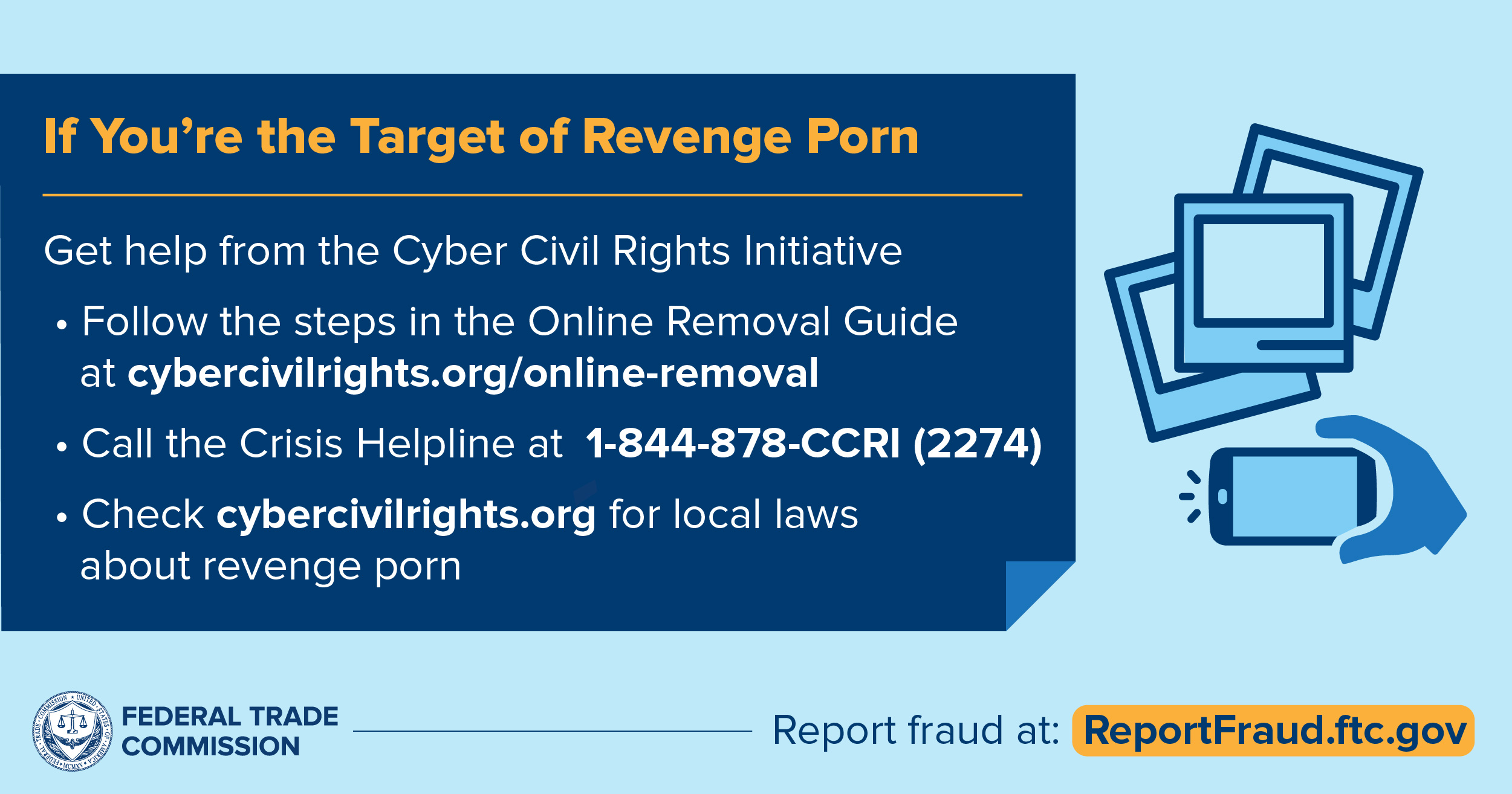 Report It to the FTC
If you are the victim of non-consensual pornography, take the steps above — and then tell the Federal Trade Commission if a company posts your image without your consent and won't take it down.