Gift cards are a great way to give a gift. But did you know they are also a scammer's favorite way to steal money? According to the FTC's new Data Spotlight, more scammers are demanding payment with a gift card than ever before – a whopping 270 percent increase since 2015.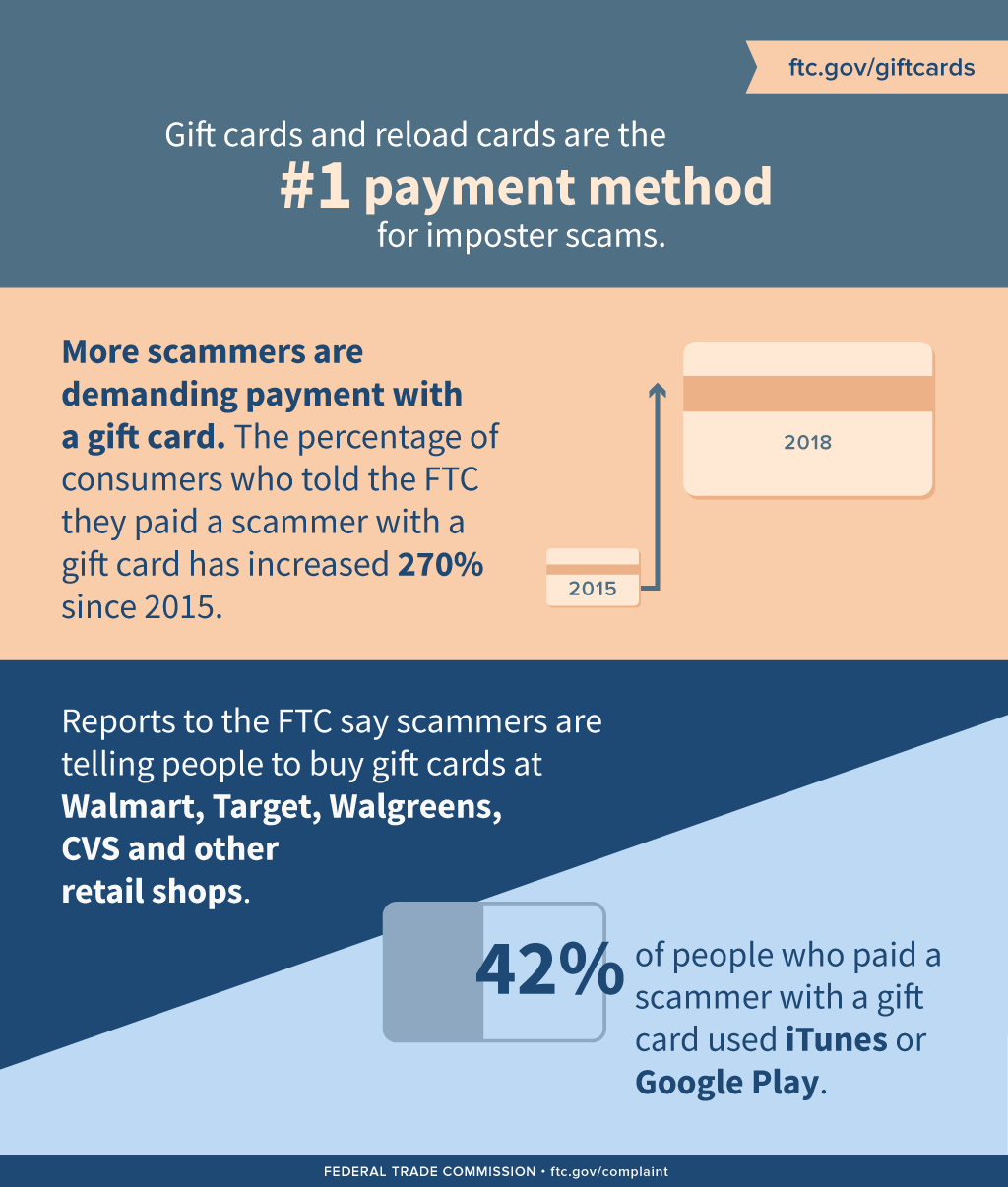 Gift cards are for gifts, not for payments. If someone calls with urgent news or a convincing story and then pressures you to pay them by buying a gift card, like an iTunes or Google Play card, and then giving them the codes on the back of the card – stop. It's a scam.
Gift cards are the number one payment method that imposters demand. They might pose as IRS officials and say you're in trouble for not paying taxes; or a family member with an emergency; or a public utility company threatening to shut off your water; or even a servicemember selling something before deployment. Or they might call with great news – you've won a contest or a prize! But to get it, you need to pay fees with a gift card. Scammers will say anything to get your money. And they know how to play into your fears, hopes, or sympathies. They like gift cards because, once they've got the code on the back, the money is gone and almost impossible to trace. But knowing how these scams work can help you avoid them, and you can help even more by passing on the information to people you know.
If you paid a scammer with a gift card, report it as soon as possible. Call the card company and tell them the gift card was used in a scam. Here is contact information for some of the gift card companies that scammers use most often. Then, tell the FTC about it – or any other scam – at ftc.gov/complaint. Your reports may help law enforcement agencies launch investigations that could stop imposters and other fraudsters in their tracks.
Report Scams

Amazon

Google Play

iTunes

Steam

MoneyPak
there was a girl taking orders in a drive thru restaurant with an ipad and a credit card swiper, she didn't work there - it almost worked for her... but I paid cash at the window - scammers never stop
I've heard from scammers pretending to be from the IRS several times. Each time it was pay up or else. Of course, if I ask them for simple things like my name or address, they're unable to provide it. I even asked one who said he was calling from Washington, DC why he had a Utah area code. His reply was a click and then silence.
If you ever owed money to the IRS you know that they never take gift cards as payment.
I work at a Walgreens, and I've stopped quite a few of these scams over the last few years. It's so common that I start asking questions whenever someone wants to buy a high value Google or iTunes card. I've even seen cases where the scammer is on the phone with the victim and is walking them through the process. Some people don't want to hear the truth. I had one guy come back 3 times asking "are you sure it's a scam? Are you sure I didn't win a government grant?" And I had one guy who absolutely refused to believe it was a scam, and kept buying cards until we cut him off, and then he started sending his co-workers in to buy cards.
If anyone calls me demanding some kind of payment with a gift card all they will get is me laughing and hanging up. Then the number gets blocked.
Easy way to reduce telephone scammers is to use an answering machine. We get a lot of callers who just hang up when the machine kicks in. Telephone with answering machine costs around $50. A lot cheaper than being scammed out of your life savings.
I work at Target and after less than a year I have personally turned away 3 older people trying to buy gift cards for large amounts. We who work in retail can put a stop to this by doing our due diligence. Ask questions when someone wants to buy large amounts of gift cards. One lady kept getting calls from her "grandson" while she was trying to convince me he needed the money. I told her it wasn't money, these giftcards can only be used at Target. I told her to please right away call the parent of this grandchild who was her son or daughter. The "grandson" was trying to keep her on the phone so she couldn't call anyone. In the end she left promising to make that call. I did what I could.
I bought a gift card at Publix, didn't mail it out until several days later. The person I gifted tried to use the card and the merchant said it was cancelled. I called VISA and was told the card was used the day after I bought it. At that time I still had the card. Be aware of buying gift cards at Publix in Delray Beach, Florida
I work in a retail store and see this every day. The customers never believe me and my co workers when we try to explain to them that they are being scammed. We give them information and telephone numbers and were are the ones that are wrong. We don't know what we are talking about.
How about alerts for using Western Union to pay the FTC for winnings at Publisher's Clearing House?
I've been scammed just a few days ago. I only had $340 in my bank and was asked to put on a Google play. Told it would be kept for safe keeping. Then walked thru overdrafting my account for $200 then asked to put in the only cash I needed for another card. So grand total was $590 plus $35 overdraft fees. Kept me on the phone the whole time I bought them. Yes fool but convenced me if I didn't help I'd be spending up to 9 years in prison. Shame on them all. Shame on me for being so follish.
Sadly my grandmother who is cognitively delayed was scammed this year by someone. She is very angry that we stopped her from buying cards and that a girl at the gas station stopped her as well. I am thankful they were aware of the situation and people told us, but I am sad she was taken advantage of. She is on a fixed income from disability since she has never been able to maintain a job. This isn't the first scam this year either. Someone sold her a knee brace over the phone saying Medicaid would pay for it.
i worked on bank call center ..disputes and it is very sad to see how easy older people get scam out of their life savings and UNFORTUNATELY this charges are not disputable, that said thank you all conscientious retail workers doing the right thing
scammed b y internet service to clean computer . scammed by using walmart gift card transaction, to refund me my money, tweakbit scam
I have been scammed of 2100.00 . I'm trying to report it but the report won't let me because I don't know the company's name that scammed me. it wasn't a company , it was someone pretending to work for the government issuing government grants for $150,000.