As you browse online, you probably see offers to try out cool products or services for free. This can be tempting and, many times, it's okay to check them out. But some dishonest companies will bury the terms of their "free trial" offers in fine print or not disclose them at all. Their real goal is to rob you blind.
In its lawsuit against AH Media, the FTC says this is how the company took money from more than 100,000 people. AH Media advertised free trials of skin creams and dietary pills, telling people they only had to pay $4.99 in shipping costs to try the products. But, the FTC says, AH Media billed people about $90 for the products two weeks later. On top of that, the company allegedly enrolled these same people — without their knowledge or permission — in a subscription plan for the products...at close to an additional $90 per month. AH Media either didn't disclose the terms of the "free" offers, hid them in tiny print, or buried them in hyperlinks, according to the FTC's lawsuit.
But wait…there's more! When people clicked the large, green "Complete Checkout" button to pay the shipping fee, AH Media allegedly added even more trials and subscriptions to their orders — for yet another $90 or so per month.
If you're thinking of signing up for a "free" trial offer, keep these tips in mind:
Do some research. Search the product and company name online with words like "review," "complaint," or "scam" to see what others are saying.

Find the terms and conditions for the offer.

If you can't find them or can't understand exactly what you're agreeing to – or what you'll be charged for – don't sign up.

Monitor your credit and debit card statements. If you're charged for something you didn't order,

dispute those charges

as soon as you spot them.
Share this video about free trial offers with your friends: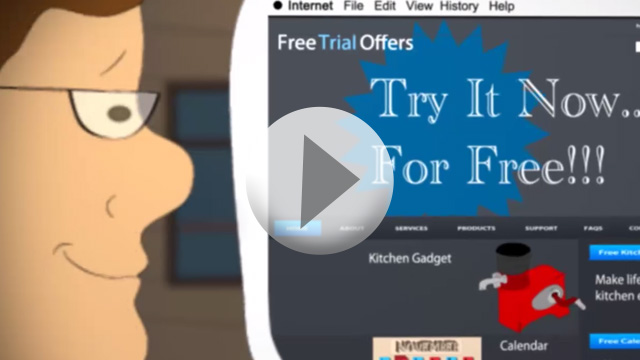 If you've been taken by a so-called "free" offer, report it to the FTC.
It is your choice whether to submit a comment. If you do, you must create a user name, or we will not post your comment. The Federal Trade Commission Act authorizes this information collection for purposes of managing online comments. Comments and user names are part of the Federal Trade Commission's (FTC) public records system, and user names also are part of the FTC's computer user records system. We may routinely use these records as described in the FTC's Privacy Act system notices. For more information on how the FTC handles information that we collect, please read our privacy policy.
The purpose of this blog and its comments section is to inform readers about Federal Trade Commission activity, and share information to help them avoid, report, and recover from fraud, scams, and bad business practices. Your thoughts, ideas, and concerns are welcome, and we encourage comments. But keep in mind, this is a moderated blog. We review all comments before they are posted, and we won't post comments that don't comply with our commenting policy. We expect commenters to treat each other and the blog writers with respect.
We won't post off-topic comments, repeated identical comments, or comments that include sales pitches or promotions.
We won't post comments that include vulgar messages, personal attacks by name, or offensive terms that target specific people or groups.
We won't post threats, defamatory statements, or suggestions or encouragement of illegal activity.
We won't post comments that include personal information, like Social Security numbers, account numbers, home addresses, and email addresses. To file a detailed report about a scam, go to ReportFraud.ftc.gov.
We don't edit comments to remove objectionable content, so please ensure that your comment contains none of the above. The comments posted on this blog become part of the public domain. To protect your privacy and the privacy of other people, please do not include personal information. Opinions in comments that appear in this blog belong to the individuals who expressed them. They do not belong to or represent views of the Federal Trade Commission.
Great article - I got scammed a few years ago and lost almost $200 before I could get them to cancel me Wish there had been a place to report them back then
Yes, exactly the same thing happened when I ordered a "free trial" of an anti-aging product for my daughter. It wasn't "free" and I got billed $89 in the first month of the "free trial" period and put into a monthly subscription at $89 for the next month. "Buyer beware" should remind us of why some want to "privatize" government.
I was a victim of one of the trial scams (with the exact dollar amounts and circumstances as outlined in your warning), but Citicards wouldn't do anything about it. They chose to believe the scammers that I had a monthly order for wrinkle cream, which I never even heard of.
I reported it to the FTC and got nothing more than how to avoid this trap!!!
Did not know I should report to FTC - yes, got 'taken' for the face cream scam! Just small shipping fee but was billed in just a couple weeks for another shipment $90.00! Turns out it was like a subscription with monthly shipments & charges. Phoned the company to protest to no avail, could get no refund nor return of product. Did cancel but what a rip-off!
Thank you very much I will pass this on especially to our senior citizens Thank you again
Have seen this many times. If renewing a magazine periodical on line they offer a "trial magazine" if you try it and don't cancel [ very small print] you get billed for new magazine /trash info......
After reading you information above ; "I actually had this happen to me with their so called free offer just pay shipping. And it turns out there was mire activity placed on my card for mire product that was not ordered nor informed about" However I am so appreciative of FTC and all their efforts and helps. I was able to get it rectified. Thank you very much. I have come to learn that there is much bait and switch going on now. Thank you.
I have been through this problem thank you all for your help
I got trapped by just such a scheme once. I called the company when the charge showed up on my credit card bill, and gave them so much trouble that they finally agreed to refund my money. And they did, which really surprised me.
It's unfortunate that I must use the following simple policy when making financial decisions. If an offer is made to me using any communication method (email, internet, phone, in-person, etc.) from a person or entity which I have never dealt with previously, I ignore it!
This happened to me, I was lucky enough to get to my credit union and get the money back. I will never again do one of those free trials again and there are some that are very interesting, but if tempted I think of what I went through before.
I had this happen to me. The first time I went to my bank they said tuff luck. The second time I went to the bank, I got it taken care of! I may have another problem with an online order I made on Sept. 5th.
Anyone out there know Greg Williams?????
The dish free offer antenna because of channels lost of channel 10 is a scam.. I called about it and they told me I didn't qualify because of the distance from the tower and could not get channel 10. I connected my rabbit ear antenna and received channel 10 perfectly.
Wow, this actually happened to me about two years and it initially started with a posted ad on Facebook. My bank disputed the $90 recurring charges and I was refunded. I didn't realize I could report to the FTC at the time. Hats off to the FTC for taking on this issue!
Do not ever sign up for the "free sample" scam. Got trapped before with skin care cream. As soon as I found out, I reported to my bank for the "unauthorized" charge. After hearing my report, they stop payment using "reverse" payment method. I also have reported to their company's State Attorney General Office for the SCAM. You will need to fight with them. Otherwise they will keep continue this SCAM, because they can.
In reply to Do not ever sign up for the by Hiroe Keeler
I totally understand about the that, I constantly get emails saying that I got free items and samples but they never give.