As the Coronavirus takes a growing toll on people's pocketbooks, there are reports that the government will soon be sending money by check or direct deposit to each of us. The details are still being worked out, but there are a few really important things to know, no matter what this looks like.
1. The government will not ask you to pay anything up front to get this money. No fees. No charges. No nothing.
2. The government will not call to ask for your Social Security number, bank account, or credit card number. Anyone who does is a scammer.
3. These reports of checks aren't yet a reality. Anyone who tells you they can get you the money now is a scammer.
Look, normally we'd wait to know what the payment plan looks like before we put out a message like this. But these aren't normal times. And we predict that the scammers are gearing up to take advantage of this.
So, remember: no matter what this payment winds up being, only scammers will ask you to pay to get it. If you spot one of these scams, please tell the Federal Trade Commission: www.ftc.gov/complaint. We're doing our best to stop these scammers in their tracks, and your report will help.
Keep up to date with the latest Coronavirus-related scams at www.ftc.gov/coronavirus or by signing up to get these consumer alerts. 
Watch these videos for more tips on how to avoid ecomonic impact payment scams: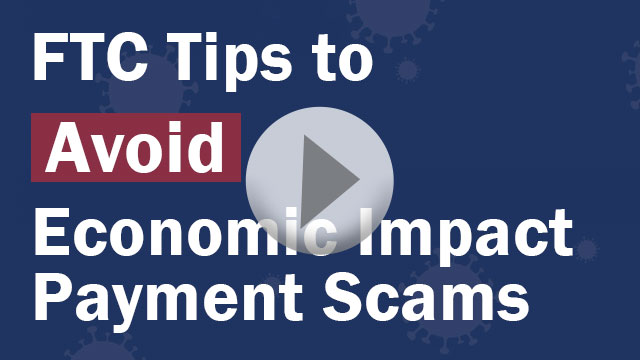 Updated link added on April 21, 2020.
FYI. The $1000 per person being proposed is inadequate. Most households cannot survive on that especially as we need to self-isolate or be in lockdown mode for week or months. Take care people first! Here's my suggestion: To start distribute as an initial payment of $1000 per person per household making $125K or less for for six months paid in full now. This is not time for economic stimulus. It is time for guaranteeing the financial security of Americans which will help protect the economy when a business stimulus is appropriate.
Quiero agradecer a la FTC por mantenernos en alerta y evitarnos posibles dolores de cabeza.
I was wondering if Seniors who are on limited income . SSI, are being left out of the " All Americans get a check program". It seems to be morphing to only those who lost jobs. My mom is on very limited income . SSI ONLY . ( we make sure she is ok but we are tight always as well). She has had to get all of her meds for 2 months and groceries as well .. she has nothing left and actually had to leave off certain things . I would never allow her to go without anything . Her meds are semi covered with MC but she's on insulin and it is a huge expense . So, I am hoping that the Govt will NOT forget those elderly who worked their entire lives and are ( honestly not getting cost of living increase payments from SSI) Just curious if I'm reading the news wrong today. It sure has changed ! Talking about tax returns , she hasn't done one since 2018.. just curious. Ty
I have a question about FTB mortgages, a lot of people are paying, but there are some people where companies close and what about such people as they are supposed to pay?They are afraid of losing thes houses. What can we do in such a difficult time?
Will disabled & reg veterans get the money as well as Seniors who are retired?
Recibo Seguro Social estoy incapacitada mi pregunta es Recibiré un cheque de los q enviara el presidente por esta pandemia y como lo recibiré?