As the Coronavirus takes a growing toll on people's pocketbooks, there are reports that the government will soon be sending money by check or direct deposit to each of us. The details are still being worked out, but there are a few really important things to know, no matter what this looks like.
1. The government will not ask you to pay anything up front to get this money. No fees. No charges. No nothing.
2. The government will not call to ask for your Social Security number, bank account, or credit card number. Anyone who does is a scammer.
3. These reports of checks aren't yet a reality. Anyone who tells you they can get you the money now is a scammer.
Look, normally we'd wait to know what the payment plan looks like before we put out a message like this. But these aren't normal times. And we predict that the scammers are gearing up to take advantage of this.
So, remember: no matter what this payment winds up being, only scammers will ask you to pay to get it. If you spot one of these scams, please tell the Federal Trade Commission: www.ftc.gov/complaint. We're doing our best to stop these scammers in their tracks, and your report will help.
Keep up to date with the latest Coronavirus-related scams at www.ftc.gov/coronavirus or by signing up to get these consumer alerts. 
Watch these videos for more tips on how to avoid ecomonic impact payment scams: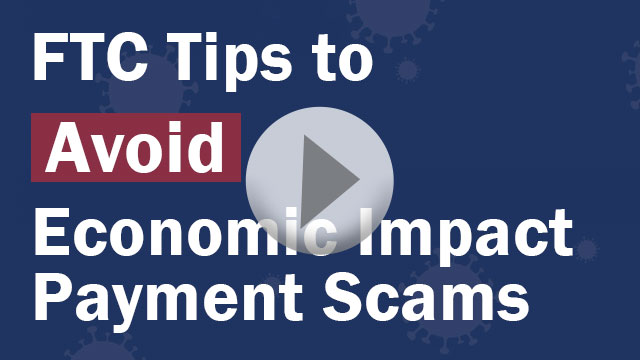 Updated link added on April 21, 2020.
It is your choice whether to submit a comment. If you do, you must create a user name, or we will not post your comment. The Federal Trade Commission Act authorizes this information collection for purposes of managing online comments. Comments and user names are part of the Federal Trade Commission's (FTC) public records system, and user names also are part of the FTC's computer user records system. We may routinely use these records as described in the FTC's Privacy Act system notices. For more information on how the FTC handles information that we collect, please read our privacy policy.
The purpose of this blog and its comments section is to inform readers about Federal Trade Commission activity, and share information to help them avoid, report, and recover from fraud, scams, and bad business practices. Your thoughts, ideas, and concerns are welcome, and we encourage comments. But keep in mind, this is a moderated blog. We review all comments before they are posted, and we won't post comments that don't comply with our commenting policy. We expect commenters to treat each other and the blog writers with respect.
We won't post off-topic comments, repeated identical comments, or comments that include sales pitches or promotions.
We won't post comments that include vulgar messages, personal attacks by name, or offensive terms that target specific people or groups.
We won't post threats, defamatory statements, or suggestions or encouragement of illegal activity.
We won't post comments that include personal information, like Social Security numbers, account numbers, home addresses, and email addresses. To file a detailed report about a scam, go to ReportFraud.ftc.gov.
We don't edit comments to remove objectionable content, so please ensure that your comment contains none of the above. The comments posted on this blog become part of the public domain. To protect your privacy and the privacy of other people, please do not include personal information. Opinions in comments that appear in this blog belong to the individuals who expressed them. They do not belong to or represent views of the Federal Trade Commission.
Im on ssi and didnt receive a stimulous check cause I didnt ask someone else to claim me but they did I dont. File cause of the pandemic. I dont think its fair I dont get a check. I. Thought every american would get a check.dont sound fair to me .Im one of the lowests of income at 758.00 a month.
In reply to Im on ssi and didnt receive a by Don't juneuse …
You need to contact the IRS ASAP and let them know that someone is claimed you that did not have permission to so that you can receive your stimulus check there is a lot of people out here claiming the elderly on their income tax and now that the stimulus is here it is showing that people are being claimed
I am losing everything I have power going to get cut off getting kicked out of my house cuz I cannot pay my bills the government has never sent me a check I need to know how to get that check done everything I can
i think the $40,000 amount for stimulas package is wrong should stay the same as last time example my husband just retired after 55 yrs and now our income is only his social security and now we will get WAY LESS to live on and if the amount go to $40,ooo or less we will not get it cause U PEOPLE will go by yearly income and that is NOT FAIR. it will hurt alot of people PLease keep it the way it was Thank you
I am a employed nineteen year old, not a student. Filed my own 2019 taxes, but have not received my first stimilus check and my parents did not. Why, the IRS website is non responding to me
My husband and I are both disabled but have legal guardianship of two grandchildren we were not approved for the dependents stimulus check we filed non filer
I do I go about changing some things am separated from my husband
Could someone be making those directexpress cards?
I was not able to receive 1st stimulas because I was clamed as a dependent but my boyfriend left me 7 month ago not giving ma a dime and all the bill unpaid what can I do
If I receive ex's stimulus for back child support will they take that out of snap benefits or ssi?
I thank God every day I'm alive but worked all my life since I was forteen I'm very disabled I get pennies in disability and a little counter balance from SS, 800 amonghe I go for weeks with nothing to eat after I pay for a roof over my head and my phone for emergencies.. I just pray we aren't overlooked I'm a us citizen paid all my taxes help people even worse of then me but I'm always sick and get exposed to this virus I will die have no spleen(immune system) ,heart condition, chronic Asma. So I'm a prisoner of war victim at home. Il. Say alot of prayers for everyone please help us and get us through this terrible thing. Thank you God Bless
Im on disability and a single mom. I never got the $1200.00 for myself nor did I ever receive the $500.00 for child under the age of 17. I only get $521. a month in disability and I thought the least you could get was 700 or more . so if that wasn't bad enough now I didn't even get the money the president said I would get , but people that's in prison or dead got. I needed the money like everyone else did .
They're taking advantage of this especially during this pandemic
Ok Iam homeless and I got my stimulus in paper I signed it over to my mom . My mom don't have a checking account and I don't have a ID or any thing iam. Homeless and I don't carry or have account so I have a check that nobody will take a 3rd party check.i Dont understand why I can't get a card some 4millon got there on a card and i need money right now
This is crazy, Child support took my check for Child support,but they have been taken money from my check since 2011, they said we going to do this till all is paid. They was supposed to take all of it out of my back payment but they decided to just take it out each month,so how can they take my check when they was the one to say we just going to take it out each month. So It's not right for them to take it...
My mother paid taxes for 2018 and 2019. She died March 17, 2019. Her check arrived in April. As her executor I could sure use the money to pay her bills and her funeral. Why can't I keep it to pay her bills when she died after the virus got here.
My name is Donna Dodson i am 79 years old and on disability and when i talk to them the told me that i will not get the stimulus check because my social Security number on my sisters income tax form. But that is not right at all i only get one income every 3th month i needed that money to help me with stuff that i need for my disability my email is donnadodson873
I'm a single mom receive ssdi and am the custodial parent ex does not even pay child support but has apparently been claiming my sons on his taxes the nongovernmental tool won't allow me to add my kids bcuz he is claiming them when he's not supposed to. He received first stimulus payments for my sons and would not turn them over, mind you he barely sees them, they never spend nights, he doesn't provide support or insurance everything is on me. Now with a second check in the works I need answers because I have gotten nowhere with the irs. Can I recover the first stimulus checks for dependants? How do I stop him from receiving future stimulus money for my dependants? And how do I get the irs to allow me to add my sons as my dependants not his I'm on ssdi I don't file taxes so the 2020 return rules don't apply. Please advise.
I'd like to know why I never got my first stimulant check my husband got 1200 and he got 600 I never got any of them and I have not worked only part-time 3 hours a night for the last few months I've been laid off for 6 weeks due to covet and now I'm very sick and cannot go back to work due to my lupus and my health conditions esophagus disease and lymphoma lymphoma lymphoma
I haven't got any stimulus check from my child support from when I was working
When I got my little Disibility check there was something from IRS for $24.64. I hope that is not our full stimulous amount. Was there extra money on Disibility this month? Combined we make under that $150,000. I have health issues and it is expensive so we just barely make it. I really need that $1400 if only just for me on disability. Sometimes they reduced my Hubbys part. But I got the full stimulous being on disability. Don't know why this separate small amount showed up with my usual deposit from disability.
I may have not liked the past 4 years, but atleast when it came to the stimulus help. We disabled below the poverty level, had the help pretty quick. Now this new administration is going to let us know when we can get it, after we all are homeless, with nowhere to go. There have already been people who are well above the poverty line, have gotten the help . ??????,??
IDid not receive my 1400 for my child
I'm on Ssi and never gotten any stimulus check ever. What's going on with that?
March 30, 2021. Social Security Disability has been my only no taxable income since 1999. I am 54 years old, divorced and in need of basic needs for life. If I had the means to work for extra money. I certainly would! In the meantime, what's really going on with the third $1400.00 stimulus check?
Is it to late to receive a stimulus check if you haven't received any of the stimulus checks yet? I don't know how to receive it when I go to the irs non filers it doesn't provide me with much info. And do u need to file your taxes to receive?
How do I find out if I was issued a payment for my stimulus but didn't receive it because of back pay for child support?