Identity theft is hard enough. That's why we keep working to make recovering from it easier. It's also why we're happy to let you know about an innovative project by the FTC and IRS that lets people report tax-related identity theft to the IRS online, using the FTC's IdentityTheft.gov website to file IRS Form 14039.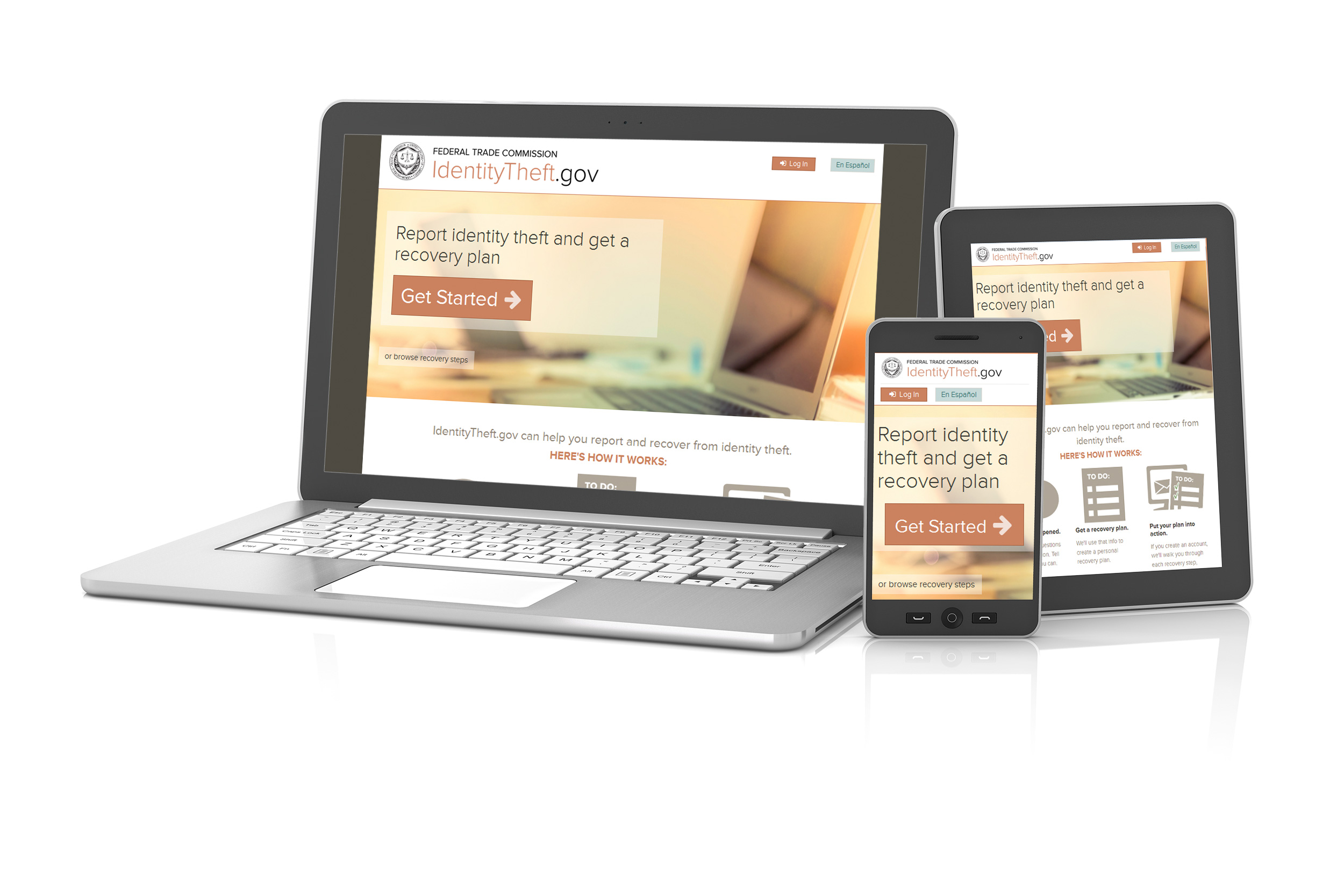 Tax-related identity theft happens when someone uses your stolen Social Security number (SSN) to file a tax return and claim your refund. You might find out about it when you try to e-file — only to find that someone else already has submitted a return — or when the IRS sends you a letter saying it has identified a suspicious tax return that used your SSN. That's when you'll need to file an IRS Identity Theft Affidavit (IRS Form 14039), so that the IRS can begin resolving your case.
Now, you can report to the IRS through IdentityTheft.gov. It's the only place you can submit your IRS Form 14039 electronically. Here's how it works: IdentityTheft.gov will first ask you questions to collect the information the IRS needs, then use your information to populate the Form 14039 and let you review it. Once you're satisfied, you can submit the Form 14039 to the IRS through IdentityTheft.gov. Download a copy for your own records, too. About 30 days later, the IRS will send you a letter confirming it received the information.
While you're at IdentityTheft.gov, you'll also get help making an identity theft recovery plan, with guidance including how to place a fraud alert on your credit files, check your credit reports, and take other steps to stop the identity theft from harming other of your accounts. IdentityTheft.gov also will help you resolve other identity theft problems.
Remember, though — filing the Affidavit doesn't eliminate the need to pay your taxes. If you couldn't e-file your tax return, you'll still need to mail it to the IRS and pay any taxes you owe.
We hope you don't run into problems with identity theft. But if you or someone you know does, visit IdentityTheft.gov to report it and get fast and effective recovery help.
It is your choice whether to submit a comment. If you do, you must create a user name, or we will not post your comment. The Federal Trade Commission Act authorizes this information collection for purposes of managing online comments. Comments and user names are part of the Federal Trade Commission's (FTC) public records system, and user names also are part of the FTC's computer user records system. We may routinely use these records as described in the FTC's Privacy Act system notices. For more information on how the FTC handles information that we collect, please read our privacy policy.
The purpose of this blog and its comments section is to inform readers about Federal Trade Commission activity, and share information to help them avoid, report, and recover from fraud, scams, and bad business practices. Your thoughts, ideas, and concerns are welcome, and we encourage comments. But keep in mind, this is a moderated blog. We review all comments before they are posted, and we won't post comments that don't comply with our commenting policy. We expect commenters to treat each other and the blog writers with respect.
We won't post off-topic comments, repeated identical comments, or comments that include sales pitches or promotions.
We won't post comments that include vulgar messages, personal attacks by name, or offensive terms that target specific people or groups.
We won't post threats, defamatory statements, or suggestions or encouragement of illegal activity.
We won't post comments that include personal information, like Social Security numbers, account numbers, home addresses, and email addresses. To file a detailed report about a scam, go to ReportFraud.ftc.gov.
We don't edit comments to remove objectionable content, so please ensure that your comment contains none of the above. The comments posted on this blog become part of the public domain. To protect your privacy and the privacy of other people, please do not include personal information. Opinions in comments that appear in this blog belong to the individuals who expressed them. They do not belong to or represent views of the Federal Trade Commission.
Folks should also be aware that people may use your SSN for work purposes when they do not have one of their own. They may not file a tax return, but the victims will get a letter claiming they earned more than they reported on the tax return. I worked with a 75 year old female on the west coast who allegedly worked construction the previous year in the south. Obviously, she did not work construction, but the letter from the IRS said she earned an additional $35,000.00.
I think you guys do some great work. I really appreciate the emails that I get to try and keep my financial profile safe. However, if I file an identity theft form, waiting 30 days for a reply seems like a very long time.
sksd425 I received a call from 4156597046 from a man named Julian Williams who claimed to be an IRS agent from IRS criminal investigation unit informing me that I was being sued by IRS for Tax fraud from 2012-2017 for 5,072.00 and unless I paid or at least put down 500 today a letter would arrive informing me of the suit and I could be arrested.
In reply to sksd425 by yukon2008
The IRS will never call anyone about an issue. The IRS always send a certified letter. If you received a call, it is likely to be a scam to steal your identity.
This can be very helpful. Will save email for my records. In light of an episode a few years back I have already taken steps to secure my credit. No problems since then.
Who is making money from this newest waste of time? Hackers can still submit false claims to cms and get paid outrageous sums.
There is not an easy way to just report phone numbers that state they are from the IRS. I would report the number if I could find a way to do it on your website; no identity theft was involved.
For 2 weeks I've been receiving to go calls telling me that Microsoft Support is going out of business and they want to refund money to me. The number they are calling from is 1-888-864-3718.I'm not returning the calls. Just curious if anyone else is getting these calls. Three weeks ago I received a call that my hackers are trying to get into my computer and they needed to fix it. I told the guy I was busy and to call back which he did. After that I ignored the calls and they stopped. It's absolutely ridiculous that these people have nothing better to do than scam others. Once I hear the thick accent, I know it's a scam.
I have not been answering phone calls from unknown calls. there was a voicemail that stated I was to be arrested by Federal Agents unless I paid back taxes. so I called the number I could not understand what the person on the other end was saying of course I the was transferred to another Federal Agent. This person would not hang up he kept me on the phone in my car no matter where I went he would not hang up.he told me that if I did not do what he said he would have me arrested.
Someone. Used. My ssn to file taxes to file taxes know i haven't got my stimulus
Why haven't I received anything from the IRS yet regarding dependants identity affidavit forms it's been almost 180 and nothing