Servicemembers understand the serious responsibility of enlisting in the armed forces. But some companies may try to take advantage. If you or a loved one is visiting military recruiting websites to research or enlist, don't get the wrong impression. Double check that the military recruiting sites you land on are official websites of the U.S. Armed Forces, not ones in disguise made to collect, and sell, your personal information.
According to a settlement just announced by the FTC, Sunkey Publishing, Inc., Fanmail.com, LLC, and associated companies ran online ads and websites like army.com and airforceenlist.com. These sites and ads looked like official military recruiting channels. But they weren't. The FTC says people were tricked into thinking the information they shared would be used only for recruiting purposes. Instead, the companies sold people's information to post-secondary schools as marketing leads. Even though these websites said they wouldn't share people's personal information. What's more? The FTC says that Sunkey then used the numbers people shared to call them – pretending to be military reps and pitching post-secondary schools as though the schools were endorsed by the U.S. military. Which they weren't.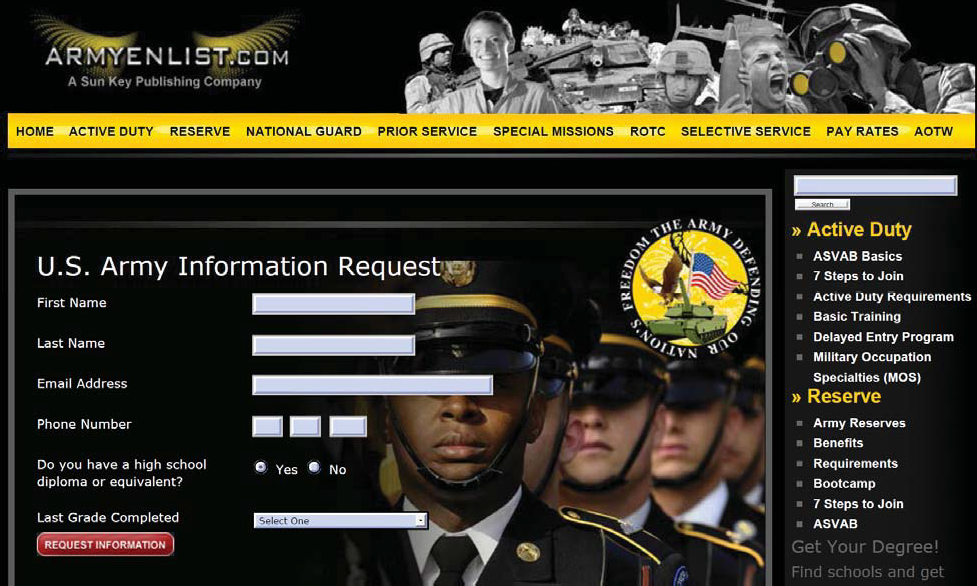 As a result of the FTC settlement, the defendants must, among other things, turn over control of the domain names in question and tell consumers that their websites are not official recruiting websites of the U.S. Armed Forces – nor are they endorsed by or affiliated with any branch of the U.S. military. The settlement also prevents them from using military recruitment as a means to sell or market other products or services. Before collecting certain information, the companies also must ask consumers to acknowledge that they understand that these websites are not official military recruiting sites, and that they understand they're not submitting their information directly to the military. The FTC also says that the companies must stop selling or transferring consumer's personal information without their consent.
To get to the official recruiting sites of the U.S. Armed Forces, start with this site from the Department of Defense. If an online search takes you to other sites, research them before you fill out online forms or applications. Search the site name online, plus words like "complaint" or "review." For more information about where your information goes, read more about how companies get your info.
Have you had an experience with a company like this? Tell the FTC.
It is your choice whether to submit a comment. If you do, you must create a user name, or we will not post your comment. The Federal Trade Commission Act authorizes this information collection for purposes of managing online comments. Comments and user names are part of the Federal Trade Commission's (FTC) public records system, and user names also are part of the FTC's computer user records system. We may routinely use these records as described in the FTC's Privacy Act system notices. For more information on how the FTC handles information that we collect, please read our privacy policy.
The purpose of this blog and its comments section is to inform readers about Federal Trade Commission activity, and share information to help them avoid, report, and recover from fraud, scams, and bad business practices. Your thoughts, ideas, and concerns are welcome, and we encourage comments. But keep in mind, this is a moderated blog. We review all comments before they are posted, and we won't post comments that don't comply with our commenting policy. We expect commenters to treat each other and the blog writers with respect.
We won't post off-topic comments, repeated identical comments, or comments that include sales pitches or promotions.
We won't post comments that include vulgar messages, personal attacks by name, or offensive terms that target specific people or groups.
We won't post threats, defamatory statements, or suggestions or encouragement of illegal activity.
We won't post comments that include personal information, like Social Security numbers, account numbers, home addresses, and email addresses. To file a detailed report about a scam, go to ReportFraud.ftc.gov.
We don't edit comments to remove objectionable content, so please ensure that your comment contains none of the above. The comments posted on this blog become part of the public domain. To protect your privacy and the privacy of other people, please do not include personal information. Opinions in comments that appear in this blog belong to the individuals who expressed them. They do not belong to or represent views of the Federal Trade Commission.
It is not just military. I have been unemployed for almost a year and you would not believe the numerous emails I received from recruiting agencies who claim they saw my resume on a job site and have a client in my area looking for someone with my skills. Most of them are in another state and clear across the country. I usually just delete them. Just be extra careful when it comes to entering your personal information on the internet or giving it to a caller.
In reply to It is not just military. I by Sylviaip
I am getting numerous emails from the same thing. The site states they saw my resume on a job site, and of course I only had one with this particular email. I currently have removed that one, and changed my email address to something else, and made that resume hidden from the public. But this person has insisted on spamming everyday since last month. Where can I forward this email too and have it checked out?