It's Tax Identity Theft Awareness Week – a terrific time to get up to date on protecting yourself from identity thieves who try to claim your tax refund and imposters who pretend they're from the IRS to get your money.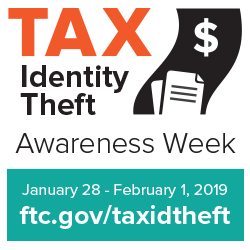 Tax identity theft happens when someone uses your Social Security number (SSN) to get a tax refund or a job. You might find out it's happened when you get a letter from the IRS saying that more than one tax return was filed with your SSN, or IRS records show you earned income from an employer you don't know. Or, the IRS may reject your efiled tax return as a duplicate filing.
Want to learn more? Come to one of the two telephone town hall meetings happening on Thursday, January 31 – one at 10 a.m. ET and another at 1 p.m. ET. Experts from the FTC, AARP, and the U.S. Treasury Inspector General for Tax Administration will talk about tax identity theft and more. Register here so you can call in with questions.
Meanwhile, to help fight tax identity theft:
File your return as early in the tax season as you can.

Use a secure internet connection if you file electronically, or mail your tax return from the post office.

And visit Tax-Related Identity Theft to learn more.
It is your choice whether to submit a comment. If you do, you must create a user name, or we will not post your comment. The Federal Trade Commission Act authorizes this information collection for purposes of managing online comments. Comments and user names are part of the Federal Trade Commission's (FTC) public records system, and user names also are part of the FTC's computer user records system. We may routinely use these records as described in the FTC's Privacy Act system notices. For more information on how the FTC handles information that we collect, please read our privacy policy.
The purpose of this blog and its comments section is to inform readers about Federal Trade Commission activity, and share information to help them avoid, report, and recover from fraud, scams, and bad business practices. Your thoughts, ideas, and concerns are welcome, and we encourage comments. But keep in mind, this is a moderated blog. We review all comments before they are posted, and we won't post comments that don't comply with our commenting policy. We expect commenters to treat each other and the blog writers with respect.
We won't post off-topic comments, repeated identical comments, or comments that include sales pitches or promotions.
We won't post comments that include vulgar messages, personal attacks by name, or offensive terms that target specific people or groups.
We won't post threats, defamatory statements, or suggestions or encouragement of illegal activity.
We won't post comments that include personal information, like Social Security numbers, account numbers, home addresses, and email addresses. To file a detailed report about a scam, go to ReportFraud.ftc.gov.
We don't edit comments to remove objectionable content, so please ensure that your comment contains none of the above. The comments posted on this blog become part of the public domain. To protect your privacy and the privacy of other people, please do not include personal information. Opinions in comments that appear in this blog belong to the individuals who expressed them. They do not belong to or represent views of the Federal Trade Commission.
This is great info. I work in law enforcement and I cannot believe the number of people who still fall for these scams when they are on the news everyday. Thanks for the great video too.
In reply to This is great info. I work by LVGrandmaC
I feel like crying were do I start . My daddy passed away over 6 Yeats years ago I'm being to think someone is reciviing his veterans benfits. Now someone changed my phone number without my person I was hijacked everyone saw my Dr appointments texts I would send pictures on a text imessage it would disappear on the 1 that I sent . Celco said I was being montored in a message . Wallagteens had a case number on my medicine but not who filled it just the Dr . I would highly check on that due to if or I became so sick Grom a inhaler I thought I was going to die bit of they wanted to know who filled it no recorded , just the Dr only
Stolen Identity Someone has already stolen my sons identity for 3 years now. Every time he goes to file they have already got his money he worked for. He believes its one of the jobs he worked on.
In reply to Stolen Identity Someone has by Missyspike
He can go to www.IdentityTheft.gov to report the theft to the FTC and IRS. 
When he is on the www.IdentityTheft.gov site, he can complete the IRS Identity Theft Affidavit (IRS Form 14039) and submit it to the IRS online so that the IRS can start working on his case.
I just went to chrome cause i was trying to fo a photo search then went to google but instead of adfing photo i search rogers jones and his picture came out as well as other soldiers which pictures are being used and yes the one that had been scamming me with 3 itune cards and all this love was one of alk the pictures that came out. He claimed he had gold and work with gems. His wife cheated and devorce. Parents past away. He was deployed to afghanastan and coming home in march. Not true. So if your story like mine his a scam. Its ashame i cant share picture here.
I have received numerous emails saying that I have a tax refund available, scams. I forwarded a few of them , but most of them I just delete. I use an accountant to do my income tax so if that office does not call me then I know it is a scam, also checked on scamis and found it was scam.
Good info passing the url along to others I know.I don't need it been retired for ages.
Sounds like good information, too bad the word didn't get out in time to participate.
With the FTC down due to the government shutdown who can I contact about identity theft? Someone has been using my SS# to work, where can I get a print out of the jobs using my social to work?
In reply to With the FTC down due to the by Reg
You can report identity theft to the FTC and the IRS at www.IdentityTheft.gov.
Use the website to create an identity theft report. The website has sample letters and forms you can use to tell credit reporting companies and businesses about the theft.
i dont want to be scammed >:(
I received a phone call from a 615-866-1315 number telling me that someone is using my social security # fraudulently. Please BEWARE OF THESE SCAMMERS. SENIOR CITIZENS GET FRIGHTENED AND CONTACT THIS NUMBER. DON'T DO IT!
I was scammed of $8000 and my Identity was stolen by scammers using my Cousins Instagram account to contact me with information that they saw my name on the Winners list to receive donations from the Government. I was given a phone number and a Government Claim Agent's name to receive the funds. The claim Agent (same scammer Impersonator) identified himself with a Government ID using someone else's photo on the ID. This is a painful and very serious situation to be in.
Automated call that a warrant for my taxes has been issued. US GOV SANG 586-307-6138 on the cell caller ID
Received many calls from 800-4456-3247 stated my S.S. has been disconnected due to activity.