Online dating sites are a common way people seek romance. But what if, instead of a potential match, you find a scammer? Today, the FTC announced a lawsuit against Match.com, challenging several of Match's business practices, including ones that the FTC says exposed customers to romance scammers.
If you had a free Match account and got a message from another user, Match would send you a notice like this one to encourage you to "read his email" (or hers)…which required you to subscribe and pay:
But the person whose eye you caught? Match had already identified many of them as likely scammers. So if you paid Match to read that message, you might have found either a scammer or an empty inbox, instead of, possibly, "the one" Match advertised. That's deceptive, the FTC says.
Even worse, says the FTC, is that Match had blocked some of these suspicious accounts from sending messages to its paying subscribers, but didn't give the same protection to free account users. The people who then subscribed in response to these messages could have been exposed to scammers. The FTC says that practice is unfair, placing people at risk of romance scams so that Match could make more money.
FTC data show that romance scams are on the rise. So how to protect yourself if you're still looking for love in online places?
Listen for details that don't add up, and do a reverse-image search on profile pictures. If those pics show up with someone else's name, you've found a scammer.
If an online sweetheart you haven't met in person asks you for money, stop. That's always a scam.
Talk to someone you trust about this love interest – and pay attention if friends or family are concerned.
Learn more at ftc.gov/imposters.
If you think you've encountered a romance scammer on an online dating site, report it to the website and to ftc.gov/complaint. Watch this video to learn more about romance scams.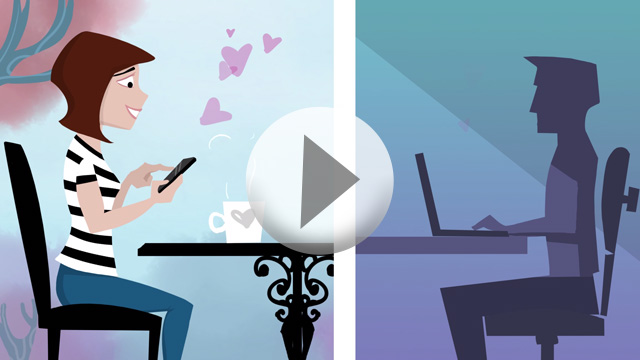 They NEVER give up ! THANKS to the FTC and all that you do.
I was a paid customer of Match.com and got scammed for a lot of money and Match.com never protected me.
Thank you to whoever launched this lawsuit. Match.com ABSOLUTELY uses fraudulent practices and anyone who thinks they stopped "mid-2019" is grossly mistaken. Deceptive practices when my subscription expires, MANY profiles on there are clearly fake and set up by Match. Interesting how just a few days before your subscription is about to expire you get notifications of interest that are clearly fake. I could go on and on. I want to know how I can add feedback to this lawsuit.
Match charging people to receive empty messages sounds like a scam itself.
I applaud the FTC for taking action, but this needed to happen years ago. I joined Match thinking that it was a legitimate way of meeting my future spouse, which I suppose was naive. It's not the fake scammers online that you never meet aside from exchanging emails that customers need to worry about -- it's the scammers that you meet in real life, who are out for money, vacations, meals, etc. Yes, it happens to women too. "Online dating" is a flawed model. Until companies find a way to carefully vet each and every member, those who join online dating sites are at risk.
I was on Match and POF. I encountered several fake profiles and messages on both sites. Glad someone is taking a stance.
This suit has been long awaited --- Thank you! It got to the point where I assumed the majority of the messages I was getting were scammers. It was so discouraging and made it tougher for me to connect with the legitimate prospects. Very time-consuming to check everyone out . The other problem is making profiles appear "active" when they're not.
It's about time that the government is really taking a hard look at these companies. As a victim, much of the information coming out in the news didn't address much of what one is seeing. Today I do not have an account with Match.com and I have unscribed, however I still get daily emails from match. The emails are stating that so and so liked you or you have a message waiting for you. How is it possible if one unscribes for a service your still getting emails? This is simply wrong and hurts people financially. Such dating sites have given true criminals an avenue to hind themselves, use love, and reel in their victims and get money. I would like to see all of these companies shut down as there are truly lonely souls...believing that there is good in this world and they just want to find a good, honestly loving companion...you will not find it on these sites. If you do your the lucky ones. It would be great to see more and more people speak up and not feel ashamed of being a victim...because the more that people speak up the more the consumer will know what to look for, and how good these con-artists are. The other thing to keep in mind is con-artists know how to beat the system...because they know the system...and typically they get out of any convictions. Be diligent , ask questions, do background checks, and if no information about the person comes up you should run. If any information that seems bad...or your not comfortable you should run away as well. Good luck out there. And remember if they sound to good...it's because it is more than likely a FRAUD!
I was scammed by a person(s) that contacted me through match.com - they tout that they are safe, but in my case they failed miserably. They do nothing to educate people on how scammers work - and how to spot them. Even though I cancelled my subscription I continue to get emails from them just like described in the article. Minimally I believe match could have a video educating new members on scammers before they subscribe - until the video is viewed no one can sign up. I had no idea such evil people existed, I was naive. I only want to prevent what happened to me from happening to anyone else - it's truly been devastating! I am thankful FTC is actively pursuing this issue.
Happened to me His name he said was Frank e mailed me then took his picture off Matchbut left his profile sent me pictures that he said was he went on for 2 months until i finally told him off and deleted every thing I now am on love and seek and believe. it is the same man using someone elses name talks broken English and any question you ask he never answers I got you ask you never get a response
How does one follow your advice and do a "reverse image check?"
One of the few divisions of government worthy of citizen tax dollars. Thank you so much for your consistent and valuable consumer oversight.
How do you do a reverse image search on a profile photo?
Had a guy friend request me- General James Antonio in Iraq. When I asked him if he was real he tried to laugh it off till I told him I have ex military friend that has a business locating people. He got HOT lol what makes me suspicious is he constantly wanting me to get a Hangouts account . I've caught him with parents dead to not taking nonsense from his parents and he's got a 13 year old boy . The madder he got the worse he couldn't spell or write a sentence. I have to tell you though, boy did he have a silver tongue. I sure wished he would of been real.....
Yes, i had a dating site selling my information
On Match.com I was scammed by a man named Jonathan. He had a good game and I fell pretty hard for him. He urgently asked me to buy him a computer and cell phone, he said he was out of town and had his stolen. UGH!! He previously sent me a link to his profile on Linkedin - that profile is still there today. I tried letting the person know on Linkedin - no response..strange people out there very confusing, is this the scammer or the real person?
Match.com got 60$ from me, I cancelled. I lost money but learned a lesson, Never Trust dating websites!!!!!! Scammers.
I was scammed on Zoosk! They should go after all dating websites!
they ripped me off. Said save 42 dollars on regular price if sign up today.I used my paypal and they charged the full amount. Then I disputed through paypal for the savings of 42 dollars. Then match locked my profile and won't let me on and refused to give me my 89.94 refund I paid for a service they won't let me use. Bet they do it to credit cards thinking by the time the customer realizes it's too late.
I used match a few times and I have not met a real man in person. Many of these men do not want to meet, they have incredible jobs like engineers, architect, contractors and they are always away to another countries on contracts. These are usually scammers who tried to avoid meeting in person but they always want money, gift cards and iTunes cards. Many of the profiles on dating websites use other people's photos. There is a way that you can find out if the photos are real or fake by searching images on google
I NEVER SIGNED UP FOR MATCH. I am happily married, but today I started getting a ton of Match emails in my inbox. This is insane!
They are absolutely doing it still as of July 2021! I have three match accounts and used them to track my old gf who owed me and others money Last week I cancelled a paid account This morning several lovely prospects within 5 miles of me liked me online Funny that the other three free accounts showed her not to exist!!!! I shutter to think how many men fall for this daily! Match.com is pure scam!
It not just mach i been on match.com and got them I've also been on Plenty of Fish OkCupid and several others and the Facebook dating also has the exact same thing