Today is the start of International Charity Fraud Awareness Week (ICFAW), a coordinated international effort to help charities and donors avoid charity fraud. The FTC joins state charities regulators across the country, the National Association of State Charities Officials (NASCO), and international partners in this campaign. By joining forces, we can reach more people and more charities with information and advice. Money lost to bogus charities and scammers means less donations to help those in need. And no one wants that, either here or abroad.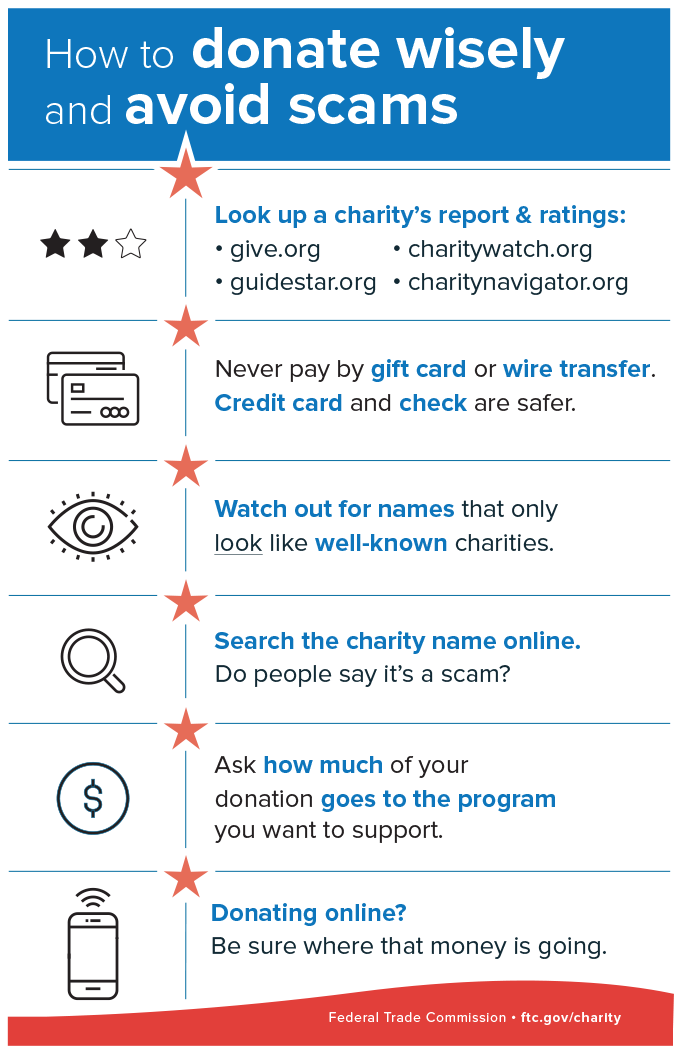 The FTC's education and outreach efforts in this area are in full force all year, but ICFAW is another opportunity to remind people how to spot scammers' tricks and avoid donating to sham charities. There are tips at FTC.gov/Charity to help you, including how to research charities and check out their ratings with groups like the Wise Giving Alliance, Charity Navigator, Charity Watch, and Guide Star.
This year, in addition to giving donor tips, we're alerting charities about how to prevent cyber threats that can compromise their networks and computers. The tools at FTC.gov/Cybersecurity (fact-sheets, quizzes and videos) on topics like ransomware, phishing, business email imposters, hiring a web host, and more will help organizations make sure that they're protecting their data and donors' information.
Don't know where to start? Start with the basics:
•    Set up software to update automatically
•    Secure your files by making a back-up offline
•    Require passwords for all devices
•    Use multi-factor authentication (like a PIN or key)
•    Encrypt devices
Go to FTC.gov/Cybersecurity for more. All the information is also available in Spanish at FTC.gov/Ciberseguridad.
4 Comments
Beware of a TV ad SCAM asking you to donate to "help pet caregivers in your community." They promise to "donate '95%' to "qualified agencies" where you live. Red Flag! No pet lover in [any] state requires a third party to tell them where to donate. Bottom Line: There is nothing "humane" about this outfit money grabber. Avoid like the plague.
I've noticed on FB that a lot of people are asking for donations to charity's as a Birthday gift.....can this also a problem.
In reply to I've noticed on FB that a lot by freedayz
I have done this. I set up through the area shelter a donation option for a birthday gift. It does not go to me, but, directly to the shelter. I have given gifts to my friends this way to St. Judes Children s hospital and the veterans project and such online, but, I know these friends well and they do not need to set up accounts such as these to pay themselves. They have jobs to support themselves and their families. I, however, know there are probably some people that could game the system and try to get money this way.