Have you gotten a call from an imposter, maybe someone pretending to be with the Social Security Administration, IRS, or a tech support company, this year? If so, you're not alone. Calls from imposters were the most-reported topic of unwanted calls to the FTC over the past year (FY2019).
You can see our annual report on Do Not Call complaints, with state-specific data. But here are some key takeaways:
The FTC got 5.4 million complaints about unwanted calls this year.

71% of complaints reported the call was a robocall.

Calls from imposters are now the most-reported type of unwanted call, with 574,000 complaints.
After imposters, the next most-reported topics were calls about medical issues and prescriptions, as well as reducing debt.
The states with the most consumer complaints (per 100,000 population) were Colorado, Oregon, Arizona, New Jersey, and Nevada.
The Do Not Call Registry now has 239.5 million numbers on it. More than 4 million of those were added over the past year.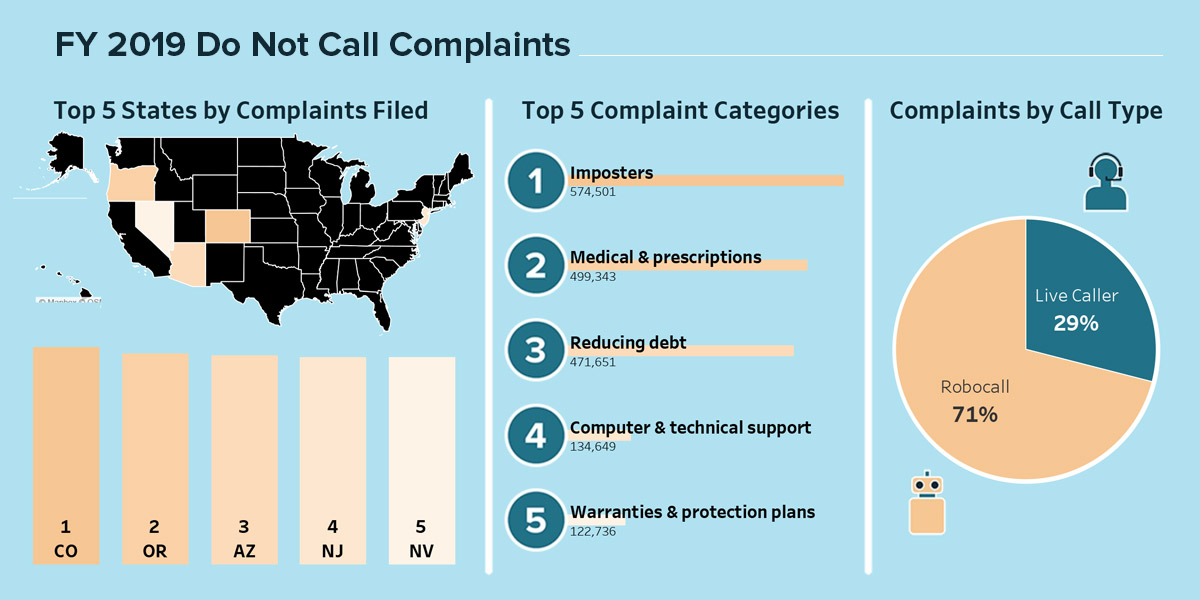 Find out more about what's happening in your state. But remember — you don't need to wait for our annual report to know what's happening. As we told you this summer, the FTC's Do Not Call data is now available in an interactive format at ftc.gov/exploredata, and is updated quarterly.
The FTC continues to go after the companies and scammers behind these calls, so please keep reporting unwanted calls at donotcall.gov (or, if you've lost money to a scam call, at ftc.gov/complaint instead). We take the phone numbers you report and release them to the public each business day, which helps phone carriers and other partners that are working on call-blocking and call-labeling solutions. Your reports also help law enforcement identify the people behind illegal calls.
To find out more about how to get fewer calls and avoid scams, check out the articles, videos, and infographics at ftc.gov/calls, and share them with your family and friends.
Ftc you need to push real business like medical office , hospital, nys attorney general etc if they call you or reply your call they must not show unknow, or whatever that make it look like its a robocall or scam that make us don't pick up and file their call whichnis real and important into do not call. These are opps important call to us and we did not pick up because caller id show it look like robocall. Please do something to work around real important calls that comes over looking like robocall. Thanks
Our land line and our cell numbers have been registered several years yet we still receive multiple robocalls and scam calls and texts every day. Do you have any other suggestions/advice?
I've been registered with Do Not Call for over a dozen years. I do not know why the registry does not work, but it does not work. I still get between 4 and 10 calls a day from dealers trying to sell senior oriented services, house or car services and financial services. Apparently these types of businesses are not included in the registry. it does do good to tell the FCC or the IL States Attorney because they spoof calls. Congress could care less. Stop spending tax money on this registry. It does not work.
I receive Multiple call all day long, my greeting spells out THIS IS A do not call registered number, DO NOT CALL, they leave messages, anyway, suggesting or threatening, and I report them, that does not seem to help deter the callers, are they stooped or Brain Dead ? I don't know what the answer is.
It would be great if phones had a feature to flag spam - similar to email's feature. i've got literally hundreds of blocked phone numbers. i'd be willing to provide those numbers to carriers so they could shut them down and / identify & penalize the owner!
Last time I reported a caller, it took about 1/2 hour. The form had too many questions. Besides that, until we eliminate caller-ID spoofing, what good does it do to report the calling number? I understand that there is something in the works that will eliminate Caller-ID spoofing. As I recall, it was supposed to be implemented by the end of this year. That needs to happen!
I'd rather you worked with ISPs and carriers to ban spoofing numbers and register allowed numbers only (medical appointments reminders and similar useful calls). It is much easier to allow specified callers and block all others than play whack a mole with spammers and extra-territorial robocallers.
Can a legal decree be issued to stop people from calling our phones? It is ridiculous the number of calls I get in one day, and I do not know the people nor have I done business with them. I have been home sick in the bed and this is more annoying when one is not well. You finally fall asleep and are resting, soon to be awakened by someone you do not know.
I appreciate the helpful emails you send out weekly keeping the public informed on the latest scams! Great Job!
I just got a call from Readers Digest saying I had won 4.8 million and to call them, which I didn't.
The Do No Call Registry is NO HELP! Too many bots calling now.
I am dealing with a serious illness in our household and these calls make it all the more frustrating as I do not want to miss a call from a dr office. Sometimes they start out with a statement that they are our patient advocate which can be misleading for someone who possibly would think it is a nurse calling. Normally I never answered from unknown callers but now it is different. Hope we can put an end to this invasion of our privacy. We pay for phone service and then have to put up with these calls all day long.
Sorry, but the "Smartphone" is only as smart as the person inputting into it. Therefore I use a flip-phone with NO INTERNET capability. Your having an interactive website is done with the thinking that users will be using a "Smartphone" to view your site, I'll do it from my desktop system.
We have had both our cell and land lines on the Do Not Call list for a long time , but it has no effect. We get daily robo calls from scammers, charities political offices etc. We do not want to be contacted by any of these. We are retirees on a fixed income. We hang up as soon as we know that the caller is one of these. How can they be stopped?
what ever you are doing is not working. i get many robo calls each day on my home phone and cell phone. the solution is simple, prevent the calls from being made at the phone company. i sure if we can put men in space we can stop this! you will not do this because too much money is being made by the phone company on these calls.
Blocking calls is fine but I quickly filled the quota allowed by my plan.
I don't answer my phones anymore because of these damn calls. That's the only way I've been able to deal with repeated calls from unknown numbers is to report and block all of them.
Spoofed calls, all day long, usually in groups of the same/similar number for a few weeks.
Who do we write to get cell numbers private? I am told Congress voted to have cell numbers released to the public and that is how all these scammers get access to everyone. Can this law be reversed or fixed?
What can I say, I received 8 - 12 UNWANTED calls a day on my landline. The only blessing is caller ID. The angry part it is the same numbers (mostly) every day. SOME ACTUAL LEAVE A MESSAGE. Anyway, when I bored or need cheering up, I listen and give strange answers - makes it hard not to chuckle or laugh.
For years, we've received daily calls from home improvement specialists and building contractors. We're obviously on a list they purchased. I've always assumed they got our name from one, or more, of the contractors we received estimates from. They either don't check against the Do Not Call list or don't care . The second I inform them of this they hang up, and in short order, another one calls.
I am getting up to 4 calls or more a day frommy own phone number( not made by me). Most times no one is on the call, but other times it is about a Microsoft problem. I know other people having the same issue.....can't report my own number.
I would like for the investors to stop calling texting and sending email that they want to buy my home.
At least for a cell phone, one way to not miss calls you actually want, is to add them to your contact list. My doctors, cable company, ac/heater tech, nurse, massage therapist, oxygen machine company, Allstate, etc. are all on my contact list so their name shows with the number and I never miss calls that I want. Thanks, FTC for all you do to help stop these super annoying, intrusive calls. I decline the call and they leave a message anyway. Grrr
I find that I ignore more calls than I answer! I have been receiving calls that appear to be my own phone number calling me. These calls in particular are relentless. They will call 6 - 15 times in a row - wait a while then start again. So Frustrating!
The one thing I would suggest is do NOT sign up for anything that is "free" or "promotional". This will put you on calling lists and you will get calls because the fine print says you are signing up to receive calls. Don't register for "giveaway's", "prizes", or a "chance to win" for the same reason. The fewer places / companies that have your number, the less likely you will get spam calls or calls in general. Don't create accounts with businesses if you don't need too. If a business gets compromised and they have your phone number, you are probably going to get more calls. Also remember that sending a text for a giveaway also gives that company your phone number.
I keep getting calls from "Exfinity" or "Comcast." It is not either one of them but their #s being used. A foreign voice says my name.
I realize this is about calls and I continue to block every call that I can. But now these crooks are texting me too. I can't always tell what number they are texting from. I'm also getting daily emails with logo from every bank in the country saying my account has been blocked due to suspicious activity—with a link to restore my account. I don't have accounts with any of them.
Not interested in the voluminous statistics, what is seriously being done by the FTC to prosecute and eliminate the spam, scam, and fraudulent calls. So far the FTC has Failed To Convict.
DO NOT CALL is a very poor system. I finally have software whereby I set my phone up 1) if a robo call comes in my robot hangs up after one ring; 2) I have put in 25 numbers to ignore even if not a robo call (that is the max); and 3) if a call rings 3 times I have time to look at the phone number, and if the number is not one I am familiar with I just ignore it. Three rings is a maximum I have chosen.
I am so tired of blocking calls. I'm tired of my phone ringing period. I know when my relatives call. These other people are calling to scam us. I have nomorobo.com on my landline and the spoofers still get through. They're so smart that they don't wait for you to say "Hello", they just play an automated message. I've received "spoofed" calls regarding Medicare from cellphones and from people who don't even bother to change the name of the person who originally had the phone number. The phone companies must be selling a block of old/unused phone numbers to unscrupulous telemarketers who just don't care who they call. They hire people to make these calls. It's just a job to them. I know Alexander Graham Bell never expected his invention to become a nuisance.
The "Do not call registry" does not work...the callers just use a new phone number and call again. Such a nuisance...I don"t have time to report every call. If I don't recognize the number I don't answer, if you know them they will leave a message.