Getting free stuff is cool…until it isn't free. It is decidedly uncool when, after luring you in with "free trials" for products you might like, a company hits you with surprise charges during the supposedly "free" trial period.
In a complaint filed in federal court, the FTC alleges that NutraClick, which marketed dietary supplements and beauty products through paid subscription programs, broke the law by not making it clear exactly when its free trials ended and the billing began. NutraClick offered samples of its products as part of an 18- or 34-day free trial period to get people to enroll in its subscription programs. But the trial periods included negative option terms, in which sellers can automatically charge people's cards or bank accounts if they don't cancel their subscriptions.
According to the FTC, NutraClick broke telemarketing rules, violated online sales laws, and ignored a federal court order, when it failed to properly tell people they had to cancel at least one day before the end of the trial to avoid charges for the monthly subscription. People lost more than a million dollars because of NutraClick's conduct, the FTC says.
Considering free offers? Keep this in mind:
Do some research. Search the product and company name online with words like "review," "complaint," or "scam" to see what others are saying.

Find the terms and conditions for the offer. If you can't find them or can't understand exactly what you're agreeing to and when you'll be charged — including what you'll be charged for and the date by which you have to act to avoid a charge – don't sign up.

Monitor your credit and debit card statements. If you're charged for something you didn't order, dispute those charges

as soon as you spot them.

Read your credit and debit account statements. That way, you'll know right away if you're being charged for something you didn't order.
And if a company didn't make it clear when they'll bill you after your free trial, tell the FTC.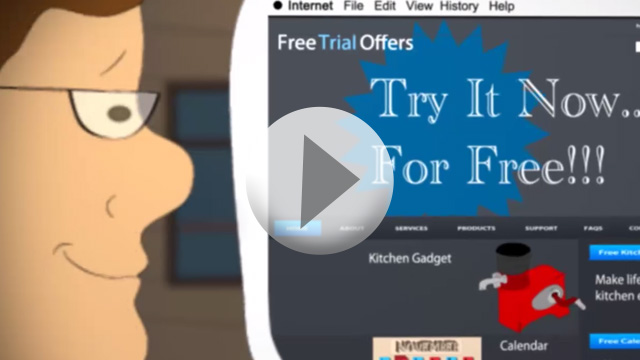 It is your choice whether to submit a comment. If you do, you must create a user name, or we will not post your comment. The Federal Trade Commission Act authorizes this information collection for purposes of managing online comments. Comments and user names are part of the Federal Trade Commission's (FTC) public records system, and user names also are part of the FTC's computer user records system. We may routinely use these records as described in the FTC's Privacy Act system notices. For more information on how the FTC handles information that we collect, please read our privacy policy.
The purpose of this blog and its comments section is to inform readers about Federal Trade Commission activity, and share information to help them avoid, report, and recover from fraud, scams, and bad business practices. Your thoughts, ideas, and concerns are welcome, and we encourage comments. But keep in mind, this is a moderated blog. We review all comments before they are posted, and we won't post comments that don't comply with our commenting policy. We expect commenters to treat each other and the blog writers with respect.
We won't post off-topic comments, repeated identical comments, or comments that include sales pitches or promotions.
We won't post comments that include vulgar messages, personal attacks by name, or offensive terms that target specific people or groups.
We won't post threats, defamatory statements, or suggestions or encouragement of illegal activity.
We won't post comments that include personal information, like Social Security numbers, account numbers, home addresses, and email addresses. To file a detailed report about a scam, go to ReportFraud.ftc.gov.
We don't edit comments to remove objectionable content, so please ensure that your comment contains none of the above. The comments posted on this blog become part of the public domain. To protect your privacy and the privacy of other people, please do not include personal information. Opinions in comments that appear in this blog belong to the individuals who expressed them. They do not belong to or represent views of the Federal Trade Commission.
This is why I never do anything that's a free trial. Even if you cancel before the end of your trial, it takes time to process you request & you can get billed for more than one subscription. Sometimes, you can even get customer service to cancel in the first place. Then you have to fight it & rarely ever get your money back. I learned many years ago.
I got sucked in by TFCO NUTRA MARKETING, WILMINGTON,DE I ordered a free trail and within 2 weeks of ordering a 30 day free trail they sent me more products and charged my credit card. I ended up losing the fight and being charged $70 for product I didn't want. If it's truly free trail why do they need a credit card? Not falling for it again.
By the way, I did get stuck that way. And it was irritating that they could go into may account and just remove money after I said no and they said it was posted but the ad did not have it posted. And then the bank took it on she said she felt they were lying about everything while she spent a good hour on the phone with them. But there was notnothing that could be done according to the lawyer she called unless I sued a civil suit. They took a lot of money from my account and I could not stop it. I didnt have the money to sue them. But I left my thoughts everywhere I could. Yes read take and print out. if it says you must call do it the day you ordered. Take down names phone numbers and have witnesses to what you are doing..This ole lady learned the fast way
Very happy that you've nailed these scammers and that you keep alerting us about them albeit after the event. In my opinion, if consumers are well educated about food supplements in this case, and know that they are waste of money the less likely they will be tempted to fall for these scams. Consumers need to be well protected both from the deceiving terms and conditions and also from the fake products they're exposed to. I wish the FDA could do more about their label disclaimer of 'These statements ....... have not been evaluated by the FDA'. Thanks so much for your vigilance and for your prompt actions.
Having learned long ago, and painfully so in my wallet, I never submit to any 'free trial' offer. What looks good over the fence often isn't once you climb over.
These scams really aggravate me. I noticed several years ago that even though the business was offering a "free" sample or "free" trial offer, they ALWAYS want that credit card number. You don't need my credit card number for something that is supposed to be free of charge!
Using the Internet, there are hundreds, at least, of dishonest businesses and people. Often the rhetoric used to explain free trials and billing procedures is convoluted, confusing, misleading, and sometimes outright dishonest. Having the Federal Trade Commission look into "shady" operations saves the average citizen thousands of dollars, and I (for one) sincerely appreciate the information made available to consumers. Thank you for all you do, FTC!
This is a LONG time problem in the cosmetic industry. When the trial offer is over they automatically mail you another " month" of the product whether you want it or not.
I ordered a "risk free" sample of Arovanti Eye Sreum and Facial Cream. I was charged two separate shipping charges ($6.77 and $6.22) for an 11oz shipment that arrived in one back. The shipping should have been no more than $7.00, period. I called to request a refund and found that I was dealing with "MakeUp World" and the customer rep could bearly speak English. She refused to refund one of the shipping amounts stating that the USPS did the shipping! Blatant lie and fraud. Then she said she could cancel my "monthly" account! I never agreed to order any more let alone commit to a monthly shipment. This is a prime example of internet fraud and the company needs to be held accountable. Daytime talk show host, Kelly Rippa is supposed to the the manufacturer of the cream.
Crepe Erase trial isn't free. They charge and then have your credit card for their auto shipments. I've been caught up in this before
I DON'T THINK THAT PEOPLE SHOULD BE ALLOWED TO CHARGE YOUR ACCOUNT WITH OUT FIRST NITIFYYING YOU THAT YOR TRIAL PERIOD HAS ENDED AND THAT THE WILL BE CHARGING YOU X AMOUNT ON ON X DATE. I'M 81 YEARS OLD AND CAN'T REMEMBER ALL THESE THINGS. I WRITE THE INFO DOWN BUT THEN CAN'T FIND WHERE I WROTE IT
Audible.com just build my account twice in one day for a trial that I ended five days before the trial ended. I'm about to dispute the charges through my bank! I sent them a letter to stop billing my account audible should be ashamed of yourselves!!!