Image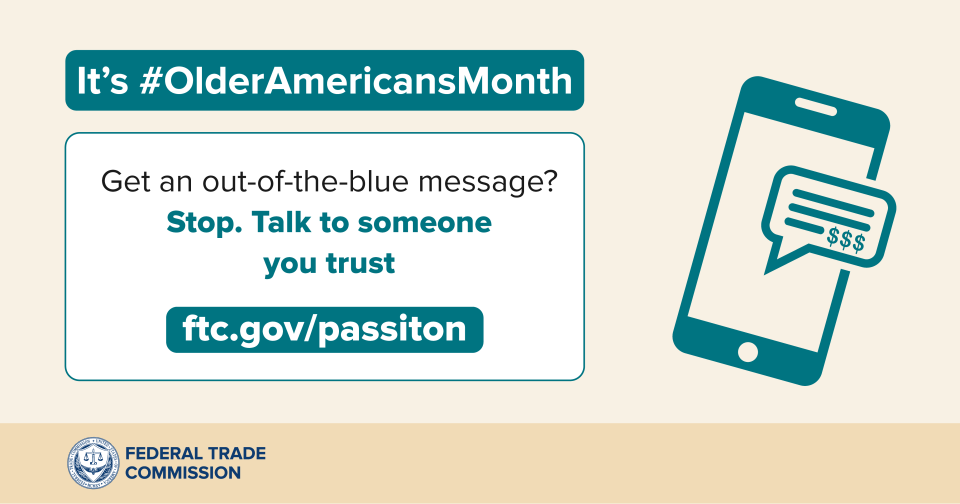 When people encounter scams or bad business practices, they report them to the FTC. And what we've learned is interesting. Young adults report losing money to scammers more often than older people do, but when people age 70+ had a loss, the reported median loss was much higher. 
So, during Older Americans Month we're talking about some of the top scams reported to the FTC by older adults — imposter scams. Imposter scams often begin with a call, text message, or email, or even an alarming pop-up warning on your computer. The scams take different twists and turns, but the gist is the same: a scammer pretends to be someone you trust to trick you into sending them money or sharing personal information.
 Scammers may claim that they're calling from a tech company (think Microsoft or Apple), saying your computer has been hacked. Maybe they say they're from your bank ("unauthorized transfer"), Amazon ("unauthorized purchase"), or even the government ("you're in trouble with the law"). Some scammers say they're a loved one who needs help in some way. In all cases, they want you to pay. Quickly. By gift card or cryptocurrency, so it's hard to get your money back.
If anyone contacts you out of the blue demanding money:
Slow down.

Talk to someone you trust before you act.

Never pay anyone who demands money by gift card, cryptocurrency, or money transfer.

Nobody legit will ever ask.

When in doubt, check with the real agency, person, or company.

 But don't use the phone number, email, or website they give you. Look it up yourself.
If you spot an imposter scam, report it to the FTC at ReportFraud.ftc.gov. Your report can help the FTC identify and stop scammers. To learn about new scams and how to avoid them, sign up for our Consumer Alerts.
16 Comments
In reply to If the FTC was enforcing the… by Bradley S Burns
You can read about the FTC taking action against defendants involved in robocalls and other FTC enforcement actions ftc.gov/news-events/news/commission-actions.
In reply to If the FTC was enforcing the… by Bradley S Burns
I agree. IF YOU DO NOTHING THEY WILL NEVER STOP. I DONT HAVE TIME to report every call. I get 15 per day and now FTC call in you HAVE TO WAIT till AFTER THE PROMPT to enter time, date, home phone and caller phone. AND ANYTHING ELSE. THAT TAKE TIME! Now I have to wait till the prompter finishes speaking. Cant just enter it because Ive called over 500 times and know the prompts by heart. WHY DO YOU MAKE IT HARDER TO REPORT?
I know....because you dont want to do anything to stop this. JOB SECURITY
Cant imagine ANY OTHER REASON YOU DONT STOP THESE HARRASING CALLS.
PS...even to commnet on here is a HASSLE. Your Captcha requires at MINIMUM 9-10 entries, or boxes checked, and then a SECOND and THIRD screen to click on images. WHY DO YOU MAKE COMMUNICATION WITH YOU DIFFICULT? Not just the phone but the CAPTCHA too? WHEN ARE YOU GONNA FIX THIS?
In reply to I am sure you get these… by Mr. Ozzie
Mr. Ozzie, Keep updated with the web-site, we don't want the worst happening (nightmare). They work hard even fining the companies and have taken many into custody, we may not see it, as others seem to take credit. They are working at passing better laws to help us. A lot is being done, voting is our way to help. thank you for the comment. Miss R
In reply to I am sure you get these… by Mr. Ozzie
How can you ensure prosecution?