Image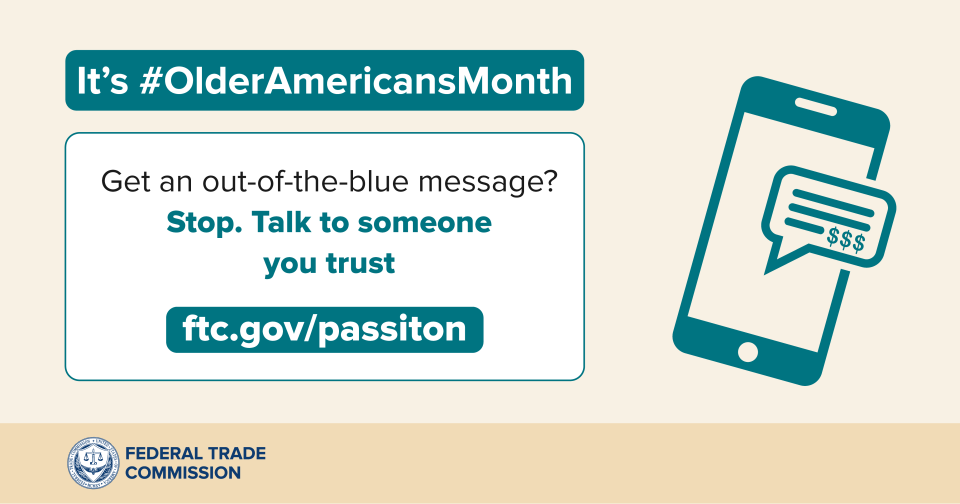 When people encounter scams or bad business practices, they report them to the FTC. And what we've learned is interesting. Young adults report losing money to scammers more often than older people do, but when people age 70+ had a loss, the reported median loss was much higher. 
So, during Older Americans Month we're talking about some of the top scams reported to the FTC by older adults — imposter scams. Imposter scams often begin with a call, text message, or email, or even an alarming pop-up warning on your computer. The scams take different twists and turns, but the gist is the same: a scammer pretends to be someone you trust to trick you into sending them money or sharing personal information.
 Scammers may claim that they're calling from a tech company (think Microsoft or Apple), saying your computer has been hacked. Maybe they say they're from your bank ("unauthorized transfer"), Amazon ("unauthorized purchase"), or even the government ("you're in trouble with the law"). Some scammers say they're a loved one who needs help in some way. In all cases, they want you to pay. Quickly. By gift card or cryptocurrency, so it's hard to get your money back.
If anyone contacts you out of the blue demanding money:
Slow down.

Talk to someone you trust before you act.

Never pay anyone who demands money by gift card, cryptocurrency, or money transfer.

Nobody legit will ever ask.

When in doubt, check with the real agency, person, or company.

 But don't use the phone number, email, or website they give you. Look it up yourself.
If you spot an imposter scam, report it to the FTC at ReportFraud.ftc.gov. Your report can help the FTC identify and stop scammers. To learn about new scams and how to avoid them, sign up for our Consumer Alerts.
It is your choice whether to submit a comment. If you do, you must create a user name, or we will not post your comment. The Federal Trade Commission Act authorizes this information collection for purposes of managing online comments. Comments and user names are part of the Federal Trade Commission's (FTC) public records system, and user names also are part of the FTC's computer user records system. We may routinely use these records as described in the FTC's Privacy Act system notices. For more information on how the FTC handles information that we collect, please read our privacy policy.
The purpose of this blog and its comments section is to inform readers about Federal Trade Commission activity, and share information to help them avoid, report, and recover from fraud, scams, and bad business practices. Your thoughts, ideas, and concerns are welcome, and we encourage comments. But keep in mind, this is a moderated blog. We review all comments before they are posted, and we won't post comments that don't comply with our commenting policy. We expect commenters to treat each other and the blog writers with respect.
We won't post off-topic comments, repeated identical comments, or comments that include sales pitches or promotions.
We won't post comments that include vulgar messages, personal attacks by name, or offensive terms that target specific people or groups.
We won't post threats, defamatory statements, or suggestions or encouragement of illegal activity.
We won't post comments that include personal information, like Social Security numbers, account numbers, home addresses, and email addresses. To file a detailed report about a scam, go to ReportFraud.ftc.gov.
We don't edit comments to remove objectionable content, so please ensure that your comment contains none of the above. The comments posted on this blog become part of the public domain. To protect your privacy and the privacy of other people, please do not include personal information. Opinions in comments that appear in this blog belong to the individuals who expressed them. They do not belong to or represent views of the Federal Trade Commission.
One other form of imposter scam is when they buy an ad from a search engine like Google. People trying to contact legit companies see the ad, think it's the real thing, and end up talking to the imposters.
If the FTC was enforcing the law we wouldn't be having these kinds of problems.
Remember, if there are no consiquences to a law then there is no law!
In reply to If the FTC was enforcing the… by Bradley S Burns
You can read about the FTC taking action against defendants involved in robocalls and other FTC enforcement actions ftc.gov/news-events/news/commission-actions.
In reply to If the FTC was enforcing the… by Bradley S Burns
I agree. IF YOU DO NOTHING THEY WILL NEVER STOP. I DONT HAVE TIME to report every call. I get 15 per day and now FTC call in you HAVE TO WAIT till AFTER THE PROMPT to enter time, date, home phone and caller phone. AND ANYTHING ELSE. THAT TAKE TIME! Now I have to wait till the prompter finishes speaking. Cant just enter it because Ive called over 500 times and know the prompts by heart. WHY DO YOU MAKE IT HARDER TO REPORT?
I know....because you dont want to do anything to stop this. JOB SECURITY
Cant imagine ANY OTHER REASON YOU DONT STOP THESE HARRASING CALLS.
PS...even to commnet on here is a HASSLE. Your Captcha requires at MINIMUM 9-10 entries, or boxes checked, and then a SECOND and THIRD screen to click on images. WHY DO YOU MAKE COMMUNICATION WITH YOU DIFFICULT? Not just the phone but the CAPTCHA too? WHEN ARE YOU GONNA FIX THIS?
Very useful notice. Would suggest public service anytime on TV.
I am sure you get these scammy calls too. Why is nothing more done to find out who these people are and then prosecute them.
In reply to I am sure you get these… by Mr. Ozzie
Mr. Ozzie, Keep updated with the web-site, we don't want the worst happening (nightmare). They work hard even fining the companies and have taken many into custody, we may not see it, as others seem to take credit. They are working at passing better laws to help us. A lot is being done, voting is our way to help. thank you for the comment. Miss R
In reply to I am sure you get these… by Mr. Ozzie
How can you ensure prosecution?
I appreciate the alerts you send; and have reported multiple scam emails and phone calls. Keep up the good work, and alerting us to the most common schemes.
Getting calls saying have you received your new Medicare card in the mail yet! I know it's a scam
Does the no call list cover scammers for no call list violations?
I have received after I do a purchasing in Amazon E mails , about purchases that I didn't do,so I call Amazon asking about it BUT I don't open de mails and after Amazon goes Tomy account and is ok and safe I learned that those are scams, I have receive over the phone and by E mails all the above than they are referring,and also hang up and I don't say a word.
We are pestered by scammers telling us it's time to renew our non-existent warranty. The scammers' address is different each time, and we're unable to prevent them from cluttering our phone message device. Can nothing be done?
Please read taking F.T.C's advice serious. They work very hard with our best interest in mind (they are "one of us") they have also been impersonated. 2 years ago I was hacked & ID theft (nightmare), if not for FTC & F.CC.'s help, I would have lost everything and then some. Try to keep up even once a month reading the headlines, keep your friends updated. It's ongoing, scammers keep finding ways, they will also wait awhile then start again. These men and women are a great service to the public. Couldn't imagine what it would be without them ism?
I gave already claimed as a victim of scam
Can you please update me with case
Thank yo