Looking for a New Year's resolution? Here's one for you: Keep your hard-earned money safe from scammers by spotting and avoiding gift card scams. Then help others spot and avoid them, too. Scammers want you to pay with gift cards because they're like cash: once you use a gift card, the money on it is gone. But what do gift card scams look like?
(View or share the YouTube version of this video.)
Someone may call, tell you they're from a government agency, and say you owe taxes or a fine. Or they may pretend to be a family member or friend in trouble, who needs money right away. Or they may say you've won a prize, but first must pay fees or other charges. 
In these and similar scenarios, here are signs you're dealing with a scammer:
The caller says it's urgent

. They tell you to pay right away or something terrible will happen. They try to pressure you into acting quickly, so you don't have time to think or talk to someone you trust. Don't pay. It's a scam.

The caller usually tells you which gift card to buy

. They might tell you to put money on a Google Play, Target, or iTunes gift card — or send you to a specific store like Walmart, Target, or CVS. Sometimes they tell you to buy cards at several stores, so cashiers won't get suspicious. If so, stop. It's a scam.

The caller asks you for the gift card number and PIN

. The scammer uses that information to get the money you've loaded on the card. Don't give them those numbers. It's a scam. You'll lose your money, and you won't be able to get it back.
If you paid a scammer with a gift card, tell the company that issued the card right away. Keep the card and find any receipts you have. Then tell the FTC at ReportFraud.ftc.gov.
Visit ftc.gov/giftcards for more information.
Image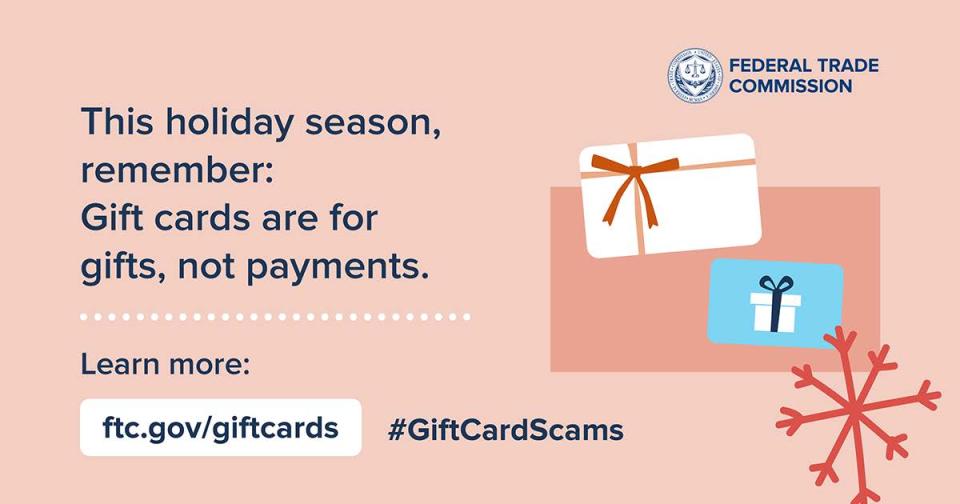 It is your choice whether to submit a comment. If you do, you must create a user name, or we will not post your comment. The Federal Trade Commission Act authorizes this information collection for purposes of managing online comments. Comments and user names are part of the Federal Trade Commission's (FTC) public records system, and user names also are part of the FTC's computer user records system. We may routinely use these records as described in the FTC's Privacy Act system notices. For more information on how the FTC handles information that we collect, please read our privacy policy.
The purpose of this blog and its comments section is to inform readers about Federal Trade Commission activity, and share information to help them avoid, report, and recover from fraud, scams, and bad business practices. Your thoughts, ideas, and concerns are welcome, and we encourage comments. But keep in mind, this is a moderated blog. We review all comments before they are posted, and we won't post comments that don't comply with our commenting policy. We expect commenters to treat each other and the blog writers with respect.
We won't post off-topic comments, repeated identical comments, or comments that include sales pitches or promotions.
We won't post comments that include vulgar messages, personal attacks by name, or offensive terms that target specific people or groups.
We won't post threats, defamatory statements, or suggestions or encouragement of illegal activity.
We won't post comments that include personal information, like Social Security numbers, account numbers, home addresses, and email addresses. To file a detailed report about a scam, go to ReportFraud.ftc.gov.
We don't edit comments to remove objectionable content, so please ensure that your comment contains none of the above. The comments posted on this blog become part of the public domain. To protect your privacy and the privacy of other people, please do not include personal information. Opinions in comments that appear in this blog belong to the individuals who expressed them. They do not belong to or represent views of the Federal Trade Commission.
Thanks for the Heads Up! Bidenomics is COSTING MORE THAN IT OUGHT!
Still amazing how many people fall for these. Thanks, FTC.
Very Educational,I had been Scammed for $19,200 two weeks ago ,so it is good to know how these Scammers could call you for a gift card Scams too.
Thanks.I will keep my eyes open.
Consumer .ftc.gov Is doing good job to Educate us and Avoid the Scams. Thanks again.
ALSO: WATCH OUT FOR "SUPPOSED" PURCHASES CHARGED TO YOU VIA PAYPAL, FOR SOMETHING YOU DID NOT ORDER!
thanks for the alert, recently received a email stating that my receipt for purchase, ( that is not true) is available. When I replied to email address was fake.
I fell prey to a gift card scam yesterday, via an e-mail message from a colleague of mine. He claimed he needed a gift card for his niece and shopping was difficult due to his knees. Unfortunately, I did not have his number, or I would have called him to verify this. There were many red flags that I ignored: That he wanted $500, that I had to photograph the number on the gift card and e-mail it to him, that, in retrospect, he had bad knees. I ended up sending a gift card worth $100. When I checked my e-mail later, I was chagrined to discover one from the real person, saying his e-mail had been hacked. Fortunately, I was able to contact the business and they determined that the card had not been used yet and disabled it. It amazes me how I could be so easily conned, given that I read the FTC's fraud alerts on a regular basis. I guess it was that I knew this person to be trustworthy and that caused me to overlook the warning signs.
Thank you for keeping us informed about all these scams they try it on me sending a fake email telling me my package is on its way just needs you to verify information called but as talking I new it was scam and hung up on him
Yall do a great job. Is it possible to go one step further and report this to IRS as a scam loss? They wouldn't get there money back but could at least deduct the loss. Would be helpful if yall and IRS could work together. From an old DAV. Thank yall for the job you do.
These people are very good at their "craft" and will make sure they won't be bothered with the work they assign others to do to. That should be a hint and a half to know it's a scam. Nobody should work that hard to have their money stolen.
Your information saved me from a very costly scam
I should have known better but I was pressured and threatened to send an eGift card for $50 to someone online who said he was a computer tech! The first gift card went through but the second card was flagged by Amazon! I tried to stop the first card but I was too late! Never again do I send someone a gift card whom I don't know!
Trying to report a gift card scam and not been able to report my claim on any site. Need help pkease