In September of 2017, Equifax announced a data breach that exposed the personal information of 147 million people. Under a settlement filed today, Equifax agreed to spend up to $425 million to help people affected by the data breach. If you were affected by the Equifax breach, you can't file a claim just yet. That's coming. But you can sign up for FTC email alerts about the settlement at ftc.gov/Equifax.
(Not sure that you were affected? The breach claims site will have a tool to let you check. Sign up for an FTC email update to find out when that tool is up and running.)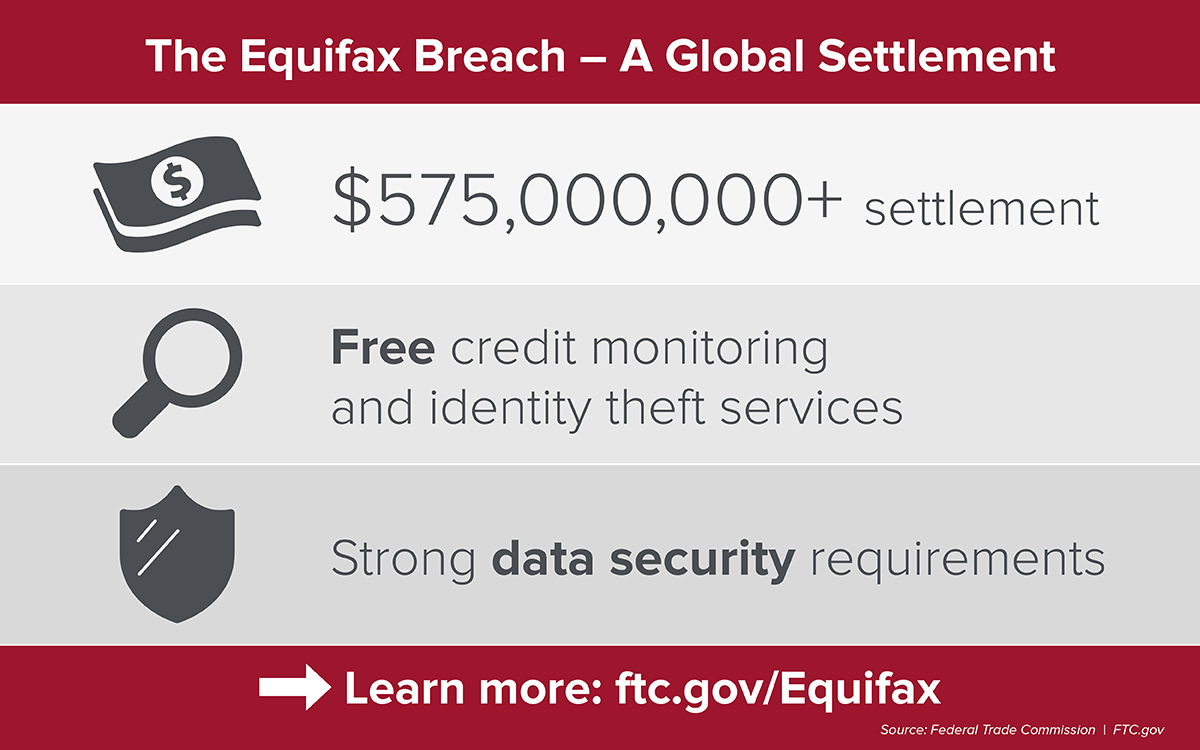 Here's what you need to know about the settlement.
Benefits Available To You
If you were affected by the breach, you may be eligible for benefits.
1. Free Credit Monitoring or Cash Payment
You can get at least 4 years of free credit monitoring of your credit report at all three credit bureaus (Equifax, Experian, and TransUnion). On top of that, you can get up to 6 more years of free credit monitoring of your Equifax credit report. That's a total of 10 years of free credit monitoring. (Minors affected by the breach are eligible for even more free credit monitoring.)
If you have credit monitoring that will continue for at least 6 months and you decide not to enroll in the free credit monitoring offered in the settlement, you may be eligible for a cash payment. The amount you'd get will depend on the number of claims filed.
2. Reimbursement for Your Time and Other Cash Payments
You may be eligible for reimbursement and cash payments up to $20,000 for:
time you spent protecting your identity or recovering from identity theft, up to 20 hours at $25 per hour
money you spent protecting your identity or recovering from identity theft, like the cost of freezing or unfreezing your credit report or unauthorized charges to your accounts
up to 25% of the cost of Equifax credit monitoring or identity protection products you bought between September 7, 2016 and September 7, 2017
3. Free Identity Restoration Services
You are eligible for free identity restoration services for at least 7 years that you can use if someone steals your identity or you experience fraud.
Next Steps

The claims process will start after court approval. To learn more about the settlement, go to ftc.gov/Equifax. We'll update that page when there's new information.
You can also sign up to get FTC email updates about this settlement.
If you were affected by the breach, you may also receive an email notification after the court approves the settlement. The notification will provide more information about the settlement, the benefits available to people impacted, and how to request the services offered under the settlement.

This blog post was updated on August 1, 2019.
The website told me my personal information was impacted but I had no knowledge of this at all or that Equifax had been breached for that matter. I have no proof of my info being compromised and my life pretty much went on as normal since the breach. No loans in my name were taken out no phony purchases. What is my next step?
Hi, I have been paying $30 to Equifax on a monthly basis (via credit card) since a few years before the breach occurred. Because they failed to protect my family's info, I would like to receive reimbursement for the fees I paid for that coverage. Where on the claim form can I file to get this money back? The first page only lets you select free coverage OR a cash payment. The next page appears to let you file for time spent resolving issues. Is there a specific area where I can file for reimbursement for the money I spent to protect my ID while they were giving it out? I'd appreciate help with this before I file. Thanks. MLL
I got the letter from the settlement for free credit monitoring for 2 yrs. Entered all my info in and it told me to long in. Keep telling me wrong email and password. Checked my email and my account was cancelled. What a joke.
Do I have to show proof of credit monitoring? I have credit monitoring but do not know if this is accurate information. If yes, please send me the link to do so. Thank you.
How do I exempt myself from any future involvement with Equifax?
Why is it that in order to receive the cash settlement, I must show that I had credit monitoring at the time of the breach? Equifax took on the responsibility of securely maintaining my data without my express permission, and I had no way to opt out of them doing so. How then is it my responsibility to have had credit monitoring? I don't understand how that is remotely appropriate. If I wanted credit monitoring from a 3rd party(offered by Equifax BTW), I would have gotten it from any of the ~7 other data breaches I've been a victim of. The burden is on companies who store my information, not on me, to securely maintain the information they store. It is not my responsibility to have credit monitoring, to show proof of having credit monitoring, or to jump through any hoops just because Equifax messed up.
When the settlement was announced I recall that those effected could write to opt out of the settlement so if this settlement is changed by the court I could retain my ability to better settlement terms. The ones provided in this settlement are inadequate to my risk. Is the so? If, yes, I have to send a letter by November 19, 2019. To whom is it sent and what must I state? Note: I am not referring to opting out and hiring my own attorney, but if the court chooses to revise the settlement with improved provisions for those whose data was stolen. Thank you.
How do I access free credit monitoring. FTC says i will receive claim number and instructions but I only received claim number and don't know how to receive the credit monitoring. I claimed no cash benefit.
These crooks need to pay!!!
Our claim was submitted july 26 2019and then validated sept 7 2019. We have heard nothing in regard to this claim since then. Is there a site where we can check our claim number to see if and when it will process?
I have been affected by this. How do I find out what specific information they got of mine?
I recently learned I was affected by the breach. I opted for credit monitoring. However, I just tried to obtain an Equifax Credit report online and all the Identity verification questions refer to accounts/mortgages/loan I do not have or recognize. Now I'm really worried (I had no problem with Esperian/TransUnion) - I've now requested an Equirfax credit report by mail. Will Equifax still co-operate and clear up fraud/identity theft issues? They sure weren't very co-operative or helpful on the phone.
When will I actually be able to get my free credit monitoring? It's been over two years and I still haven't received an activation code.
So I know I was part of the breach. My identity was totally stolen! I spent hours and money to get my identity back and protected. I completed the entire settlement form/process on time. And I have heard absolutely nothing!!! When is Equifax going to reimburse me in this settlement? How do I find out?
As soon as we were notified about the breach last year (via the settlement administrator) we opted for the 10 years of free monitoring service 7/25/19). Equifax removed the monthly charges for monitoring our credit, which we assumed related to the settlement. 7/21/20, we receive an e-mail that they plan to reinstitute the monthly monitoring fee, starting in August! Immediately called Equifax, and was directed to send our settlement claim number(s)/explanation of our problem to their customer care: www. customer.care@ equifax.com. No answer yet. Not looking good.
I submitted for credit monitoring on the Equifax settlement site on July 27, 2019; I have a copy of the claim summary noted as successfully submitted. Over one year later and I have received absolutely nothing regarding my credit monitoring nor any communication from Equifax. Justice...ain't it great...
We used the checker several times before the settlement deadline and the claim was that we hadn't been affected. Today, upon checking, it seems a member of our household was affected. And, what's the chance that the information used to file a fraudulent unemployment claim was as the result of the breach? Did anyone else find that the checker was wrong?
I have submitted this information twice. Including the letters I wrote to the IRS., 2 to Capital One, Amazon, Chase Bank, Citi Card. I had all of my present cards from Bank Of America changed, recently. What more can I do. I detailed the 10 hours I spent writing letters and on the phone with banks and the IRS.
What if our email address has changed since we filed the inital claim form?
How can I update my personal information i.e. mailing address and email address? I'm a victim of identity theft and I have reason to believe someone is tampering with my information. Thanks