Play video games, or have kids who do? For most of us, that's a yes, according to a recent industry survey.
It also means you might have heard of loot boxes. Loot boxes are the containers you come across in many games filled with a random mix of virtual items players might want: maybe clothes or gear to customize your avatar, or weapons or skills that could give you an advantage over other players in the game. Some of the items are valuable in the game, but many are not. And you won't know what you're getting until you open it.
But an important point about loot boxes is that players often have to pay real money to open them. At a recent FTC workshop, companies, trade associations, academics, and consumer advocates came together to talk about loot boxes and other in-game purchases. The goal was to learn more about how these purchases are marketed, and the potential impact on kids, teens, and adult gamers.
You can check out videos of the workshop sessions on our event page. Here are a few of the things we heard:
Some panelists said that loot boxes and in-game purchases can enhance gameplay, that they've both kept video game prices from going up and made more free-to-play games possible.

But we also heard concerns about excessive loot box spending by problematic gamblers and teens, and that there's ongoing research to learn more. We also heard that for kids, it can be tough to keep track of how much money they've spent when real-world money is converted into in-game currency, like gems or coins. Kids also might not understand their chances of getting the things they really want.

But panelists also pointed out that parents do have some options. In some games or devices, they can control in-game spending by turning it off, requiring a password for purchases, or setting a dollar limit.
Want to weigh in on the issues discussed? Just submit your public comment online by 11:59 pm ET on October 11, 2019.
You can find out more about parental control options currently available for different game systems at the website for the Entertainment Software Rating Board (ESRB), or by checking with the game system's manufacturer or the game's publisher. If the game is an app, you can check to see what settings your phone's operating system offers — like the ability to require a password for in-app purchases — and read the game's ratings and reviews at the app store.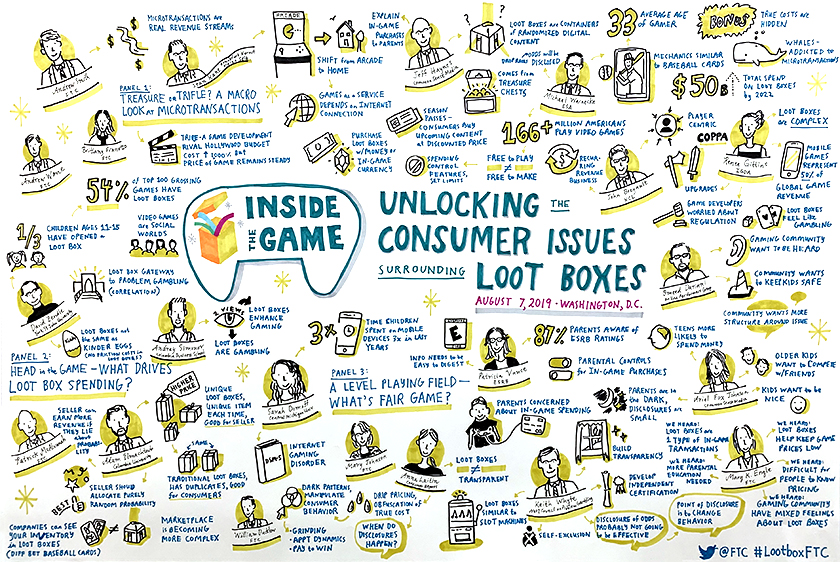 A BCP staff artist's representation of Inside the Game.
It is your choice whether to submit a comment. If you do, you must create a user name, or we will not post your comment. The Federal Trade Commission Act authorizes this information collection for purposes of managing online comments. Comments and user names are part of the Federal Trade Commission's (FTC) public records system, and user names also are part of the FTC's computer user records system. We may routinely use these records as described in the FTC's Privacy Act system notices. For more information on how the FTC handles information that we collect, please read our privacy policy.
The purpose of this blog and its comments section is to inform readers about Federal Trade Commission activity, and share information to help them avoid, report, and recover from fraud, scams, and bad business practices. Your thoughts, ideas, and concerns are welcome, and we encourage comments. But keep in mind, this is a moderated blog. We review all comments before they are posted, and we won't post comments that don't comply with our commenting policy. We expect commenters to treat each other and the blog writers with respect.
We won't post off-topic comments, repeated identical comments, or comments that include sales pitches or promotions.
We won't post comments that include vulgar messages, personal attacks by name, or offensive terms that target specific people or groups.
We won't post threats, defamatory statements, or suggestions or encouragement of illegal activity.
We won't post comments that include personal information, like Social Security numbers, account numbers, home addresses, and email addresses. To file a detailed report about a scam, go to ReportFraud.ftc.gov.
We don't edit comments to remove objectionable content, so please ensure that your comment contains none of the above. The comments posted on this blog become part of the public domain. To protect your privacy and the privacy of other people, please do not include personal information. Opinions in comments that appear in this blog belong to the individuals who expressed them. They do not belong to or represent views of the Federal Trade Commission.
I would like to better understand what psychological factors they are incorporating into games to make them so addictive to kids.
I got so sucked on a game called Farmville through Facebook a few years ago. By the time I realized what I had been doing (spent well over $3000) for over a two year span, I quit playing and will never ever play any game you have to purchase, nor will I ever buy extra bonuses. I get so angry with myself everytime I think about it. How could I have been SO STUPID. I had to learn the hard way.
Can you make that graphic link to a bigger one! It looks cool and I would really like to see it. Oh, and the probabilities of getting items should be disclosed, buying loot crates which are probability based should be off-limits to kids just like other forms of games of chance. Don't buy the we need more money to make more games line. That is analogous to "we need more money from your addiction to grow more opium poppies to addict you more".
Glad to see this being discussed and investigated. It's part of a larger picture of ethically questionable marketing techniques that can cause confusion and ill-considered but expensive choices for the vulnerable: youth, the disabled, and the elderly.
How is this post helpfull. Do your job and protect consumers, ban loot boxes and pay to win mechanics, why are you not going after the games industry, the addiction and exploitative bussuness models need to be banned stop this wild west in the games industry benefiting off of problem gambers and children
In reply to How is this post helpfull. Do by halo1234
The FTC held a public workshop in August to examine consumer protection issues related to video game loot boxes.
During the workshop, industry representatives, consumer advocates, trade associations, academics, and government officials discussed concerns regarding the marketing and use of loot boxes and other in-game purchases, and the potential behavioral impact of these virtual rewards on young consumers.
You can submit a public comment online about the issues that were discussed at the workshop. The deadline to submit public comments is  11:59 pm ET on October 11, 2019.
I'm not sure why it would be so hard to track money spent on these games. All the transactions go through a financial company such as PayPal. I don't know for sure but I suspect some games let you set up an account where you can use your credit card. Either way these transactions are reported through these institutions. It would seem a simple thing to check your monthly statement to see what was spent. Am I missing something?
I have been an avid gamer for over 25 years and I would like to point out that the ESRB is ran and regulated by the games leading industry shareholders, this means the ESRB can not be trusted with putting the correct age-appropriate stamp on games. this can be seen by the ESRB labelling the new 2k game 2KNBA which has been labelled 'E' for every one (3 years and older) yet the game has in-game simulated gambling (Slot machines, Prize wheel est) this should be rated 'M' for mature due to gambling or 'T' for Teen for simulated gambling but it is not. this is because the ESRB is run by the very people that create the games. The argument on keeping prices down is also a lie as the prices even though stabilised at $60 a game the industry is removing content from the game itself and putting them into premium packages which costs $100 so effectively the cost of getting a full game is now $100 and above.
What about a prompt asking that user how old they are and if they have the resources and intent to cover their debt?
I think nomatter what devices are being used if it causes problems the person should be band from useing the internet.