Student loan debt can be a heavy load to carry. That's why there are a lot of companies claiming to help permanently reduce and wipe out federal student loan debt. But some of these companies don't deliver what they promise – if you sign up, they take your money and do nothing to help you.
According to an FTC lawsuit, Arete Financial Group and related companies did just that. After requiring an illegal upfront fee for their services, Arete usually contacted a borrower's loan servicer and placed the borrower's loans into temporary forbearance or deferment status – often without the borrower's permission or knowledge. Meanwhile, borrowers were sending in monthly payments that Arete said would go towards the borrowers' loans – but the FTC is alleging the money really just went into Arete's pockets.
So how did Arete and its partners get away with it? According to the FTC, borrowers thought Arete was legit – especially because they claimed to work directly with loan servicers and Department of Education. Instead, Arete changed borrowers' Federal Student Aid (FSA) login ID, password, and contact information with their loan servicer. This cut off contact between borrowers and their loan servicers, so borrowers wouldn't find out the truth until it was too late.
The FTC alleges that Arete's lies led to very real harm to borrowers. Some people's loans are now delinquent, and their income tax refunds are being garnished. And all those monthly payments to Arete that never actually went towards borrowers' loans? That money is gone.
Remember: you don't have to pay for help with your student loans. There's nothing a company can do for you that you can't do yourself for free. If you're a federal borrower, start with StudentAid.gov/repay. If you're a private borrower, start by talking with your loan servicer.
Looking for more tips? Check out this video: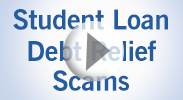 Spotted a student loan relief scam? Let us know about it. And for more resources on student loans, check out FTC.gov/StudentLoans.
9 Comments
In reply to Does it apply to the Direct by NETM Nancy (not verified)
A Direct Loan comes from the US Department of Education. Learn how to repay a Direct Loan at StudentAid.gov/repay. You can choose a plan to repay your loan. Choosing a plan is free. You don't need to pay someone to help you choose a repayment plan.
Some people get a discharge of their Direct Loans. A discharge means you don't have to repay some, or all of your loan. Read about discharge on the US Department of Education website.
In reply to I also have been receiving by Fraud in Colorado (not verified)
Did you sign up with a company that promised to enroll you in student loan forgiveness, consolidation, or a repayment programs that would reduce or eliminate your monthly payments and principal balances? Did you pay a high fee when you signed up? Do you know the name of the company?
The FTC sued Arete Financial Group and several related companies, and says they pretended to be connected with the US Department of Education. The companies are listed on this press release. Did you sign up with any of those companies? If you did, please report that to the FTC at www.FTC.gov/Complaint.
If you signed up with one of those companies, your loans might be delinquent now. If you have a federal loan, go to the US Department of Education page: StudentAid.gov/repay. If you have private loans, talk with your loan servicer.