Student loan debt can be a heavy load to carry. That's why there are a lot of companies claiming to help permanently reduce and wipe out federal student loan debt. But some of these companies don't deliver what they promise – if you sign up, they take your money and do nothing to help you.
According to an FTC lawsuit, Arete Financial Group and related companies did just that. After requiring an illegal upfront fee for their services, Arete usually contacted a borrower's loan servicer and placed the borrower's loans into temporary forbearance or deferment status – often without the borrower's permission or knowledge. Meanwhile, borrowers were sending in monthly payments that Arete said would go towards the borrowers' loans – but the FTC is alleging the money really just went into Arete's pockets.
So how did Arete and its partners get away with it? According to the FTC, borrowers thought Arete was legit – especially because they claimed to work directly with loan servicers and Department of Education. Instead, Arete changed borrowers' Federal Student Aid (FSA) login ID, password, and contact information with their loan servicer. This cut off contact between borrowers and their loan servicers, so borrowers wouldn't find out the truth until it was too late.
The FTC alleges that Arete's lies led to very real harm to borrowers. Some people's loans are now delinquent, and their income tax refunds are being garnished. And all those monthly payments to Arete that never actually went towards borrowers' loans? That money is gone.
Remember: you don't have to pay for help with your student loans. There's nothing a company can do for you that you can't do yourself for free. If you're a federal borrower, start with StudentAid.gov/repay. If you're a private borrower, start by talking with your loan servicer.
Looking for more tips? Check out this video: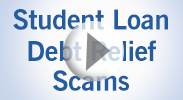 Spotted a student loan relief scam? Let us know about it. And for more resources on student loans, check out FTC.gov/StudentLoans.
It is your choice whether to submit a comment. If you do, you must create a user name, or we will not post your comment. The Federal Trade Commission Act authorizes this information collection for purposes of managing online comments. Comments and user names are part of the Federal Trade Commission's (FTC) public records system, and user names also are part of the FTC's computer user records system. We may routinely use these records as described in the FTC's Privacy Act system notices. For more information on how the FTC handles information that we collect, please read our privacy policy.
The purpose of this blog and its comments section is to inform readers about Federal Trade Commission activity, and share information to help them avoid, report, and recover from fraud, scams, and bad business practices. Your thoughts, ideas, and concerns are welcome, and we encourage comments. But keep in mind, this is a moderated blog. We review all comments before they are posted, and we won't post comments that don't comply with our commenting policy. We expect commenters to treat each other and the blog writers with respect.
We won't post off-topic comments, repeated identical comments, or comments that include sales pitches or promotions.
We won't post comments that include vulgar messages, personal attacks by name, or offensive terms that target specific people or groups.
We won't post threats, defamatory statements, or suggestions or encouragement of illegal activity.
We won't post comments that include personal information, like Social Security numbers, account numbers, home addresses, and email addresses. To file a detailed report about a scam, go to ReportFraud.ftc.gov.
We don't edit comments to remove objectionable content, so please ensure that your comment contains none of the above. The comments posted on this blog become part of the public domain. To protect your privacy and the privacy of other people, please do not include personal information. Opinions in comments that appear in this blog belong to the individuals who expressed them. They do not belong to or represent views of the Federal Trade Commission.
I received many calls from a student debt company, alleging the same consumer complaints. I knew this was illegitimate, so I hung up. As the FTC states, contact your loan servicing provider, as they are the only ones who can assist in reference to repayment options.
Does it apply to the Direct Loans under the federal department of education when you officially meet a criteria for discharge? Can you give the correct companies that are allowed.
In reply to Does it apply to the Direct by NETM Nancy
A Direct Loan comes from the US Department of Education. Learn how to repay a Direct Loan at StudentAid.gov/repay. You can choose a plan to repay your loan. Choosing a plan is free. You don't need to pay someone to help you choose a repayment plan.
Some people get a discharge of their Direct Loans. A discharge means you don't have to repay some, or all of your loan. Read about discharge on the US Department of Education website.
I also have been receiving continuous letters regarding this ,as well as my son ! I believe that our family has been affected ,what can we do?
In reply to I also have been receiving by Fraud in Colorado
Did you sign up with a company that promised to enroll you in student loan forgiveness, consolidation, or a repayment programs that would reduce or eliminate your monthly payments and principal balances? Did you pay a high fee when you signed up? Do you know the name of the company?
The FTC sued Arete Financial Group and several related companies, and says they pretended to be connected with the US Department of Education. The companies are listed on this press release. Did you sign up with any of those companies? If you did, please report that to the FTC at www.FTC.gov/Complaint.
If you signed up with one of those companies, your loans might be delinquent now. If you have a federal loan, go to the US Department of Education page: StudentAid.gov/repay. If you have private loans, talk with your loan servicer.
I was (and still am) so desperate for help with my student loan debt I went through the process of signing up with 1file.org. After some thinking and some investigating I decided not to send in the final paperwork and asked them to close my account. $600 sign up fee?? They wanted your login info for your gov loan site??They harassed me for months after I decided not to pursue their service. Glad they've been stopped.
I paid for Arete services to manage my account for PSLF. I was about two years in and didn't miss a payment, shelling out about $1400 in "fees" to them. Is there way to recoup some of that money?
I was scammed and they did get all of my information and my money. How do I go about seeing if getting my money back is even possible?
This sounds like what I experienced yesterday while trying to get a hold of "the real department of education" I filed a report with FTC. Luckily they didn't get my money just personal information.