You've probably seen ads for companies that can help you lower — or even totally get rid of — your student loan debt. Some of those companies make promises they can't keep. 
The FTC recently filed a lawsuit against SLAC, Navloan, and Student Loan Assistance Center, three companies that allegedly ran an illegal student loan debt relief scheme. These companies claimed that they could permanently reduce monthly payments and get partial loan forgiveness by enrolling people in legitimate government Income Driven Repayment (IDR) plans. 
According to the FTC, the companies pitched people their services with incomplete information and deceptive claims. They told people that lower payments from an IDR plan would last for 20-30 years when, in fact, the lower payments were only guaranteed for one year. Payments beyond that time depend on a person's income and family size in the future. The companies also promised, says the FTC, that a substantial portion of a person's loan would be forgiven when, in fact, any forgiveness would only come after decades of payments (which could change from year to year), making the amount of any forgiveness impossible to estimate. And, the companies allegedly paid people to write positive reviews about them. 
These companies, the FTC said, made their money by charging illegal upfront fees, usually $699, plus a $39 monthly fee. A settlement of the case is pending with the court. 
If you have federal student loans, you can get information on how to apply for temporary relief or lower your payment on the Federal Student Aid website. If you have private loans, contact your loan servicer. If you are currently working with one of these three companies, and the court approves the settlement, you'll get a letter explaining your options. But you'll want to read more about getting temporary relief or lowering your payments before you decide.
Also, because of the COVID-19 pandemic, the Department of Education is providing extra help to federal student loan borrowers. For more information, go to their Coronavirus and Forbearance Info for Students, Borrowers, and Parents page.
For more tips on how to avoid student loan scams, watch this video: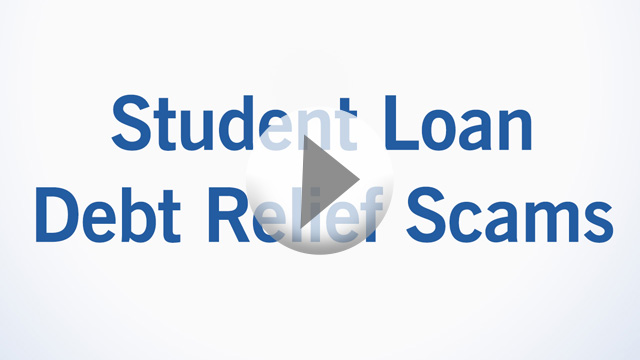 Spotted a student loan relief scam? Tell us about it at ftc.gov/complaint.
This post was corrected and clarified on April 16, 2020.
It is your choice whether to submit a comment. If you do, you must create a user name, or we will not post your comment. The Federal Trade Commission Act authorizes this information collection for purposes of managing online comments. Comments and user names are part of the Federal Trade Commission's (FTC) public records system, and user names also are part of the FTC's computer user records system. We may routinely use these records as described in the FTC's Privacy Act system notices. For more information on how the FTC handles information that we collect, please read our privacy policy.
The purpose of this blog and its comments section is to inform readers about Federal Trade Commission activity, and share information to help them avoid, report, and recover from fraud, scams, and bad business practices. Your thoughts, ideas, and concerns are welcome, and we encourage comments. But keep in mind, this is a moderated blog. We review all comments before they are posted, and we won't post comments that don't comply with our commenting policy. We expect commenters to treat each other and the blog writers with respect.
We won't post off-topic comments, repeated identical comments, or comments that include sales pitches or promotions.
We won't post comments that include vulgar messages, personal attacks by name, or offensive terms that target specific people or groups.
We won't post threats, defamatory statements, or suggestions or encouragement of illegal activity.
We won't post comments that include personal information, like Social Security numbers, account numbers, home addresses, and email addresses. To file a detailed report about a scam, go to ReportFraud.ftc.gov.
We don't edit comments to remove objectionable content, so please ensure that your comment contains none of the above. The comments posted on this blog become part of the public domain. To protect your privacy and the privacy of other people, please do not include personal information. Opinions in comments that appear in this blog belong to the individuals who expressed them. They do not belong to or represent views of the Federal Trade Commission.
Earlier this year, I got a call from the Student Loan Asistance program. I had 3 days to respond before further action was to be taken. I returned the phone call and, essentially, I had to pay "right now" to get assistance. In exchange, I would get 20-30 years forgiveness under the Gerald Ford relief Act. Scammers!!!
I get, on the average, two calls a week from a woman wanting to talk to me about paying back my student loans. The callers' area codes and numbers vary ( I suspect they are hijacked ). Two questions or one statement by me will get a hang-up by the caller: (1) What is my name?, (2) How much do I owe? or I'm 80 years old, when did I have a student loan?
I get the student loan call twice a week, I'm 66 years old. Where do they get these phone numbers to call?
I have been using this company for 4 years and fell for their trap. Now that I know what kind of scam they are hopefully I can get some of that money back.