You've probably seen ads for companies that can help you lower — or even totally get rid of — your student loan debt. Some of those companies make promises they can't keep. 
The FTC recently filed a lawsuit against SLAC, Navloan, and Student Loan Assistance Center, three companies that allegedly ran an illegal student loan debt relief scheme. These companies claimed that they could permanently reduce monthly payments and get partial loan forgiveness by enrolling people in legitimate government Income Driven Repayment (IDR) plans. 
According to the FTC, the companies pitched people their services with incomplete information and deceptive claims. They told people that lower payments from an IDR plan would last for 20-30 years when, in fact, the lower payments were only guaranteed for one year. Payments beyond that time depend on a person's income and family size in the future. The companies also promised, says the FTC, that a substantial portion of a person's loan would be forgiven when, in fact, any forgiveness would only come after decades of payments (which could change from year to year), making the amount of any forgiveness impossible to estimate. And, the companies allegedly paid people to write positive reviews about them. 
These companies, the FTC said, made their money by charging illegal upfront fees, usually $699, plus a $39 monthly fee. A settlement of the case is pending with the court. 
If you have federal student loans, you can get information on how to apply for temporary relief or lower your payment on the Federal Student Aid website. If you have private loans, contact your loan servicer. If you are currently working with one of these three companies, and the court approves the settlement, you'll get a letter explaining your options. But you'll want to read more about getting temporary relief or lowering your payments before you decide.
Also, because of the COVID-19 pandemic, the Department of Education is providing extra help to federal student loan borrowers. For more information, go to their Coronavirus and Forbearance Info for Students, Borrowers, and Parents page.
For more tips on how to avoid student loan scams, watch this video: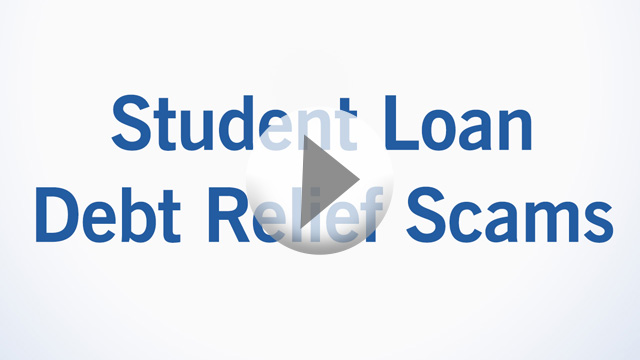 Spotted a student loan relief scam? Tell us about it at ftc.gov/complaint.
This post was corrected and clarified on April 16, 2020.