The pandemic is still taking a toll on every kind of well-being we have. The new American Rescue Plan, just signed into law, gets the ball rolling to help out on many people's financial well-being. Payments will soon be coming by direct deposit, checks, or a debit card to people eligible for the payment. You can learn more about who's eligible, and the timing, at IRS.gov/coronavirus. But let me tell you what will NOT happen, so you can spot and avoid the scammers who are right now crawling out from under their rocks.
1. The government will never ask you to pay anything up front to get this money. That's a scam. Every time.
2. The government will not call/text/email/DM you to ask for your Social Security, bank account, or credit card number. Anyone who does is a scammer.
3. Nobody legit will ever — EVER — tell you to pay by gift card, cryptocurrency, or wire transfer through companies like Western Union or MoneyGram. You know who will tell you to pay like that? A scammer.
The new law also has some language about health insurance, temporarily increasing subsidies for newly laid-off people and many people buying their own health insurance through the Affordable Care Act (ACA). Please re-read #1-3, above, because they apply here, too. Nobody legitimate will ever call, text, email, or message you out of the blue about getting or keeping health insurance coverage, or to demand payment or your account numbers. That will always be a scam.
If you spot one of these scams, please tell the Federal Trade Commission at ReportFraud.ftc.gov. We're doing our best to stop these scammers in their tracks, and your report will help.
Meanwhile, check out this video for tips on avoiding economic impact payment scams.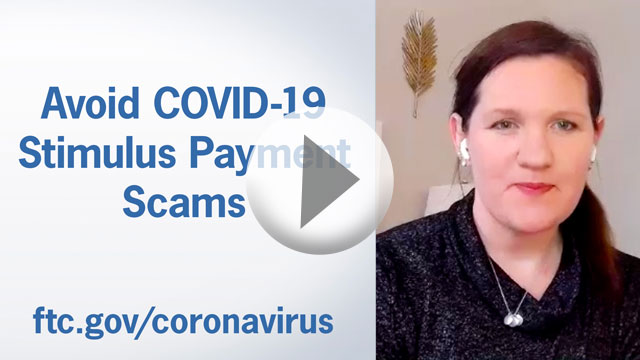 It is your choice whether to submit a comment. If you do, you must create a user name, or we will not post your comment. The Federal Trade Commission Act authorizes this information collection for purposes of managing online comments. Comments and user names are part of the Federal Trade Commission's (FTC) public records system, and user names also are part of the FTC's computer user records system. We may routinely use these records as described in the FTC's Privacy Act system notices. For more information on how the FTC handles information that we collect, please read our privacy policy.
The purpose of this blog and its comments section is to inform readers about Federal Trade Commission activity, and share information to help them avoid, report, and recover from fraud, scams, and bad business practices. Your thoughts, ideas, and concerns are welcome, and we encourage comments. But keep in mind, this is a moderated blog. We review all comments before they are posted, and we won't post comments that don't comply with our commenting policy. We expect commenters to treat each other and the blog writers with respect.
We won't post off-topic comments, repeated identical comments, or comments that include sales pitches or promotions.
We won't post comments that include vulgar messages, personal attacks by name, or offensive terms that target specific people or groups.
We won't post threats, defamatory statements, or suggestions or encouragement of illegal activity.
We won't post comments that include personal information, like Social Security numbers, account numbers, home addresses, and email addresses. To file a detailed report about a scam, go to ReportFraud.ftc.gov.
We don't edit comments to remove objectionable content, so please ensure that your comment contains none of the above. The comments posted on this blog become part of the public domain. To protect your privacy and the privacy of other people, please do not include personal information. Opinions in comments that appear in this blog belong to the individuals who expressed them. They do not belong to or represent views of the Federal Trade Commission.
Do you Ever catch any of these Crooks ??
THANKS FOR THE INFORMATION. Even though I've spotted a lot of scams, it amazes me how many people do get scammed, every year and it keeps growing and #1 to #3 in your report, are the main reasons. Thanks!
We got some calls pretending for the US Gov, to check our SSN, names and addresses to send the checks.; press 1 to continue; otherwise you SSN will be cancelled and you will not get any check.. the phone iID shows xxxxxxxxx or out of area. Thanks to your web info, we knew there are scammers and ignored them. It is so good to know the FTC is just around the corner and keeps us informed to protect us...
We've been answering every call because of our vaccine search. At least 10-15 a day seem to be from scammers. I wish I could record them, but would like to kmow what informaion is needed to help stop them.
I appreciate all that you do. However do to extreme frustration and the fact I am 66,disabled, on my own and live( currently exist) in the Lake Charles, Louisiana area with no home, etc.etc. (2 hurricanes) need to hear from someone that can really help me get my funds returned to me after being scammed last month (6 weeks) and this institution clearly knows that as I've only had approximately half of my money returned to me. So obviously it's known I am not the thief. The bottom line is America, don't trust anyone. Be diligent yourself. These institutions can and only will do so much. Good luck trying to get it back..I wonder what institution " looks" at the " institution " for internal scams and other acts of fraud? Most importantly though where's the rest of my money?
When will ssi recipients receive their third stimulus on their direct express cards?
In reply to When will ssi recipients by Ed Hansen
The Social Security Administration (SSA) will post information for people who get Social Security and SSI payment on the SSA website at   https://www.ssa.gov/coronavirus/
In reply to When will ssi recipients by Ed Hansen
Why if I received my $600 why is this so hard for me to receive my other $1,400 and make it 2,000 what is the problem and I'm on Direct Express
Hi Used "get my payment" at least 20 times, and they quoted March 17,2021 I would receive it, but the bank account number is wrong according to the manager of the bank. Please help me. Thanks
Social Security Administration Closed March, 17 2020 indefinitly they don't make social calls in person in general they don't go around threatening your next of kin with a warrant for their arrest!