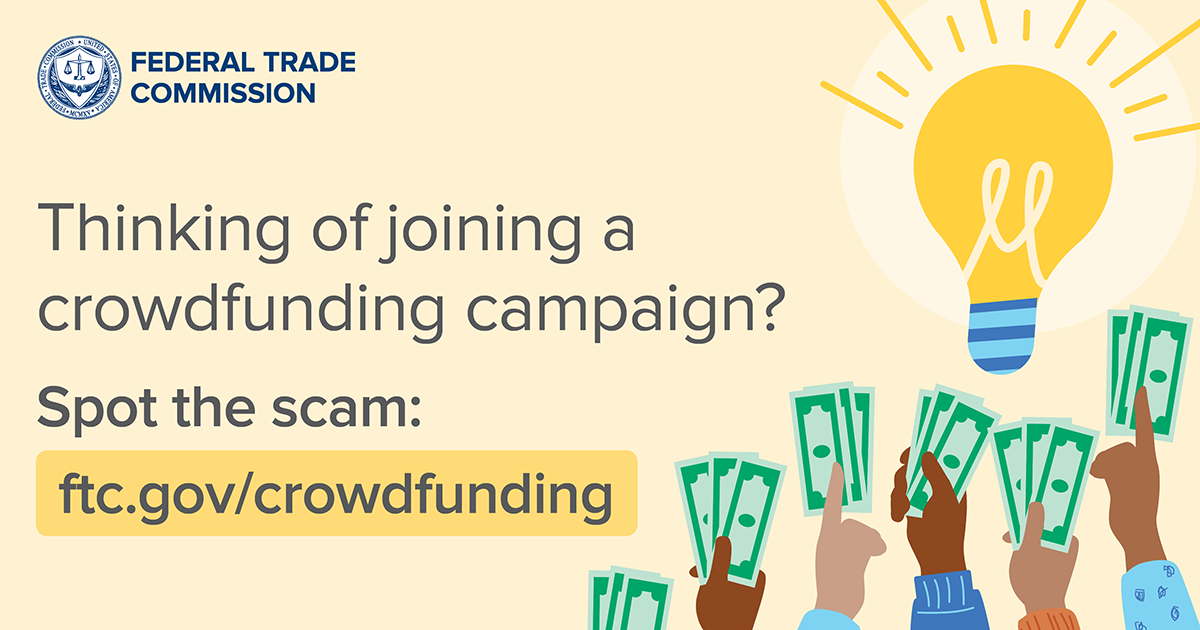 If it takes a village to raise a child, crowdfunding may be what it takes to make that invention a reality. But scammers could be behind those crowdfunding efforts and take your money without delivering what they promise.
Crowdfunding can help raise money to develop a new product or invention. To get investors, the organizer may promise something in exchange for contributions. Investors might get a payout once the invention is profitable, be the first to get the new product, or get the new product at a discount later on.
When you give money to a crowdfunding campaign, it goes directly to the campaign organizer. But a dishonest businessperson might lie about the project, product, and timeline. And they might lie about the rewards you'll get once the product is finished.
So before you pledge funds to any crowdfunding campaign, check on a few things first:
Who created the campaign? Find the name of the organizer on the crowdfunding page and do your own vetting. If you can't find anything about that person, or the details don't match what they're telling you, that's a sign of a scam. Search for the name of the organizer and project with the words "complaint," "review," or "scam" to see if anyone has already had a negative experience.
What's the purpose of the campaign? Be clear what the funds are for and what you should expect from your contribution. Not all campaigns promise you'll get anything in return.
What happens if the project doesn't get off the ground? There's no guarantee that the project will be successful and completed. Find out what happens to your money if the project doesn't get going. Can you expect a refund? How you will get it?
If you come across a crowdfunding scam, report it to ReportFraud.ftc.gov, your state Attorney General, and the crowdfunding platform.
It is your choice whether to submit a comment. If you do, you must create a user name, or we will not post your comment. The Federal Trade Commission Act authorizes this information collection for purposes of managing online comments. Comments and user names are part of the Federal Trade Commission's (FTC) public records system, and user names also are part of the FTC's computer user records system. We may routinely use these records as described in the FTC's Privacy Act system notices. For more information on how the FTC handles information that we collect, please read our privacy policy.
The purpose of this blog and its comments section is to inform readers about Federal Trade Commission activity, and share information to help them avoid, report, and recover from fraud, scams, and bad business practices. Your thoughts, ideas, and concerns are welcome, and we encourage comments. But keep in mind, this is a moderated blog. We review all comments before they are posted, and we won't post comments that don't comply with our commenting policy. We expect commenters to treat each other and the blog writers with respect.
We won't post off-topic comments, repeated identical comments, or comments that include sales pitches or promotions.
We won't post comments that include vulgar messages, personal attacks by name, or offensive terms that target specific people or groups.
We won't post threats, defamatory statements, or suggestions or encouragement of illegal activity.
We won't post comments that include personal information, like Social Security numbers, account numbers, home addresses, and email addresses. To file a detailed report about a scam, go to ReportFraud.ftc.gov.
We don't edit comments to remove objectionable content, so please ensure that your comment contains none of the above. The comments posted on this blog become part of the public domain. To protect your privacy and the privacy of other people, please do not include personal information. Opinions in comments that appear in this blog belong to the individuals who expressed them. They do not belong to or represent views of the Federal Trade Commission.
Some snake-oil salesmen who are very good at Search Engine Optimization have created an internet presence in which searching for their name or their product plus the word "scam" brings up pages of hits with text like "Is [fill in name of snake-oil here] a scam?" that proceeds to extol its virtues. You may have to go many pages deep in your search to find anything real.
Thank you for the warning just to let you know I don't fall for garbage like that and believe me I can spot scammers a mile away thank you again for your message