If you're thinking about buying a timeshare or joining a vacation club, make sure you know exactly what you're getting into. You don't want to be surprised later by unexpected charges or challenges when you try to book your timeshare or vacation club. And if you're trying to sell your timeshare or membership, watch for resale scams.
What To Know Before You Commit
Timeshares
When you enter into a timeshare agreement, you're paying for the right to use a vacation property for a specific length of time and with a specific frequency — for example, one week every year. Typically, timeshare properties are located in resorts or condominiums in desirable vacation destinations. Timeshare "owners" usually pay an initial fee to get into the timeshare agreement, plus regular maintenance fees and other charges later to continue ownership.
But not all timeshares work the same way. For example:
Some timeshare agreements give you the right to stay at a resort for a week every two years. Which week you get may change every time.
"Deeded timeshares" let you buy a specific unit for a specific week each year. Legally, these timeshares are considered real property that your heirs may inherit.
Points-based timeshares let you use your allotted timeshare points at different properties. The amount of points needed will vary depending on the property, location, length of stay, and time of year.
The laws that govern timeshares are specific to the state where the property is located. The sales staff may tell you that a timeshare is a solid financial asset, but the value of a timeshare is in its use as a vacation destination, not as an investment.
Vacation Clubs
You may have seen ads ― or gotten promotions in the mail or your email ― for vacation clubs. Some vacation clubs are a variation of a timeshare: you pay an initial fee, and once you're enrolled, you select resorts to stay at. The difference is, you pay each time for the cost of staying there. Other vacation clubs claim that, once you enroll, you'll get discounts on travel, lodging, or other amenities related to a vacation.
Before you enroll in a vacation club, be clear on what you're getting. Even if marketers and salespeople are using the same term "vacation club," they might be talking about different things.
Before you commit to a timeshare or a vacation club
Find out the true cost. Add up all the payments, including the initial payment, fees, taxes, and travel costs to get to get there, plus any other yearly charges. Is that the amount you want to spend on a vacation every year?
If there's an exchange program, be clear on how it works. If they say you can exchange your points or weeks to vacation at different properties, find out if there's an extra charge for booking a property through the exchange — or different charges for different types of properties. Is this still a good deal?
If there's a point system, understand the details. Many timeshares and vacation clubs use a point system, but not all work the same way. Typically, the number of points you need to stay where you want depends on

the length of your stay
the type of unit you'd like
where the resort is located
when you want to go
Consider whether you'll have the points you need to take the kind of vacations you want. Find out if you're allowed to buy points and how much that costs.
Keep in mind that a timeshare's annual maintenance fees typically go up every year. Most timeshares have an annual maintenance fee. Those fees can rise at rates that equal or exceed inflation, so ask whether your plan has a fee cap. You'll have to pay fees and taxes even if you don't use the unit.
Know what happens if you want to get out. In many instances, it can be tough to sell a timeshare. Find out if there's an exit program and how it works. If you're considering a vacation club, make sure you know how to cancel if you don't want to be enrolled anymore.
How To Handle Sales Presentations
You may have gotten flyers in the mail or seen ads inviting you to attend free live presentations to learn about timeshares or vacation clubs. Promoters often offer free vacations or other prizes for attending the sales pitch. At the presentation, the entire atmosphere is set up for you to feel like you're already on a vacation. They show you amazing blown-up photos of luxurious resorts, or they may take you on a tour of a similar unit you may be buying as part of the timeshare.
Sales staff sometimes use tactics designed to pressure you to buy. They may, for example, make you wait a long time between parts of the meeting, and you may have to meet with several people. They tell you the offer is available only now and won't be there tomorrow to make you act quickly. They hope that by the end of the presentation you're so exhausted that you'll sign anything just to get out of there.
Here are a few tips to help you handle timeshare or vacation club presentations:
Research the company before going to a presentation. Search online for complaints about the resort developer and the management company offering the presentation. See what others are saying about them.
Don't act on impulse or under pressure. You're committing to paying thousands of dollars — potentially for decades or for the rest of your life. Take time to make a decision you can live with.
Ask the salesperson why today is the "only" day they can offer you the deal. The company sets the rates, so why aren't those available later? This kind of rush is a warning sign: they may not want you to stop and think about what you're getting into.
Ask about your ability to cancel the contract. This is sometimes referred to as a "right of rescission" or a "cooling-off period" — a time when you can cancel the deal after you've signed the papers. State law or your contract may say how long this period is. If you decide to cancel, send a letter to the seller by certified mail and ask for a return receipt.
Study the paperwork on your own. You have the right to get all promises in writing. If you're looking to buy a timeshare in an undeveloped property, you also have a right to get a public offering statement. Take all of the documents with you after the presentation, and review them on your own or with someone you trust before committing.
Avoid Timeshare Resale Scams
It can be tough to get out of a timeshare. Before you pay a company to help you exit or sell your timeshare, contact the timeshare developer or the resort's management company, and ask about your options. The American Resort Development Association (ARDA) has a tool that can help you identify the company that you need to contact, along with other resources.
You'll see or hear lots of ads from companies claiming to be experts at selling timeshares — they're online, on the radio, and on social media. But sometimes these companies exaggerate or flat-out lie about what they can do for you. They take your money and then do little to nothing to help you.
These are some of the things you'll see in timeshare resale ads:
"The market is 'hot,' so we can easily sell your unit." (They can't.)
"Your timeshare will sell quickly," or "it will sell in months." (Unlikely.)
"We have lots of buyers ready to purchase your timeshare." (Doubtful.)
"We can guarantee you'll get big returns on your resale." (No, they can't.)
Be careful — these could be ads from timeshare resale scammers who will take your money, but won't help you sell your timeshare. The truth is, the timeshare market is overcrowded, and it can be hard, if not impossible, to sell a timeshare. And no one can guarantee a sale or big returns.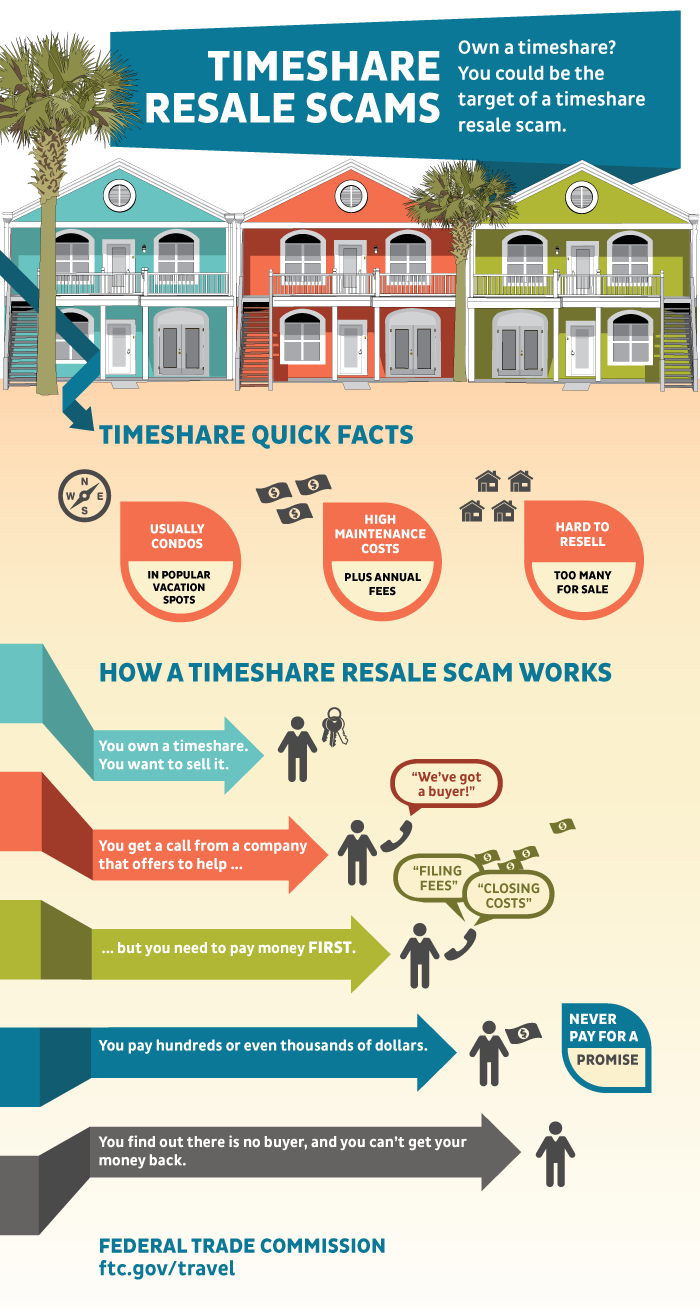 To avoid timeshare resale scams, make sure to
Ask about fees. It's better to do business with a reseller that takes fees after the timeshare is sold. If you have to pay a fee in advance, get refund policies in writing.
Ask if the reseller's agents are licensed to sell real estate where your timeshare is located. Deal only with licensed real estate agents and brokers. You can check with the real estate licensing agency in the state where the timeshare is located. Also ask for references from satisfied clients.
Ask how the reseller will advertise and promote the timeshare unit. Will you get progress reports? If so, how often? You want to make sure that the company will be active in selling the timeshare. If they're only putting the unit on a resale list, that may not be very helpful.
Get everything in writing. Read the contract carefully to make sure it matches the verbal promises you've gotten. It should include the services the reseller will perform, plus any fees you'll have to pay and when. If the deal isn't what you expected or wanted, don't sign the contract.
Don't assume you'll get back your purchase price for your timeshare, especially if you've owned it for less than five years and the location is less well known. To get an idea of the value of a timeshare you might want to buy or sell, consider using a timeshare appraisal service. The appraiser should be licensed in the state where the timeshare is located. Check with the state where the timeshare is based to see if the appraiser's license is current in that state.
Buying Undeveloped Property and Timeshares in a Foreign Country
If you're interested in ads for undeveloped property in a foreign country, do your research and
Choose a consultant based in the United States. If you hire a consultant for advice, choose one based in the U.S. to get the full picture of how a purchase abroad can impact your finances.
Use an escrow account as the payment method. Escrow services accept and hold payment from you until you receive and approve the purchase. Then, the escrow service forwards the payment to the seller. That's one way to help protect your money.
Report Timeshare Scams
Report timeshare resale scams or other scams related to timeshares and vacation clubs to