Does your child love YouTube videos? Did you know that while little Susie was watching her favorite shows, YouTube was collecting data and using it to send her targeted ads? Under a settlement with the FTC, YouTube and its parent company, Google, must pay a record $170 million for violating the Children's Online Privacy Protection Act (COPPA) Rule. 
COPPA is intended to give parents control over the online collection of their young children's personal information. If you have a child under 13, websites and online services covered by COPPA must tell you about their data collection practices and get your permission before collecting information from your child.
The FTC's complaint alleges that YouTube did not properly notify parents and get their consent before collecting and using their children's personal information. Specifically, YouTube collected "persistent identifiers" – such as cookies that are used to track viewers over time and across websites – for advertising to children. For example, a toy company with a YouTube channel could set its account so that a child who visited its channel received ads for the company's toys when the child visited another website. Such use of persistent identifiers to track children on child-directed websites without parental consent violates COPPA.
Besides paying $34 million to the State of New York and a record-setting $136 million COPPA penalty – which goes to the U.S. Treasury – YouTube must create a system for the channels on its platform to identify their child-directed content. Once the order has been implemented, viewers of that content will no longer be tracked for advertising purposes. The settlement also requires YouTube to provide COPPA training to employees responsible for managing YouTube channels. And YouTube must comply with the rest of COPPA's requirements.
Keep in mind that the Commission's complaint alleges that YouTube collected personal information from users of the main YouTube service. The case does not involve the YouTube Kids app, which does not track kids for advertising purposes.
For help talking with your kids about online safety, check out Net Cetera: Chatting with Kids About Being Online. To learn more about your COPPA rights, read the FTC's Protecting Your Child's Privacy Online. And, if you think a company may have violated your COPPA rights, report it at ftc.gov/complaint.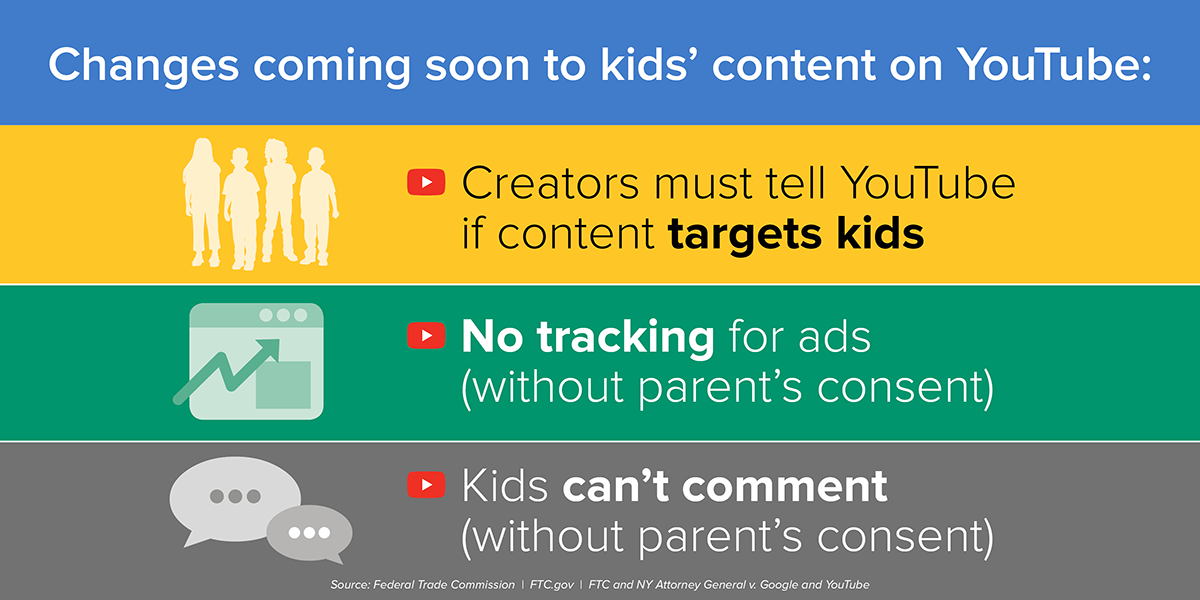 It is your choice whether to submit a comment. If you do, you must create a user name, or we will not post your comment. The Federal Trade Commission Act authorizes this information collection for purposes of managing online comments. Comments and user names are part of the Federal Trade Commission's (FTC) public records system, and user names also are part of the FTC's computer user records system. We may routinely use these records as described in the FTC's Privacy Act system notices. For more information on how the FTC handles information that we collect, please read our privacy policy.
The purpose of this blog and its comments section is to inform readers about Federal Trade Commission activity, and share information to help them avoid, report, and recover from fraud, scams, and bad business practices. Your thoughts, ideas, and concerns are welcome, and we encourage comments. But keep in mind, this is a moderated blog. We review all comments before they are posted, and we won't post comments that don't comply with our commenting policy. We expect commenters to treat each other and the blog writers with respect.
We won't post off-topic comments, repeated identical comments, or comments that include sales pitches or promotions.
We won't post comments that include vulgar messages, personal attacks by name, or offensive terms that target specific people or groups.
We won't post threats, defamatory statements, or suggestions or encouragement of illegal activity.
We won't post comments that include personal information, like Social Security numbers, account numbers, home addresses, and email addresses. To file a detailed report about a scam, go to ReportFraud.ftc.gov.
We don't edit comments to remove objectionable content, so please ensure that your comment contains none of the above. The comments posted on this blog become part of the public domain. To protect your privacy and the privacy of other people, please do not include personal information. Opinions in comments that appear in this blog belong to the individuals who expressed them. They do not belong to or represent views of the Federal Trade Commission.
170 million.. Seems like this is a very light slap on the wrist to a company this large.
In reply to 170 million.. Seems like by MechanicalB
Fines will not work because they will not stop. Taking them out of business will stop them! What is wrong with our government to slap them on the wrist!
In reply to Fines will not work because by Don'somebodyt …
I totally agree and these are the future are children that is and they are already being corrupted and not by choice in schools as well as many are using lab tops and getting information this way also no safety what so ever. There needs to be higher watch of data breaches even if using the best hackers at least give them a job verses a sentence and just see if they can do it otherwise more time just saying not to contradict safety of our kids I am talking about a few FBI or whomever "no names" to be over there shoulder the entire time and break down cyber b.s criminals and digital currency don't get me started time to go back to the old days to much on dark web that really come on don't make U.S look more foolish. Time to just kick it in gear...work
Thank you FTC for holding this companies accountable. They must be treated as AI children , so to speak, and you are guiding them through the moral and proper channels of integrity. Unfortunately, fines are the only thing that gets their attention. Thank you Lisa for this information. May I forward this information to our adult children do that they may become aware of the caveats that loom when handing our grandchildren an electronic device.
In reply to Thank you FTC for holding by Loving Grandmother
You can always share information from the FTC. It's free and in the public domain.
Unfortunately, obtaining the permission to collect such information will be easy. Most people just click to Accept whatever it says, without reading it.
All that money and punishment in fines but none of it goes to the families of the information that was taken from our children. The money goes back to the government? SMH
In reply to All that money and punishment by USMCMOM
Even when reporting predatorial approaches , data breaches ,compromise of personal info of minors , their families etc. Sadly most of time indeed! Perhaps one day they will think of the price tag of " piece ofmind and security ". Not to mention safety and how that even is. May this post serve as a voice for the many families and especially the innocent children. Often discovering through classroom even. Innocently creating an email before ages of even 13 these days. Taught to use technology with wide trusting eyes... Watching the tube in classor at home... Despite the settings breaches are so vast. Even the ones who did not click. It always has amazed me we invest in teaching to " stay safe online "... Yet just read words about fines! For the monster helpers! We shake our heads too. They never stop to imagine what else they contribute to. #Keeping Going BAM SemperFi We agree
Hello This is appalling and if you want to shut them down then you must take action and have these businesses put out of business for good and am shocked that you tube is doing this to our kids what is wrong with our government now.
Google/YouTube will just find another way to get what they want.
Who is going to monitor this?
EVERY website wants to add cookies to our views. This is of course to track everything. Then, those companies sell what they learned. I see ads for items of my interest on every other website I visit. Some websites don't ask. But they ARE tracking.
Are you for real ?? That won't spot it … Make them shut down for 3 months that's how you get things done with those $$ Billion dollar company's choke they down. That will get their attention.
where is my money for them monitoring my kids? where does all this FTC money go?
In reply to where is my money for them by no email
YouTube will pay $34 million to the State of New York and a record-setting $136 million COPPA penalty to the U.S. Treasury.
this fine is completely insufficient to act as a deterrent. Multiply it by 100, and then, maybe, they will pay attention
Children shouldn't be tracked, but the fix for this by asking content creators to self identify their content as made for kids or not is too vague. Are game streaming videos made by a 17 year old made for kids? What about a 40 year old adult who reviews Lego sets? Kids like Legos. I think a better solution would be to make parents aware that YouTube accounts are for 13+ and if they violate the policy by letting their kids watch YouTube videos through their account, then somewhere in the privacy policy/user agreement they agree to needs to have clear language that they by little children use this account they are violating YouTube's polciy, their kids will be tracked through the account and if YouTube finds out this is happening, the account will be banned. YouTube Kids exists for a reason. If parents are letting children on the full YouTube sight without supervision, they are the problem, not YouTube.
YouTube put out a statement to video producers about this, and said they must choose that their content appeals/is geared to children and therefore, loose 60-90% of they revenue, or it does appeal to/is not geared towards children and risk a $42,000 fine per video, if someone decides it is/does. Many, here, produce fishing videos and now don't know what to do.
Protecting our children is always our number one priority. But what happened to the parents taking control of what children watch. For those that use the excuse that they can not monitor their children all the time, then simply block or remove the internet. Be careful America, Censorship will do more harm to our children, knocking family friendly content off of sites like YouTube will force the young ones to look elsewhere for their information and who knows what they will find.
In reply to Protecting our children is by Beth
Please stop with "blame the parents" and "censorship" nonsense. Neither is happening here; it's about tracking web-browsing habits via cookies and then serving ads based on that data. Every school that I've seen provides students computer access to the Internet including YouTube. Some teachers even tell their students to go to YouTube. As a parent how do I control this when they are at school? I had many issues with the school allowing students to watch YouTube when they should have been paying attention. What about the library? What about municipal or the neighbors WiFi? It is much more challenging that you propose to keep a 10-12 year old off the Internet. YouTube didn't have to illegally harvest data from kids to turn a profit. Also YouTube is hardly a good place for young kids to visit; ElsaGate and the other pedophile problems? If YouTube actually shut down it wouldn't be much of a loss; there are alternatives.
You went to extreme. Now now one will want to make content for kids on youtube. What you doing is punishing creators for what youtube did .
I find that this will leave a lot of people jobless because they made money from creating videos that are supposed to be for teens and adults, this may harm those content creators, seeing as how the majority make videos about gaming and animation that is directed at teens and adults but may be seen as being directed at kids and preteens.
Make it easier for one to turn off not for kids, I mistakenly click for kids and my videos are not for kids please