Does your child love YouTube videos? Did you know that while little Susie was watching her favorite shows, YouTube was collecting data and using it to send her targeted ads? Under a settlement with the FTC, YouTube and its parent company, Google, must pay a record $170 million for violating the Children's Online Privacy Protection Act (COPPA) Rule. 
COPPA is intended to give parents control over the online collection of their young children's personal information. If you have a child under 13, websites and online services covered by COPPA must tell you about their data collection practices and get your permission before collecting information from your child.
The FTC's complaint alleges that YouTube did not properly notify parents and get their consent before collecting and using their children's personal information. Specifically, YouTube collected "persistent identifiers" – such as cookies that are used to track viewers over time and across websites – for advertising to children. For example, a toy company with a YouTube channel could set its account so that a child who visited its channel received ads for the company's toys when the child visited another website. Such use of persistent identifiers to track children on child-directed websites without parental consent violates COPPA.
Besides paying $34 million to the State of New York and a record-setting $136 million COPPA penalty – which goes to the U.S. Treasury – YouTube must create a system for the channels on its platform to identify their child-directed content. Once the order has been implemented, viewers of that content will no longer be tracked for advertising purposes. The settlement also requires YouTube to provide COPPA training to employees responsible for managing YouTube channels. And YouTube must comply with the rest of COPPA's requirements.
Keep in mind that the Commission's complaint alleges that YouTube collected personal information from users of the main YouTube service. The case does not involve the YouTube Kids app, which does not track kids for advertising purposes.
For help talking with your kids about online safety, check out Net Cetera: Chatting with Kids About Being Online. To learn more about your COPPA rights, read the FTC's Protecting Your Child's Privacy Online. And, if you think a company may have violated your COPPA rights, report it at ftc.gov/complaint.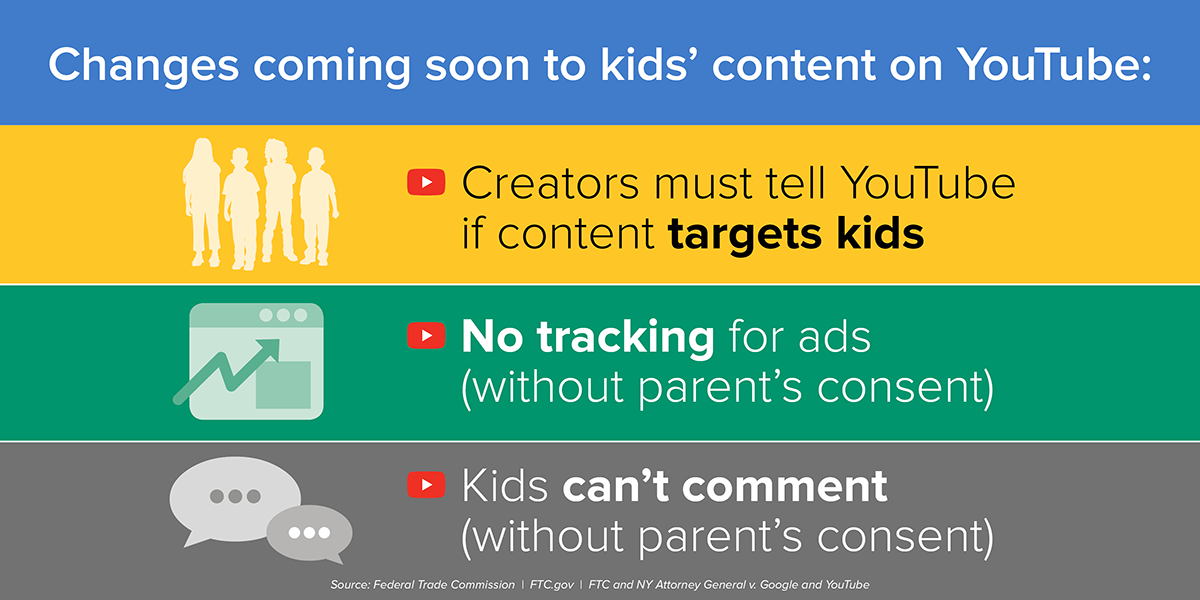 170 million.. Seems like this is a very light slap on the wrist to a company this large.
Thank you FTC for holding this companies accountable. They must be treated as AI children , so to speak, and you are guiding them through the moral and proper channels of integrity. Unfortunately, fines are the only thing that gets their attention. Thank you Lisa for this information. May I forward this information to our adult children do that they may become aware of the caveats that loom when handing our grandchildren an electronic device.
Unfortunately, obtaining the permission to collect such information will be easy. Most people just click to Accept whatever it says, without reading it.
All that money and punishment in fines but none of it goes to the families of the information that was taken from our children. The money goes back to the government? SMH
Hello This is appalling and if you want to shut them down then you must take action and have these businesses put out of business for good and am shocked that you tube is doing this to our kids what is wrong with our government now.
Google/YouTube will just find another way to get what they want.
Who is going to monitor this?
EVERY website wants to add cookies to our views. This is of course to track everything. Then, those companies sell what they learned. I see ads for items of my interest on every other website I visit. Some websites don't ask. But they ARE tracking.
Are you for real ?? That won't spot it … Make them shut down for 3 months that's how you get things done with those $$ Billion dollar company's choke they down. That will get their attention.
where is my money for them monitoring my kids? where does all this FTC money go?
this fine is completely insufficient to act as a deterrent. Multiply it by 100, and then, maybe, they will pay attention
Children shouldn't be tracked, but the fix for this by asking content creators to self identify their content as made for kids or not is too vague. Are game streaming videos made by a 17 year old made for kids? What about a 40 year old adult who reviews Lego sets? Kids like Legos. I think a better solution would be to make parents aware that YouTube accounts are for 13+ and if they violate the policy by letting their kids watch YouTube videos through their account, then somewhere in the privacy policy/user agreement they agree to needs to have clear language that they by little children use this account they are violating YouTube's polciy, their kids will be tracked through the account and if YouTube finds out this is happening, the account will be banned. YouTube Kids exists for a reason. If parents are letting children on the full YouTube sight without supervision, they are the problem, not YouTube.
YouTube put out a statement to video producers about this, and said they must choose that their content appeals/is geared to children and therefore, loose 60-90% of they revenue, or it does appeal to/is not geared towards children and risk a $42,000 fine per video, if someone decides it is/does. Many, here, produce fishing videos and now don't know what to do.
Protecting our children is always our number one priority. But what happened to the parents taking control of what children watch. For those that use the excuse that they can not monitor their children all the time, then simply block or remove the internet. Be careful America, Censorship will do more harm to our children, knocking family friendly content off of sites like YouTube will force the young ones to look elsewhere for their information and who knows what they will find.
You went to extreme. Now now one will want to make content for kids on youtube. What you doing is punishing creators for what youtube did .
I find that this will leave a lot of people jobless because they made money from creating videos that are supposed to be for teens and adults, this may harm those content creators, seeing as how the majority make videos about gaming and animation that is directed at teens and adults but may be seen as being directed at kids and preteens.
Make it easier for one to turn off not for kids, I mistakenly click for kids and my videos are not for kids please