In September of 2017, Equifax announced a data breach that exposed the personal information of 147 million people. Under a settlement filed today, Equifax agreed to spend up to $425 million to help people affected by the data breach. If you were affected by the Equifax breach, you can't file a claim just yet. That's coming. But you can sign up for FTC email alerts about the settlement at ftc.gov/Equifax.
(Not sure that you were affected? The breach claims site will have a tool to let you check. Sign up for an FTC email update to find out when that tool is up and running.)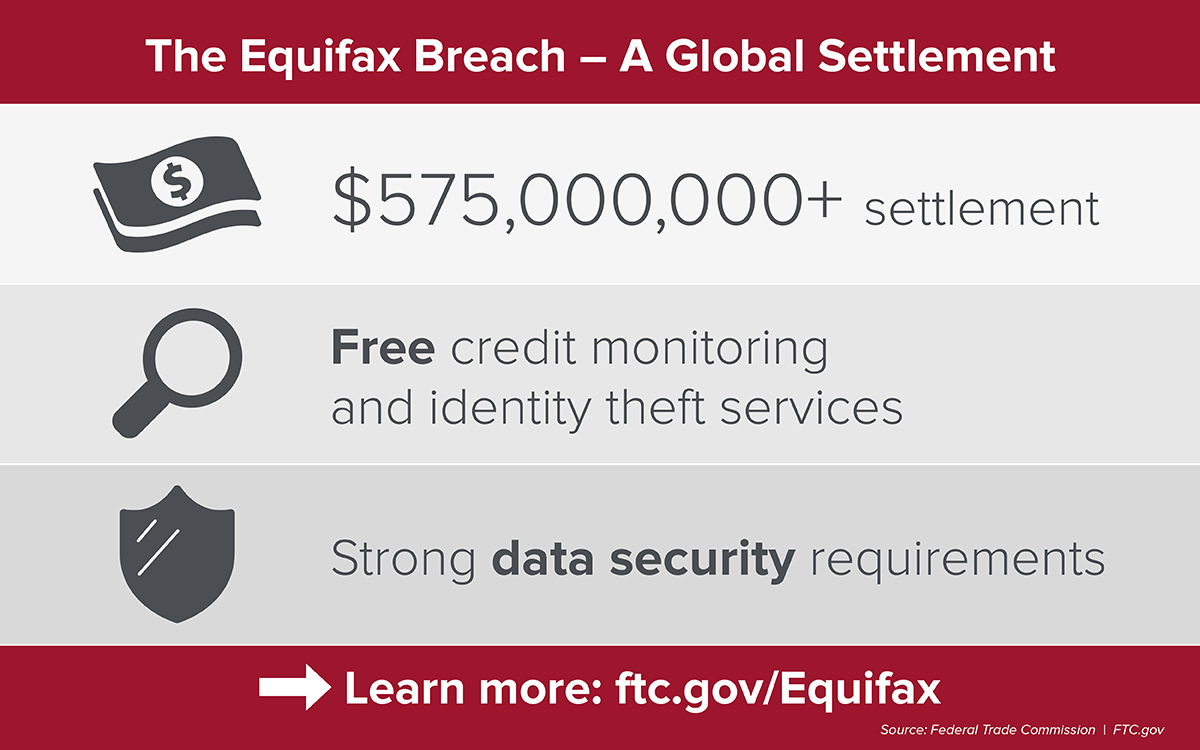 Here's what you need to know about the settlement.
Benefits Available To You
If you were affected by the breach, you may be eligible for benefits.
1. Free Credit Monitoring or Cash Payment
You can get at least 4 years of free credit monitoring of your credit report at all three credit bureaus (Equifax, Experian, and TransUnion). On top of that, you can get up to 6 more years of free credit monitoring of your Equifax credit report. That's a total of 10 years of free credit monitoring. (Minors affected by the breach are eligible for even more free credit monitoring.)
If you have credit monitoring that will continue for at least 6 months and you decide not to enroll in the free credit monitoring offered in the settlement, you may be eligible for a cash payment. The amount you'd get will depend on the number of claims filed.
2. Reimbursement for Your Time and Other Cash Payments
You may be eligible for reimbursement and cash payments up to $20,000 for:
time you spent protecting your identity or recovering from identity theft, up to 20 hours at $25 per hour
money you spent protecting your identity or recovering from identity theft, like the cost of freezing or unfreezing your credit report or unauthorized charges to your accounts
up to 25% of the cost of Equifax credit monitoring or identity protection products you bought between September 7, 2016 and September 7, 2017
3. Free Identity Restoration Services
You are eligible for free identity restoration services for at least 7 years that you can use if someone steals your identity or you experience fraud.
Next Steps

The claims process will start after court approval. To learn more about the settlement, go to ftc.gov/Equifax. We'll update that page when there's new information.
You can also sign up to get FTC email updates about this settlement.
If you were affected by the breach, you may also receive an email notification after the court approves the settlement. The notification will provide more information about the settlement, the benefits available to people impacted, and how to request the services offered under the settlement.

This blog post was updated on August 1, 2019.
How do I know if I'm affected?
We keep hearing about this, however, NEVER once did you give us a link to check on this WITHOUT giving all the info that hackers need to do it all over again.
Scammers will likely use this news to "help" people get their refund. Do not under any circumstances respond to an unsolicited call or email offering to process your refund. Only trust information provided in this website.
Problem is that the data is compromised forever. Even if you have had no ill-effects so far, you could in the future.
I don't think the settlement should ONLY go to people who have already been affected, but to EVERYONE that was found to have been affected because we don't know what costs we may incur in the future. I have already found my name in the dark web several times. Who knows how much more money I will incur in the future. Who can answer that question for me?
I had to change my address several times. It is a mess right now.
I want this free monitoring for my lifetime since that's what the data breach has cost me and my husband and daughter. We can be a victim as long as we live!
Of course there will be more identity thief from this breech after the 10 year coverage...What then?
To the best of my knowledge, I was not among those who affected - at least based on their original info site. I wasn't very comfortable with what that site asked, so I will check again after the court approves the plan. In the meantime, it's a crying shame that Equifax was allowed to remain in business after their dereliction of duty and the selfish actions taken by those in charge of that company.
That's great $125 , and a life long worry about the breach. Feeling like I was sold out.
I'll take the $125 dollors thank you very much. Credit monitoring is a scam. You have to submit all your data to a company that has been hacked in the past. I've been offered this free service a half-dozen times in the last couple of years - i've had my data stolen that many times. These companies have to be hit where it hurts - a significant fine (this one is NOT) or be forbidden to continue to operate in that line of business. With so little downside to being sloppy with security, why would they implement effective security procedures? That costs more. I'm in the computer security business and I am shocked at how little attention and expense is placed on securing our data.
I have no doubt that the VERY SAME HACKERS are licking their chops, just patiently waiting for the online claims process' floodgates to open...and they will breach that site & it's "safety measures" as well. Sorry, but I still have "PTSD" from the initial breach and DO NOT in any way trust Equifax to handle this properly. #dejavu #FoolMeOnce.... #YouKnowTheRest
I have been breached 6 times by the state, mobile phone company, equifax, email yahoo and others. I don't know where I can get help to protect my identity, and personal information from scammers. My tax refund was held from me and they are still processing my refund since January. No one helping me find out the cause.
I know we got a letter saying ours was possibly one of the ones compromised and then my bank sent me an alert that my e-mail had been found on the black web and my husbands card was being charged for stuff we didn't by from Paris, France.....good thing my bank is smarter than the thiefs… like I know someone in Paris......so yea I would say ...we were one of the comprised ones
It is important the claim system/process has a way to prevent hackers from claiming the $125 using the identity info they have stolen in 2017
I'm sorry but I think it's good Equifax has to reimburse for the garbage I went through since that happened to me and I received the letter. The crooks waited for about a year and then nailed me from Miami. Omg. It's awful. Two were recently. I just don't bother anymore and I'm not paying for a service to protect identity theft when in reality, no one can protect it. Let's see what comes true. They put the press release out. Reality is a way different thing with corporate America. I did my own investigation on it. I was mad when something actually happened.
This is not enough. What a sham. They gave away my most private data and it will cost them virtually nothing. They had a huge responsibility to protect this data and they did not take it seriously. The punitive damages should remove any profit they made from our data for at least 5 years. If there is no real consequence for not protecting data this sensitive, there is no incentive for the company to beef up security to the appropriate level.
After the breach occurred Equifax took forever to take corrective steps. First thing that happened is their website went down. Then when they put a link to freeze your credit the link did not work. Seems like I spent hours trying to protect myself using the free tools available. If there is anything good that came out of this, is that now we can all freeze our credit for free. This has been long overdue.
OK, I am a Prime example. 1-Police Report, 2-Report to the Company or Bank, 3-Fill out letter from the Federal Trade Commission-Identity Theft.gov , 4-Send all documents to the Creditor, and Credit Bureau's . Which I did. The Credit Bureau's will freeze your credit report for 1 year. This took me an EXTREME amount of time and effort. Paying for my Police Report, faxing, and mailing. WHAT A PAIN.
There should be a free credit protection for every single person in this country. I didn't choose to have a SSN that can be used against me if stolen. There has to be a better system that won't bankrupt innocent people. How about having politicians who care about making out lives easier for real?
This settlement is bad. When the "breach" (giveaway) of data was exposed I read the "End User Agreement" that Equifax offered for free data protection and it specifically stated that using their service would remove all liability - they would watch but not their problem. (I apologize if this is a re-post)
This sucks. WHY CANT THE US SOCIAL SECURITY ADMINS change the social security numbers for those of us whom " were forced to trust Equifax as a credit beauro, and were literally fired. Now I have to move all my info is in the dark web and lots of crazy stuff on other side of the planet under my and other peoples names. Let us change our Social security numbers and put EQUI-HACKS out of business. Pur lives and kids future are at big risk along with others. Please , if a criminal on the street breaks a crime he goes to jail. But when a company isnt protecting our private info and says they are that's attempted theft by fraud. Why isnt Equifax closed for good? We have rights , statutes, and our