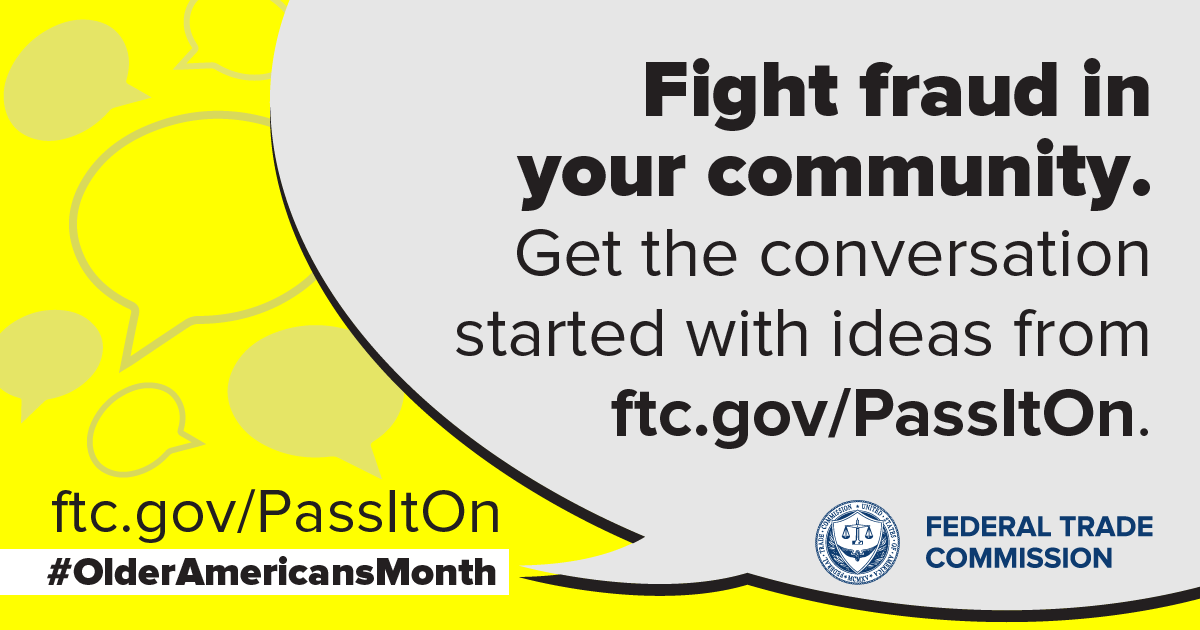 During May, the FTC and federal and state organizations nationwide will celebrate Older Americans Month, with "Communities of Strength" as its theme. The FTC works to protect older adults year round, through law enforcement actions and the Pass It On fraud prevention campaign. Pass It On encourages people to share what they know to protect someone from a fraud, and to be a resource that others can turn to. This week, we'll share some of what we know through a series of blogs about scams affecting older adults. We hope you'll share these blogs in your community. You can link, forward, print, or copy all FTC content freely. And if you're on social media, share this graphic through your network.
The FTC has taken several recent enforcement actions to protect older adults. For example, it's sued companies that tried to trick people into work-at-home and other moneymaking schemes, bogus credit card interest rate reduction offers, and health claims that aren't supported by the necessary science. Some of those claims were related to the COVID-19 pandemic.
While scammers are busy, Pass It On gives older adults and the people who work with them tools to fight those frauds. The campaign's fact sheets explain 13 fraud topics, including grandchild and romance scams, unwanted calls, and work-at-home scams. The campaign leverages the rich experience and accumulated knowledge of older adults, and gives them information they can pass on to family and friends, starting conversations and sharing their expertise.
Thank you for being part of our readers' community, and for sharing information — whether it's a way to avoid a scam or your story about an unwanted phone call — to protect the people around you. If you spot a scam, please tell the FTC at ReportFraud.ftc.gov.
7 Comments
---
It is your choice whether to submit a comment. If you do, you must create a user name, or we will not post your comment. The Federal Trade Commission Act authorizes this information collection for purposes of managing online comments. Comments and user names are part of the Federal Trade Commission's (FTC) public records system, and user names also are part of the FTC's computer user records system. We may routinely use these records as described in the FTC's Privacy Act system notices. For more information on how the FTC handles information that we collect, please read our privacy policy.
The purpose of this blog and its comments section is to inform readers about Federal Trade Commission activity, and share information to help them avoid, report, and recover from fraud, scams, and bad business practices. Your thoughts, ideas, and concerns are welcome, and we encourage comments. But keep in mind, this is a moderated blog. We review all comments before they are posted, and we won't post comments that don't comply with our commenting policy. We expect commenters to treat each other and the blog writers with respect.
We won't post off-topic comments, repeated identical comments, or comments that include sales pitches or promotions.
We won't post comments that include vulgar messages, personal attacks by name, or offensive terms that target specific people or groups.
We won't post threats, defamatory statements, or suggestions or encouragement of illegal activity.
We won't post comments that include personal information, like Social Security numbers, account numbers, home addresses, and email addresses. To file a detailed report about a scam, go to ReportFraud.ftc.gov.
We don't edit comments to remove objectionable content, so please ensure that your comment contains none of the above. The comments posted on this blog become part of the public domain. To protect your privacy and the privacy of other people, please do not include personal information. Opinions in comments that appear in this blog belong to the individuals who expressed them. They do not belong to or represent views of the Federal Trade Commission.
Caller asking if you received your new Medicare card. Of course it is a scam and they are fishing for your number.
We recently received a Scam phone call telling us that we won 2.5 million dollars! This bogus called came from publishers clearing house. After looking on the internet at their website we could tell that this call was a scam. The PCH site said they will NEVER call if you won a prize. Watch out for this scam call and just hang up!
In our community, seniors are alerted by a special person who is on top of every scam that comes out. We let her know when we've been scammed so that she can notify others, which she does every day. It is such a comfort knowing someone local is also watching out for us older folks, who seem to be scammers' main target!
1. If it's too good to be true it's a fraud. 2. See if the sender's e-mail address doesn't match the company that is supposable sending you the email don't open it. 3. You don't have a long-lost millionaire relative in Africa it's a fraud
Yes I will pass the message on
Thanks for info.. It has been difficult with SCAMS for older people. My friend got SCAM with gift cards on AMAZON n Cash App. She was too trusting and now she is educating herself.
Thank you, FTC, for always being there to help ALL Americans deal with the fraud that has become; so, prevalent in this country.