With the start of a new year, many of us want to get our finances in order. We often think about budgeting, but what about credit? To help you get a handle on credit, we've put together a four-part blog series: (1) why does your credit matter; (2) getting your credit report; (3) reading your credit report; and (4) fixing your credit report.
Before you dig in to work on strengthening your credit, you may wonder: what is credit and why does it matter? When people talk about your credit, they mean your credit history. Your credit history is a record of how you have used money in the past. That includes things like how many credit cards you have, how many loans you have, and whether you pay your bills on time.
Credit bureaus – like Equifax, Experian and TransUnion – compile this information into your credit report. Then, they sell the information in your report to creditors, insurers, and other businesses that use it to evaluate your applications for credit, insurance, or renting a home. How you handled your money and paid bills in the past will help companies decide if they want to do business with you.
That's why your credit history can make a big difference when you apply for a loan or credit card, try to rent an apartment, attempt to buy or lease a car, or shop for rental or home insurance. Because lenders, landlords, and others care how you handle your credit, you should care too.
Your finances will go a lot more smoothly this year if you start by checking your credit report and correcting any mistakes that you see. Over the next few days, our blogs will walk you through, step-by-step, how to get, read, and correct your credit report. If you want a preview, check out this video: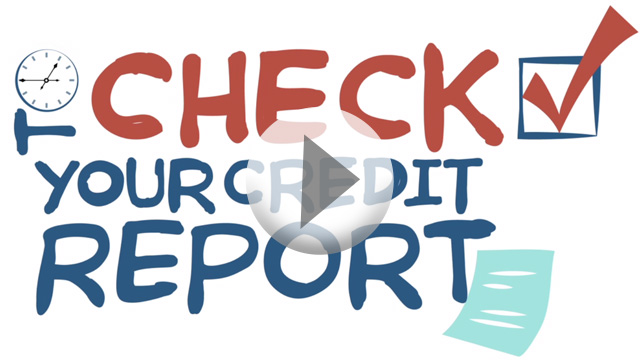 It is your choice whether to submit a comment. If you do, you must create a user name, or we will not post your comment. The Federal Trade Commission Act authorizes this information collection for purposes of managing online comments. Comments and user names are part of the Federal Trade Commission's (FTC) public records system, and user names also are part of the FTC's computer user records system. We may routinely use these records as described in the FTC's Privacy Act system notices. For more information on how the FTC handles information that we collect, please read our privacy policy.
The purpose of this blog and its comments section is to inform readers about Federal Trade Commission activity, and share information to help them avoid, report, and recover from fraud, scams, and bad business practices. Your thoughts, ideas, and concerns are welcome, and we encourage comments. But keep in mind, this is a moderated blog. We review all comments before they are posted, and we won't post comments that don't comply with our commenting policy. We expect commenters to treat each other and the blog writers with respect.
We won't post off-topic comments, repeated identical comments, or comments that include sales pitches or promotions.
We won't post comments that include vulgar messages, personal attacks by name, or offensive terms that target specific people or groups.
We won't post threats, defamatory statements, or suggestions or encouragement of illegal activity.
We won't post comments that include personal information, like Social Security numbers, account numbers, home addresses, and email addresses. To file a detailed report about a scam, go to ReportFraud.ftc.gov.
We don't edit comments to remove objectionable content, so please ensure that your comment contains none of the above. The comments posted on this blog become part of the public domain. To protect your privacy and the privacy of other people, please do not include personal information. Opinions in comments that appear in this blog belong to the individuals who expressed them. They do not belong to or represent views of the Federal Trade Commission.
The credit bureaus should be required to obtain your permission prior to publishing or selling any information about you. Currently they can report anything, true or not, and it is up to you to find out about it and prove that it is not true. What ever happened to "innocent until proven guilty" ? The US government should hold the credit bureaus responsible, the same as they do any other individual. We need new laws and a new agency to enforce them.
What happening with the the Experian court case.
My car was totaled due to malfunction in defroster unit dec 30 2019 all the inquiries i didn't do them the only one i did was for my new car january 7 2020