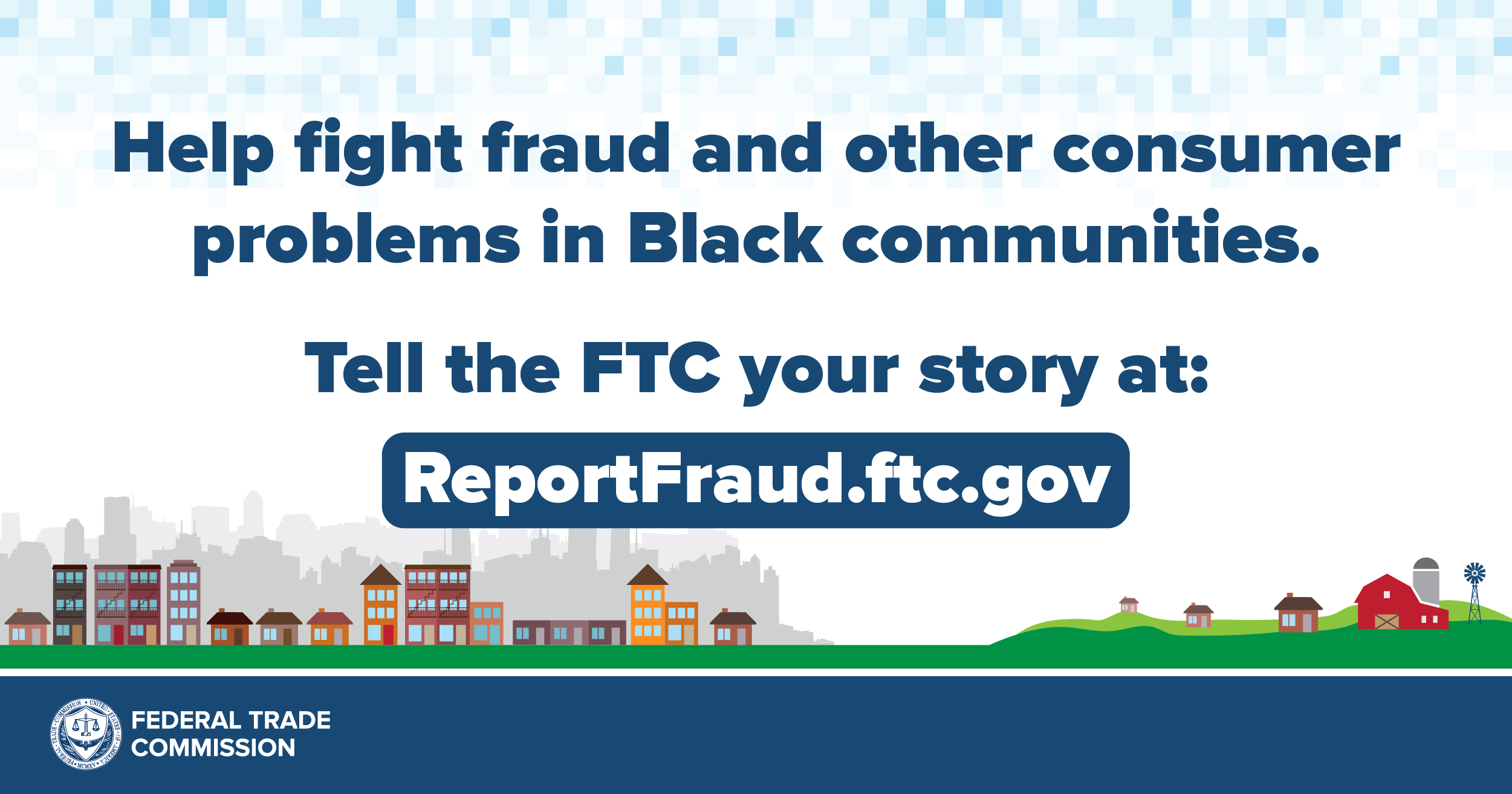 A recent FTC staff report
shows what we've known for some time — that different communities report to the FTC about different concerns. Yesterday, we told you about how fraud affects the
Latino community
. Today, we're highlighting some of the scams and other consumer problems that affect people living in majority Black communities.
The top report to the FTC was about credit bureaus, such as people in majority Black communities having trouble correcting inaccurate information on their credit reports.
Auto sales are a big concern. People living in majority Black communities filed a significantly higher percentage of reports about used auto sales than majority Latino and White communities did.
People living in majority Black communities also filed a larger percentage of their reports about issues with banks, lenders, and debt collection than people living in White communities.
Similar to reports from the Latino community, people living in majority Black communities reported paying scammers with payment methods that have little or no fraud protections — such as cash, cryptocurrency, money orders, and debit cards. People living in majority Black communities also filed more reports about payment apps or services and gift card or reload cards than people living in the other communities.
FTC cases also show some of the scams and unfair practices targeting or negatively affecting Black communities — cases involving money-making opportunities, for-profit schools, payday lending, and student debt relief programs. Check out the
Serving Communities of Color Repor
t to find out more.
It's important for the FTC and other law enforcement agencies to know how fraud and other consumer problems affect different communities. That information helps us focus our work to bring more cases to combat those problems. It also helps us learn what topics we should cover in our outreach campaigns to help people avoid losing money.
Everyone can help by
talking about fraud
and sharing information in their communities. You can also help by reporting the scams you see. Tell us your story so the FTC knows how people are being affected and who is scamming people in your community. It's easy to report at 
ReportFraud.ftc.gov
.
1 Comments
Nothing new, it is shameful to say that these unfair practices are older than the Civil War USA. Remedies have been extremely fragile.