Scammers trying to rip you off will often impersonate organizations or government agencies you know. Some even pretend to be from the Federal Trade Commission. But how can you know if it's the FTC or if it's a scammer impersonating the FTC?
If someone who says they're from the FTC demands money or threatens you, that's not the FTC. Only scammers pretending to be the FTC will do that. The latest twist? Scammers are sending fake letters from Sam Levine, the Director of the FTC's Bureau of Consumer Protection, threatening to "shut down" your accounts for "unsanctioned" activity and demanding that you call an "officer" immediately. Don't do it. Report them at ReportFraud.ftc.gov.
Image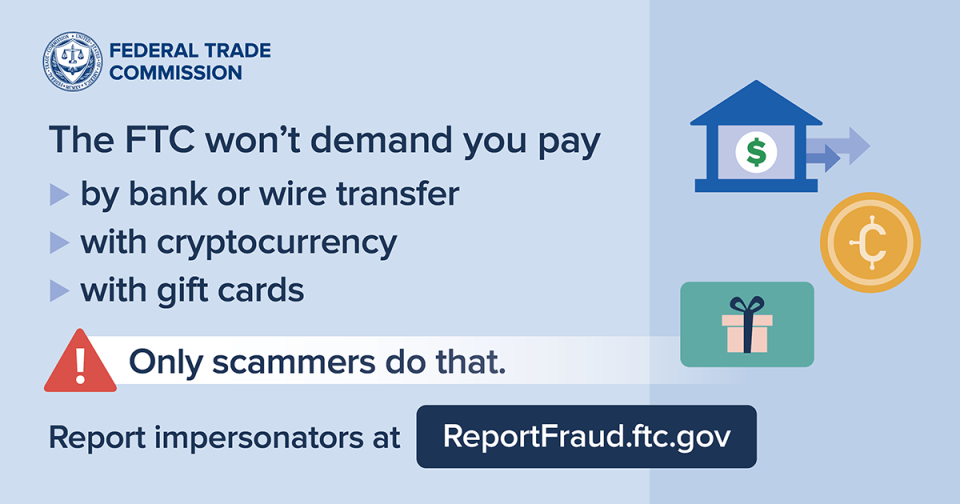 Here's when and how the FTC will communicate with you:
If you report something to the FTC at ReportFraud.ftc.gov, you'll get advice about how to recover and protect yourself. You'll also get that information by email, if you give us an email address.
If you're getting a refund or payment from an FTC case, you'll get it by check, prepaid debit card, or PayPal. The payment or claim form will tell you more about the case and why you're getting money. Go to ftc.gov/refunds to see a list of FTC cases that resulted in refunds, the name of the company sending payments, and a phone number to call with questions.
Don't respond to someone who says they're from the FTC and demands money, threatens you, or asks for personal or financial information. Report them to the FTC at ReportFraud.ftc.gov.
What if you're not sure it's a scam? Report it anyway. Your report could help the FTC stop scammers.
It is your choice whether to submit a comment. If you do, you must create a user name, or we will not post your comment. The Federal Trade Commission Act authorizes this information collection for purposes of managing online comments. Comments and user names are part of the Federal Trade Commission's (FTC) public records system, and user names also are part of the FTC's computer user records system. We may routinely use these records as described in the FTC's Privacy Act system notices. For more information on how the FTC handles information that we collect, please read our privacy policy.
The purpose of this blog and its comments section is to inform readers about Federal Trade Commission activity, and share information to help them avoid, report, and recover from fraud, scams, and bad business practices. Your thoughts, ideas, and concerns are welcome, and we encourage comments. But keep in mind, this is a moderated blog. We review all comments before they are posted, and we won't post comments that don't comply with our commenting policy. We expect commenters to treat each other and the blog writers with respect.
We won't post off-topic comments, repeated identical comments, or comments that include sales pitches or promotions.
We won't post comments that include vulgar messages, personal attacks by name, or offensive terms that target specific people or groups.
We won't post threats, defamatory statements, or suggestions or encouragement of illegal activity.
We won't post comments that include personal information, like Social Security numbers, account numbers, home addresses, and email addresses. To file a detailed report about a scam, go to ReportFraud.ftc.gov.
We don't edit comments to remove objectionable content, so please ensure that your comment contains none of the above. The comments posted on this blog become part of the public domain. To protect your privacy and the privacy of other people, please do not include personal information. Opinions in comments that appear in this blog belong to the individuals who expressed them. They do not belong to or represent views of the Federal Trade Commission.
Shouldn't this video be captioned for the 40 million Americans who are Deaf or hard of hearing?
I have been scammed out of $100,000 from these people so-called saying they're from the government agencies now I have lost all my money and I have nothing left
I have a letter from Ftc saying that it's a survey settlement regarding my ducts in my house and that's it suppose to be sent in by March 2, 2023 they even sent me the agreement how can I be sure
In reply to I have a letter from Ftc… by Margaret Oneal
Some homeowners got surveys in the mail because the FTC and the State of California recently reached a settlement with Ygrene Energy Fund, a company that provides home improvement financing. The surveys were mailed on January 31, 2023.
The survey will help determine whether a homeowner is eligible for their lien to be released or whether they may be eligible for other monetary relief.
If you get a survey, please respond by March 2, 2023.
Read about it on the FTC website at www.ftc.gov/enforcement/refunds/ygrene-pace-financing-settlement
In reply to I have a letter from Ftc… by Margaret Oneal
SOUNDS LIKE ALL IT TAKES IS A CALL TO THE FTC TO ASK A SIMPLE QUESTION.DID YOU OR ANYONE FROM THE FTC CALL OR EMAIL , EVEN WRITE REGARDING A SURVEY OR WHATEVER IT WAS. THEY WILL TELL YOU THE TRUTH. ALSO GET THAT PERSON NAME AND TITLE. WRITE DOWN DATE AND TIME YOU CALLED THEM AND WHATEVER STATEMENT WAS ANSWERED . YOU SHOULD KNOW WHAT TO DO SINCE OF COURSE YOU TRIED TO PROTECT YOURSELF FROM BEING SCAMMED. THE SCAMMERS MAY WANT JUST ONE LITTLE THING AND SOMETIME SURVEYS CAN GIVE THEM THAT ONE THING, IF ITS NOT LEGALLY THE FTC.
Thank you so much for the warning. I wish people had better things to do instead of preying on others!
Amazed you let people impersonate you or any federal law enforcement agency. What if someone impersonates a police officer??
I received a message via WhatsApp from a Jim Smith claiming that he could help recover my funds that were scammed by a Jennifer Pantoja.
Is this Zjim Smith a legitimate representative? Is WhatsApp the normal way of communicating?