Most people go to college to earn a degree and get a good job. In a competitive job market, it helps to have connections. So when a college or university claims it has relationships with well-known employers, that may convince you to attend. But beware: Claims like this may be a ploy to attract new students — and your tuition dollars. In fact, the FTC says that's just what one for-profit university did as part of an extensive advertising campaign.
In a proposed settlement announced today, the FTC says that for-profit University of Phoenix, and its parent company, Apollo Education Group, Inc., falsely claimed that their relationships with top companies created job opportunities specifically for Phoenix students and deceptively claimed they worked with these companies to develop courses.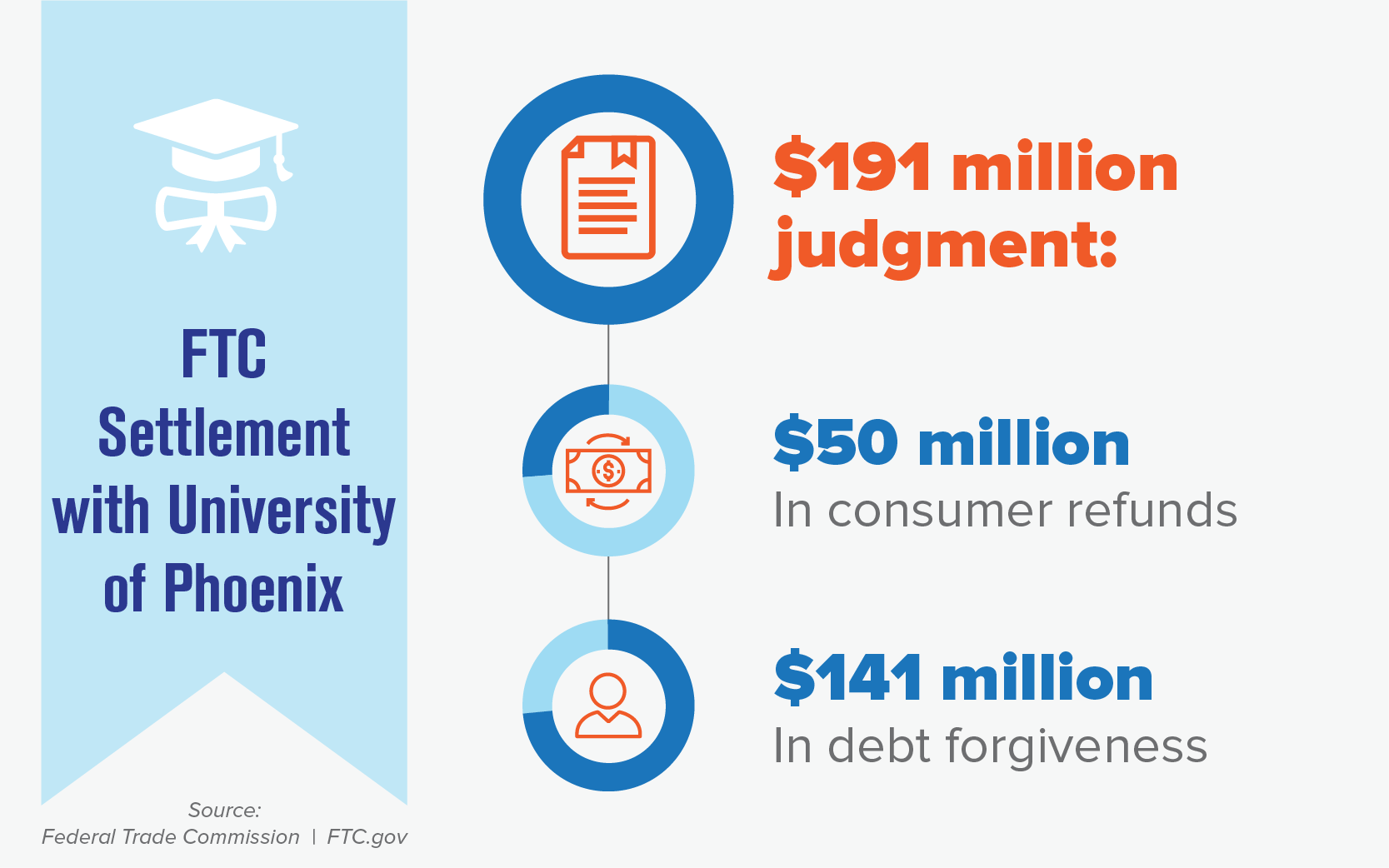 The FTC says that University of Phoenix used a multi-media ad campaign to attract students, including ads specifically targeted to military and Hispanic consumers. The companies' "Let's Get to Work" campaign featured several high-profile employers, including Microsoft, Twitter, Adobe, and Yahoo!, giving the false impression that UOP worked with those companies to create job opportunities for its students.
As part of the $191 million settlement, the companies will return $50 million in cash to former students and cancel $141 million in student debt owed directly to the school. The proposed order prohibits the companies from further deceptive business practices. In addition, it requires them to ask consumer reporting agencies to delete the debts from people's credit reports, give notice to those who got debt cancellation, and make sure people have access to their diplomas and transcripts.
Before enrolling in school, it's important to do your homework. You can get important information about any school at the U.S. Department of Education's College Navigator. For example, if you enter a school's name, you can find out if it's public or private, for-profit or non-profit, its accreditation status, and its student loan default rates.
Also, check out what are people are saying about schools you're considering. Search online for the school's name plus words like "review," "complaint" or "scam."
If you're looking to advance your education, do your homework to be sure you know what you're paying for. Check out Choosing a College: Questions to Ask.
Added on December 19, 2019: The FTC will identify people who are eligible for a payment from the $50 million University of Phoenix settlement with the FTC. You don't have to apply or submit a claim to get a payment. If you would like to get email updates about this settlement, please sign up here.
939 Comments
---
I attended UoP based on their advertising and career shops about how great the college was. I was promised a job after completing the program, but never received it. I owe so much money that it's not funny. Now with Corvid pandemic, my loan are deferred until Oct. I hate that I attended the college and never received what was promised
I received my Associates and Bachelor Degree from here and I have not gotten a job in that field. It really sucks that all that schooling and they say that they work with well known companies.
I had a federal loan to go back to school and I went to University of Phoenix and started taking IT(four years course)over the Internet. It was 2016 The whole time I'm undecided as to what course and which school to go to,I had a counselor from Phoenix who is very helpful and always there every single step of the way.as a matter of fact I wouldn't be able to get to be a student in UoP if not with that instructor helping me,from applying for Federal Loan to signing each and all necessary forms,to actually deciding as to what course I could/would want to pursue. Right in the middle of the year,(2016)I got expelled from class because I was sick for over a week,called and left a message to my teacher/Instructor but it doesn't count..so what happened is that ,afterall the hard work of getting me to agree to go back to school,recommending Federal support/loan so that no money need to come out of my pocket,all the effort of getting me approve for Federal loan,signing and answering all those never ending forms,just so in the middle of the school year ,expelled me for something I can't help,get sick .where did this leave me? Worst than before these people convinced me to go back to school to better myself .now I owed federal for the loan which I can't even get to access anymore,I don't know exactly how much I owed,I lost the opportunity to actually get a loan I can use to getting into real college,where I can't get expelled for getting sick.I want to know if I can get a loan forgiveness and what step I should take to have someone help me without asking for fee because I am broke.
I was in the qualifying group, during the right period of time, but it was never cancelled for me. What do we do if it was never cancelled?
I attended during those year, but have moved since then so how will I be contacted if this applies to me?
I am sitting on his over $100k in debt from a BS in computer science and MS in Finance. True, I live in a smaller state capital, but finding even a state entry level job has proven nearly impossible. I feel like I was lied to twice and now I have an enormous debt, that at best I'll be able to pay off when I'm 73; and two degrees that the professional community views as worthless. Not ok, by any stretch of the imagination.
Will Veterans that used their post 9/11 gi bill be getting any refunds?
I like many was a victim of this schools false advertisement. I enrolled in 2014-2015 and chose UOP because they told me being online I could continue my education in whatever state I resided with guaranteed job placement. 3 classes shy off completion, I let them know that I had a family emergency and had to relocate. It was at that time that I was told if I moved I would have to switch majors or withdraw from the school because my major was not allowed in the state I moved to. 47K later they dropped me without trying to assist or anything. I actually included my information with this lawsuit and never heard anything else.
I was one of the University of Phoenix students that filed a United States Department of Education Borrowers Defense Application. They would not let me extend a Leave of Absence for Medical Reasons and while I was in an 18 month recovery from a skin graph that treated third degree burns. They kept pushing me into another course and than tried telling each other that I was suffering from PTSD after I filed complaints. There were odd emails and other antivirus alerts. I do believe that they were data mining during the Cambridge Analytica and Facebook data mining scandal. Another antivirus also detected fraudulent text message broadcasts. Experian than detected that my phone number was listed on the Dark Web. That was the same phone number used with the University of Phoenix during the Borrowers Defense Application. This University lost a $70 Million lawsuit for a Whistle blower Violation. The complainant was a Faculty Member. I think they need to be sued for a Whistle blower violation by their former students. They also put this fraudulence debt on my credit report. It is still there and I need it removed. What is more they held my college transcripts captive with 39 credits completed and an accumulative 3.82 GPA. My name is Anthony Salin and I would like compensation for all of this as soon as possible.
I was a student with UOPHX from 2004 to 2006. They have been doing this long before 2012. What is available for students in my class?
Hello all, This settlement is a good thing for you all that do qualify for the refund, even though it will be tiny. Yes it will be super small compared to what you paid to this giant for profit school. This will give you some good ground for the borrower defense that you will have to submit separately on the ED Site. That is if you feel like you have been defrauded by UOP. The FTC can not write off federal loans or private loans.
I graduated from University of Phoenix in CA. I was going to enroll to Fresno State University when UOP promised me a career as online teacher upon graduation with my BS program with UOP. I enrolled and completed my BS. I called back UOP and explained that I was ready to work for them. I was told "you need to do a Masters with us then we can hire you". I am a Hispanic and I was told that UOP was helping Hispanics to get a job/career with them and their partners. I was going to enroll in another college but the lies of UOP and manipulation have me with no job, no career and a useless degree with a big debt. Lie after lie. I am in debt I cannot use this degree. I was lied to. Please help me/us. University of Phoenix has not contact me. I applied for the loan discharged and I was not accepted. How can this be? Please help me.
Why can't I view the link to the settlement... .ftc.gov/ system/files/ documents/cases/university_of_ phoenix_stipulated_judgment_
I was just reading through the threads. I am also in agreement that UoP deceptive practices began before this. I was told by an advisor that Health Administration positions would increase by some 67% over the next 10 years. After graduation I began looking for employment and found that I needed to be an RN to even work in Health Administration. Based on my employment search. Not only this, after many denials for employment, for entry level positions, since 2010 when I received my BSHA, I just recently learned last month that UoP reported to the US Department of Education that I withdrew! So my educational record doesn't show to any employer over these last 10 years that I did, in fact, graduate. I honestly don't think I should have to repay my loans since all the hardship I have gone through in the last 10 years based on their error! Can anyone recommend an attorney for me or advice? Please and thank you!
I also attended University of Phoenix from 2007 - 2012. Thought was a reputable University, they promised wonders about how easy was to get a job after graduating due to their job placement. Mentors that would help us with job applications and so on. Most of our conversations was over the phone, which can't be proved. I sent all emails correspondence to the Department of Education because I filled for the Borrower Defense Application. A few days ago received a note about the lawsuit Sweet v. DeVos saying I was denied debt forgiveness. I graduated never received anything which was promised. Never had a job in the field and I'm stuck with a $78 k loan that I can't pay back. When are they going to contact us. I appreciate any help. Thank you.
Does this not apply if you took out a student loan to pay for the tuition?
Hello FTC. Will this settlement actually provide Solid Evidence for students that were harmed with what UOP Did to the students, giving false ads/job outlooks..ect? Or is this a waste of time/false hope on students wanting to submit a borrower defense making this a key issue of why they enrolled... Please Respond.
How do I get in on this lawsuit? I might be late, but I haven't gotten a job in the degree I received from UOP. I am SO much in student debt due to them.
I went to UOP 2011 thru 2015 got my degree. However could not any of the jobs that the school had advertised. Now I am 57 and have mortgaged my future on misleading information. I only hop I qualify for part of this settlement.
After years of trying to get my UOP (Axia College) transcript...noone can find my records or myself in the system. I am paying dearly for the small amount of credit hours and noone can find my information for me to continue my education. This is very frustrating. I have been trying for 10 years and all my personal records were lost in Hurricane Harvey/floods in Aug 2017. Please let me know what else I can do. Thank you much.
and what is sad is that uop forced me to drop out while i was getting my bas in network administration. i even found a large number of articles where employers were quoted as saying that they would not hire people with that degree because they were not getting the correct education. and when i filed to have my loan dismissed using this very lawsuit.. and i was told that i did not qualify.. not enough evidence that these reasons involved me..
I failed a class and was dropped from UoP because I moved to a new state and within the second day of moving to that state, I had classes. I got off greyhound got a few hours of sleep, and received a phone call that my classes started the next day. I was still catching public transportation by this time and the buses stopped running early in that part of town to get me home. Because of this the teacher would not give me any participation points and she failed me purposely by 1 day of participation points. Class is over at 10 pm and my bus to get me home would leave at 9:45 pm. I explained that to the teacher the first day of class. She failed me for not remaining in the class room in which I lived a 2 hr bus ride from the school. I also had to find the school before google maps came out
Looks like the FTC v Devry settlement isn't holding evidence of wrong doing on Borrower Defenses. (i was apart of the settlement).... so with the FTC v UOP settlement, im guess that isnt going to be evidence of wrong doing either?? lol what is the point of this then.... FTC Staff? Does this evidence of misrepresentation apply on Our Borrower Defense as Evidence
It's July 2020 and no one has received any sort of compensation for this. How long does the university have to comply? And how do students go about ensuring they are taken into consideration if the school overseas them when they know for a fact that they were directly impacted by the actions of the school during the specified time??
Regarding FTC Staff, If we (students) are in this settlement and were defrauded and harmed with what is in the lawsuit, will this be evidence on our borrower defense claims? Please Respond?
I got my degrees from Phoenix. I have an Associate and a Bachelor's degree in Business administration. I have my husband and 4 kids one is disabled. I was promised job placement in my field. I didn't get. I make payments but the interest keeps Increasing. I can't sleep at night because I worry about my student loans. I was lied to and Scammed by University of Phoenix
I guess those of us students were mislead/lied to back when I enrolled in 2004 will not get our student loans erased when we were told that the degree we were pursuing was in high demand? I was told just days after I completed my graduate degree that it was a peace of paper and the ink was m9re valuable than the degree I was given. I was advised it was best if I did not even put my education on my resume as I would be passed over for every position I applied for based on the College/University I attended. I guess those that attended prior to 2012 is out if luck.
Hello, I was a student at the University of Phoenix graduate with all my degrees from the University of Phoenix. Associates, Bachelor, and Masters. I attend Phoenix sine 2010, 2014, and 2016 as of yet I have not gotten any job in my field. When I choose the University of Phoneix it was because of other students who attend that school and its reputation, the top companies created job opportunities as a student at Phoenix. I filled out over 50 or more applications and never had a callback or even an email from any of the jobs listed on the University of Phoenix website. To this day all I can say is I have the degrees but no job within any of my degrees help at all.
received an email regarding this asking me to fill out a claim form, but from what I am reading I shouldn't have to do anything. I am assuming this is a scam can this be confirmed.
I too have a bachelor's and a master's degree from the University of Phoenix with the empty promises of better employment opportunities with top employers and instead of working in a better position with the use of the degrees that I have earned I'm still in the same position 14 years later and over a $100,000 in debt with student loans. I could never understand the mathematics behind the loan configuration there was so much fluff it was hard to discern how much I really needed. The financial counselors talked in circles and often contradicted themselves even now I continue to move forward with my degrees he was only based on the fact that I was under the impression I would have a better possibility of a better paying position with a top employer if I earned a degree from the University of Phoenix. Sadly I was mistaken. I truly wish there was some form of loan forgiveness especially when it comes to false marketing
How do you submit a claim for this? Website is very confusing.
I was wondering how to submoy my information. I just recieved an email today from the school.
I'm just like Alex I got my MBA couldn't get a job but believed the hype. They refused my VA benefits I got loans and debt and of course those forgiven never finished those that did have been paying massive debt.
Is there anything we can do with the loans that were taken from the Department of Education? The practices of the school is what prompted a lot of us to take out these federal loans to pay for a degree at this school.
I just received this email from U of P that the FTC is requesting my information . "In connection with the Stipulated Order for Permanent Injunction and Monetary Judgment entered by the United States District Court for the District of Arizona (the "Court Order") (Case No. 2:19-cv-05772-ESW) on December 20, 2019, the University of Phoenix, Inc. (the "University") is required to share certain of your personally identifying information to the Federal Trade Commission ("FTC") in order facilitate the FTC's disbursement of settlement funds to certain current and former University students. Specifically, the Court Order requires the University to provide the FTC with "any information related to redress" requested by the FTC. To that end, the FTC has requested the following information: Identifying information, including name, student ID, and date of birth. Contact information, including mailing address, email address, and phone number. First date of enrollment, last date of attendance, and current enrollment status. Program, degree level, and field of study. Number of credits taken, number of credits earned, and degree(s) or certificate(s) awarded. Source of funds to cover cost of attendance. Whether student debt was forgiven under the Court Order and, if so, the amount forgiven. Pursuant to the Family Educational Rights and Privacy Act ("FERPA"), 34 C.F.R. Part 99 and the Court Order, the University is hereby providing you with notice of the Court Order and an opportunity to object so that you may seek protective action if you choose. If you object, please send a written objection to me on or before August 24, 2020, at University.Legal@ phoenix. edu. The University will notify the FTC of your objection. Absent objection, the University is required to and will share certain of your personally identifying information and to produce certain of your student educational records to the FTC." What is this about? Is it legit?
I attended from 2012-20216 and took me forever to find a decent job and I'm still not getting paid what I thought I would with this degree. I have to pay back so much money for what! And they were misleading with resources of finding work! I wasted time and money attending there and I can't afford it! I'm a widow now with 3 kids and have over $60,000 in debt. I don't even make that a year! How can I make sure I'm included in this lawsuit! I'm embarrassed I attended!