Most people go to college to earn a degree and get a good job. In a competitive job market, it helps to have connections. So when a college or university claims it has relationships with well-known employers, that may convince you to attend. But beware: Claims like this may be a ploy to attract new students — and your tuition dollars. In fact, the FTC says that's just what one for-profit university did as part of an extensive advertising campaign.
In a proposed settlement announced today, the FTC says that for-profit University of Phoenix, and its parent company, Apollo Education Group, Inc., falsely claimed that their relationships with top companies created job opportunities specifically for Phoenix students and deceptively claimed they worked with these companies to develop courses.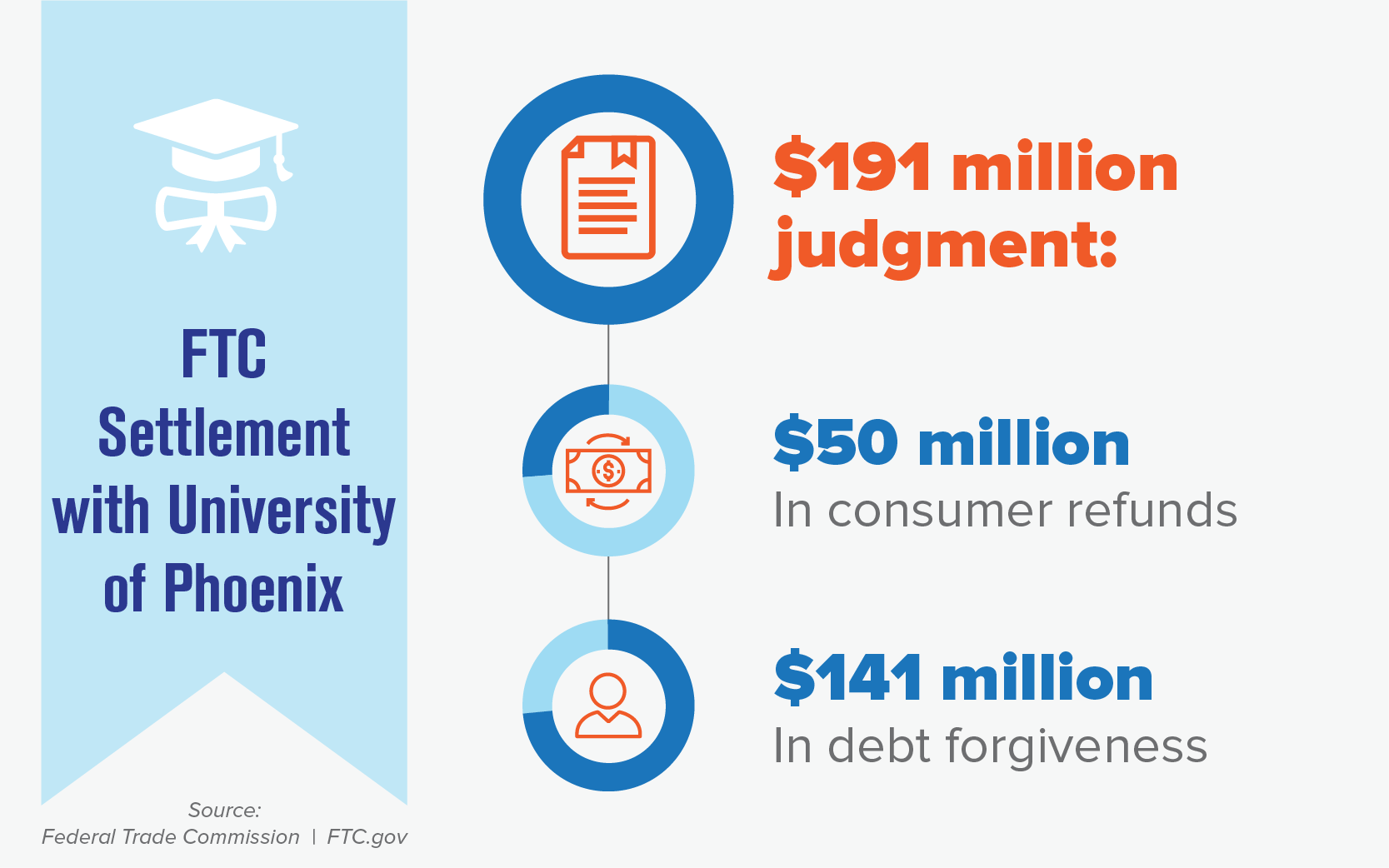 The FTC says that University of Phoenix used a multi-media ad campaign to attract students, including ads specifically targeted to military and Hispanic consumers. The companies' "Let's Get to Work" campaign featured several high-profile employers, including Microsoft, Twitter, Adobe, and Yahoo!, giving the false impression that UOP worked with those companies to create job opportunities for its students.
As part of the $191 million settlement, the companies will return $50 million in cash to former students and cancel $141 million in student debt owed directly to the school. The proposed order prohibits the companies from further deceptive business practices. In addition, it requires them to ask consumer reporting agencies to delete the debts from people's credit reports, give notice to those who got debt cancellation, and make sure people have access to their diplomas and transcripts.
Before enrolling in school, it's important to do your homework. You can get important information about any school at the U.S. Department of Education's College Navigator. For example, if you enter a school's name, you can find out if it's public or private, for-profit or non-profit, its accreditation status, and its student loan default rates.
Also, check out what are people are saying about schools you're considering. Search online for the school's name plus words like "review," "complaint" or "scam."
If you're looking to advance your education, do your homework to be sure you know what you're paying for. Check out Choosing a College: Questions to Ask.
Added on December 19, 2019: The FTC will identify people who are eligible for a payment from the $50 million University of Phoenix settlement with the FTC. You don't have to apply or submit a claim to get a payment. If you would like to get email updates about this settlement, please sign up here.
939 Comments
---
So how soon or have they and still in correspondence with people. I was a student at the time.
I attended uop on line so I could get job opportunities they advertised. I attended between Aug. 2011 to June 2016. I too had some calls and dismissed them as a scam. I do not recall any email being sent to me. All I know is that I don't work as an accountant which was my major I do work at a tax office that pays just over minimum wage. Would like to know if I qualify for this.
I am also one of those students. I have three degrees and yet to find me a job working in any of the fields that I received my degrees in. All I have now is over $100,000 dollars in student loan debt. A job that only pays me about $28,000 a year. I can't even afford to pay nothing on my student loans. I can barely afford to pay my bills.
I have added more student loan debt to my life with the pursuit of a master's degree from the University of Phoenix. I did not have any additional job opportunities by securing this degree. In fact, it was difficult to get a job. I am working for an insurance company now and struggling to make ends meet. My undergrad and graduate loans are in deferment at this time.
This UPO was a debt collection I was told I get job after complete an As degree then do better with a BA degree more money verses a min wage or a AA. Have many partners to help place me help do a resume I put out over 300 jobs apps with these two degree I got the same job I had BA k 2010 we will be there for you oh yea for my wallet went to another to get a master's degree as said make me more money but didn't have the program I wanted yet no one cares if I get a job im 53 now got some health issues how going pay back this lies lies then got caught up in forgiveness debt had close my bank account inmates 2018 because after 7 months completing my degree still got nothing
I just left a message I attended 2012 till 2018 had taken a break I haven't received no kind of communication from them? Got an AA in health care Administration and a BA in criminal justice Administration with human resources basically with all the struggles I had to complete these at age 53 the papers are worthless and stuck with a bills for an higher education that will better my life yet see job pay me 80,000 a year I live under proverty level still when I finish my degree in you I'll have start paying back how when I barely can pay for rent with the job I have now
ok so I just began to be a student at the university of Phoenix and I an trying to get a degree in Behavioral health to be a drug counselor, however the degree thy have me working on has the words behavioral health in it nowhere at all. as a matter of fact, I've never heard of this degree at all And I see it offered at no other college or university at all. Its called a Bachler of sciences in correctional programing. Is this even real???
I am a student with the University of Phoenix had have accumulated 95,000 in student debts. I have been attending University of Phoenix since 2013. Please tell me what I need to do. I haven't landed no big paying job either.
I too was one of their "suckers"!! And am at least $70k in debt!! and they have ruined my credit!! and I have TWO worthless degrees!! I got a bachelors "degree" in accounting and an mba (bcuz at the time - they did NOT "offer" an accounting mba, so I had to make it an mba w/accounting concentration...) AND did ALLLLL of my "classes" at their "campus/school"...and come to find out, that "school/campusl" is NO longer there!! It has been long gone, for several, several years! I obtained my "degrees" to be able to stay ahead of the curve, so to speak...to be more "marketable" and be able to apply for those positions that required a "degree"! Little did I know, and now realize why I NEVER got those call backs!! People in THE market, do NOT see UOP as a reputable school!! It is a JOKE!! And I was/am a laughing-stock for even utilizing it on my resume!! I am better off leaving off!! I should have just sucked it up and spent what I did spend - and gone to the night school at Loyola, (I could have gotten in - it just would have taken longer to complete my course studies - and would have had to have taken the asfab - but, now realizing, it would have been worth it!!) I went to "school" in 2000 thru 2004 - cumulatively...I was a single mom, working two jobs, making sure my son did HIS homework, did my school work/homework, made my study groups, and made sure my son was getting to schooll!! I was trying to make our lives better!! Even after "graduation", I never had any successful interviews, or even "bites"!! I still worked temp work!! I thought moving to Texas would help...NOPE!! Just a better job market, but still the same reaction to UOP!! Now, I am hounded daily/weekly by debt collectors! I truly hope I can get some "relief" from this! UOP and their ilk, preyed on peeps like me! I heard their advertisement on the local radio station in the area I was living in. When I went to to sign up, I was concerned about my "credits" from the junior college I had attended, as I had enough to go in to University of New Orleans, as a Junior...I was looking to "complete" my accounting degree I basically I started at the local "junior" college...little did I know, those "credits" were NEVER used - and I ended up taking several classes over again!! Basic Math and English!! I had the grades and everything to show that I had passed them at the "junior" college, BUT UOP, didn't accept those credits!?!?!? I really should have taken that as a "sign"!! When the other local universities would have!!
Hi. I was a student from 2010 to 2016 and a very disappointed person. I feel like I lost these years especially given that am still hustling with 2 jobs earning $15 an hour with a debt of $122,000. They should also pay part of the Federal Loan for us. The interest kills me and it makes me depressed. Everyone should be considered for this refund irrespective of which loan they took. Alternatively is there a place where we can lodge a complain?
So what your saying is that although all of us that went to school there during that time were decieved, BUT ONLY those who still owe the university money are getting their accounts wiped out? Well! Thats not the least bit fair or right for us. I owe $60,000 in school loans for a 4 year degree that is worthless, but because I took out loans through financial aid Im still required to pay them back....I DONT THINK SO. Because you see, they still got money from me that they wouldnt have gotten had I be informed properly. Who do I contact about this?
I received a letter from University of Phoenix in August 2020 informing me of releasing my address to FTC. However, my loan has not be paid off yet. Is there a deadline for UOP to pay the outstanding loan?
In 2006, I was told by the academic advisor of the graduate program that I would get a promotion or a better job. I graduated in 2008 and nothing. Then someone said go for doctorate so you can teach. In 2009, I started the doctorate program, I got no promotion and no internships. I just got laughed at.
FTC Staff does the FTC have an estimated time frame as to when they will start distributing refunds for those whom are eligible?
I went to school during this time frame and have heard nothing from the school. I've looked for emails on both the school account and personal. How soon will students hear about the refund/debt forgiveness. Who can we contact?
I didn't get any information from the ftc my money owed to the university was wiped off my dates line up perfect and I was ripped off by the university of phoenix why hasn't the ftc contacted me I received the letter saying my info was given to the ftc no one has helped me to receive any of the funds to help for my expenses and the university wont tell me who to contact
I attended during that time, after I graduated was unable to find a job. I have been paying back my loan for years with no end. I never had student debt before this. Horrible to prey on people looking for a better life. I have not received any notification of any kind. I hope they reach out to all those affected.
I recieved the email about this. Its says debt owed directly to the school. Does this mean the student loans Ive acquired for attending this school will be forgiven?
Are former students still able to take advantage of this suit. I was not familiar with this lawsuit prior to now.
After fighting with UOP for months and preparing to go to court since I was not included (when I was enrolled and going there in that timeframe), I kept sending emails to FTC and wrote to the Judge where the settlement was done, showing their contempt of court order. UOP finally added me to the debt forgiveness. It is a shame that we have to follow up on them.. I thought the FTC was following up on them?! NOW WHERE IS THE SETTLEMENT??????
I was harmed by this school with the exact same claims in 2009 . Their lies their scams their fake everything. I'm always told there is no help because of the age of this. Had filed bankruptcy twice since because I couldn't get a "real" job. I'm older now and I will be flat out honest. I have a few years before retirement and it looks like I will take this to my grave. I can't see help and don't believe there is any.
When will the FTC notify people that are part of the settlement?
Hello, I was enrolled at UOP and graduated in August 2012 from there. This company has left me with $80k in debt. I was never notified how much it costed per credit per class. I was always told do not worry because your financial aid will cover it. It was seriously a young and dumb mistake I regret to this day. Will there ever be any legal action taken against them for people who graduated in 2012? I believe people should at least have the debt forgiven. I am attending a college since I cannot even do anything with this degree.
I'm also one of the hundreds or thousands that were promised things that I have never received. Has anyone determined whether or not they have our updated information?
I attended from 2009-2013 but haven't seen anything. Who sent the email out?
I attended UOP and they promised me everything under the moon. It wasn't until many years later that a recruiter told me not to list them on my resume that I got a job in my field. They taught me nothing and now I'm stuck with a a defaulted loan because I refuse to pay for their garbage!
The IRS took over $7000 from me through taxes for The University of Phoenix and I never received my money back!! Why was I never contacted about all the money I had to pay back?
here it is end of January 2021 and still no information. That 50 million that is supposed to go back to students, what happened to it? I enrolled in 2012 and left 2015 and got the email from UOP saying they are disclosing my info but never heard anything since then. Any update on this?
I was one of these students that believed they worked with Amazon along with other companies. They also told me they had a good program for animation. I truly feel cheated out of 4 years of my life I cannot get back.
WHEN WILL YALL RELEASE THE $50 MILLION???????????? COME ON NOW! IM SURE YALL ARE MAKING MONEY ON THE INTEREST
I too was scammed by University of Phoenix. I owe almost 15,000 even though the original amount was under 9,000. My degree is bogus and UOP did nothing to find me a suitable job. Claiming that they could not help me because I lived in Hawaii. I have no real degree. I was not informed as to how much the interest would be. At this rate... I could never pay off these loans and there is no benefit to me at all! I think that the tactics that UOP use to get people to enroll... without being honest... should be illegal. Probably it is. I would like them to either make good on their promises or cancel my debt.
I signed up for UOP in 2014 but as of yet have not received an email regarding this, largely because I was using a custom email address that has since expired. As I recognized the scam that UOP was pulling early on and never attended classes there, they have still hit my credit for over $5,000. and with the bad things that have happened in my life recently that is not something that I should be required to pay for. What can I do to get my name correctly included on the list?
Hello, To the FTC Staff... What gets me the most is that this judgement reward is so pitiful. This Scam artist school got $$$30,000 plus from students esp the ones that took out Government loans. Now you wanna take pennies from UOP and split it with the students... so sad. And also you do give terrible information on the borrower defense, esp when in the judgment UOP AMITS NO WRONGDOING??????
University of Phoenix told me they won't give me my degree until I finish paying off my student loans. I graduated in 2012 or 2013. I still owe like 5,000. Can they do that?
Has anyone heard anything about the disbursement of funds to eligible student concerning the 50 million dollar portion of the settlement. Seems like nothing else is being done about it.
I'm guessing with the pandemic it takes longer for them to come up with a good formula... I must say to ALL, Do not...do not count on anything from this settlement. Depending on how much you borrowed will be split with some formula they come up with. 300 max... on 40k plus loan
After reading & hearing on the news the Navient & UOP fraudulent against students, I felt sick that I attended UOP, started in 2012 finish with 2 Master's Degree & still unable to find work as they stated. Now what? my degrees don't mount to nothing after all these years.
I graduated from there with a Bachelors and now have over 80,000 in loans as a single mom. I would desperately like to know any information I need to help me with this. I was misled to believe I'd receive a degree that would get me into a job paying at least 30,000 a year it took me 5 years to even get a job anywhere close to that and I'll be stuck paying back these loans the rest of my life