Most people go to college to earn a degree and get a good job. In a competitive job market, it helps to have connections. So when a college or university claims it has relationships with well-known employers, that may convince you to attend. But beware: Claims like this may be a ploy to attract new students — and your tuition dollars. In fact, the FTC says that's just what one for-profit university did as part of an extensive advertising campaign.
In a proposed settlement announced today, the FTC says that for-profit University of Phoenix, and its parent company, Apollo Education Group, Inc., falsely claimed that their relationships with top companies created job opportunities specifically for Phoenix students and deceptively claimed they worked with these companies to develop courses.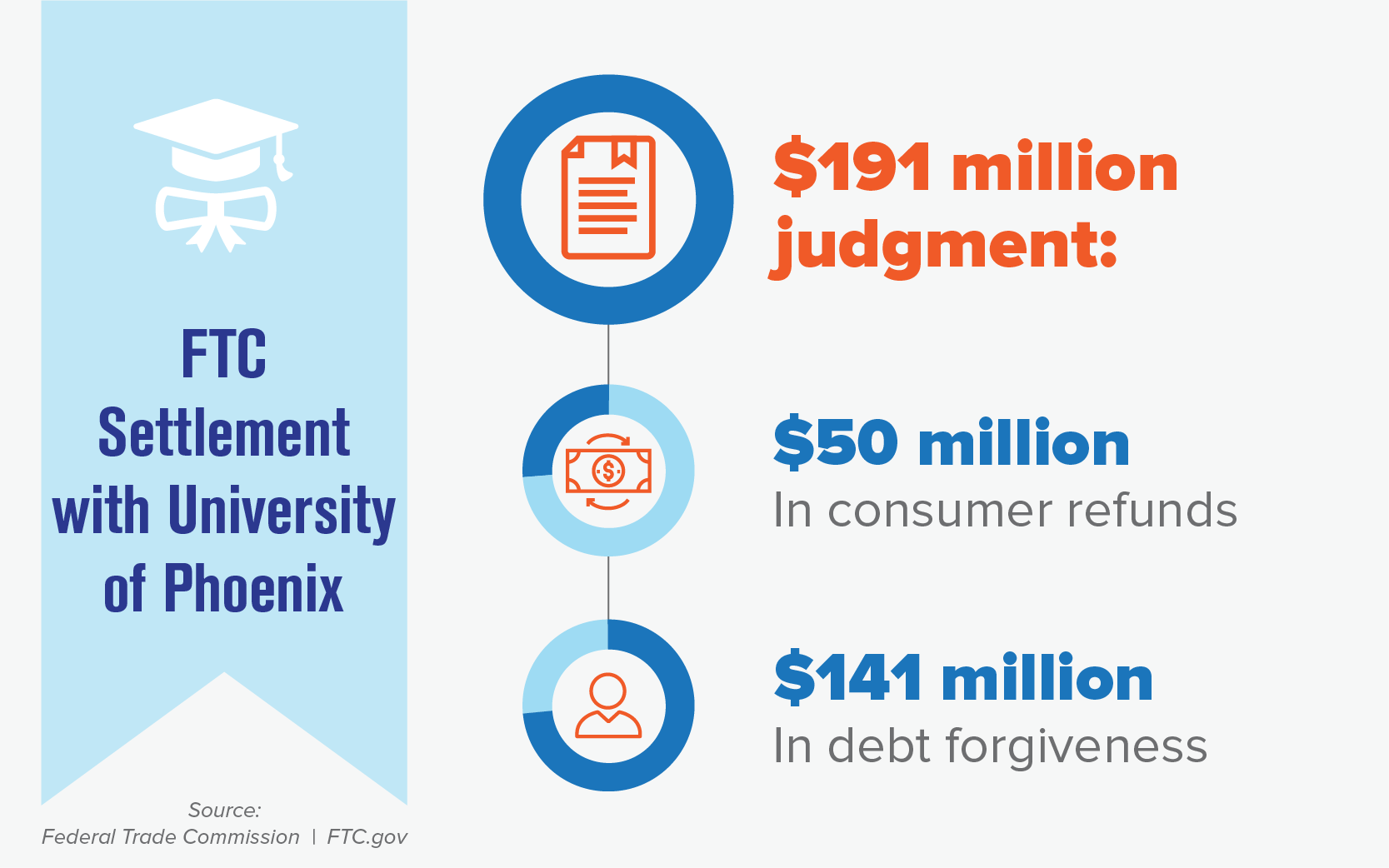 The FTC says that University of Phoenix used a multi-media ad campaign to attract students, including ads specifically targeted to military and Hispanic consumers. The companies' "Let's Get to Work" campaign featured several high-profile employers, including Microsoft, Twitter, Adobe, and Yahoo!, giving the false impression that UOP worked with those companies to create job opportunities for its students.
As part of the $191 million settlement, the companies will return $50 million in cash to former students and cancel $141 million in student debt owed directly to the school. The proposed order prohibits the companies from further deceptive business practices. In addition, it requires them to ask consumer reporting agencies to delete the debts from people's credit reports, give notice to those who got debt cancellation, and make sure people have access to their diplomas and transcripts.
Before enrolling in school, it's important to do your homework. You can get important information about any school at the U.S. Department of Education's College Navigator. For example, if you enter a school's name, you can find out if it's public or private, for-profit or non-profit, its accreditation status, and its student loan default rates.
Also, check out what are people are saying about schools you're considering. Search online for the school's name plus words like "review," "complaint" or "scam."
If you're looking to advance your education, do your homework to be sure you know what you're paying for. Check out Choosing a College: Questions to Ask.
Added on December 19, 2019: The FTC will identify people who are eligible for a payment from the $50 million University of Phoenix settlement with the FTC. You don't have to apply or submit a claim to get a payment. If you would like to get email updates about this settlement, please sign up here.
939 Comments
---
I was promised a job after graduating with my BA from University Of Phoenix...I can't even find a job in my field after Spending over 83, 000 on my BA in Business...I make no where what o should be making...I make Under 36,000 a year how im o suppose to paid a loan for 83,000.00 not to mention other obligations i have like Rent, Car Insurance, Health Insurance, phone bill groceries etc. I can barely pay my bills from month to month. I was promised i job in my field. I wasted my time and 83,000.00 dollars. Which i may never ne able to pay back. Lost my husband over a year ago...im now faced with student loans i may never be able to get away from..i just want to be able yo live and be free from all this debt i promise it takes years off your life wondering how you going to pay this or that..
Hello, I need to have my UOP student debt fully cancelled. Does not matter time period--mine was the same aggressive practice of promising employment post master's degree.
What about those of who attended in 2003. The mission statement is probably the same. Why are we not included
I just heard about this on the News, I was a student for University of Phoenix and have $80,000 in debt, how do I become included in this?
How do I know if the school or FTC has my current address? Number? Email?
My email has changed and so has my mailing address, who the point of contact to confirm I was recognized as eligible for this settlement? Please advise.
University of Phoenix, and Ashford Unversity are not good can't find a job in my career field, and I have over 100K in student loans thanks ... These colleges should not be in business 100K
I have yet to be notified about anything regarding this. I started my bachelor's program in 2014 and finished in 2018.
I attended from 2010 and graduated in 2014. I have not heard from anyone. Do I need to contact someone?
The let's get to work campaign was in use in 2008 when I enrolled and continued through 2016. That was the biggest reason I enrolled was the promise in 2008 to help with job placement when I graduated in 2012 but that never ever materialized.
So, if I am understanding this correctly since I took out loans for this 'education' and do not owe money directly to the school, I'm out of luck?
I was in school during the time. How would you confirm that you are on the list for a refund?
What do we do if the info given to FTC is outdated? I should qualify for a payment but the only thing still accurate in my information was my email, my address and phone number was years old
I went there from 2001 to 2005 earned a bachelor's degree that many employers don't consider creditable and now have large student loan. I think I should be getting a refund to cancel those loans.
What number can I call to see if I qualify I attended 2011-2014?
So .. to continue they not only did this between 2012 and 2000 whatever they did it earlier because they did it to me and also my son because we went together and neither one of us could use our degrees and they lied to both of us about the opportunities that they promised.
I owe close to$30.000 in tuition loan, how can i have money void? Moreover, should i continue with my degree with the university of Phoenix?
I am a member of this class and never received any notice. How do I get certified as member so I can put in a claim.
How do we know if we get reembursed or forgiven? I am also the same... who will contact us??? We have deferment, pay, or collections for my $90,000 bachelor's that they can't help me with.... I had 6 jobs this last year because of covid shut down to feed my kids!!!!!
I attended their masters program from 2012 thru 2013 graduation but was not considered in this settlement. I also went from associates thru bachelor's from Apollo thru UOP. I first attended UOP based on those promises/guarantees of employment that were never fulfilled.
I had the same thing happen to me -I was wanting to go for my nursing degree-I was told by the councilor that I could go for my health administration class, and I could take a few class at the community college since they had no way to handle the clinical and I could get right into the master program, he made it sound like this is how I should go about it. I was sadly mistaken, my husband was so angry at me-telling me how did I let the counselor dupe you into not going for the real career you wanted. I've been kicking my self ever since. I never have gotten one job and had one advantage for having this degree. I actually feel like telling my kids it's not worth going to college. I had my oldest go to a trade school since I told him it's over priced, and you'll just be in debt with no guarantee, that you'll be better off for it. Not sure what I'll tell my last to kids.
The UOP counselor definitely persuaded me into signing on the dotted line. Signed my life into debt that is. I wish I never signed up for UOP ever.
I also was enrolled during these times. This school definitely promised job opportunities and salary promises if I enrolled and completed the program. As I did and occurred alot in school loans debit that's it. UOP never once tried to help Me with job opportunities to make due on their promises. I have filed for borrower defense in 2017. My case has just now been denied due to lack of efficient evidence. I have not been contacted for any type of debit relief so who is benefiting from this lawsuit?? I would like some help, and some answers to why I don't qualify? I most certainly do not make an income that was promised because of my education degrees. I also can say that the this college seems discredited because of the false attention and empty promises to the students. Please contact me with help!!
I attended university of Phoenix from 2012-2014 finished my Masters in Psychology and here I am 7 years later figuring out how to use my degree on my own. No resources were giving to me and I'm finding out I formation of how to on my own. I'm scared to look at my loan amount because it was almost at 70k when I graduated it was barely 40k. How am I supposed to pay back money I'm not making and pay my bills. I hope I am one of the people that loans get forgiving because as a single mom it is rough and exhausting. I've been consistently working at 2 jobs to make ends meet.
I see the debt forgiveness part, but what about the people that used GI BILL / Post 911 GI Bill they got the money and most of us that have degrees or ran out of money from our GI Bill / Post 911, I believe think we should be reimbursed the amount of our GI Bill / Post 911.
I attended UOP During that time and they promised me that they could help me to secure employment. I never heard anything or received anything I have $33,000 still in student loan debt's that I am Struggling to pay for in the "diploma"I received from them is worthless
FYI. I received my check for $356.08 from the FTC on Saturday. I got a BS in IT from UoP during the time period stated as a requirement. I hope this information helps you.
I attended and graduated but I never to this day was able to get a job with my degree. It is disturbing all the money that was spent and nothing came of my degree
I enrolled in the dual Master's with a teaching credential in English Language Arts (ELA) in 2015. I attended from 2015 to 2017. What is the percentage of refund for my payment to the UOPX? I paid in cash and would like my full refund. Thank you.
Hello, How will you know if your loans are forgiven? I went during this time. I was promised a lot and received nothing but huge loans. I would love to have my student loans discharged.
How do i get the money because i went there from 2010-2012 and like everybody said im not working in the field i went to school for and I want my money too and get rid of this school debt
I attended UOP I think my last class was in 2012, but chose not to continue with their program because I could sense what was happening. They withheld my transcripts for nonpayment of tuition and it took me years to clear that up and I still owe $8K in federal loans. I enrolled in my local community college and almost none of the credits were transferable. In an effort not to incur any more student debt I'm paying for classes out of pocket. I want my UOP student loan forgiven, this really is a crime!
I attended this school at the same time, but I've moved a few times since then. How likely are they to seek me out, if I was one that qualified for this? Is this automatically done, or only certain people qualify. I only attended this school because of that ad, from 2015 to 2016. Though how else can I prove it other than my word, because I had a choice to attend other schools. I chose them based on the ability they claimed to have to get you a better job.
If I file for borrower defense with the student aid government website, will University of Phoenix be able to withold my official transcript? On the last page before filing it states that in some cases schools can refuse to verify or provide official transcripts if some or all of the debt is forgiven, unless prohibted by law. I have no idea how to know if this is legal for them to do or not.
i was enrolled between august 2011 and graduated 2013 so i was enrolled during this time frame. i requested the name of my degree on my diploma and all i got was the "associates degree" listed on it without the specific type of degree as i requested. they promised me i would get a mentor and guidance and i have not gotten any of that. i have constantly emailed them in regards to this and no one responds. i have not gotten anything out of this degree. i am currently working in a field that does not pertain to my degree at all. i want to know if i qualify? and please don't repeat your standard recorded answer as you did in response to other inquiries about qualification. i noticed that as i was scrolling through the comments. thank you very much
Received a check for $516.23 for anyone else clueless as to how they base payments. Graduated with a BS in Software Engineering. Wife and other family haven't received anything yet.
I attended from June 2009 to April 2013. I was enrolled in a Bachelor's program and have not been contacted or heard anything about this. How do I know if I should receive a refund or not??????