Most people go to college to earn a degree and get a good job. In a competitive job market, it helps to have connections. So when a college or university claims it has relationships with well-known employers, that may convince you to attend. But beware: Claims like this may be a ploy to attract new students — and your tuition dollars. In fact, the FTC says that's just what one for-profit university did as part of an extensive advertising campaign.
In a proposed settlement announced today, the FTC says that for-profit University of Phoenix, and its parent company, Apollo Education Group, Inc., falsely claimed that their relationships with top companies created job opportunities specifically for Phoenix students and deceptively claimed they worked with these companies to develop courses.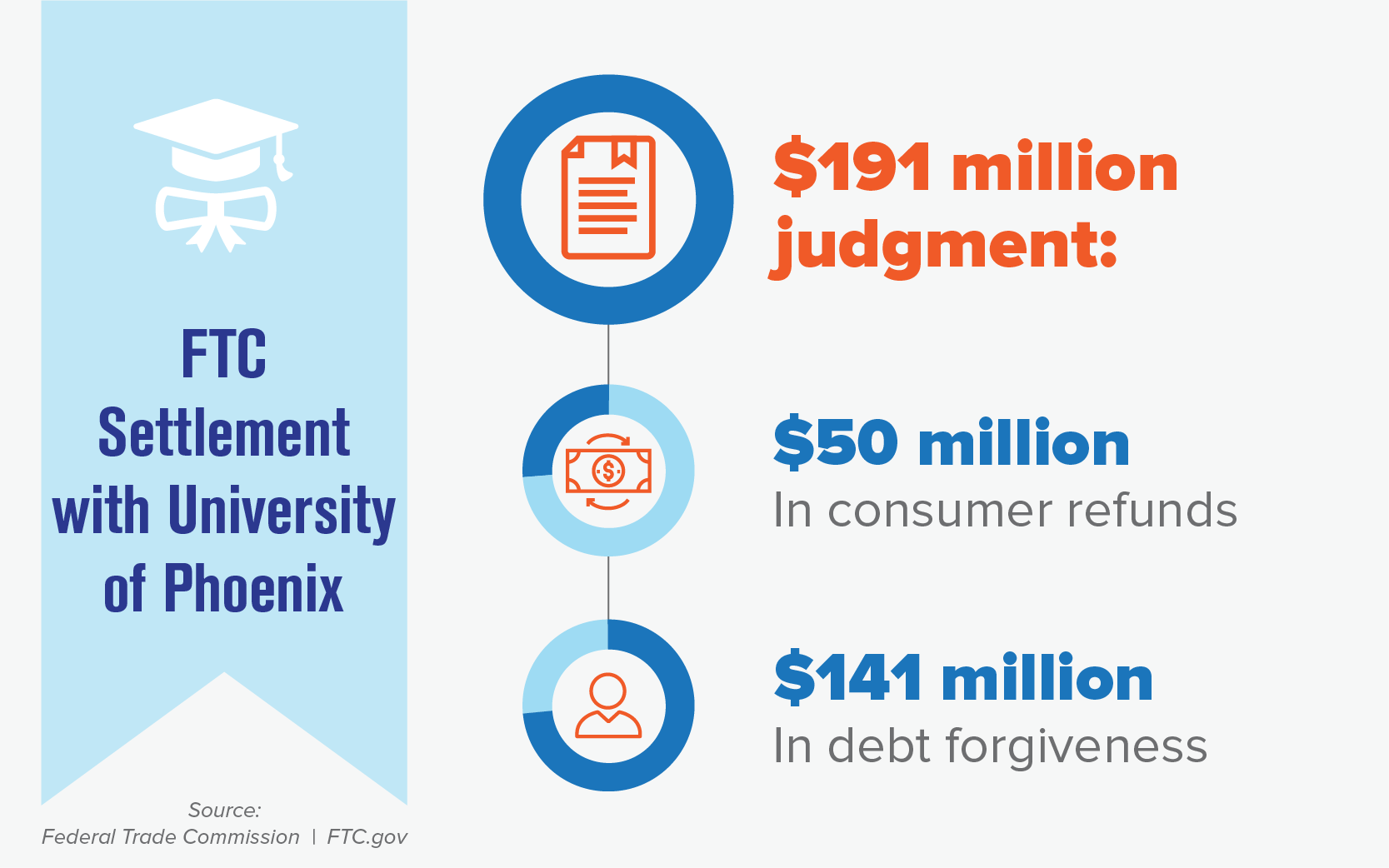 The FTC says that University of Phoenix used a multi-media ad campaign to attract students, including ads specifically targeted to military and Hispanic consumers. The companies' "Let's Get to Work" campaign featured several high-profile employers, including Microsoft, Twitter, Adobe, and Yahoo!, giving the false impression that UOP worked with those companies to create job opportunities for its students.
As part of the $191 million settlement, the companies will return $50 million in cash to former students and cancel $141 million in student debt owed directly to the school. The proposed order prohibits the companies from further deceptive business practices. In addition, it requires them to ask consumer reporting agencies to delete the debts from people's credit reports, give notice to those who got debt cancellation, and make sure people have access to their diplomas and transcripts.
Before enrolling in school, it's important to do your homework. You can get important information about any school at the U.S. Department of Education's College Navigator. For example, if you enter a school's name, you can find out if it's public or private, for-profit or non-profit, its accreditation status, and its student loan default rates.
Also, check out what are people are saying about schools you're considering. Search online for the school's name plus words like "review," "complaint" or "scam."
If you're looking to advance your education, do your homework to be sure you know what you're paying for. Check out Choosing a College: Questions to Ask.
Added on December 19, 2019: The FTC will identify people who are eligible for a payment from the $50 million University of Phoenix settlement with the FTC. You don't have to apply or submit a claim to get a payment. If you would like to get email updates about this settlement, please sign up here.
939 Comments
---
What of the people whose loans were through places like Great Lake? I'm up to my ears in debt from going to UoP and cannot get a job as promised. They told me I could get a school counselor job with an associates and that was not correct. I'm not even anywhere in the field that I was studying.
I attended UOP from 2011 to 2013 and graduated with an Associate's Degree in Business and they stated this would open many doors to a higher paying job. When I graduated the only job I could find with this degree were jobs paying less than I was making with my current employer. I even went to the school employment site and all of the jobs listed for students with an AA degree were minimum wage jobs. They falsely lead me to believe the degree I earned after paying over 20k would lead me to a high paying job. When I spoke with my student advisor she stated I just need to keep searching. I never did find that job.
I went to university of Phoenix and they scammed me. They made me take courses and even though I kept telling my counselor that I was not learning anything new and all the material they were giving me was repeat of college work I had already completed at Modesto junior college in Modesto CA they kept on saying that the classes started off slow like that. Well they kept all my fasfa money and then reported to my local federal aid office that I was getting all this money that they were actually keeping. I was cut off completely and was put in such a bad situation that I couldn't pay my rent or bills, my tax returns have been garnished, I owe the welfare department money. University of Phoenix ruined my credit, put me threw homelessness and I have three kids.
I went there got my BA in psychology and no job even applied to many .
I am wondering when will the FTC start the process of getting notify who qualifies under the $50 million settlement. I sign to get email information but no updated information about the $50 million. University of Phoenix started the process back in December 2019, whey can we get an answer from FTC when they will start their process with the $50 million. All FTC had say to sign in to get email updates . I had sign in to get email updates but had received no updates. Can FTC gives us an updated how long will it take for them to start the process of the $50 million and how are they choosing the person that are getting benefit of the $50 million. Please do not just answer to sign for email updates because I did already and FTC has not done any updates since December 19. I am wondering if FTC is really going to use that $50 million for the student that where affected.
I was scammed so bad by the University of Phoenix for not 1 but 3 degrees and every time I had my doubts and shared that they kept calling. I am do far in student debt and cant even use my degrees. I reached out to my Commissioner to seek help and was told it was in federal court so I am at the point of needing an attorney. This whole thing is so frustrating.
I got some negative reporting in reference to some loans I had with University of Phoenix from 2012. These loans were report by Navient. They have not seen be any statements or anything to my house in the last 8 years now all of a sudden I own over 9,000 on three loans and the other three are in default. This is incorrect reporting they got their information from USA funds and another ascdndlum.
I was enrolled in an AA program from 2010-2012 and BS from 2012-2014. I was promised employment assistance I never received (while being encourage to continue to get my BS). Am I eligible for forgiveness?
Is there any help provided to graduate that used the GI Bill. I know it was paid for, but it still took the opportunity away from going to a real university. I wasted my GI Bill and time, and still have a hard time finding employment. Maybe compensation to go to a real school?
I first enrolled at the University of Phoenix in February of 2008. They got me with false advertising too. They said they would help me find a job after my degrees. They did not. And here I sit with 3 pieces of paper for my 3 degrees Including a master's degree. And over 100,000 dollars in debt. It is not fair that I should have that much of a debt for degrees that do me no good. Please Help me with this.
I was a part of this lawsuit received a email stating so and low and behold UNIVERSITY OF PHOENIX TOOK OVER $700 OF MY TAXES AND NOT IT WAS NOT FOR MY FEDERAL LOANS BECAUSE THEY ARE IN DEFERMENT THE IRS MADE I CLEAR THEY COULDN'T HELP ME BECAUSE IT WASN'T FEDERAL LOANS THAT TOOK MY MONEY BUT UNIVERSITY OF PHOENIX SAYING I OWED THE SCHOOL STILL!!! I called UNIVERSITY OF PHOENIX THEY ARE ACTING AS IF THEY HAVE NO CLUE OF MY MONEY AND SAYING I DON'T OWE THEM ANYTHING BECAUSE MY DEBT WAS CLEARED. WELL THE IRS IS NOT GOING TO LIE I WANT MY MONEY BACK ASAP I'M FIGHTING THIS TOOTH AND NAIL WITH A LAWYER.
I fall into the eligible enrollment period (I enrolled in 2012 and am still completing my Doctorate Degree). I ran out of federal financial aid a few years back. I had to take a year off of classes to pay the school directly what I owed them. In 2019, I finished paying the school, and this law suit was settled. Am I eligible for a reimbursement? That would be very helpful as they are making me pay up-front and out of pocket to enroll in my last class. I've had to push it off 3 times while I raise close to $3k. Any advise is appreciated.
I was an online student at University of Phoenix (Axia) for Health Information of Medical Records. However I was under false claims by their advertisement on television and when I spoke with one of their counselor to help sign me up. They claimed to have relationships with well-known employers, better job replacement with higher pay. And that seem to be an great opportunity to adavance in life and very reason to attend Apollo Education Group. Now I am stuck with student loans that I haven't been able to afford nor applied to become greater in jobs opportunities and pay. Sincerely Michelle RA.
When I first started UOP I wasn't a high school graduate & I told the financial counselor that, but he said it was fine because I had enough credits to enroll. He told me to check the "Are you a high school graduate" box on the FAFSA so it would process without delays. Each year I attended I was told to do that by a financial counselor when submitting the FAFSA. I was also deceived because I was told that the Software Engineering course I was going in to had locations near me that I would be able to physically attend for some courses that I needed hands on learning with. That was a lie. Over the next couple of years, I requested over and over for information on such locations during certain courses that I was struggling in & was told that all of my courses were only available online. They couldn't help me with a tutor or anything. I failed my last course twice and had to pay out of pocket to retake and finally just gave up due to the financial strain, frustration with the school & being overwhelmed by it all. I didn't receive the degree and am stuck with all this debt for a school that couldn't help me but lied about it. I had found out about the false certification form for loan cancellation due to not graduating high school before attending. I filled it out and sent in my high school transcripts as proof but it was denied because I had stated on my FAFSA that I did graduate high school. I was told by my counselor to say that I did. The counselors are there to guide us so I followed his instruction.
I attended UOP between 2002 and 2006. After many years of fighting with the school financial department about a balance they said I owed, in 2019, I called and made a deal. I paid what they said I owed with my debit card. The UOP debt collector on the phone said these words that had be balling like a baby. She said, "Your balance has been paid in full". I didn't realize how much pain, fear, worry, anxiety, suppression and such emotions were bottled up inside. She felt sorry for me. My degree was mailed to me and transcript was m available almost instantly. UOP has totally taken the last 18 years of my life away from me. But those commercials had big promises. However, I have since used my degree and transcript to enroll in the school I waited 6 years to get into, just to get an online certification in Education. It's taking me 1 year to speak about this. If anyone should get debt forgiveness and award financially compensation for the past 18 years of insanity, it should be me and others like me. My Student Loan has been doubled since 2006 and is still hanging over my head.
I never knew how much my program cost. I was enrolled in the wrong program and by the time I figured it out, it was too late. Pell grant and Cal grant were to pay for my courses however I now owe 85k and no grants are shown on my fed loans. Please be careful.
When do you expect payouts for the $50 million to eligible participants? This article came out in December 2019 and I fall in the eligible category and have heard nothing. I called the FTC and they have no clue. Can you please give us a time frame due to many people facing financial hardships during the COVID-19.
I went to school at University of Phoenix for my BA in Interdisciplinary Education. It wasnt until my 2nd year was finishing that I was advised to check with my state to see if that degree was accepted in Kentucky. And sadly the answer was no. Now, due to my student loans, I can't even go back to school. In fact, the only state that did accept the degree from this school is Arizona. I have yet to see any relief on my student loans. Welk, other than my taxes being red flagged every year.
Hi, I attended school during the time frame mentioned and even used the so called military discount for spouses. I did not complete my degree due to being unsure with the degree I was persuaded to achieve. I left owing the school money which then was turned over to collections. I paid the money in order to go back to school. I have not been contacted about any sort of refund. Wouldn't this qualify for reimbursement?
I have been with the university of phoenix for 7 years. I have completed my course work for my master's program and because I decided not to student teach, they are giving me a hard time with not allowing me to graduate. I did a change of program which I signed all of the documents and they still keep telling me they do not see everything i have sent them. This is the worst university I have ever been to that keep stuff hidden from students and I will not recommend anyone to attend this college. I do not know what to do because i need my degree. What actions can I take?
Good afternoon. I attended during the identified timeframe and then was told I still owed fees and tuition. This was placed in collections and onto my credit report. Will I be eligible for a refund and able to have that negative item removed from my report?
I went to the University of Phoenix from Dec 2003 thru 2008. My loans were FFELP, but with a commercial owner. When I originally signed up I was told there would be job placement, and also that my total student loan would be no more then $25,000 on the application that they had me sign. The loan ended up being over $45,000.00. They also forced us to purchase electronic books for each class at $75.00 each, without the option to purchase our own. They automatically debited that amount from our loans. By the time I was in my second-third year, they had doubled the price per class. Also when I graduated, they did no job placement efforts at all. Further, when my loan was serviced by City/Sallie Mae/Navient, they put me on forbearance's instead of IBR's, and did not tell me that I had an IBR option to avoid capitalized interest. This has caused over 10,000 in interest to be capitalized on my loan. Do people who are in the same situation as myself get any relief? I understand there are several private and government based claims and lawsuits looking into this exact situation but I have not heard anything regarding my loans.
I attended in 2010. This company really swindle me. I have so much student loan debt due to this so called college. Also they have on my credit report that I owe them $234 since 2010. The statue of limitations is 7 years right. This will not come of my credit until 2021.I'm trying to see how. When they used so much financial Aid and student loan money. I know I should not have a balance. UOF ripped me off. I wished this could be taken off credit and also debt their student loans and financial aid as well.
How is the FTC going to determine the eligible students? What requirements are they looking for? There's no information regarding how the FTC will choose the people to send payment to.
Why were those years chosen? When my counselor enrolled me I was told many misleading things. One, the value of the University of Phoenix ( I have been refused positions since I received degree from UOP). Two, I was told they were part of the real University and not a corporate business. This is not fair.
I was a victim of this school as well. I was told some misleading information and obtained a degree that was a waste of my time I am now 27000 in debt and going. I have already applied for discharge but there is no telling how long that will take. This is was huge joke that I can not laugh about because myself like many others were tricked into this school and all of this debt. It is so sad how schools like this are able to get away with this.
I attended in 2008. I told them that I wanted to do medical billing and coding. I asked them numerous times if I could get a job with their degree and they said yes. Almost 3/4 way through and relized that none of my classes had anything to do with what I told them I wanted to do. I trusted them and agreed to go to class with knowing that upon graduation I would walk away with a degree or something I could get a job. I got nothing. They told me that a lot of places do not require a certificate in the field. I did not sign up for that. I am 20K in dept with no job. I wish that in order for them to get their money we have to have a job.
I was enrolled at U of P between 2011 and 2015. I was also promised a job in the criminal justice field. I would like to voice my opinion that VERY FEW owe the university directly. The majority paid their tuition thru student loans! THIS IS NOT FAIR THAT ONLY PEOPLE WHO PAY U of P directly are considered VICTIMS!
School is a total scam! The whole time I went there they switched my schedule from being in a classroom to online and told me that they had to switch my course because they didn't offer the program anymore at the campus. Then they switch to online classes and charge you more, but they dont tell you they are going to charge you more, they surprise you with it. Now I have a Bachelors degree and am working in a different direction then what I went to school for. They promoted that they help you find a job but they don't. When you graduate, it's like "Bye, and here's the bill that you will be paying for the rest of your life." That school is a joke and I hope they close the doors for good, as no other people should fall victim to their scam.
It has been over 4 months and I have not received any updates. I meet all the requirement for part of the $50 million refund, as I didn't take out a loan directly with school (which was an option not even offered to me). When should I expect my refund portion? When will there be an update?
Please can we be considered for this settlement. I was a student . I believed I was going to get a job. I am 52 years old and never ever found that I deserved after working so hard for my Master's Degree. Please present better way to contact and connect and see how the students can find some relief. The level of suffering due to this situation was terrible. Please help us connect easier to settle this situation and continue with our lives. I have a $41,900.00 student loan debt since 2011. Since then I have never found the way to even pay for any of the money. I lived in poverty all these years and suffer and suffer economical debacle.
I started University of Phoenix in September 2012 and still go there. Will I receive anything from the time period of 2012 - 2016?
I hope I receive part of that 50 million. I graduated, couldn't find a job, was passed over for jobs because I didn't attend a reputable teaching establishment. My loans won't be forgiven because they are Staffords and almost paid off at the expense of many other things. I am now disabled and I feel so cheated by UoP.
How can I apply to see if I am eligible for a portion of the settlement. I joined UOP in Jan 2008, all the way until 2020. I was told that both my MBA and my MSA where degrees that I can sit for the CPA exam and also that their degree would put me above the rest for a job. I cannot get neither. I was solicited because I am a veteran.
This is great but fair for those of us that UoP falsely told that we had to sign up for a loan just in case our financial aid ran out and then they never even used financial aid and only the loan which caused us owing a lot of money and with Sallie Mae now Navient. So since they scammed us into that we get screwed and don't get compensated bc we don't "technically" owe the school directly. I feel that is highly unfair as we are scammed just like the others. Yet we have to pay. I feel like UoP should have to repay ANYONEs loan who was there during the deception regardless of if they owe the school or Navient or another loan company.
It has been 5 months since there has been an update. I'm serious as tot he time frame of these said updates. I have already signed up to receive them and have never received one ever since December 2019.
FTC Staff: you keep repeating the same answer when someone asks when they should expect their refund. But, I have not received an update in over 5 months. I met the eligibility requirements. I don't understand what the hold up is. UOP gives you the list of students and addresses of all that meet the requirements, you cross check them with a student census file (make sure they didn't leave anyone out) and you send the checks. I am sure there is more to it than this, but could you give us an update and let us know the status, what's been done and an estimate of when we can expect our rightful refund. Class actions aren't held up this long once they have been approved. I don't understand.