Most people go to college to earn a degree and get a good job. In a competitive job market, it helps to have connections. So when a college or university claims it has relationships with well-known employers, that may convince you to attend. But beware: Claims like this may be a ploy to attract new students — and your tuition dollars. In fact, the FTC says that's just what one for-profit university did as part of an extensive advertising campaign.
In a proposed settlement announced today, the FTC says that for-profit University of Phoenix, and its parent company, Apollo Education Group, Inc., falsely claimed that their relationships with top companies created job opportunities specifically for Phoenix students and deceptively claimed they worked with these companies to develop courses.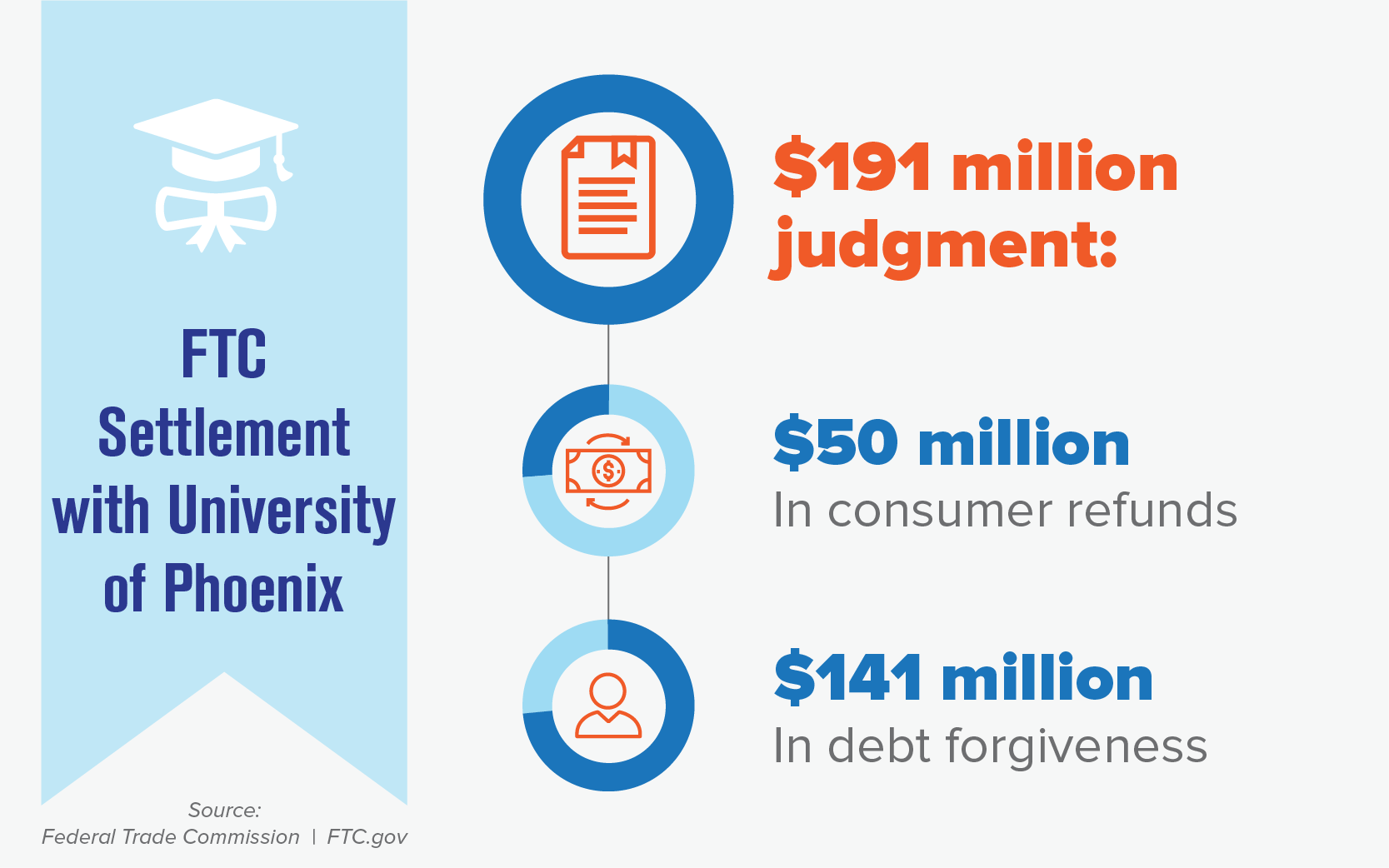 The FTC says that University of Phoenix used a multi-media ad campaign to attract students, including ads specifically targeted to military and Hispanic consumers. The companies' "Let's Get to Work" campaign featured several high-profile employers, including Microsoft, Twitter, Adobe, and Yahoo!, giving the false impression that UOP worked with those companies to create job opportunities for its students.
As part of the $191 million settlement, the companies will return $50 million in cash to former students and cancel $141 million in student debt owed directly to the school. The proposed order prohibits the companies from further deceptive business practices. In addition, it requires them to ask consumer reporting agencies to delete the debts from people's credit reports, give notice to those who got debt cancellation, and make sure people have access to their diplomas and transcripts.
Before enrolling in school, it's important to do your homework. You can get important information about any school at the U.S. Department of Education's College Navigator. For example, if you enter a school's name, you can find out if it's public or private, for-profit or non-profit, its accreditation status, and its student loan default rates.
Also, check out what are people are saying about schools you're considering. Search online for the school's name plus words like "review," "complaint" or "scam."
If you're looking to advance your education, do your homework to be sure you know what you're paying for. Check out Choosing a College: Questions to Ask.
Added on December 19, 2019: The FTC will identify people who are eligible for a payment from the $50 million University of Phoenix settlement with the FTC. You don't have to apply or submit a claim to get a payment. If you would like to get email updates about this settlement, please sign up here.
939 Comments
---
When does the FTC "Estimate" the $50 million will be sent to qualifying students? Does the process take months, years?
I went to UOPH and was enrolled in 2016. I graduated with an Associate's Degree in 2018 but continued classes to pursue a Bachelor's Degree. I withdrew from the school and my loans were returned, now they have a company calling me saying I owe them money. On top of that, they won't release my transcripts. The third party company that they have contacting me want you to disclose person information to them before they tell you what they are calling for. If you don't want to give them any information about yourself, they hang up on you. I still haven't even been able to find a job with the degree I already from UOPH and can't go to another school because they are holding my transcripts hostage.
FTC, when you say "Under the settlement between the FTC and the University of Phoenix, the University will cancel $141 million in debts that are owed directly to the school by people who first enrolled at the school between October 1, 2012 and December 31, 2016. " Does this include a student that enrolled before those dates and then re-entered during those time frames; and owing the school directly?
So what about those that were also promised help with job placement and never got it and still stuck with a useless diploma and debt.
This settlement is not beneficial. I paid over $3000 out of pocket in 2018 for a past due balance and can't get anything back. So the rest of us with these issues and federal loans get lost in the shuffle, or punished for trying to pay or debts?
How will the FTC decide who is eligible for consumer redress and when will they be contacting those they deem eligible?
I enrolled in UOP and was encouraged to take the online courses based on my schedule, despite being interested in attending in school classes. How will I know if i am eligible for a student loan credit? They promised to help with grants, by the time i was done i was in debt over 65k and not able to obtain a job to assist in my repayment of loans or match my degree.
According to the FTC, "Under the settlement, the University will cancel $141 million in debts that are owed directly to the school by people who first enrolled at the school between October 1, 2012 and December 31, 2016. The University will cancel debts owed directly to the school whether they were charged as fees or some other kind of charge." So, this says if you owe the school money "directly" from 8 years ago it's forgiven. You can't register for your next class owing money directly to the school. Secondly, if you have a debt to the school you'd be in collections or charged off with terrible credit if it was this long. Who would possibly owe debt directly to the school without student loans already covering it? This doesn't make sense. So for people who went to class and paid out of pocket or using student loans during the time frame get nothing. However, people who owe 6 year old debt get paid out? People who don't owe money "directly" to the school aren't any less effected. This doesn't make sense.
Does this settlement include taking off the accrued interest that both the Federal Student Loans and Private loans have been racking up? I have not been able to read through all the comments yet to see. I received both my bachelors and masters from UOP. It is shameful how much and how fast the interest is added to degrees that you cannot use. I would think that it should be considered special circumstances to delete these added cost to students included in this settlement as we all were trying to better ourselves and gained nothing but debt for our efforts. The degrees are worth the paper they are printed on. I'll gladly tear mine up to have all debt forgiven. So far does not look to me like the Federal Student loans are even considering canceling the interest or anything else. I spent a couple years before this settlement announcement trying to dispute with them under the borrower defense application and all you get is the run around and no return phone calls.
I do see where it says that this settlement will pay loans that are owed directly to the school. A lot of loans that unsubsidized went to private companies who carried the loans. It does not look like they were included. Didn't the school get enough money by deceit. Why should they get anymore?
I know for a fact I was told that the University of Phoenix had connections with companies for employment purposes after graduation. We were also told that there were several hiring managers in high positions in large companies like Microsoft and AT&T which made me feel like I would be able to get those type jobs or that those people in the hiring positions would hire UOP students. I came out April 2012. My student debt is over $150,000 and I can't even get a job that will pay me enough to pay that back. I almost hate to put UOP on my resume because that would be an automatic turn off for the employer.
I was swindled to enroll in 2007, by the University of Phoenix in Partnership with Axia College online. I was promised a laptop and other promotional educational resources such as only books, which ALL was a lie.
What if I am a student at the UoP, and I am experiencing other forms of deceptive practices on the part of the University of Phoenix financial department, are there actions available for me to take?
UOP took is charging me of owning money back for overpaid for a pell grant. They say I owe about 1500.00 or more back and I don't owe any money. It is causing me not to get financial aide for my masters. I have always felt they were not on the up and up with tuition charges. I don't know what to do about this. I don't know if I can be added to the law suit for the debt to be cleared. (Forgiven)
They manipulated me into believing their lies with their false advertisements.
What are the years the settlement covers. I graduated my AA 2011, BS 2013, and I have a Masters after. Can the students still use their transcripts or diploma after settlements or get helped with their debt?
Why are they not clearing loans that we were advised to apply for via our counselors to use the FASFA so we could continue our education. the School never offered loans for me. They always stated I was approved for federal loans only. And when I did pay to the college, I had to pay for all balances prior to my enrollment for the next class. So why are they only being selective towards these loans when they pushed me to federal loans or I had to drop?
So I took out a couple of federal loans to attend UoP during that time period (2012-2014), would I not be afforded the same payout? Didn't know you could take out a loan from the school
I graduated with my BA in Aug 2012. Right before the time frame for this ...apparently. I have over $85k in debt. Since 2012, I have been struggling to pay. I deferred my loans for the maximum amount of time. I no longer can defer. I negotiated my monthly payment to a REALLY low amount, but can barely afford even that amount. I simply don't make enough money. I do work in the same field I got my degree in, but at the bottom of the food chain. As it turns out, I don't have the knowledge/skills needed to qualify for a higher position. I graduated UoP with 3.84 GPA, so... I did my homework and knew the material UoP had me learn. It just wasn't enough. I just feel completely defeated and buried by this debt.
I graduated from University of Phoenix in 2005 and my degree was not usable. Is there anything in the works for those that attended before 2012 as my income does not support its repayment?
This is ridiculous. This "settlement" sounds like it pertains to people who never finished and have an outstanding payment due so this "forgiveness" sound like nothing more "okay we'll let you slide on that debt you were never going to pay which we've already written off on our taxes". UOP is a fraud on so many levels. I had someone in my group that couldn't read passed a sixth grade level or write passed a third grade level but there she was on graduation day in a Masters program nonetheless! And how did my loans go from $20K to $60K in ten years? They need to shut the school down but they won't......because we're at the mercy of corruption at the highest level and those at the highest level are making too much money from these for profit schools by frauding everyday Americans that just want to advance themselves in life. It's sickening. I don't need the automated response. Just wanted other UOP grads to know that you're not alone.
I graduated from University of Phoenix in 2015. I started October 2012. I haven't been able to land a job in my field at all. Who do i need to talk to? We were assured it would be nothing to find a job in our field. Please tell me who to contact.
Define "first enrolled", I left UoP after graduating my first Masters program, and came back per their advertising to enroll in a new Masters program, which was during this period. I was so poorly advised I ended up owing UoP, even though I never failed or dropped classes...
I am a former student of UoP. I remember having to pay to retake a class. I had to pay it directly to the school. My federal income tax was taken last year and my pay checks were getting garnished every 2 weeks. Am I entitled to receive that money back. By the way this pit me in a strain. I had to borrow money because of this to send my baby to college.
I too saw the ads and was also recommended to UOP by a friend I attended 2015. Does student who withdrawn from UOP qualify for student loan forgiveness? or would you have had to graduate from university of phoenix in order to have this relief?
So UoP is cancelling student loan debts owed directly to the school, but what about Federal student loans taken to go to school during this time frame? Are those of us that took Federal loans to pay just out of luck?
So I got the email that say"s I owe nothing.. but my I got my schools loans through the fedloans who is what UOP had apply to get my loans from so I'm not quite understanding this?
My debt to the school was paid by a bank but I still owe the bank so what can I do? I started my ba with Phoenix in 2012. I'm so confused because I feel my debt should be forgiven.
I attended during this time frame, never received an email, but saw that the UOP debt that showed in collections was paid according to my credit reports. I also had to pay around $4,000 out of pocket directly to the school during that time due to them constantly delaying my financial aid processing. Am I to understand that that money I paid will also be returned to me? If so, what would the time frame be? I still have the same account and email it was paid out of, but my physical address has changed. I signed up for notifications, but am still curious on how that part of the process would work.
From all the responses...and there is a multiple of others not responding, but still impacted...Houston we have a PROBLEM! The education loan firms benefited yet this agreement does not impact them. FTC needs to extend their reach into the large firms that purchase the school loans and are the bearers of the school loan note. I enrolled in 2004 & obtained my MBA in 2006...I remember being told of the firms, opportunities and bright future that would exist. Give hope
I have my student loans that were transferred to Great Lakes from the University of Phoenix. They are 20K in loans... What do I Do???
Hello, I attended University of Phoenix from 2016-2019, I was promised once I graduate I would have access to a network that would help me to achieve my career goals and have a 95% successful career. In fact since graduating in February 2019, no one has reached out to me regarding job searches, I have reached out for assistance. I feel mislead from the beginning. This false representation of the school. Extremely expensive. I don't have the money to pay my debt , this has really made me so stressed. I am basically paying 20,000 for something I can't even use. This school should be shut down. Do I qualify for a settlement? How do I enter? I really need help. I just want my loan cleared.
When will we know when the FTC identifies people who are eligible? I enrolled during those times mentioned. I would like to get further information. Is there someone we can speak to?
Good morning, Back in February 2012 I had to take out a loan to attend UOP online MBA program. Most students were only approved for Fed loans at that time. After recent articles regarding the settlement with the FTC how do I know if I am eligible for reimbursement and removal off of my credit report? Who can I contact? I look forward to hearing from you,