Most people go to college to earn a degree and get a good job. In a competitive job market, it helps to have connections. So when a college or university claims it has relationships with well-known employers, that may convince you to attend. But beware: Claims like this may be a ploy to attract new students — and your tuition dollars. In fact, the FTC says that's just what one for-profit university did as part of an extensive advertising campaign.
In a proposed settlement announced today, the FTC says that for-profit University of Phoenix, and its parent company, Apollo Education Group, Inc., falsely claimed that their relationships with top companies created job opportunities specifically for Phoenix students and deceptively claimed they worked with these companies to develop courses.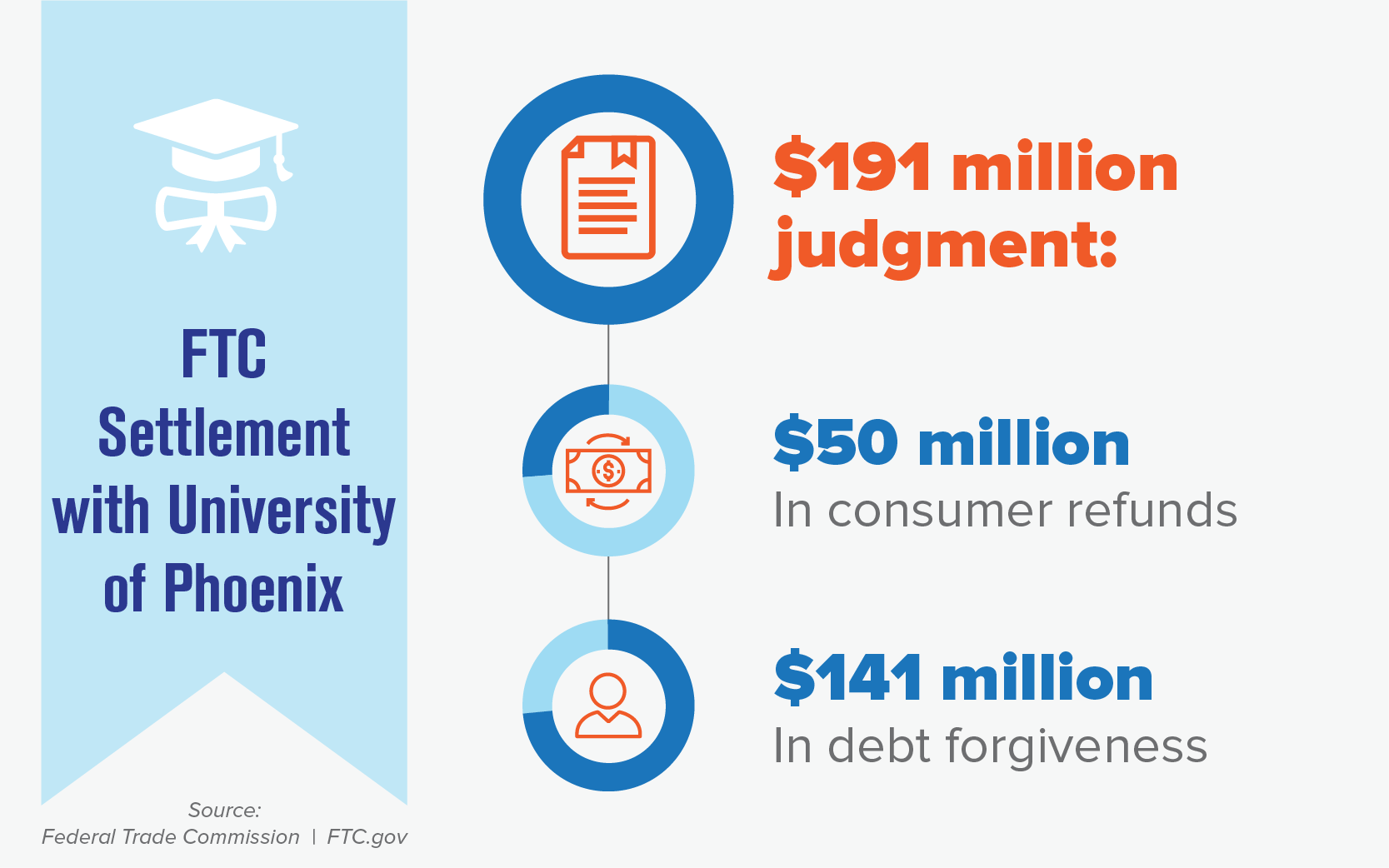 The FTC says that University of Phoenix used a multi-media ad campaign to attract students, including ads specifically targeted to military and Hispanic consumers. The companies' "Let's Get to Work" campaign featured several high-profile employers, including Microsoft, Twitter, Adobe, and Yahoo!, giving the false impression that UOP worked with those companies to create job opportunities for its students.
As part of the $191 million settlement, the companies will return $50 million in cash to former students and cancel $141 million in student debt owed directly to the school. The proposed order prohibits the companies from further deceptive business practices. In addition, it requires them to ask consumer reporting agencies to delete the debts from people's credit reports, give notice to those who got debt cancellation, and make sure people have access to their diplomas and transcripts.
Before enrolling in school, it's important to do your homework. You can get important information about any school at the U.S. Department of Education's College Navigator. For example, if you enter a school's name, you can find out if it's public or private, for-profit or non-profit, its accreditation status, and its student loan default rates.
Also, check out what are people are saying about schools you're considering. Search online for the school's name plus words like "review," "complaint" or "scam."
If you're looking to advance your education, do your homework to be sure you know what you're paying for. Check out Choosing a College: Questions to Ask.
Added on December 19, 2019: The FTC will identify people who are eligible for a payment from the $50 million University of Phoenix settlement with the FTC. You don't have to apply or submit a claim to get a payment. If you would like to get email updates about this settlement, please sign up here.
I see that under the settlement it indicates that the settlement will not affect student borrowers' federal or private loan obligations. If I have a loan with the Department of Education to pay UOP, would I be considered under the settlement debt cancellation or will I not be considered since I have a federal loan?
I'm so glad the FTC has helped with this. I joined the University of Phoenix in January 2015, hoping to get on a new career path. It didn't take long for me to realize what a joke this "school" was. I ended up dropping out 9 months later with nearly $10,000 in debt and a ton of regret! According to what I've read, this settlement should apply to me. Hoping to hear something from UoP soon. For those who have not read the entire article, they will be reaching out within 2 weeks (via email and USPS mail). They have roughly 2 months to remove the debt from your credit report. From my understanding your debt will be forgiven, but you will not be refunded what you already paid (although I could be wrong.) Again, this only applies for those who were enrolled 10/2012-12/2016.
Most of the deception around UoP was getting students to apply for federal aid so UoP could get them to go to school there at any cost. Why are people that took out federal loans not a part of this? Those federal loans paid UoP directly for tuition. UoP gives out degrees that are not taken seriously by most employers.
I went to school at UOP in this time frame. I have not received anything from the school regarding Debt forgiveness . I wonder who or what student have received this information . Will the people who won the settlement agreement go back to ensure this is paid out ??
I attended UOP 2014 and graduated in 2016. I have not found a job in my filed and my degree is useless. I have student loan debt, does this settlement include "student loan debt" because if not this also is a useless settlement. What about the students who had to take out loans during that time period to attend this school?
I was attendance at the University of Phoenix during the years of 2018 and 2019 are these refines a Applicable to my attendance timeframe
What about money that was paid from the job tuition reimbursement? Will that money be sent back to the employer or a check to the employee? I was given $2000 a year for school and my employer paid this based on my eligibility. How does this work?
What if i was enrolled at that time, but received federal student loans, will i be reimbursed.... or am i stuck paying since i dind't directly play the school?
I first enrolled 8/7/2012 and graduated 06/2016. Does this mean that I will not be covered under this? I'm not sure where the 10/01/2012 date came from, but I was also misinformed by them in regards to promises of career advancement... Or will I be covered for my debts incurred from 10/1/2012 - 2016?
In the document it states, that the settlement does not apply to loans. Please explain how this will this affect or help the student that were misled to attend this university, took out large amount of loans to pay for tuition, charged unknown fees and everything else but still have a so call degree that really is worthless in the real world. This school should pay it all back (balances and loans) for the people that were misled... Better yet their doors should be closed for good. Its very disturbing and sad that people can't get a quality education without being scammed, railroaded and left with so much debt.
What if I enrolled in 2008 for my bachelors and then enrolled again for my masters after (2012). Do I qualify or is it based on initial enrollment?
I went to U - Phoenix while utilzing the 9-11 GI Bell. There is a negative on my credit report while they were being paid by the VA. Just wondering how I could about getting this off my credit report. Yes I have already reported to the credit bureaus. Thanks
So if we have loans that we applied through the school will those be cancelled? Example mine are paid to Navient....do I keep paying them until I receive something and will these be erased?
I attended University of Phoenix online in 2015. I took out a loan and have since moved to another state. How do I go about finding out if I will be included in the refund and forgiveness process?
Hi. The settlement terms say "first enrolled" and "owed to the school". I first applied in 11/2011 and all of my debt is with gov't subsidized student loans not "to the school". Do I qualify for debt cancellation?
I enrolled for my BA in 2009 and finished in 2013. A few years later in 2015 I enrolled for my MBA, will I get a refund for my Master Program?
"The settlement doesn't affect students' private loans or federal government loans." What other types of loans are out there to cancel if not a private or government loan?
This is ridiculous! Who owes dept directly to the school? Most individuals take out student loans to pay for their education. Are these depts going to be canceled? These debts were accrued under the same false advertisement.
I was enrolled during this time i graduated in 2013 how does this affect me?
So, reading the comments below, most everyone does not owe any monies to the school directly from 2012-2016; they are all on federal loans (NELNET for instance). Is the school going to pay off my existing loan with the federal government since I still haven't finished paying that off? Granted, Nelnet probably gave all that money in full already to the school...when will refund information be posted? The government shouldn't be collecting my debt from me on this one, they should be getting it from UOP.
I enrolled within the time frame and paid off my debt directly to the UOPX before withdrawing, would I be eligible for a refund?
Hi, looking at this vs details from my wife's time at University of Phoenix. Is enrollment date when you were approved for financial assistance or when you officially enrolled in classes? I'm seeing a date of Sept 21 of 2012 which would be a little over a week before this date range.
for someone like myself who left 09/11, I won't qualify for this loan cancellation?
I attended UOP 2009-2012 received my masters all because I promised job placement as well. This settlement should include students who were also affected by the false promises prior to 2012. I received broken promises that I would speak with a counselor who specializes in job placement and would assist in finding the best fit job for my field. Needless to say, I never received the help or returned calls after months of trying to reach a counselor for assistance.
My debt to the school was paid by way of student loans from Great Lakes. Will my debt for those loans be paid by this lawsuit?
Will this include those who owe money in student loans for attending during this timeframe?
My debt to the school was paid by way of student loans from Great Lakes. Will my debt for those loans be paid by this lawsuit?
I applied for the borrower's defense claim against UofP back in March of 2016.. still waiting for the approval. Do you think this shall fast track the approval process?
I was enrolled from 1/2011-01/2013. Would this include my debt as well?
How does this work exactly? I don't know anyone that owes the school directly. I owe Navient for my student loan that was taken out through UOP. I graduated with an associates in 2010 and signed up again mid 2016 for a bachelors program but left late 2017. Will the school forgive the debt through Navient?
I have friends who went to that school/many other scam schools, before 2012 and i tried to warn them they were a scam. I am just wondering, for those fall within the 2012/2016 guidelines, for refunds/debt cancellation, will they still be considered as having a degree, albeit fr a worthless college
My wife went there during that time and took out a loan. It was a high interest rate so we just paid it off to not pay interest. Are we still eligible?
Why is it only for students who owe the school directly? What about most of us who took out government student loans to pay the school (financial aid)? What are we to do? I was enrolled from July 2012 to December 2014.