Most people go to college to earn a degree and get a good job. In a competitive job market, it helps to have connections. So when a college or university claims it has relationships with well-known employers, that may convince you to attend. But beware: Claims like this may be a ploy to attract new students — and your tuition dollars. In fact, the FTC says that's just what one for-profit university did as part of an extensive advertising campaign.
In a proposed settlement announced today, the FTC says that for-profit University of Phoenix, and its parent company, Apollo Education Group, Inc., falsely claimed that their relationships with top companies created job opportunities specifically for Phoenix students and deceptively claimed they worked with these companies to develop courses.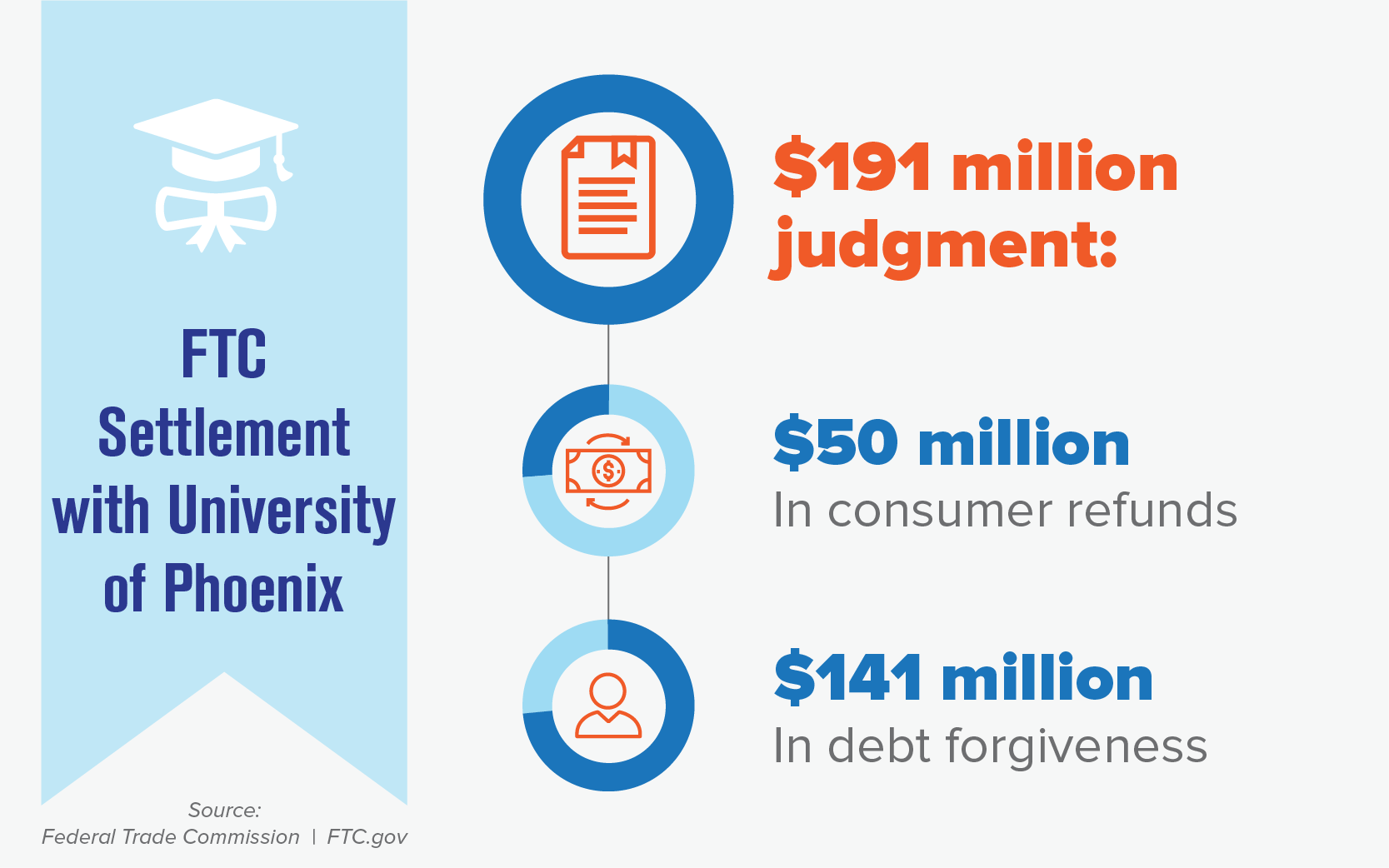 The FTC says that University of Phoenix used a multi-media ad campaign to attract students, including ads specifically targeted to military and Hispanic consumers. The companies' "Let's Get to Work" campaign featured several high-profile employers, including Microsoft, Twitter, Adobe, and Yahoo!, giving the false impression that UOP worked with those companies to create job opportunities for its students.
As part of the $191 million settlement, the companies will return $50 million in cash to former students and cancel $141 million in student debt owed directly to the school. The proposed order prohibits the companies from further deceptive business practices. In addition, it requires them to ask consumer reporting agencies to delete the debts from people's credit reports, give notice to those who got debt cancellation, and make sure people have access to their diplomas and transcripts.
Before enrolling in school, it's important to do your homework. You can get important information about any school at the U.S. Department of Education's College Navigator. For example, if you enter a school's name, you can find out if it's public or private, for-profit or non-profit, its accreditation status, and its student loan default rates.
Also, check out what are people are saying about schools you're considering. Search online for the school's name plus words like "review," "complaint" or "scam."
If you're looking to advance your education, do your homework to be sure you know what you're paying for. Check out Choosing a College: Questions to Ask.
Added on December 19, 2019: The FTC will identify people who are eligible for a payment from the $50 million University of Phoenix settlement with the FTC. You don't have to apply or submit a claim to get a payment. If you would like to get email updates about this settlement, please sign up here.
I am current student at the university of Phoenix, do you should I transfer out and also would I get any money back?
How well we receive a refund for this since I've moved since I went to university of phoenix
I received both my Bachelor's and MBA from UoP. I still to this day have never received a job offer despite the qualifications I have. After leaving the military in 2009 I needed school. By 2015 (Master's graduation) I was hopeful for a job. Oh well. FTC, I was required to pay the school back on debts that went on my credit report. Is that covered too?
Thank goodness. Many people have gone into debt with nothing to show for it. Thank you FTC!!
I'm currently enrolled in my last class. Have been attending for 5 years. How do I know if I will be refunded? So the school is shutting down for good?
I got my MBA there, biggest waste of time and $$$. I have a loan payment enough for a luxury car for the next 21 years. The whole school needs to be wiped out along with all debt.
And that's how they got me to apply and attend, how far are they going back
I attended the University of Phoenix for both under and grand school. How do I contact someone about my loans and the tuition I paid out of my pocket?
I used my post 9-11 benefits for UOP how is that refunded?
Definitely looking into this. I just paid a balance off less than 2 months ago and owe a good bit in student loans for the empty promises.
What is the time frame of being debt free from University of Phoenix? So how long will take to get that letter?
I attended Devry University. Is this school part of the University of Phoenix?
I was told I would receive a Human Resources Management degree. I asked repeatedly and was told several times that is what it would state on my degree. At graduation I received a Business Administration degree with no mention of the four years of study in and towards an HR Mgt. degree. I've attempted to discuss this with representatives from the University on various occasions to no avail. Is this not also a fraudulent activity?
I went to University of Phoenix from 2009-2012 had one class left to graduate with a bachelor's in Psychology and was notified they were not accredited by the BCBA in psychology. Will I be eligible to remove the $50000 I have?
I was a former student, and I always questioned why they could never help with a job connection, for me! I am glad they came to this resolution of course.
From what time period will this lawsuit apply too?
What time period, was this in? I went there 2009 until 2013. And then 2015 to 2017 for my MBA and i have 5 classes left.
It would be really helpful to know the time period that is in question. I attended and graduated from UofPHX and was promised a nearly direct career path in management. Here I am years later, 40K in student loan debt and no career.
I have been attending the University for over a year, does this settlement include current students?
What if they didst let me start classes in 2016 and had me wait until 2017 in Feb? I had applied and was accepted sometime in November/December. would i still qualify for this or no?
I am not sure if i Qualify for this. I believe I was considered enrolled in 2016 by December/November, but they said I had to wait to start classes in Feb. of 2017. Do I technically qualify for this?