Most people go to college to earn a degree and get a good job. In a competitive job market, it helps to have connections. So when a college or university claims it has relationships with well-known employers, that may convince you to attend. But beware: Claims like this may be a ploy to attract new students — and your tuition dollars. In fact, the FTC says that's just what one for-profit university did as part of an extensive advertising campaign.
In a proposed settlement announced today, the FTC says that for-profit University of Phoenix, and its parent company, Apollo Education Group, Inc., falsely claimed that their relationships with top companies created job opportunities specifically for Phoenix students and deceptively claimed they worked with these companies to develop courses.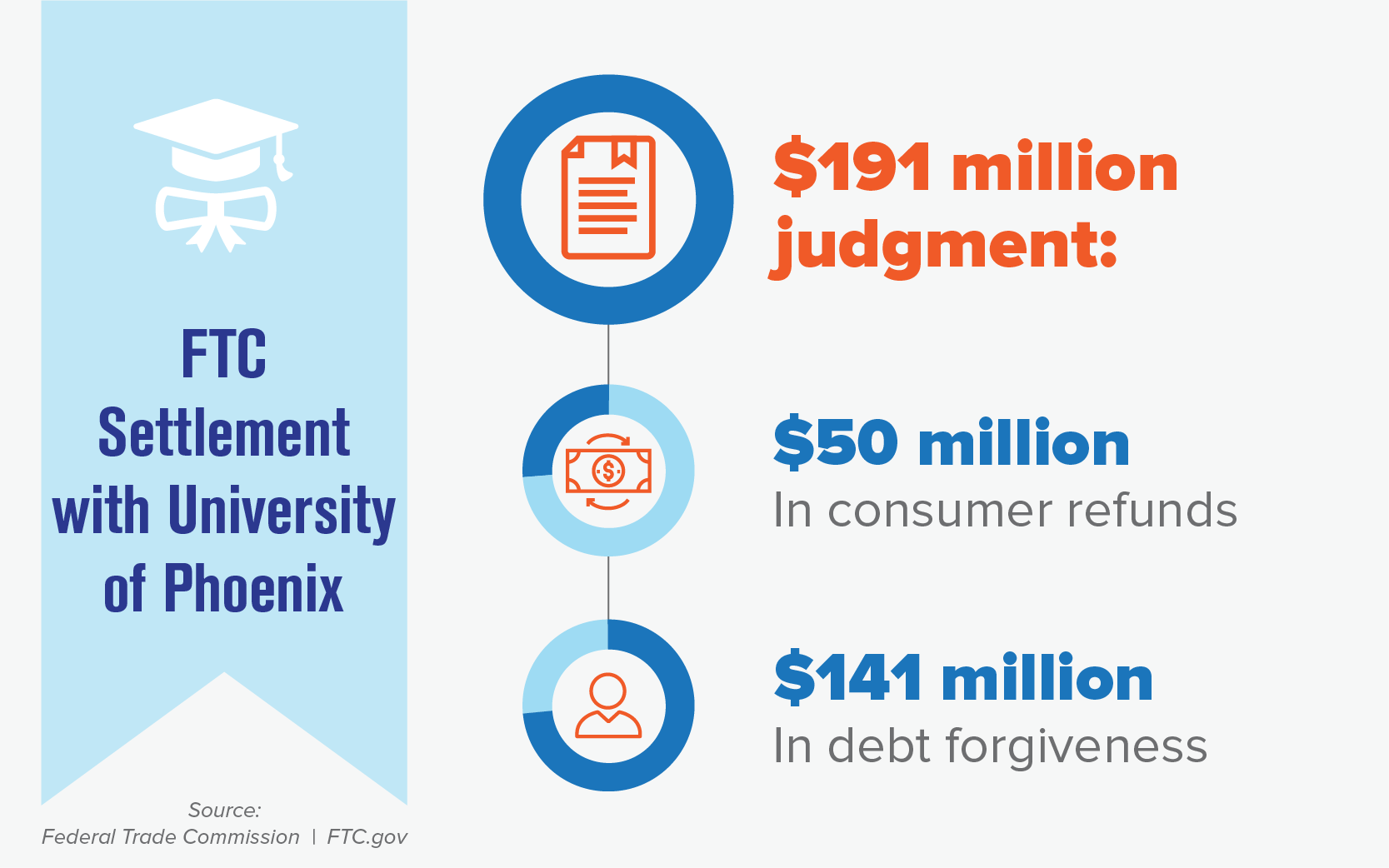 The FTC says that University of Phoenix used a multi-media ad campaign to attract students, including ads specifically targeted to military and Hispanic consumers. The companies' "Let's Get to Work" campaign featured several high-profile employers, including Microsoft, Twitter, Adobe, and Yahoo!, giving the false impression that UOP worked with those companies to create job opportunities for its students.
As part of the $191 million settlement, the companies will return $50 million in cash to former students and cancel $141 million in student debt owed directly to the school. The proposed order prohibits the companies from further deceptive business practices. In addition, it requires them to ask consumer reporting agencies to delete the debts from people's credit reports, give notice to those who got debt cancellation, and make sure people have access to their diplomas and transcripts.
Before enrolling in school, it's important to do your homework. You can get important information about any school at the U.S. Department of Education's College Navigator. For example, if you enter a school's name, you can find out if it's public or private, for-profit or non-profit, its accreditation status, and its student loan default rates.
Also, check out what are people are saying about schools you're considering. Search online for the school's name plus words like "review," "complaint" or "scam."
If you're looking to advance your education, do your homework to be sure you know what you're paying for. Check out Choosing a College: Questions to Ask.
Added on December 19, 2019: The FTC will identify people who are eligible for a payment from the $50 million University of Phoenix settlement with the FTC. You don't have to apply or submit a claim to get a payment. If you would like to get email updates about this settlement, please sign up here.
939 Comments
---
It is your choice whether to submit a comment. If you do, you must create a user name, or we will not post your comment. The Federal Trade Commission Act authorizes this information collection for purposes of managing online comments. Comments and user names are part of the Federal Trade Commission's (FTC) public records system, and user names also are part of the FTC's computer user records system. We may routinely use these records as described in the FTC's Privacy Act system notices. For more information on how the FTC handles information that we collect, please read our privacy policy.
The purpose of this blog and its comments section is to inform readers about Federal Trade Commission activity, and share information to help them avoid, report, and recover from fraud, scams, and bad business practices. Your thoughts, ideas, and concerns are welcome, and we encourage comments. But keep in mind, this is a moderated blog. We review all comments before they are posted, and we won't post comments that don't comply with our commenting policy. We expect commenters to treat each other and the blog writers with respect.
We won't post off-topic comments, repeated identical comments, or comments that include sales pitches or promotions.
We won't post comments that include vulgar messages, personal attacks by name, or offensive terms that target specific people or groups.
We won't post threats, defamatory statements, or suggestions or encouragement of illegal activity.
We won't post comments that include personal information, like Social Security numbers, account numbers, home addresses, and email addresses. To file a detailed report about a scam, go to ReportFraud.ftc.gov.
We don't edit comments to remove objectionable content, so please ensure that your comment contains none of the above. The comments posted on this blog become part of the public domain. To protect your privacy and the privacy of other people, please do not include personal information. Opinions in comments that appear in this blog belong to the individuals who expressed them. They do not belong to or represent views of the Federal Trade Commission.
In reply to The FTC will identify people by FTC Staff
What happens in the event a students account is not identified but the student can show time of attendance? Will the student be able to provide that information, so he or she can be included in this?
In reply to The FTC will identify people by FTC Staff
Do you know when and how FTC would reach out to students? I already gotten the email from UOP about the information needed to submit to FTC because of this lawsuit. But when would be the turn around time for FTC to reach out to students?
In reply to I have an issue with the fact by aeagleson
I am in the same bolt as you. I was enrolled from 2008- 2010. How can we actually talk to someone about it?
In reply to I have an issue with the fact by aeagleson
I was enrolled during the same time frame and feel we are being cheated just because we enrolled prior to 2012, but yet we experienced the same problems... yet we are having to suck it up and pay our debts... if only we could afford lawyers then maybe all would be heard and dealt with accordingly...
In reply to I have an issue with the fact by aeagleson
Same here! I attended from 2004-2008 and they lied to us back than too!
In reply to What about students that were by Uopgraduate
The FTC is sending payments to people who meet four eligibility criteria. One of the criteria is that the person first enrolled in a masters, bachelors, or associates degree program at The University of Phoenix between October 15, 2012 and December 31, 2016.
Go to www.FTC.gov/UoP to read more about the payments.
In reply to The FTC is sending payments by FTC Staff
I'm sort of confused! I remember when I called the school around May 2012 because of advertisements I had seen on television. When I called I spoke to an adviser who sold me dreams , she even sent me documents that showed if I graduate in this field I could get certain types of jobs, making a significant amount of money , they will help with resumes and they will help you obtain a career due to the connections they have with many organizations. Now, hearing this information I signed up but tragedy happened that I was not able to attend. She called me or emailed me every other day to see if I was ready to move forward to the next step. This went on for about 2 months and then she got me registered to start in August 2012. That being said, I started my Bachelors in 2012 and completed that degree in 2014. Then I receive letter stating that I could continue and obtain my Masters therefore, I did. I started that program in January 2015 and completed that degree October 2016. Now, what' s confusing is that I was enrolled in UOP for 2 terms which both are within the time-frame (October 2012- December 2016). But when I called the number you all provided I'm told I don't qualify...confusing...
In reply to I attended Phoenix from 2011 by Tina
I enrolled in 2009 and completed my first 60 credits there. Transferred to a well known 4 year University in 2012, and graduated with honors (similar to how many students attend a community college first). Like many, I was spoon fed the load of garbage regarding professional connections, reasonable tuition, and career opportunities once I obtained a degree. Fortunately (and also sadly), I was taken aside by several instructors who advised me that graduating from a more reputable school would be in my best interest. I say fortunately, because I found this out before I had spent too much time at UoP until it would have been too late to transfer. I say sadly, because it is terrible that even their paid staff feel this way. It was a cruel wake up call to the real world in terms of how easy it is to be taken advantage of and misled, especially from an institution that you would hope to trust and expect to be guiding you toward a better future - especially when they are a for-profit school. The cost of their classes are way over and above what would be considered fair in comparison to most other Universities, and the student never sees the difference between the Fedloan amount and the class costs The school keeps all extra monies, making sure their charges conveniently balance out the loan distribution. I would like compensation in the form of debt forgiveness for the time I spent there, although because I fall out of the time frame parameters of the settlement, I doubt it will happen. I have submitted my email address to be notified of any helpful information.
In reply to I attended Phoenix from 2011 by Tina
I attended 2012 - 2016. I never got into the field of choice because of their deception. I want to know the same question you asked at the end of your post.
In reply to I attended 2012 - 2016. I by cheryl_1971
The FTC is sending payments to students who meet four criteria. Go to www.FTC.gov/UoP to see the four criteria and more information about the payments. 
In reply to I was one of the people that by Alex
Same thing here. That bachelors degree that cost me 80K has gotten my foot in a door but it sure hasn't panned out. To forgive that debt would be WONDERFUL!!!
In reply to I was one of the people that by Alex
Same here Alex, I too was promised so much I received a degree in Human Services and was going towards a masters but got out of that. After I graduated I was never able to get a job with that had to do with my degree plan, we students were always being called that we needed to take out more and more student loans. My school was half paid through the VA and half with student loans. I ended up with a job that pays only in the 30 thousands per year and have over 90 thousand in debt! I attended the UOP from 2004 to 2008 thinking I was doing the right thing by working and going to school there to help myself and my family after my husband passed away. Little did I know I was getting lied too and into so much debt and no job in there field I have a degree in. And I'm still trying to pay off all this debt, and to realize the campus I went to all shut down now! They lied and made false promises to a lot of people!
I went to the University of Phoenix, will I get a refund?
In reply to I went to the University of by nmccoy
Under the settlement, the University of Phoenix will cancel $141 million in debts certain former students owe to the school. Those former students first enrolled during the time period people were probably exposed to the school's deceptive advertising.
University of Phoenix will send a notice to each person whose debt to the school is being cancelled. Read the press release for more information.
We will publish details about the FTC refund process on www.consumer.ftc.gov when it's available.
In reply to Under the settlement, the by FTC Staff
Any idea what enrollment years we are talking about on the loan forgiveness?
In reply to Any idea what enrollment by TM
Under the settlement, the University of Phoenix will cancel $141 million in debts of people who first enrolled during the period starting October 1, 2012 and ending December 31, 2016, during the time people were probably exposed to the school's deceptive advertising. The University will cancel debts that people owe directly to the school. The debts will be forgiven whether they were charged as fees or some other kind of charge.
University of Phoenix will send a notice to each person whose debt to the school is being cancelled.