Most people go to college to earn a degree and get a good job. In a competitive job market, it helps to have connections. So when a college or university claims it has relationships with well-known employers, that may convince you to attend. But beware: Claims like this may be a ploy to attract new students — and your tuition dollars. In fact, the FTC says that's just what one for-profit university did as part of an extensive advertising campaign.
In a proposed settlement announced today, the FTC says that for-profit University of Phoenix, and its parent company, Apollo Education Group, Inc., falsely claimed that their relationships with top companies created job opportunities specifically for Phoenix students and deceptively claimed they worked with these companies to develop courses.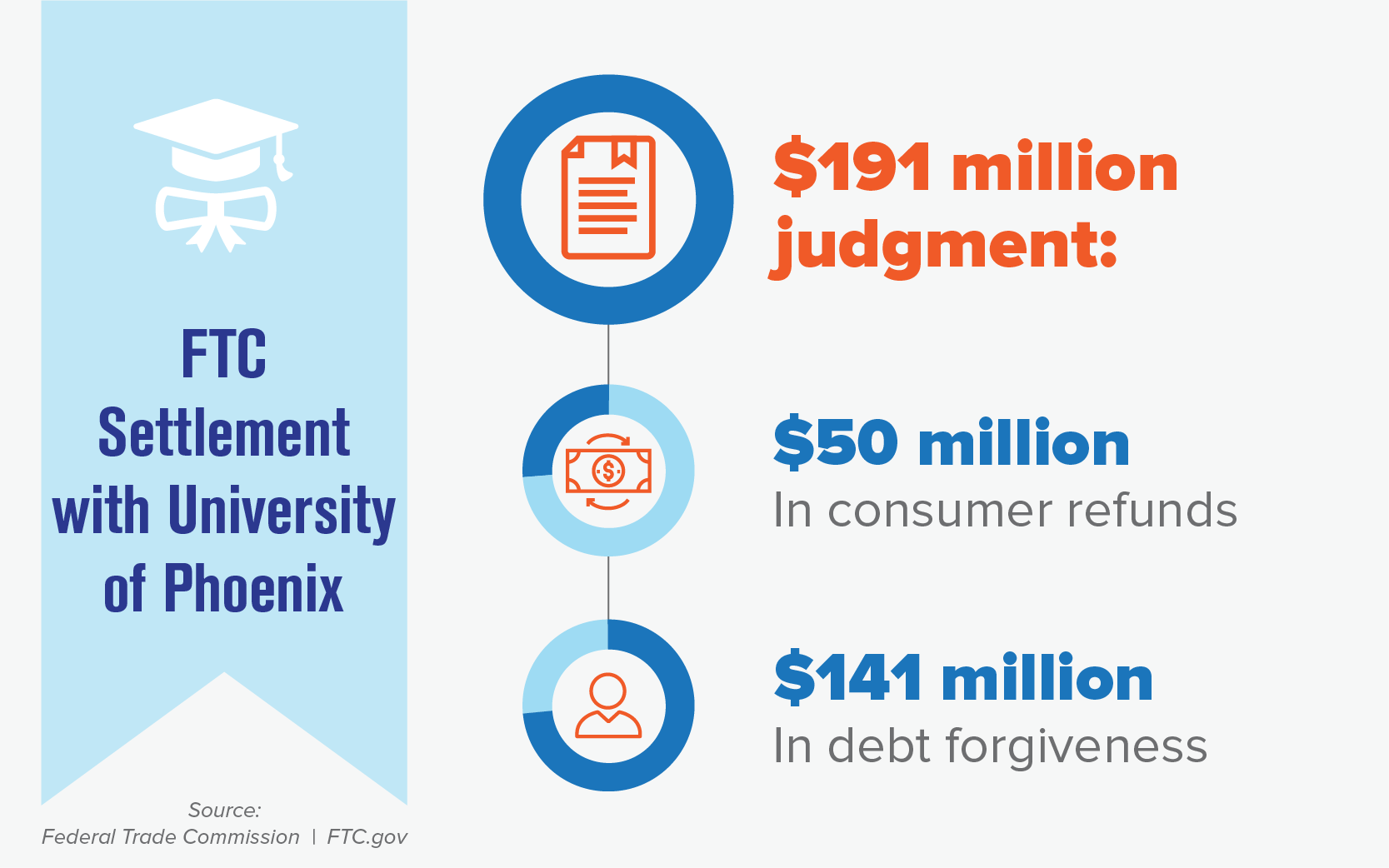 The FTC says that University of Phoenix used a multi-media ad campaign to attract students, including ads specifically targeted to military and Hispanic consumers. The companies' "Let's Get to Work" campaign featured several high-profile employers, including Microsoft, Twitter, Adobe, and Yahoo!, giving the false impression that UOP worked with those companies to create job opportunities for its students.
As part of the $191 million settlement, the companies will return $50 million in cash to former students and cancel $141 million in student debt owed directly to the school. The proposed order prohibits the companies from further deceptive business practices. In addition, it requires them to ask consumer reporting agencies to delete the debts from people's credit reports, give notice to those who got debt cancellation, and make sure people have access to their diplomas and transcripts.
Before enrolling in school, it's important to do your homework. You can get important information about any school at the U.S. Department of Education's College Navigator. For example, if you enter a school's name, you can find out if it's public or private, for-profit or non-profit, its accreditation status, and its student loan default rates.
Also, check out what are people are saying about schools you're considering. Search online for the school's name plus words like "review," "complaint" or "scam."
If you're looking to advance your education, do your homework to be sure you know what you're paying for. Check out Choosing a College: Questions to Ask.
Added on December 19, 2019: The FTC will identify people who are eligible for a payment from the $50 million University of Phoenix settlement with the FTC. You don't have to apply or submit a claim to get a payment. If you would like to get email updates about this settlement, please sign up here.
What time period? I went into 2010.
I got my Bachelors Degree from UOP in 2010 attended for four years still don't have the career in Accounting I was seeking how many years are they going back
What happens if I paid off my debt fully. Do I get that money back?
I am a victim of UoP and have experienced the same things of students in that time period listed. I have a bachelors from them that is worthless and I'm 60k in debt and never obtained gainful employment that was eluded to for attending. My time period though is not within the dates. I graduated in 2008. On top of false promises, I believe that they padded their numbers for what was needed for actual school costs as often I had leftover checks sent to me and was completely uneducated in receipt of "extra" funds. Attending this school has totally ruined my financial life and provided absolutely no advancement for the hard work and debt price tag I carry around.
This mess was happening prior to 2012! I entered in 2009-2011 and have over $100,000 of student loan debt because of University of Phoenix. What happens to the loans prior to 2012?
Who owes the school directly , their business is eating up federal student loan money.They seem to be getting a pass here.
Great job FTC! You guys work hard for the people. You got our back and hopefully everyone has yours, because we know this kind of thing makes the corporate scammers very unhappy. Kudos!!
I graduated from university of phoenix in 2017 I enrolled in 2007. Will my loans be forgiven? I am currently paying back.
I went from 2013 - 2016 and earned my Bachelor's. But I paid all $40K off, does that mean DoE/Sally Mae will send me a refund?
It says it will cancel debts directly owed to the school. Like most of us, you all probably owe money to some outside company that bought your loan since you are no longer a student there. I bet thats the loophole that will get us all :(
I first enrolled in an Associate's program in 2012, prior to October. However, I did enroll for the Bachelor's in 2014 and later for the master's in 2015 or 2016. Where do I check to see if I am eligible to participate in this settlement?
so basically no one is getting their loans paid off because they make you get federal loans when you start, there was never an option to pay the school back. So will UOP actually have to pay back 191m? I doubt it.
I'm a little confused with the "owed directly to the school" part. Those who enrolled during that timeframe and paid using government loans will not have their debts forgiven?
I been attending from march 2012 up untill 2019 would I qualify?
I was enrolled initially from 2009, but I was in and out of matriculation between then and when I graduated. I was a student again from 2012 to 2014 when I finished and took out unsubsidized loans as a student with them. I assume I would NOT qualify for this, correct?
Why does this not include those who have student loans who were enrolled during that time frame?
I used federal student loans to pay for school during that time. Will I receive a refund or will the loan be paid off?
I did this university on-line. I was sent to a debt collection but because I became disabled my loans were forgiven. Not sure if I'm allowed anything because my credit is good again.
I went to UOP after getting out of the military in 2013 after seeing there ad, 100% disabled vet was still hoping to still work...used all of my GI Bill and still owe them. They have held my transcript from me all this time. Thank you FTC
What about students who were enrolled prior to Oct 1, 2012? Is the FTC going to address those concerns and complaints? There were numerous complaints about deceptive practices from students prior to Oct. 2012. I was enrolled from 2007-2010 for an associate, then 2010 and graduate late July 2012 with a bachelor, and even then there promises made about being able to find a job after graduation, and mentoring would be available, but for a lot of students finding a job didn't happen--myself being one. Needless to say, it didn't help when campuses were being shut down left and right during this period, and that's not even the tip of the iceberg. I could go on to mention how an instructor posted my personal information to a class forum upon the completion of one of my final classes for my bachelor, which is a violation to say the least. And as far as applying for Loan Forgiveness, unless you meet specific requirements, (ex. a teacher, do public service work, totally and permanently disabled) as according what's listed on the Student Aid website, the chances of getting any or all of your student loans forgiven are basically none.
The complaint stated that the university targeted military veterans. Most likely those veterans depleted their G.I. Bill on tuition at UOP. Why would they not be responsible for reimbursing veteran's funds taken from their G.I. Bill?
I went to University of Phoenix from 2007 to 2009 and got my associates degree in accounting. None of the accounting classes I took would transfer to a four year university and so I had to start again and as a result I ran out of financial aid. That was my first clue.. Also I was so embarrassed by my transcript.. my grades were mostly A and Bs but in the maze of numbers? or peeking under the hood? I had no idea that these classes were called these names because they did not qualify for accounting classes and it cost me 40000. I checked with Federal Student Loan services and I did not see the kind of fraudulent application to fill out. How do I get to be a part of this lawsuit?
What if I used all my gi bill benefits during this time period
What debt to the school? The debt is accurred through student loans, so the debt would be to student loan providers not to University of Phoenix. University of Phoenix received the payments. So the real question is will they be repaying loans and refunding fees for fromer students?
Does this apply to students that enrolled in a new program such as a master's degree or graduate certification that had enrolled in a different program before October 2012 because they believed the school had business partners they did not? Or does this only apply to the very first day of enrollment with the school?
So, those that attended UoP on financial aid and student loans that were deceptive, how will those people be forgiven?
When I applied to UOP in May 2014 they had me apply for student loans which I qualified for. I attended for 5 years and accumulated $60,000+ in debt. The student loans paid UOP every class. Is the money I now owe the student loan company eligible to be paid by the settlement?
I refused to pay them for their shady advertisement and not keeping their word. Very misleading. But how do I know if my debt will be paid off? I attended in 2013.
I was contacted and signed up during those time frames and have taken out loans. I am not at the current address that I had while attending UOP. How will I or can I make sure that I am apart of this also if I never receive a letter?
What about those students that went prior to the settlement dates approved starting in 2012? I went during the years of 1994-1999, and similar practices happened during those periods. In fact, I'm still paying off on one more (1of4) loan. Am I able to submit for any types of refunds, or at the minimum, having my last loan forgiven?
So this does not apply to Federal loans? As in those who applied for Federal subsidized and unsubsidized loans to pay for UOP during this time? Or are those students included as well?
I wish this lawsuit would go back farther because when I got enrolled in 2005, I told the enrollment counselor that I wanted to go into nursing and the counselor said the program that I am going into would go towards the nursing program and a 3rd of the way through my associate's, I found out from my counselor that it disnt go towards the nursing program. So needless to say the enrollment counselor lied to me to get me into the program, I'm still mad about it to this day. I have completed 3 programs with them and have my masters in health administration which isnt what I wanted but decided to finish and I graduated with my masters in September of 2012 and I cant use my degree where I live because you have to have management experience in the work place to even get hired and I have none, and no actual training, so my student loans are in deferment because I cant afford to pay them and now I owe over $150,000. I would have never even started that stupid school if I would have known how it was going to turn out.