You get a call. There's a panicked voice on the line. It's your grandson. He says he's in deep trouble — he wrecked the car and landed in jail. But you can help by sending money. You take a deep breath and think. You've heard about grandparent scams. But darn, it sounds just like him. How could it be a scam? Voice cloning, that's how.
Image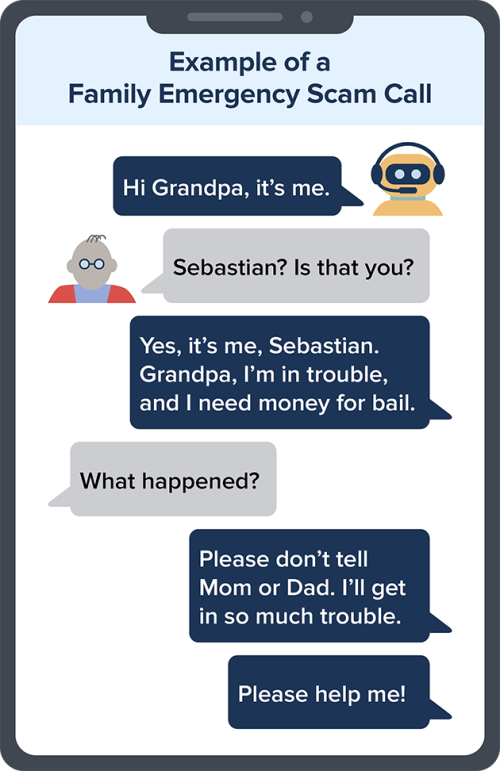 Artificial intelligence is no longer a far-fetched idea out of a sci-fi movie. We're living with it, here and now. A scammer could use AI to clone the voice of your loved one. All he needs is a short audio clip of your family member's voice — which he could get from content posted online — and a voice-cloning program. When the scammer calls you, he'll sound just like your loved one.
So how can you tell if a family member is in trouble or if it's a scammer using a cloned voice?
Don't trust the voice. Call the person who supposedly contacted you and verify the story. Use a phone number you know is theirs. If you can't reach your loved one, try to get in touch with them through another family member or their friends.
Scammers ask you to pay or send money in ways that make it hard to get your money back. If the caller says to wire money, send cryptocurrency, or buy gift cards and give them the card numbers and PINs, those could be signs of a scam.
If you spot a scam, report it to the FTC at ReportFraud.ftc.gov.
I've had two of these grandparents calls and it sounded just like my grandson so I told him to call his parents for help and hung up. A neighbor told me she got one too and she hung up. You can't trace the number and I informed my son and alerted him about the calls. He said my grandson would never do such a thing and never respond to a call like that. He was relieved to know that I didn't. I'm not easily taken in by such calls nor do I ever send money to anyone.
Scam call, I say to the caller. I'm sorry, I never make a deal with people over the phone. Send info by snail mail if you wish. Then hang up!
This happened to my in laws about 5 years ago while my son was in the military. I called my son and found out that it was a scam.
After receiving several "Grandma" calls, in conversations with my grandsons, I asked if they would call me. Each one said they would not want to upset me and if they were in trouble they would contact their parents. But, we also established a code sentence. Now when I ask the question to the person who is supposed to be my grandson, they hang up.
How about ASKING a question that only they… would know the correct answer...
Wow! This new scam is crazy! It's a shame how they try and scam hard working people's money! Thanks for the info. I will pass it onto family and friends!
Would it be a good idea to caution people about who they engage with on the phone in case they might be recording your voice for future scams?
Acknowledging that there are dysfunctional families, as a grandparent I would call the parents of my grandchildren. Even in the rare situation that the call wasn't a scam, the parents need to be involved, not sabotaged.
It happened to me but I never fell for it. Sounded just like my granddaughter.
A suggestion for the Grandparents or Family Emergency scams going on. Families and relatives should get together and create a code word or phrase, that is mentioned at the beginning of each and every correspondence. Whether by phone, text message, chat, email (subject line) etc... if you are initiating the conversation start with the code word or phrase. For added security, you can always add a corresponding response. Just like the movies, "The bird flies west for the winter" answer "swan" It may sound corny but hey, better safe than sorry. Besides, Grandma and Grandpa might get a kick out of it, put some excitement in their life. Have fun with it.
If you get a call or a text or an email, saying send me some money dont do it unril you have checked it out to determine if it is true. I get them all the time. I got one on facebook. supposidly from a friend of mine and they even used his facebook page. He said he had gotten a grant for $100,000 that I could probably get also. He didn't have to pay it back or pay raxes on it. He game me the info to sign up. I did and they asked me 3 or 4 guestions and said I was approved. All I had to do was send them $800 for clearance fees and the money would be shipped in cash by Fedex and I would have it in 48 hours. I said just take the 800 from the 100,000 and send me the rest. they said they couldn't do that. I told the man who was supposed to be my friend, I didn't have the money, and asked if he would loan me the $800. hr said he couldn't because he had already invested the money he w but could let me have $300 if I would put up the rest. So instead of getting $800, they would get $500. They called themselves GGF, Global Greengrant Fund. I contacted GGF and they said it was a scam, those people have nothing to do with their company and not send them any money. I contacted the FBF and was told grants are not given to individuals and they did not charge a clearancd fee for the grants. was told to contact the Federal Trade Commission and file a report, which I did, and I received a notice from them that an investigation was starting. These people are just one of thousands do the same. Be careful, check it out before you send them a penny.
I've had this call twice this past year. It frightened the hell out of me. I asked a few questions. They didn't want me to tell grandma, l asked when they last spoke to grandma, they said 2weeks ago. Grandma has been deceased a few years.
It is EASY to catch them.
Caller - "Hello Grandpa, this is your grandson". etc.
You - "which Grandson ? Give me your name" !
or
You - "what is your mother's first name" ?
or
You - "What's your Dad's First name ?"
Bet they hang up.....
Ask them what his (her) Dad does for work ?
or
Is your Dad still in the Hospital ?
Bet they hang up.
I had no idea this was a potential issue, thank you very much for bringing this type of scam to light. A senior who was scammed.
yes, this happened to a friend of mine who was traveling in Mexico.
The caller knew she had been in Mexico , in reality, she had already returned from Cancan and was already back at work. The caller said she was locked up for a misunderstanding between herself and the Mexican state police of Quintana Roo. They needed money for a Mexican lawyer and court costs-all Fake and fabricated with a voice that was left on voicemail so there was no way to call back and confirm. So I called Jessica and she was at work, just as I suspected. She had gotten home from Mexico six days before, and the call was fake, but the voice sounded authentic. But, the voice recording sounded strange because she used words and phrases Jessica would never use. Jessica never uses foul language, or says, "ya know" , over and over. There was also a strange echo and metalic sound to the voice as if it were a robot or someone was actually typing the dialogue. It was about one nono- second slower than normal human speech. Advice: don't sent money anywhere until you try to contact that person, call Mexico, or what ever country they may be in, and actually talk to that person, don't just text. Texting can also be fake. They could be lying by using a fake caller ID . It's not worth it!!!!
Well I can't say I'm surprised!
what is AI??
we got the messages thanks to others very good comments-
but stilL WANT to KNOW WHAT AI stands for. and is used for what??
. Thanks for the FTC good work.
So many ways that fraudsters trick people these days. It's sick to the stomach, but unfortunately fell for it and lost a lot of money. Seeking for governmental help but can't get any money back, and the fraudsters can easily get away with doing the wrong thing. What a society.
I need an info graphic with this info so I can share it with my community.
Yes this happened to my mom her grandson called said he had been in a wreck he was hurt and he needed money. Sounded just like him she said. She got scared and called him and he was okay. I got my identity stolen and oh my God what an awful thing to happen to you you have to change everything I mean everything so many different codes and passwords and yes it was awful. Just be careful with who you talk to when you doing anything over the phone or the computer thank you
My family and friends already know I will not send money per request over the phone. Don't tell mom or dad won't work with me . In person only request and that's still no guarantee your getting anything. I recommend being cautious ANYTIME anyone asking to transfer or send money
This and many other reasons are why I will never use any social media. I also never answer the phone with numbers I dont regonize, if its important they will leave a message.
With AI frauds growing fast, what are concerns of using Voice verification on financial accounts?