It's one thing to prepare your family, pets, and property for extreme weather situations. It's another to protect your personal information and finances from scammers who use weather emergencies to cheat people. This page has information to help you prepare for, deal with, and recover from a weather emergency.
Sections:
Stay Connected
Like what you see?
Preparing for a Weather Emergency
Extreme weather and natural disasters can occur with little warning. Are you ready to leave your home at a moment's notice?
Make a Plan

You can reduce your anxiety by making sure you are prepared if, and when, they happen. Here are some tips to help you get started.
Check your insurance. Find out if any of your home, health, or other insurance policies will pay for temporary shelter, replacement clothing, furniture, or other items if you are affected by extreme weather or a disaster.
Plan for your pets. If you're like millions of animal owners, your pet is an important member of your household. A little planning today can help ensure safety for your pets during an emergency.
Choose an out-of-town contact. Ask a friend or relative to be the point of contact for your family. Make sure everyone in your family has the information. After some emergencies, it can be easier to make a long distance call than a local one.
Sign up for alerts and warnings in your area. Public safety officials use systems to alert you and your family in the event of severe weather and disasters.

Find out if your local public shelter is open, in case you need to evacuate your home and go there. If you need to evacuate, prepare a "go kit" with personal items you need during an emergency, including hand sanitizer and face coverings.
Organize Your Finances
In a disaster, financial readiness is as important as a flashlight with fully charged batteries. Leaving your home can be stressful, but knowing that your financial documents are up to date, in one place, and portable can make a big difference. If you're missing important documents, now's the time to replace them.
Do a household inventory. Make a list of your possessions and document it with photos or a video. This could help if you file insurance claims.
Take advantage of technology. Technology offers tools — like online bill-pay, virtual safe deposit boxes, and USB flash drives — for safeguarding your important documents. It also can make it easier to get to your records, and more convenient to update them.
Buy a lockable, fireproof file box. Put important documents in it and keep it in a secure, accessible location so you can grab it and go. Include your household inventory, a list of emergency contacts, copies of current prescriptions, insurance information, and copies of other important financial and family records — or notes about where they are.
Rent a safe deposit box. Documents to store might include: leases and ownership records; credit and loan agreements; birth certificates; Social Security cards; and military papers. For quicker access, consider placing originals in your fireproof box and copies in your safe deposit box. Some banks offer virtual safe deposit boxes for storing documents, photos, and videos online.
Update your information. Review the contents of your household inventory, your fireproof box, safe deposit box, and the information for your out-of-town contact at least once a year.
For more financial readiness tips, download FEMA's Emergency Financial First Aid Kit.
Staying Alert to Disaster-related Scams
Dealing with the aftermath of a wildfire, flood, hurricane, tornado, or other disaster is never easy. But knowing how to recognize and avoid common scams can help you protect your finances and personal information.
Avoid clean-up and repair scams. After natural disasters, unlicensed contractors and scammers may appear with promises of quick repairs, clean-up, and debris removal. Some may demand upfront payment and not do the work, claim you'll get a discount but quote outrageous prices, or lack needed skills. Before anyone starts work:

Check them out. Ask for IDs, licenses, proof of insurance, and references. See if local contact info is on their trucks. Check with state and local consumer protection offices for complaints.
Get more than one estimate. Ask people you trust for recommendations.
Read the contract carefully. Make sure all promises are in writing and that you understand what you're signing.
Never pay in cash. And never make the final payment until the work is done and you're satisfied with it.
Spot imposters. Imposter scams come in many varieties but work the same way: a scammer pretends to be someone you trust and tries to convince you to send them money or give personal information.

Some scammers pretend to be government officials, safety inspectors or utility workers who say immediate work is required. Ask for IDs. If anyone asks you for money or your financial information, like your bank account or credit card number, it's a scam.
Know that FEMA doesn't charge application fees. If someone wants money to help you qualify for FEMA funds, it may be a scam.
Be alert to job scams. You may find yourself out of work after a disaster strikes. To trick people looking for honest work, scammers advertise where real employers and job placement firms do. They lie about your chances of getting a job and often ask you to pay before you get one — which is a sure sign of a scam. You can get real help finding work from:

CareerOneStop. Sponsored by the U.S. Department of Labor, CareerOneStop lists hundreds of thousands of jobs.
State and county offices. Your state's Department of Labor may have job listings or be able to point you to local job offices that offer counseling and referrals.
College career service offices. See what help your school can offer. If you're not a current or former student, some schools still may let you look at their job listings.
Be wise to rental listing scams. If you're looking for a place to live, steer clear of people who tell you to wire money or who ask for security deposits or rent before you've met or signed a lease.

Some scammers hijack a real rental or real estate listing by changing the email address or other contact information, and placing the modified ad on another site.
Other rip-off artists make up listings for places that aren't for rent or don't exist, and try to lure you in with the promise of low rent or great amenities.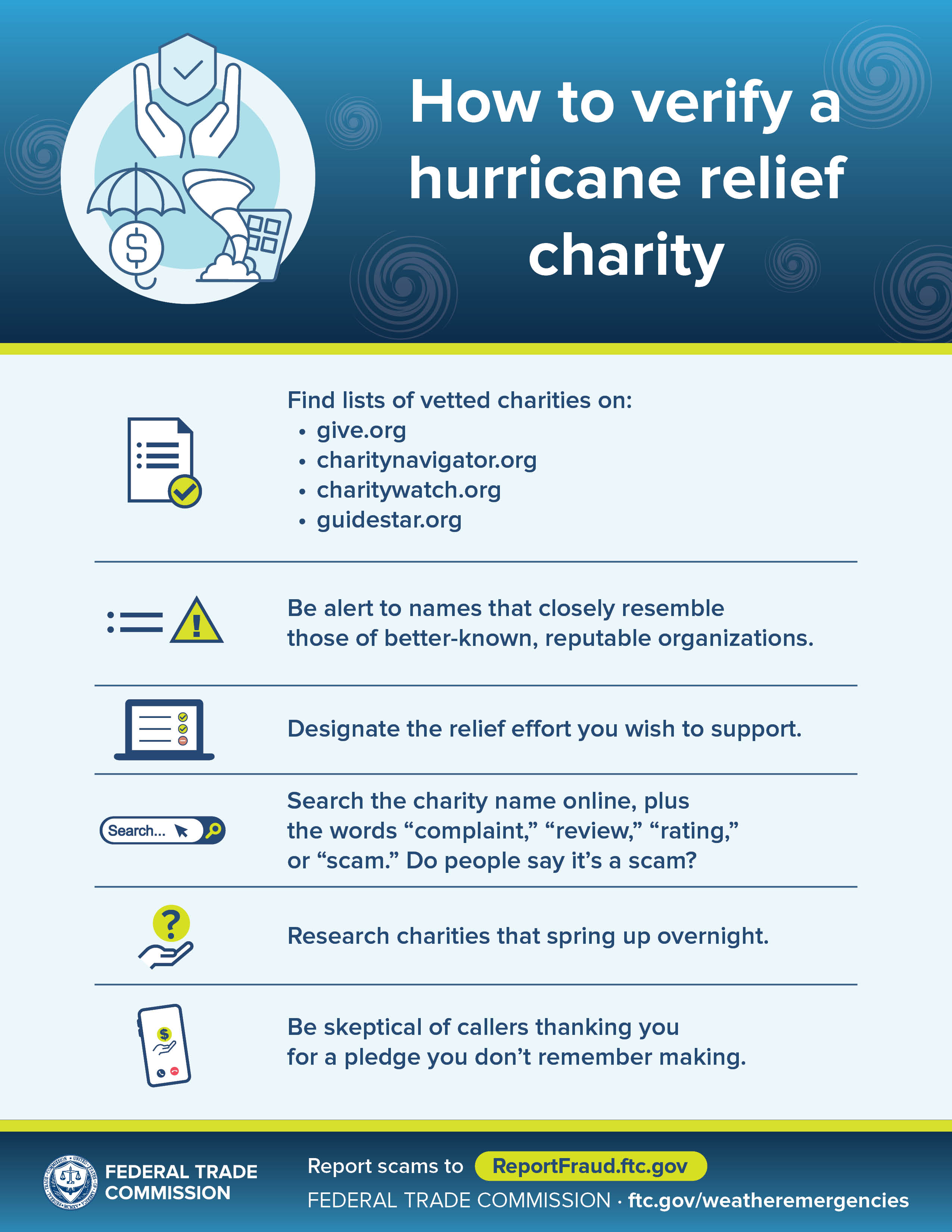 If you think you see a scam, talk with someone. Your story could help someone avoid that scam. Then report it to the Federal Trade Commission at ReportFraud.ftc.gov. Your report could help the FTC stop the scammers.
Getting Back on Your Feet Financially
After a disaster, you may have left home without IDs, checks, credit and debit cards, and other documents. And you might not have access to a bank account or paycheck for a while. These tips and list of contacts may help you regain your financial footing.
Contacting Your Insurance Company
Ask about the next steps in assessing any damage to your home or business.
If you need a contractor to help with some repairs, ask questions first and pay later.
Never sign insurance checks over to a contractor. Instead, arrange with your bank for a Certificate of Completion. The bank will pay the contractor for each stage of the job only after you have given your okay.
Report lost or stolen credit, ATM, or debit cards to the card issuer as soon as possible. Then open new accounts. If you don't have the card company's phone number, call 1-800-555-1212 to get it.
Contact your employer. If your work is closed, or if you can't go to work, ask if you can keep getting your paycheck and health insurance, and for how long.
Contact your benefit providers, such as your retirement plan, social services office, Social Security (1-800-772-1213), and the Veterans Benefits Administration (1-800-827-1000). Tell them your new location and find out if benefit payments are available by check, direct deposit, or payment card. The Department of Labor (1-866-4-USA-DOL) works with state and local governments to issue unemployment insurance and other assistance.
Get a free copy of your credit report to check for possible fraud or mistakes on your accounts, or if you need help identifying creditors. Visit annualcreditreport.com or call 1-877-322-8228.
Contact your creditors, bank, landlord, and utilities. They may be willing to defer your payments or offer extended repayment plans, waive late fees, and postpone collection, repossessions and foreclosures.
Replacing Damaged or Lost Documents
Here's where to go to replace these important documents:
Deeds and recorded real estate documents: County's Recorder of Deeds
Mortgages and other credit: Lender or financial company
Leases: Landlord or financial company
Insurance policies: Insurance company/agent
Wills: Attorney. If the will is destroyed, you'll need another.
Checks/Savings documents/Investment materials: Bank, investment firm, or broker
Auto Title/Driver's License: Secretary of State or Department of Motor Vehicles
Birth Certificate: Vital Statistics Office in county or city where you were born
Social Security card: local Social Security Administration Office
Tax Returns: IRS Center; state comptroller
Other important documents, like contracts or divorce judgments: Attorney or the court
Resources
Share FTC Resources
Share these resources with your friends, family, coworkers, and neighbors. Share tips, use your social network, or order free publications to hand out at events, like emergency preparedness and recovery workshops.
Use this customizable one-page handout, Picking Up the Pieces after a Disaster. It has tips to help you avoid common post-disaster scams, protect your personal information, and get you back on your feet financially. You can add local consumer protection and emergency service contacts, print copies, and distribute them throughout your communities.
Social Media Shareables
Link to ftc.gov/weatheremergencies for tips to help you prepare for, deal with, and recover from a weather emergency.
Other Government Resources
DisasterAssistance.gov —The site helps you:
The site can also give you resources to help you prepare for, respond to, and recover from disasters, including immediate needs, like how to:
Evacuate or shelter in place.
Find emergency shelter.
Get food and water.
Handle emergency medical situations until help arrives.
Find family, friends, and even lost pets.
You can even read the latest disaster news feeds, find other recovery help, and learn how to move forward.
USA.gov — For questions about government services, but don't know what agency to contact.
State Offices and Agencies of Emergency Management
Your State Attorney General — Find the attorney general who represents you.