Most people go to college to earn a degree and get a good job. In a competitive job market, it helps to have connections. So when a college or university claims it has relationships with well-known employers, that may convince you to attend. But beware: Claims like this may be a ploy to attract new students — and your tuition dollars. In fact, the FTC says that's just what one for-profit university did as part of an extensive advertising campaign.
In a proposed settlement announced today, the FTC says that for-profit University of Phoenix, and its parent company, Apollo Education Group, Inc., falsely claimed that their relationships with top companies created job opportunities specifically for Phoenix students and deceptively claimed they worked with these companies to develop courses.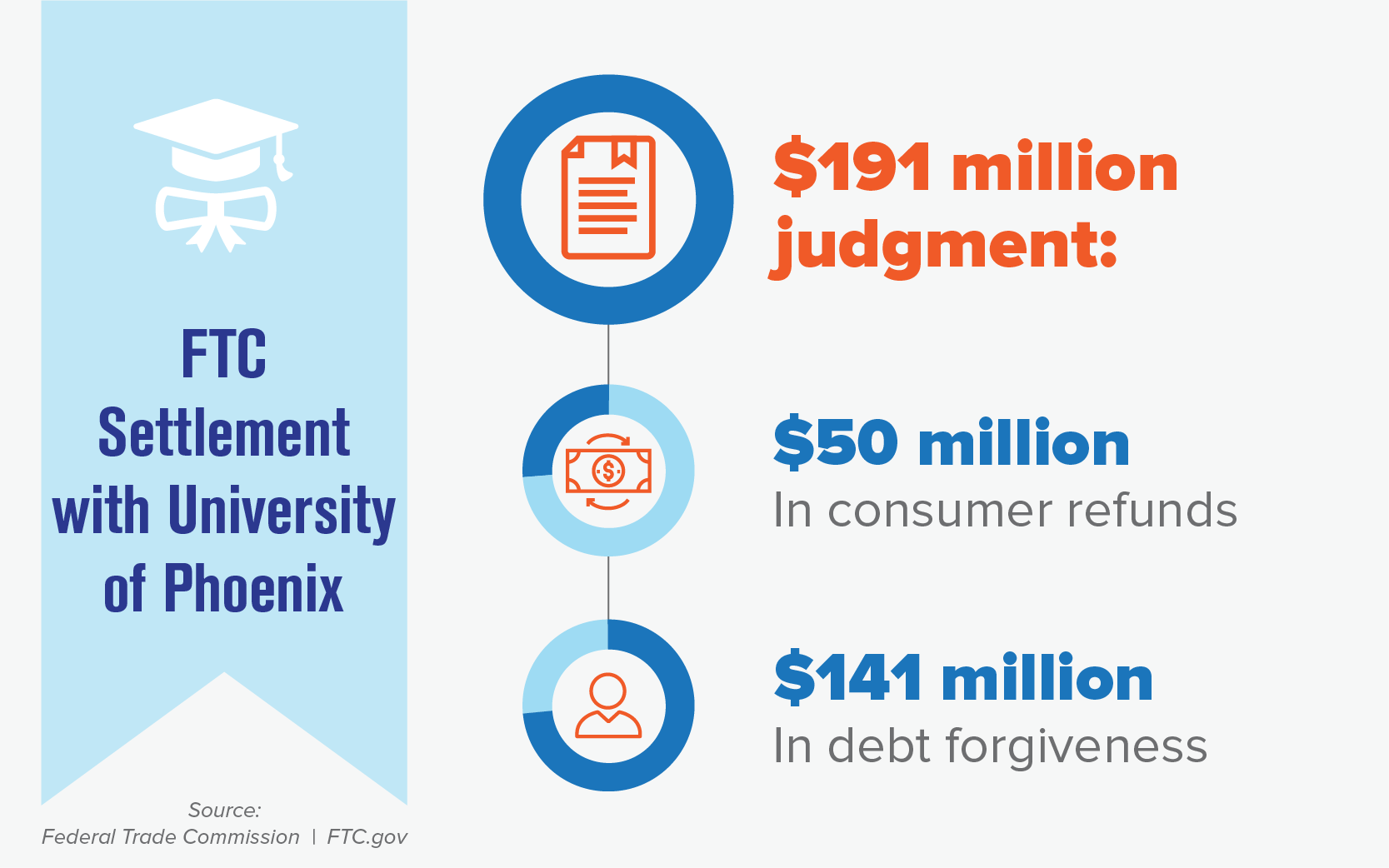 The FTC says that University of Phoenix used a multi-media ad campaign to attract students, including ads specifically targeted to military and Hispanic consumers. The companies' "Let's Get to Work" campaign featured several high-profile employers, including Microsoft, Twitter, Adobe, and Yahoo!, giving the false impression that UOP worked with those companies to create job opportunities for its students.
As part of the $191 million settlement, the companies will return $50 million in cash to former students and cancel $141 million in student debt owed directly to the school. The proposed order prohibits the companies from further deceptive business practices. In addition, it requires them to ask consumer reporting agencies to delete the debts from people's credit reports, give notice to those who got debt cancellation, and make sure people have access to their diplomas and transcripts.
Before enrolling in school, it's important to do your homework. You can get important information about any school at the U.S. Department of Education's College Navigator. For example, if you enter a school's name, you can find out if it's public or private, for-profit or non-profit, its accreditation status, and its student loan default rates.
Also, check out what are people are saying about schools you're considering. Search online for the school's name plus words like "review," "complaint" or "scam."
If you're looking to advance your education, do your homework to be sure you know what you're paying for. Check out Choosing a College: Questions to Ask.
Added on December 19, 2019: The FTC will identify people who are eligible for a payment from the $50 million University of Phoenix settlement with the FTC. You don't have to apply or submit a claim to get a payment. If you would like to get email updates about this settlement, please sign up here.
I was enrolled during the timeframe but my loan is officially paid off although I'm privately paying it back. Can I get my debt cancelled?
I am a bit confused by this whole lawsuit, I was misled by the University of Phoenix as well. But I got my student loan money through the school via US government loans. These loans were dispursed by the Appolo group. I am 70- in student loan debt due to all of their incompetence. Come get a good education they said you will get a great job..... As I sit in the same job I was at when I started now two degrees in the same time frame you are talking about yet mine may not be forgiven and others will? This does not seem fair. How do you owe money to the school? The shcool helped you get the loans from the Fed Gov. I guess I just dont understand.
So the forgiveness is for monies owned directly to the university has no effect on your actual federal student loans. Since you can't graduate without paying off everything owed to the university, we are talking about refunding library fines to students who never graduated. Now they did agree to return 50 million in refunds, and since they enroll around 100k new students every year, 5 years, we are talking about a half-million students. Which means maybe around $100 per student. Great work, my wife gets scammed for 50k, the FTC settles this for $100. Thanks for protecting our interests FTC, you really earned my vote!
This agreement is just as frustrating as coming out of UOP with degrees, student loan debts and being unable to find a decent paying job!! Who does this really benefit?? I believe every person the attended UOP did it with the mindset we were doing it to better our lives and were sold a pipe dream. What loans were given to students that are not federal or private because I have both!!!!!! Maybe the millions that have been slighted by the FTC AND UOP should seek assistance by file our own suit against them!!
If I enrolled August 2012, withdrew for family emergencies, and re-enrolled in 2013 does a portion count toward being dropped? Or none of it since I went first enrolled in August?
Is it truth that only students with balances direct with UOP will be forgiven ? I heard federal student loans will not be part of this settlement even if they attended on the mentioned dates . Would you please clarify ?
So I first attended Sept 2012 and graduated Oct 2019. I bought into the whole loan and job advertisement. But I owe federal student loans...why can't students that owe the FSL be forgiven too since we were all lied too.
This would be nice if it applies to those of us sitting on thousands of dollars in student loans for educations that are useless. Sadly, is it that fine print' owed to the school' that basically says they will erase the bills you still owe directly to them but could care less about those who have loans that already paid them? Can anyone clarify that?
I enrolled for my BA in 2015, and continued on to my MBA early 2018. I owe nothing to the school because I took student loans. Will I be eligible for anything? Nearly no one would owe the school money directly, limiting it to that would make this settlement useless.
My Thank sir for assistance my case!
What if you paid your loan off with another type of loan, how is that going to work?
I don't understand, so basically no one will will get debt relief because they have student loans. Who owes money directly to the school? That doesn't make sense, we have student loans.
I repaid my student loans by selling my house, will I get my money back?
I signed up for the university after watching a 2012 ad. I paid in both cash directly to the school and through federal student loans. I thought it was weird they kept asking me to fill out my FAFSA at weird times of the year claiming they needed more money. How could I go about covering my federal loans? I graduated in June this year and I still do not have permanent employment.
If you were enrolled between 2012-2016 and paid the school directly, will University of Phoenix be required to refund students? Unfortunately, I had to pay in order to obtain my transcripts to continue my education at another university. Also, some articles are stating federal student loans are not included. Thank you for the update.
I was a student during that time period and i am $140,000 in debt in student loans. Some from UOP. Will they forgive the loans that are in a federal loan payment program?
So.... this won't cover federal or private loan forgiveness? I am a Veteran, and the man who sold me on this was also a veteran working for this school. I was only receiving my GI benefits which at the time wasn't much. Single mom too... sucks.
This settlement is for students that owe directly to the school? This was never an option. UOP never gave the option of financing. I have talked to classmates and this was never a option for them either! The only option they gave was federal loans or private and many of us have been affected by their misleading ads! What about us with $65,000 in fed loans!!
I attended UOP y2011 Graduated y2015 MAET. My degree is NOT worth the $1 paper its printed on - at least that's basically how my current employer viewed it. My opinion is this - We were all duped and for profit institutions are a joke! Regardless of when you attended - the settlement should be for ALL who attended. It's the name - that has a BLACK MARK and why employers 'laugh' when they see University of Phoenix on a resume.
I went to University of Phoenix. I attended 2004 - 2006 and I still owe over $20,000 and I was not notified of this settlement. How can I be apart of this settlement?
Does this include those who enrolled during the time frame and used federal student loan? If not, then this doesn't help those who were convinced of the job outlook, after completion.
FTC: Since several people are inquiring about the attendance dates to which this settlement pertains, it would be helpful to add that information to the press release.
I enrolled in June 2012 and graduated in 2014 would any of that time be considered for part of the settlement.
I was attending online classes from 2004-2005 and now owe around 15000. Am I eligible for this. I took business management classes and as everyone else got me no-where. There add were definitely false advertising.
Do we only get refunded if we borrowed money from the school or does it count if we have a government loan?
Is it debt that is owed directly to the school? Or is it studen loan debs owed to the department of education as well?
I'm a little confused. I have federal loans, but that was the only option the University financial office gave me other than paying out of pocket each semester. Who is actually getting debt canceled?
I attended University of Phoenix and graduated in 2013. I didnt enroll during 2012-2016 but I was attending. Will I be eligible to receive some sort loan forgiveness?
I just paid off my loan. Will I still get a refund? And how, since the loan no longer exists.
Hello to the FTC Staff commenting. Will there likely be a second round of checks coming around after the first ones?
I started UOP in Feb 2012 for my Bachelor's degree and finished in 2013. Would I be able to be included in the settlement?
Hello, I went in 2013-2014. My tuition was about $7400 I have no balance, paid my student loans and graduated. Do I qualify for any refund or is it only students who owe? Thanks,
I enrolled at UOP between 2013 and 2017. I would like you know what the phrase "directly to the school" means? That is very confusing and I was affected by this advertisement. I have loans through Navient.
Hi FTC, First I want to thank you for all your hard work and taking time to respond to our questions. I have a couple of questions. 1. If i was enrolled in 2015 and graduated 2018, am I only prorated for 1 year through the settlement date of 2016? Or is my whole entire debt cleared? 2. When can we expect the settlement to notify creditors and have it cleared? Thank you,