Most people go to college to earn a degree and get a good job. In a competitive job market, it helps to have connections. So when a college or university claims it has relationships with well-known employers, that may convince you to attend. But beware: Claims like this may be a ploy to attract new students — and your tuition dollars. In fact, the FTC says that's just what one for-profit university did as part of an extensive advertising campaign.
In a proposed settlement announced today, the FTC says that for-profit University of Phoenix, and its parent company, Apollo Education Group, Inc., falsely claimed that their relationships with top companies created job opportunities specifically for Phoenix students and deceptively claimed they worked with these companies to develop courses.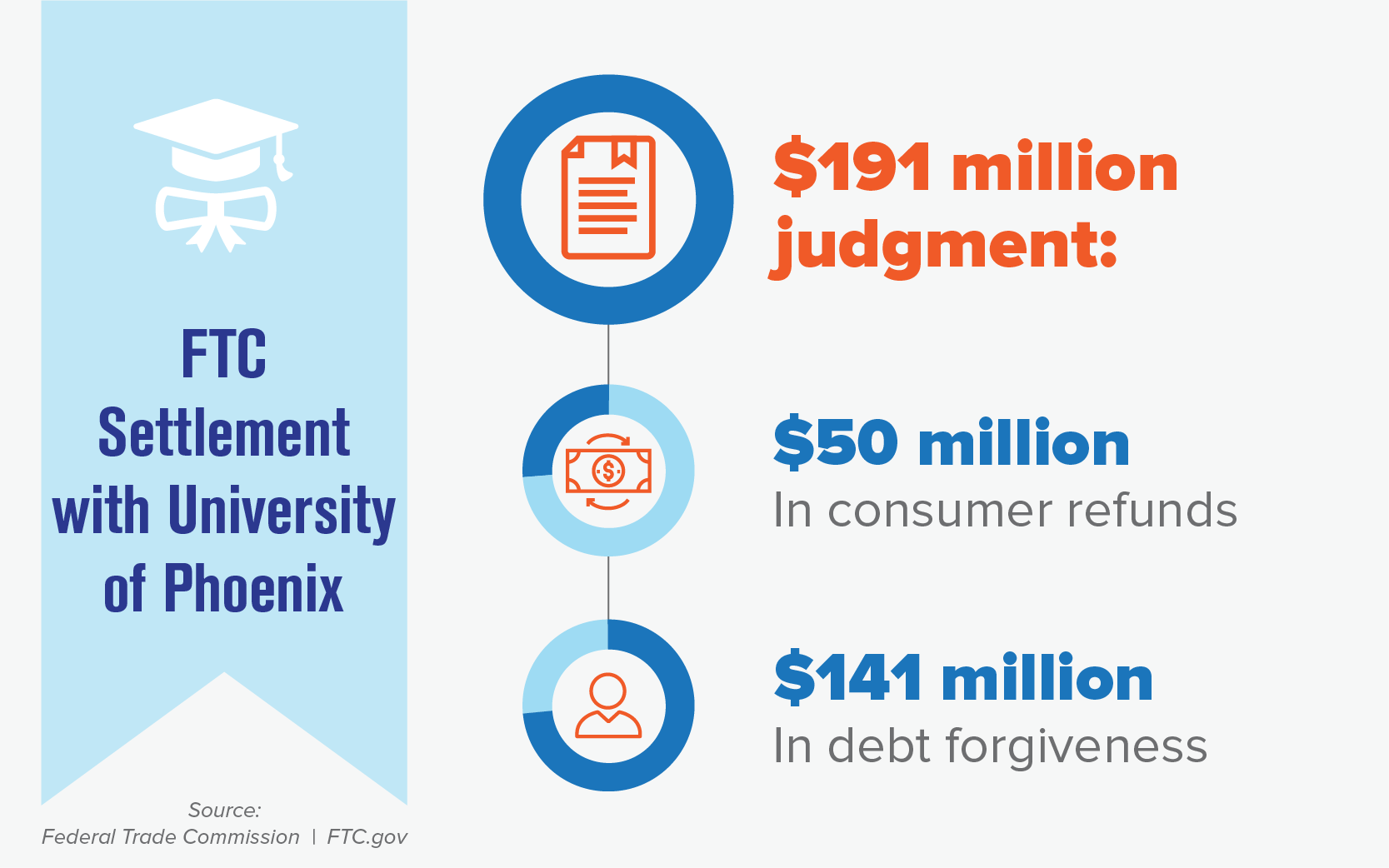 The FTC says that University of Phoenix used a multi-media ad campaign to attract students, including ads specifically targeted to military and Hispanic consumers. The companies' "Let's Get to Work" campaign featured several high-profile employers, including Microsoft, Twitter, Adobe, and Yahoo!, giving the false impression that UOP worked with those companies to create job opportunities for its students.
As part of the $191 million settlement, the companies will return $50 million in cash to former students and cancel $141 million in student debt owed directly to the school. The proposed order prohibits the companies from further deceptive business practices. In addition, it requires them to ask consumer reporting agencies to delete the debts from people's credit reports, give notice to those who got debt cancellation, and make sure people have access to their diplomas and transcripts.
Before enrolling in school, it's important to do your homework. You can get important information about any school at the U.S. Department of Education's College Navigator. For example, if you enter a school's name, you can find out if it's public or private, for-profit or non-profit, its accreditation status, and its student loan default rates.
Also, check out what are people are saying about schools you're considering. Search online for the school's name plus words like "review," "complaint" or "scam."
If you're looking to advance your education, do your homework to be sure you know what you're paying for. Check out Choosing a College: Questions to Ask.
Added on December 19, 2019: The FTC will identify people who are eligible for a payment from the $50 million University of Phoenix settlement with the FTC. You don't have to apply or submit a claim to get a payment. If you would like to get email updates about this settlement, please sign up here.
What does that mean owed to the school? Most people have federal financial aid. I was enrolled during the time and I remember those ads. Those ads are what made me want to go there. I don't owe money directly to the school though I owe it to Navient as I'm sure most people do. Do I get a refund too?
FTC, can you please provide additional context on "debt owed to the school"? If a student took out loans to attend, those loans technically paid the school and now the loan debt is owed to its servicer and/or the government. Does that mean that the majority of students who attended via student loan programs have no recourse or relief? Or is this a separate process with the servicer? The debt was only incurred due to attending so it seems like there should be relief for those students as well.
Will this apply to MBA programs enrolled in online? I am currently repaying a loan through "My Fed Loans" however it was for a loan I applied for grad school in 2012 online to attend the University of Phoenix online courses.
So do the people that took out Federal Student Loans to attend Univesity of Phoenix not get anything from this settlement? My husband attended from 2013-2016.
So those who enrolled and took out student loans are excluded? If so why? They should be paying back the government and our loan balance should be reduced.
I enrolled in school August 2012 and started in September, until 2014. Will I qualify
What about us students who have no debt to the school but have outstanding federal loans and first enrolled during the time period?
So for the students that currently owe thousands of dollars to federal student loans, this settlement doesn't apply?
I attended the University of Phoenix back in 2012 - and did not take out any student loans (used private/home equity loans at the time). Am I eligible for a refund or partial refund of the money I paid to the school back then?
I attended UOP, but did not graduate, does this still count for me?
They should have backed it to 2010.
Does this include federal student loans taken out to pay for tuition for UoP?
I was enrolled from 2011 to 2013 and had to take out separate loans from Sallie Mae to cover the cost of their tuition increases during this time. While my loans to Sallie Mae have been paid off, would I be able to get any compensation back for having to take out those loans, or does this only cover outstanding loans? I currently have a little over $62,000 in loans.
I went to the school from 2010 to 2013. Will I get part of the loan forgiven from 2012 to 2013?
How does that help the students that took out loans to pay. Many of us will not have balanced with University but have student loans for that time period.
Also one of the students who started the process in late 2016 but wasn't actually staring classes until February 2017 I want my debt wiped as well unfair I'll be looking into how to get that time frame extended based on how their semesters run FTC this should be taken into consideration as well. The school is subpar in general and needs to be dismantled in general.
I went to school from 2011-2014. I completed my Bachelors and Masters through the GI Bill. Will VA receive their money back ? Also, I didn't pay for the last class in my MBA because of all of the "hopes and dreams" that they sold me on. I still don't have the career they guaranteed coming out of that school. Now I am doing something completely different. I wish I wouldn't have wasted my GI bill on this school. I hope that I'm included in the debt being eliminated.
The information stated, "This settlement will not affect student borrowers' federal or private loan obligations." I'm upset because I was enrolled from Sept 2012 to October 2016 however I will not receive any debt relief because I went through the Department of Education for Financial Aid (Nelnet in which my loans were transferred to Fedloan). I received the same information other students who paid UOP directly however I have to continue to pay to the Department of Education because I did not pay UOP directly, am I understanding this correctly? I received my Masters from the UOP and I am still trying to pursue my dream job and salary. Basically I am barely making it however I do pay my loan payments.
When I was signed up the school was of course University of Phoenix but everything referenced AXIA college. Would this be forgiven as well, if it meets the criteria?
Good and bad news. Glad people are getting the assistance.. bad because I started at UoP in 2008, graduated in 2012 and the whole time was given similar infor.ation. About all the companies that hire their grads and the pay rates. Only to realize after graduating that many companies did NOT recognize UoP as an accredited college and did not accept the degree I received from them. I work for IBM now but only after a friend referred me to his manager and they didnt care about the degree... Wish there was more digging. They also gave false numbers on the cost of the degree so here I am 80000 + in debt ..
I enrolled in 2015 and will graduate in 2020. I received federal student loans and also paid about 1200 out of pocket. Will the federal student loans be given or paid for by UOP under this settlement?
Who does a person contact about all the different law suits? Doing a quick search I see others that were mislead with price and employer information prior to 2012?
I enrolled in 2013 to 2017 it was those ads that made me to get financial aid and student loans to attend thinking it was my best chance of getting hired by those partner companies advertised. I took student loans because of these ads during that time period. Are we part of this settlement?
I attended the University of Phoenix 03/25/2013. I would like to have a better understanding about how this works. Clearly I cannot afford to owe the school any money, but at the time was referred by the school to acquire a student loan. Now the loan is owed to another company in which I was loaned the money to attend the school. I understand that the settlement does not involve "private or federal loans" but the only reason I signed up for the loan was because of the "opportunities" that they claimed I would be in position to receive once I graduated. So because I was misled by the school to acquire a student loan for their program, my debt is not forgiven?
if you took out a federal loan because that is all they offered during this timeframe, this loan is not forgiven? Shouldn't they be responsible for this loan too?
The time frame refers to the first time a student enrolled in the college - not the first date of classes. My first class was in 08 through UoP - Axia. UoP took over their online classes in 2012, making my "first enrollment" date March 2012. I'd advise anyone who took a break from from 08 to 16 to call and see if your enrollment date changed due to change of ownership. You can also call UoP Financial Aid and they will let you know if you qualify. I hope this is a start to other loan/debt forgiveness opportunities from this school. Good luck!
I enrolled in 2012. Do you know if there is a way around the enrollment date?
I attended UOP during that time frame. Will my outstanding student loan debt be covered under this settlement? What about the resulting interest? Will UoP obtain my contact information via my student loan company?
I was sent to a collection agency for class I took during this time and paid the balance. Will these types of debts be included as there were a result from UOP?
Do you know if this covers re-enrollment? I was initially a student in 2010 for 3 classes and decided it wasn't for me. Re-enrolled in 2013 for my Bachelors degree which a finished in 2015.