If you've seen the news, 'romance scammers' are among the eighty defendants indicted today by the Department of Justice in a scheme that stole millions from Americans.
Check out this video about how to spot and protect yourself from romance scams. Then share it with your friends.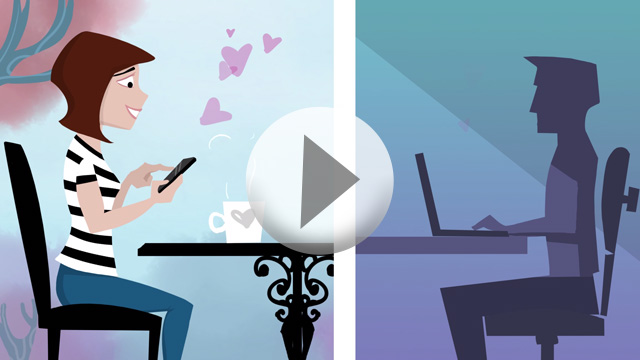 People reported losing $143 million in romance schemes last year, more than any other type of fraud reported to the Federal Trade Commission. But there are steps you can take – and then tell someone about. So watch the video, learn more, and pass it on.
530 Comments
---
It is your choice whether to submit a comment. If you do, you must create a user name, or we will not post your comment. The Federal Trade Commission Act authorizes this information collection for purposes of managing online comments. Comments and user names are part of the Federal Trade Commission's (FTC) public records system, and user names also are part of the FTC's computer user records system. We may routinely use these records as described in the FTC's Privacy Act system notices. For more information on how the FTC handles information that we collect, please read our privacy policy.
The purpose of this blog and its comments section is to inform readers about Federal Trade Commission activity, and share information to help them avoid, report, and recover from fraud, scams, and bad business practices. Your thoughts, ideas, and concerns are welcome, and we encourage comments. But keep in mind, this is a moderated blog. We review all comments before they are posted, and we won't post comments that don't comply with our commenting policy. We expect commenters to treat each other and the blog writers with respect.
We won't post off-topic comments, repeated identical comments, or comments that include sales pitches or promotions.
We won't post comments that include vulgar messages, personal attacks by name, or offensive terms that target specific people or groups.
We won't post threats, defamatory statements, or suggestions or encouragement of illegal activity.
We won't post comments that include personal information, like Social Security numbers, account numbers, home addresses, and email addresses. To file a detailed report about a scam, go to ReportFraud.ftc.gov.
We don't edit comments to remove objectionable content, so please ensure that your comment contains none of the above. The comments posted on this blog become part of the public domain. To protect your privacy and the privacy of other people, please do not include personal information. Opinions in comments that appear in this blog belong to the individuals who expressed them. They do not belong to or represent views of the Federal Trade Commission.
My guy lloyd rowley on is Yagami calls me his queen also his missing rib,been talking since April, lives in Missouri, before that Oklahoma, has thick accent said he was born in Luxembourg, has a son in jail for drugs and a sick mother 93 in Oklahoma, I have sent 5000. He is stuck in belguim at the seaport, good looking salt and pepper beard hairs still dark, needs a few more thousand to get back to the states, he sent me a pic of his passport. It had expired June 25 2o21, said that doesn't matter if I send money he can still get back home, wow these guys are good, anyone here his name around ? Lloyd rowley
So how do you catch these people ?
In reply to So how do you catch these by Startamovement
I have been chased by several of these losers: 1- oil rig guy in gulf- widowed with daughter in college- Matt Lewis 2-Vanguard international fund manager orig from France, has fake Scottish accent, same family history, James Sullivan 3- oil rig contractor orig from Spain, working in Arkansas, grown son, Andrew Stein. Got rid of 1 and 2 by telling them I did a background check and told them all the holes in their stories, including #2 not knowing where Vanguard's UK office was. For #3, I am playing scam the scammer- before he can try to get any money out of me, I will hit him up with my own sob story about needing medical treatment my insurance won't cover and see if he wants to put some skin in the game. In future, if he sounds too good to be true, he is. Just gently dropping that you are doing a full background check should clear the room.
Oh he's called Fred , he's divorced, got a 10 yr old son who's with a Nanny.
Anyone talking to an Alexander Diba? He's connected with my vulnerable friend on Facebook. He found her after she was scammed by a guy named Christopher Toscani. Myself and my friends son have tried to tell her that this person is a scammer but she will not listen! He's had god knows how much money out of her
Anyone come across a cathodic protection engineer called Kelvin Cadman? Been talking for 8 months. He had a contract in Turkey equipment got destroyed in an explosion asked for help I didn't give him a penny. Is now working in Cyprus hinted needs a new phone but more expensive in Cyprus - I made it clear I wouldn't be buying it! He claims to be German living in Chicago. Used to live in California but moved for a new start. 1st wife died in California wild fires 2nd wife cheated on him. He knows I will not give him anything don't know why he's still around? I'm staying in touch to simply waste his time and so I still have his details to report once have proof he's scamming people.
I've been chatting with a guy named Anthony Micheal who is from Norway but currently in Newfoundland on a rig named Submersible which I can't find online. Asking for 5k to fix a leaking pipe. Claims to be his biggest contract ever and when he completes project in 2 more weeks is planning to come to the States and be with me. Has 11 year old daughter named Lisa. Have pictures of him and daughter. Anyone ever dealt with this man?
Be aware of scammer Thompson Joshua. Oil rig contractor of some sort. His scam did not work with me, but he is likely to move on to anext victim. In FB pictures are handsome (not sure who that guy on pictures actually is) fancy clotehs, cars and a 7 year old son.
Has anyone heard of a man with last name Waddington? On oil rig Hibernia? Works for transocean. I've called main number for transocean but they haven't called bk. Says he is drilling engineer. He just sent me a text stating he was hurt while working on equipment that malfunctioned. Said he was hit in the head and then fractured hand. He said he lost consciousness and is with medic on the rig. My thought was if you're injured and lose consciousness from something falling on your head that they would surely transport you off the rig. He says he is still with medics. I don't know if he is not being truthful or if transocean is just a greedy crooked cheap company that won't take care of their ppl???
My friend was request for friend, who was Rig Oil and Gas at Italy, His name was Richard Liu, was showed good looking Asian pictures, even now still can find the picture from FB, lived Lund Sweden. but same name same location has different pictures. his story was wife was cheating and has one son, but she and son died car accident 4 years ago, he never date any one since happened. Good thing my friend was smart lady and have good six sense, she said to good to be true, week after their conversation, my friend was Google about rig, then she saw some about scam from Rig, so she stop to conversations with this guy, just be aware this scam Richard Liu, from Lund Sweden
Can long video chats be faked? My 20-30 min chats via Whatsapp with "Maurice" 3 x week were long conversations. My gut said reverse search his pics and a celebrity came up with different name! Its the same guy. I'm sure of it. I could see short conversations but can they fake long conversations?
Jeffrey wells is scamming me for money annoying calls and trying to extort
Someone talked to kevin barry, showed as oil drilling engineer, gulf of mexico, around 54 years old, from NY?
Does anyone know of John Robert sean or Robert John, who "works" for "Stena" and is stuck on an oil Rig oversees. He is from Kentucky. His bank is frozen and needs to get home. He will use a different emails impersonating a manager from Stena who will demand money for his "medicals". My grandmother is deep in this bs and refuses to tell me more info about this scammer This is his fake call number : 502-513-7514
I am talking to a guy right now that says he's in Afghanistan. Says he's a widower & has a 8 yrs old son leaving with the wife's parents. Says he's from Ohio.. George Hernandez is to good to be true. I'm alot older than him. I'm playing along..but he did ask if I owned my own home..says age is only a number. Already sending me heart emojis. Only been 3 days..he is suppose to call today. I met him on Instagram..says he's a Christian. Very convincing but I don't have money, so if he does ask he's not getting any. Anyone heard of him?
Hi anyone know a company called Tora Petrol, supposed to be a big company in Turkey and has an oil rig out in the Black Sea 0ff Turkey. Friend encounters a man who claimed to be an independent contractor servicing some machines for Tora Petrol. He broke a "panel" on the rig and needed money immediately to finish work, then come and meet her in October. Sounds like a scam?
I am chatting with a guy his name is Gregory Guanthiar. He is constructing a bridge in Australia. He says he is an engineer. Haven't video chat either. He said the base he is on won't allow it.
David Williams ,Kerem Bikmaz and loads of other names said he's a dr in Yemen sent by the un they don't have drs from America there it's a scam they work in a team don't sent money ,cards they say your the one l love and sweet talk you then ask to send cards ect They are very clever in what they do so please ladies block them as you will be the one who gets hurt ,l can't understand why they haven't been caught ,because there too clever
I've spoken to a few guys for long periods of time . Boom' then they hit you with the money question stay away. Why would you give someone you never met in person money???? There are so many ways to make things look real . Find someone who is available to meet
My sister lives with my mom. She has connected with a Anthony on a oil rig. He has scammed my mother for 5,000 through my sister. We thought she learned her lesson but just found out she is now taking money from our 88 yr old mom and sending to this crest Anthony. I know he is a scammer. She won't listen. What do I do????
In reply to My sister lives with my mom. by Don't use your…
Join the app Just answer, lawyers, send picture n get answer in 5 min. That's how I found out about Dawson who was non stop with the "sonnets" very romantic n handsome
In reply to My sister lives with my mom. by Don't use your…
What is Anthony's last name? My scammer Anthony just came clean and told me he has another client who gave him 5000 from the UK.
Recently started talking to a gentleman Richard Vri, Dries, Devries, not sure what his last name is 2 cell phone numbers has sent pictures of a handsome man with a beard, says he is from Amsterdam, lives in Miami but currently on a work project in the Timor Sea. Now wanting me to send 10,000 dollars to pay a work order because there is a problem requiring additional verification with his international bank account. I have access to the account because he initially wanted me to do a wire transfer for him due to poor reception in the Timor Sea. My gut is telling me this is a scam but why would he give me his bank account if it truly is a scam he promises to pay me back right away once he gets paid. Cell numbers 312-801-4904 (Chicago) and 1-786-686-4667 (Miami) Bank New Heritage that has a Branch in Minnestoa and Amsterdam and his wire transfer that got declined was to Rhyno Properties LLC nothing to do with drilling. Reenforce I am being foolish
I have been chatting with Christopher Henderandez for almost a month. He is supposedly on an oil rig off of Canada. So far he has asked me for money 3 times. I have refused. He has asked to use my bank account. I have refused. He has a daughter. I forgot her age. His wife and son were killed in a car accident in Germany. He was born in the United states. Raised in Portugal and now supposedly lives in Ohio when not on the Rig. I have confronted him about the scam. He keeps denying it. Ladies do no send money.
Maybe same scammer named Williams Lopez from London he told me he is an civil engineer with a 6 weeks contract of installation of oil drilling in Alaska. He gave me a log in password for his bank account so that i need to screenshot it and send to him using my mobile phone. i'm scared if he can manipulate or (remote) my phone.
Been talk to william russell on rig malta
Looking to see if anyone spoke to a william russell on a malta rig or william charlie russell on a rig oman
Hi met a Carl just de online he is 46 from Amsterdam live in Hawaii ...is an independent contractor/oil rig engineer Lost wife 6 yrs ago and had 10 yr old son ....we video chatted briefly ...seems legit but idk
Has anyone met a 45yo military man named Kendrick? Did n a top secret mission can't say where? Now stuck in a foreign country at the airport for traveling with his military rifle? This guy has my sister convinced they are going to get married and all this other great stuff and I'm worried he's a Catfish.
I was chatting with a guy by the name Andy Brad. He wanted me to invest in bitcoins and help him transfer money around. He said he needed it to get the property that his parents willed to him. He could only get it if he was married and paid $10,000. He said if I helped him then we could get started with our life. Really wish I could post a picture because women would be attracted to him.