If you've seen the news, 'romance scammers' are among the eighty defendants indicted today by the Department of Justice in a scheme that stole millions from Americans.
Check out this video about how to spot and protect yourself from romance scams. Then share it with your friends.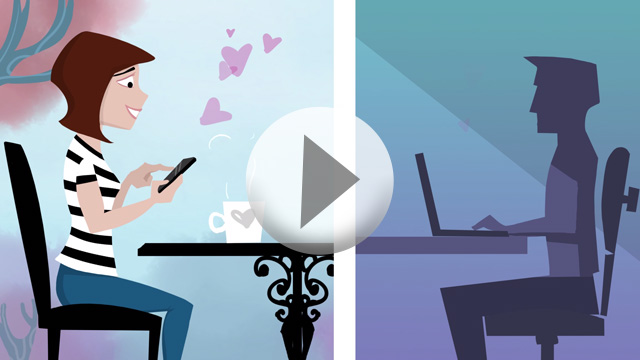 People reported losing $143 million in romance schemes last year, more than any other type of fraud reported to the Federal Trade Commission. But there are steps you can take – and then tell someone about. So watch the video, learn more, and pass it on.
530 Comments
---
I unfortunately wasn't aware of scams when I started taking to my Romance Scammer goes by Adan Moses Dunn in the US Army Special Agent. Sends pictures of military man in uniform with the name Dunn on his uniform. He has so many pictures of this man he is pretending to be. I am now wise $55,000. later and ruined credit. He has done the phone thing, the daughters with nanny spouse passed 6 years ago. Everything I read here calling me Queen and much more asked for proof hold up paper with today's date. Send me paper in picture with my name he did it all. Did not look like photoshop must be. The fiance leave form. I have been so damaged financially and my heart was very attached. He has threatened to kill me. I received the phoney checks, wire transfer and the after did what he wanted the funds were reversed. Banks closed credit cards and accounts. I can't believe I was so guiable and I am now so ashamed and embarrassed.
I've been talking to someone l saw on a date line then he ask me to go to hangout from June 2019 said he's in the military And deployed to Afghanistan he also said that he is getting money from his solicitor because his parents died in 911 asked for me to email his solicitor I wanted over 6000 and something US dollars to me sounds like a scam his name but he goes by is Arnold James and Naand deployed to Afghanistan he also said that he is getting money from his solicitor because his parents died in 911 asked for me to email his solicitor I wanted over 6000 and something US dollars to me sounds like a scam his name but he goes by is Arnold James hernandez l got photo of him from Caroline OSullivan l not sent him one penny
I am being scammed and just realized it. I have been chatting with a guy I met on Facebook for 3 months - he asked me to switch to Google Hangout - he has asked for money several times - he was so convincing that I sent him several thousand dollars for various emergencies. His last scam was a secure box he was shipping from Australia - I had to pay the fee to ship it - all of his bank accounts are frozen because his former girlfriend stole from his account. Anyway - I paid the initial $5200 to ship the box - then it got to another country and I was asked for a little over $20,000 - which I stupidly paid. Then it got to Puerto Rico and now they want $38,750 to finish shipping to the U.S. Thankfully, I don't have that much money to send - and now the guy is threatening me. He says there's money and gold in the box and I will be picked up for money laundering, etc. And, he will kill himself. I am just trying to report this to as many people as I can so no one else gets hurt. This guy claims to be a drilling contractor on a rig - claims to own a mansion in Montenegro - declares his undying love. He goes by Danilo, Dan, Gary or Stephen. He had profiles on Badoo until I reported him - they took them down.
Anyone talking to Proctor Williams Harry, Tom West, Military Doctor, Scott Allen Cameron, Matthew Miller, Captain Anderson? My mother played Words with friends and talked with these supposedly men they got her to go to Hangouts. They all had sob stories to get her to send gift cards, money. They were telling her they loved her and could be together. Overseas stories, oil rig stories, being stuck with no money. My mom is in her eighties.
I was just scammed by someone that goes by Commander John Benjamin. Suppose to be in Kabul, Afghanistan. Came on way too strong. Overplayed his hand. Nobody is that perfect. Watch out for that name. Luckily I found out before I lost anything besides my time.
I thought that I was smart enough to see through scams. But I was involved with one for three years. I checked pictures and IP addresses and all kind of things to try and differentiate whether he was a scammer. ALL the things that that mention to you to look out for were there. But he would rationalize it away and because he could I would in turn rationalize it away. I lost close to $50,000 dollars. That was my savings and now I will have to deal with the consequence of that. But more importantly I will have to deal with the emotional scars that I now have. Please be careful and don't be deceived. If it is too good to be true it is probably not real.
only lost time and a slight heart break by 2 from WOOPlus online dating and then over to hangout... 1. daniel schmidt, here from germany several years, sonś in canada, wife died years ago.... bitcoin miner... wanted my accounts to pay all my debts after about a month of chating.... must be new to scamming because he made a lot of mistakes when he started to switch from endearing chatter to scammer..... 2. Bradley zavala - army ranger in South Korea...... couldnt talk because phone did not work from south korea... could I help pay..... then when I said i could not .... we did not talk much and then all of a sudden my messages on hang out stopped goig through... I was trying to give him the benefit of the doubt because he did not reactt badly when i said i could nt help.... just ẗhats okay - we won be able to speak much till i get home i december..... So i wanted to give him a chance.... but now that I cant text him in hang-out - I assume he cancelled me or blocked me.... whatout for these names.....
I just found mine scammer was posted as Adan Moses Dunn on Facebook and Hangouts he has a new site on Facebook as Dunn Adan same picture when I accepted his friend request because he went to my church supposedly.
My sister is involved in one right now and she doesn't see it. He is telling her he is in Syria working for NATO. She has sent iPhones and over 20,000 so far. Destroyed her family. I don't know how to make her see it is a scam
Christopher Earl Lloyd, date of birth November 6, 1985. he is your real life US version of the Nigerian prince. He claims to be a former professional baseball player and has millions of dollars in investments and properties, and even has investment portfolios and his rental houses with spreadsheets of the incoming rent on his laptop. He will make you feel like you have met the best man in the world. he always has a lot of money on him initially. In time, he will ask for a large loan and will willingly sign a loan agreement with you so you feel you are safe... then come the excuses as to why I can't repay you (His ID is stolen, his account is frozen for investigation etc.). When you go to sue him, you find out he owns nothing. he is a career Con artist
Im talking to a man named Austin Rogers (David Austin Rogers) and I think he's a scammer. Just putting his name out there for others to be cautious
Is there a way to see pics of these people?!!? That would be really helpful because they use all kinds of fake names!!!! Anyone heard of Russ Davis?? Supposedly a sculpter and from the UK?? My mom is being scammed by him and does not even see it happening in front of her eyes. Told her he wants to name her as a beneficiary to a $1 million contract he got and so he had her send a copy of her passport! They've never met.... been dating and met on Instagram only 2 months ago..
Beware of WeChat user Alfred Jones, email address Alfred 65247@ This scammer is using a similar storyline. Single man lost fiancé in a car accident 4 1/2 years ago. States he has a daughter named Nicole aged 8. Living with her elderly grandparents. Claims he is doing a business venture with investors. Stated he was going on business to Dubai 4 weeks ago, the deal didn't work there, then went onto Ghana for a week deal didn't work there, and now he is in Port Harcourt, Nigeria. Sent me pictures, nice texts, emails and of course using internet phone lines. Doing the love-bombing things big time. WeChat is important to highlight because he is claiming he did not take his US postpaid phone with him when he travels and using a pay as you phone, which needs to be credited with Google Play cards. I have requested FaceTime and video calls he says his phone does not have this feature as it is an old model. Which he says needs to be upgraded when he gets back to California. I have had several texts saying someone is stealing from his account and he has been calling the bank since last week. He then messages you say fraudsters taken two transactions of $4k plus out of his account. I started to get suspicious, and so I googled the company he is trading under address is a dry cleaner in San Diego. He got mad and asked why was I checking him out and he tried to explain away that this just address they, the investors use as the head office for their business. The company name is Gold Myne Ent. ( think about it the victims are a gold mine) address:- 5861 Mission Gorge Road, San Diego, California, 92120. I asked for the name of his daughter Nicole's mother so I could look her up online, he got agitated and asked my why I would be checking him and his former partner out online. He told me to calm down, as stated in previous posts, now the pressure is on for the final sting. Called me twice yesterday to try to make out I that I don't trust him. He said he feels stupid for going to Nigeria and not realising how impoverished it is, and that he would be taken advantage of and defrauded. Today I got a message, and call to say the Fargo Wells bank account had been frozen. He said he is now stuck in Nigeria with the goods he purchased and he can't leave without them. I said he needs to figure out a plan. I told him to call the US embassy as they would need to help him. Tried to tell me his bank Fargo Wells have no idea who is stealing his money and he has been using his credit card everywhere. My response was the bank knows exactly, who, when and where the money is taken from accounts as that's their job to know. I told him he needs to get the embassy to help him, or he needs to figure out how he is going to solve the situation. Moral of the story keep away from online dating it very rarely works out positively.