If you've seen the news, 'romance scammers' are among the eighty defendants indicted today by the Department of Justice in a scheme that stole millions from Americans.
Check out this video about how to spot and protect yourself from romance scams. Then share it with your friends.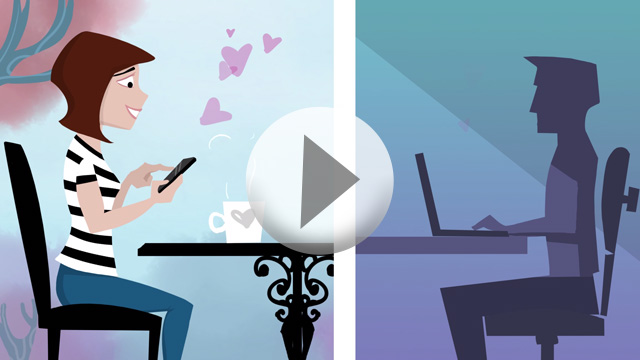 People reported losing $143 million in romance schemes last year, more than any other type of fraud reported to the Federal Trade Commission. But there are steps you can take – and then tell someone about. So watch the video, learn more, and pass it on.
530 Comments
---
anyone talking with a Mariam Nico. She says she's in the medical supply business and won a bid to supply medical equip. After weeks of "romancing", her medical deal goes through and in order to get back to states to see you says she is stuck in Brazil & didnt know tariffs on shipping toJapan increased.Then she asks for money so she can get back to "be with you". Once money is sent, via bitcoin, she's able to "travel" to Brazil where her equip is supposed to be set up. Then the next part of scam, the fees have once again gone up in Brazil and she has most of money, but needs just a little more & then the 2 can meet for first time and be together.
Has anyone talked or texted with someone pretending to be Sasha Banks from WWE WRESTLING ? They are out there ! I just don't know the one to report this to
Some guy that named himself Oliver Quinn said he was half Jamaican and half American. Texted and talked when we could. He said he lived in Seaside, Oregon and was an Independent Contractor. After a week, he said he had to do some work in Dubai but that he would fly straight to me. Something didn't feel right. I started investigating and turns out it was a scam. No one by his name or son's name was found anywhere. I reported him to Plenty of Fish and blocked him from my phone. It was a close call. Beware. If it doesn't feel right, it's probably not.
So, I am talking to a guy I met on instagram...Matt Roland...sweet as can be, contracting in Kabul Afghanistan, I am his queen, he wants to marry me and have me raise his 4 year old daughter. His wife passed away giving birth to her and her twin brother whom also died and the little girl, Belinda, is living In Lincoln Nebraska with her Nanny....anyone dealt with this fellow??? He hasn't gotten any money out of me yet but he is trying to get me to go get him some kind of gift card from walmart and he will give me info to get it into the hands of the military welfare to get to him , to get him off the list to have to go into the battlfield. He even se the date for our wedding, can you believe its 12/20/19- he will be home....lol.lol.lol.
I was scammed by mylocalcrush.com It's a romance site with the typical inventory of men and woman looking for matches. To chat with someone costs about $1.50 per message. The responses come quickly and seem legitimate, but you soon realize it's not the person you think your chatting with. They use either a very sophisticated algorithm or a live responder to string along the conversation, but will never agree to a live meeting that would expose the scam. Got me for about $50 before I wised up.
I met a "man" online at Plenty of Fish dating site, 11/24/2019. It became obvious very quickly where the conversation was headed. I played along until I was given accounts in four international banks. Pretended that I was going to send money even going to the bank and putting funds on a legit wire transfer slip. No intention of actually wiring it! I called the scammer out letting them know that I was fully aware of their intentions. The amorous lover disappeared. I notified one of the banks. I decided I should report it to the FTC and let them handle it. Done! There were so many red flags throughout the entire process. A person who starts out praising and complimenting you beyond normal. Texts in English that are greatly grammatically incorrect. ie. using improper verb tense or word arrangement. Professing their love or wanting you to profess yours. Telling you they have no family. Few friends, are all alone. Telling you they have no phone access. Imperative that you trust them. Giving you access to their "email" which if you look at the inbox was just created for your scam. Giving you access to their "bank account" to transfer funds for them so you see that they have a lot of money and do not need theirs. Using a bank outside of the USA. Using guilt if needed. "you said you loved me" "talk to me" "do you not trust me after all I have said" There is more but I am sharing what my scammer tried to do in just one week!! DO NOT EVER SEND MONEY TO SOMEONE THAT YOU DO NOT KNOW.
My friend is in a scam and will not listen to me. He is from Nigeria, wife died while giving birth, parents dead, yada yada. She swears he has never asked for money and is coming to visit her once he is off his oil rig in a few weeks. He also told her he needed her to log into her computer and use his User name and password on a computer to complete a transaction for him. I think it is money laundering and told her not to do it, but she did it anyway. He now has her IP info. Has anyone else fallen for this and has anything bad come from it. I am afraid her computer is now being tracked for some illegal transaction.
My scammer is Reade John Kelly. Totally caught me off guard. Instagram DM'd me and profile seemed legit. Petroleum engineer on a leave, independent Contactor with a multi million dollar contact. John was from Bulgaria, he had a strong accent and we chatted on the phone a few times. We video chatted once. I had no idea about this scheme until it was too late. Two weeks into chatting he started asking me for google play cards. I am embarrassed as to how many personal things I willingly gave to him! Forever thankful to the guy at the Apple store who wouldn't sell me a gift card. Made me see the light. Out 4K and the scammer has a new iPhone! Tough lesson learned!!
I am currently talking to this guy name Willow Moore .. he says he loves me and I met him on instagram and now we talk only on hangout he can not video chat because something wrong with his phone .. even on hangouts today I ask for a video message he like always got some reason and then he sent a video already in his phone.. he supposed to be this rich kid who his dad left him his business... he had to travel to Italy for business...he says he began a project there and now left all his documents and credit cards in cab by mistake and finally got around to asking me for $1000 to pay the workers before they do him harm...I lied said I don't have it..he want me to apply for a credit card for him but I am stalling
Well I'm in a bit of a different situation and am not sure what to do. Some typical hallmarks of a scammer: educated, a widower, has a grown son, travels a lot for his work (leaving soon for a trip). Very romantic, knows all the right words to say. Also knows I am on a fixed income with no money to spare. And, he wants to buy me a very expensive gift. Isn't it supposed to be the other way around?
About a month ago I read about a person who stated her scammer wore a blue shirt with the name "Mark" on it. I was new to this site at the time and did not catch her name or the date of the post but I have a picture of the same guy and would appreciate any help finding her to see if it's the same man. A very romantic guy who can talk you into almost anything.
This person contacted me through facebook, he stated that he is working as a marine engineer located in an offshore oil platform somewhere in Ireland and contract is about to expire. His parents died, no siblings and his 12 yrs old son is in a boarding school with a nanny. He professed love to me from day one and through his texts kept calling his wife. On day one he asked me to move to hangouts but I told him no so he asked me to communicate with him through Viber because it's easier for him since he doesn't like to spend time on facebook. He told me that his son birthday is coming up soon and asked me to can send money to the nanny to celebrate son's birthday at school with friends because since he is at sea his accounts are inactivated. He asked me to send the money through western union or money gram. His 12 yrs old son also started sending me emails calling me mom, how much he loves me since his mum died, I am the best mom ever and he can't wait to come and live with me. After doing online scam research and reading this one has red flags all over.
I am talking a man that claims he is in Nigeria Africa working on communication towers, his company is sky tech. I have heard all the same from stuff from being sick to the Immigration is try to keep him there and going to put him in jail and he needs 4000. Funny it comes at income tax time. His name Luis della or David Scott. Please comment if anyone else knows of this. He has a daughter which is true and his wife died in a car accident and claims as soon as he gets here he will sort stuff out if I get him home
Nick Harrison supposedly from Los Angeles. Teenage daughter, wife died in plane crash. He never once ask me for money but he is working in Turkey and we're attacked by some guys in black with rifles so the company said send your valuables home. He wanted to send to me. I said fine. He sent it out and told me he paid all fees. Nextthink I know I am shelling out over 36K for custom fees. Package gets to US and then I am told IRS investigated and no crime committed but the shipping company tells me I need to pay 60k to IRS. I do not do it so then Nick wants to get out ofTurkey but needs money for helicopter to take him from the middle of the ocean somewhere off the coast of Izmir almost 40k but the money actually went to the helicopter company in Ohio and the custom fees all went to the siping company. He gets to airport and he is arrested because he owes IRS ( arrested by Turkish officials) so now I just to not know what to do. Is he scamming me, is the shipping company scamming me. The pictures I have of Nick are of different ages and different places he has been. Having a hard time believing that this man is scamming me since NO MONEY went to him but yet there were questions I ask of him and he never answered or his answer just didn't sit right with me. I am thinking of going to FBI BUT if I am wrong and he is not scamming me then I will lose this man and his reputation would be ruined but if it is a scam I want to see that everyone involved, the shipping company , the helicopter company and him pay for their crime. I am out over 75K. This guy knows everything to say to make a woman feel like a young sexy woman. I feel head over heels in love. I do not want to lose him but I do not want him to run free if he is scamming. near Izmir
Wow! Spent three weeks talking to this guy. Chris Lewinsky chrislewin023 on Instagram (crazy, later saw the same photo under mark_1._) Plenty of red flags. Said he has 4 kids, wife left him for another man and she's living in Sweden. Independent contractor for working for Lucas Oil and Chevron. Said has a $10 million/6 month contract in Russia with his other workers now. Said he lived in Indiana. Sent me a video after I pressured with NO accent in it (said he was born in Slovakia and came to the US at 14 years old.) However, clearly had an accent when he called me on the phone though. Every time I called him out on something, he'd get mad but ALWAYS come back. Following red flags came: Phone isn't working well - please get a phone contract and have it sent to Russia; I said NO. His 17 year old son needs a laptop - please get a bitcoin account and withdraw the $300 from his account to put down on a laptop from HSN or QVC; I said NO. Need $500 to give to kids in case of emergency while their nanny is taking care of them while in Russia - I said NO. I tried to call his cell phone but it won't accept calls. He's a freak! I can't believe I fell for this as long as I did. Anyone else on here heard of this name or same story?
Hi ive been contacted by a leanardo Crockett who is a widow with a 14 year son. He said he owns and working on oil rig . Anyone else heard of him too . I know its a scam i just need to get his name out there.
n I maybe take out an equity loan on my house . Thats when I pulled the reins to a stop. He took enough of my money which I really cant afford, but I know I will never see it again and I hope he some day gets caught, What kind of a business is this anyway. oh and btw.. he went under the name ofJacob Grayson,but I found out later that sonmetiems he uses Wiliam Lund, or Jacob Grayson Dolan.. Ladies... run from this pitiful excuse of a man. He will make you feel like he reall loves you.. whaet he loves is your money once it's gone he's off to another unsuspecting lonely woman who has a bit of money or even a lot of money.. he will take it all!!!
I'm dating Michael John his brother is Jose Tores. Michael is 32 yrs has a 5 yrs old son Alex. His wife died 4 yrs ago in car accident. Son lives with grandparents. Been talking for 4-5 months. When first talked he worked in a hotel now in road construction in NY. Tells me he need money to get to Colorado to head office to fill out paper work to get his money before he comes to Australia. He tells me he gets paid monthly. He is poor his parents are asking him for money for Alex and wants me to help. I've only given $200. I'm not sure if true or not but when he gets his money from work he wants to help me start a business and future for us in Australia? Can anyone help me is he a scammer?
Good morning gentleman look out for the lady named Kate ivy he is very very good at what she does she will work you for over a year to get every dime you got to get you to sell everything you have so that she can come live with you and make you feel happy and loved make you feel like a man when you're lonely and old you got to watch out for she's out there looking for you right now he was looking for her next victim she got me for about $5,000 so I'm not first and I definitely won't be the last